A Very Serious Critique of a Strangely Controversial Snowboarding Statue
In one town's debate over how to honor its snowboarding roots, we can all learn something about what makes an artistic homage feel just right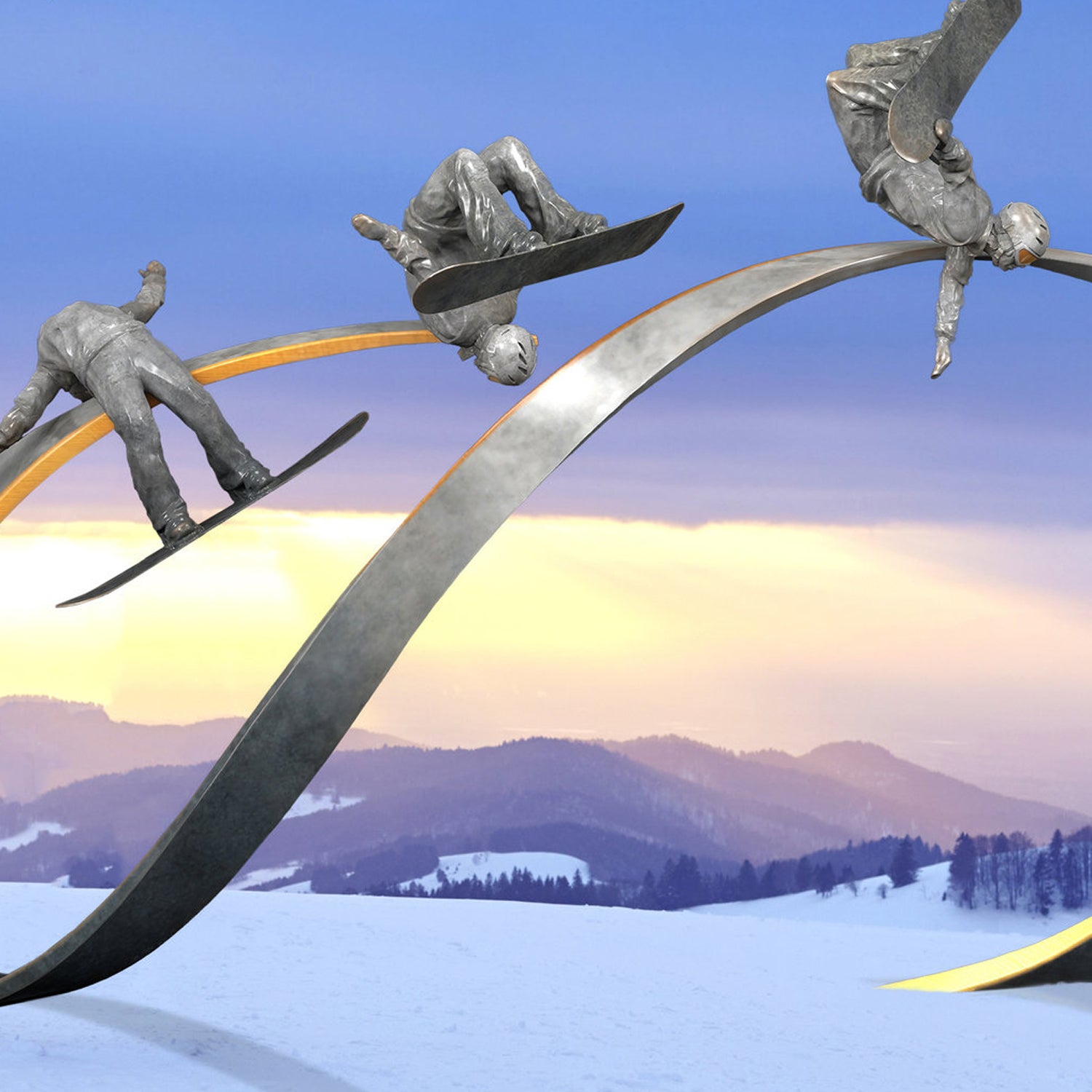 Londonderry Arts and Historical(Photo)
Heading out the door? Read this article on the new Outside+ app available now on iOS devices for members! Download the app.
In 1977, Jake Burton Carpenter set up shop in Londonderry, Vermont (population 1,700), and started turning out the first Burton snowboards right next to Route 11. This was decades before the X Games and nine years before Shaun White was born. So you could say that if anyplace is the birth of the sport, Londonderry is it. In 1983, nearby Stratton became the first major resort to allow snowboarding. Burton is widely credited with growing a fringe hobby into a worldwide industry.
Now, the Londonderry Arts and Historical Society (LAHS) has proposed a $1.3 million public sculpture project celebrating Londonderry's connection with Burton, championed by Stratton legends like Olympic gold medalist Ross Powers. Colorado artist and snowboarder Jason Drewek designed the 30-foot-long cast-bronze sculpture, which would be installed on the site of the first Burton snowboard factory. Drewek's original design mockup featured a rider executing a half backflip across a 16-foot-tall infinity loop.
In the months following the design's reveal, however, locals and snowboarders have jumped in with rather strong thoughts about how the sculpture should look. "If I'm honest, the original statue looks like something Vladimir Putin would have had made for the Olympics," one commenter said on the LAHS Facebook page. (The design is now under revision with input from the snowboarding community.)
We admit that we initially wondered how a snowboarding statue could have inspired such intense opining, so we asked two snowboarders and an art critic to weigh in on various elements of the design.
The Experts
● Jesse Loomis, founder of PowderJet snowboards
● Michael Zebrowski, assistant professor of fine arts at Johnson State College
● Shem Roose, professional photographer
Form (What Would a Real Snowboarder Do?)
"I have to give the artist credit: he came to it with an idea," says Loomis, who grew up riding Bromley and Magic Mountain in the early 1990s and now lives in Peru, Vermont, five miles west of Londonderry. When he saw the original sculpture proposal, Loomis was struck by the riders' body positions. "It's this weird circus flip that you might see in an extreme-sports stock photo book in the '90s." To Loomis, the backflip is a cliché "stunt" and doesn't represent a sport founded on personal expression. "When I came up, snowboarding was based on style, more so than figure skating and gymnastics. And physically, the flip is just wrong—it looks like the rider is going to fall on his face."
In early February, the sculpture team met with Carpenter at Burton's headquarters in Burlington, Vermont, about this type of concern. In early March, the Londonderry Community Forum Facebook page announced that instead of a backflip, the design would be changed to depict a method—a much simpler trick that involves grabbing the middle of the board's heel side. According to Mimi Wright, vice president of LAHS, the new design will be modeled on Ross Powers, a Londonerry native who is known for his method. Powers is now reviewing the update before it's released to the public.
I spoke with Loomis after this design update. "I'd be way more for it [now]," he says, though he's cagey about the aesthetics of the depicted method—for hardcore snowboarders, the method is the holy grail of expression and a benchmark of style. For Loomis, it's risky because it will either look inspiring or downright bad. "There's a difference between your dorky friend's method versus Jamie Lynn or Craig Kelly [two of snowboarding's style icons]."
Zebrowski was less concerned about the rider's style than the overall effect of the infinity loop, offering the art class standby of assessing form and meaning separately but side by side. "It's capturing a dynamic moment, but at the same time it's frozen and static," he says, meaning there aren't a lot of different ways to look at the sculpture. What you see is what you get—not always a good thing for a piece of art meant to honor a complex history. "I wonder if what people will see is more the static side of it. I do get the sense that it doesn't quite speak to that dynamic nature of Jake building the sport and the moment of moving down the mountain—the wind, the sounds—all of that is really exciting. I just don't know if that translates."
Meaning (What Would Michael Jordan Do?)
The sculpture is meant to celebrate Carpenter's role as a snowboarding pioneer while also encompassing the sport's spirit of innovation and progression. Given that, all three of our experts separately concluded that the best sculpture is a literal sculpture. "I'd just like to see something that reflects the guy who made snowboarding a viable business and created an entire industry that is home to thousands of people," says Loomis. "As it is, it feels sort of empty and doesn't give you a lot of room to think about what it means. Maybe that classic image of him making that heelside turn with the rope on the front of the board. If it's a statue for Jake, let's have him up on a pedestal."
One problem is that the sculpture isn't clearly conceptual or figurative. The Vietnam Veterans Memorial, with its curving walls, is a conceptual piece; the Marine Corps War Memorial, depicting a group of Marines raising the American flag, is figurative. The current Londonderry design isn't fully figurative or conceptual, so viewers may have a hard time connecting with it on a deeper level.
"If someone were to build this sculpture around Jake," says Zebrowski, "I would ask, 'What is his own mantra? What do the mountain and the sport mean to him?' Does that come through currently in a way that would be powerful and universally understood—not just a vision of the snowboarder, but something else altogether?"
Roose takes inspiration from another sculpture of an influential athlete. "Look at the Michael Jordan sculpture in Chicago," he says. "The sculptor honored the athlete and didn't create some interpretation of a basketball player doing something Michael never did."
Local Fit (What Would the Grocery Shoppers Think?)
"A giant statue belongs in Las Vegas in a fountain. It's not small-town Vermont, which is where the roots are for the sport," says Loomis. "You have to think of the setting. It's where I get my groceries and where I am a volunteer firefighter with a bunch of guys who don't ski or snowboard."
An active sculptor with public art experience, Zebrowski wasn't surprised to hear about the furor around the statue proposal. "It is a difficult thing to place art in the public sphere and have everybody be excited about it," he says. "What they are finding with this proposal is that it can be problematic when it's a unilateral approach." Loomis and Roose were indeed mystified by the process behind the proposal—and its price tag (LAHS says funding is coming from around the nation, not just Vermont). Both riders wondered if an open call to artists would be a better way to vet design ideas and if a Vermont artist might be more suited to the subject matter.
Legacy (What Will the Miscreants Do?)
It remains to be seen if the naysayers will be pleased when the statue is unveiled in spring 2018. If they aren't, Roose wondered if it would become something like the Cardiff Kook statue. Formally known as Magic Carpet Ride, this bronze surfer statue was a famous flop when it was installed in Cardiff-by-the-Sea, California, in 2007. It's since become the target of salty humor, being regularly dressed up in everything from wedding gowns to elf costumes to full-scale dinosaur-era dioramas.
"This is what happens when you start with an obviously good intention but end up with something that doesn't quite represent the community," says Zebrowski. "It goes back to my original question: how does public art happen? I think it works best when there is the buy-in. It's something you are sharing with the community—you are sharing your ideas, and you are listening to theirs."
The revised designs for the Londonderry snowboard sculpture haven't been made public yet. But LAHS aims to have an installation ceremony in December 2017, timed to Burton's 40th anniversary.
If Zebrowski's public art experience is a barometer of what to expect, it's still possible that there could be some big changes. "As an artist, if I got pushback, I would go back to the drawing board," says Zebrowksi. "I think that is a fair thing to do when you are working in the public like this. If you feel some tension, let's rework that. I think that's a good thing."
Lead Photo: Londonderry Arts and Historical
Trending on Outside Online