Spin Flick
In August's Premium Rush, Joseph Gordon-Levitt plays a bicycle messenger who gets mixed up with criminal forces and must ride for his life. Astute (or simply awake) moviegoers will note the similarity to 1986's seminal Quicksilver, in which Kevin Bacon plays a bicycle messenger who gets mixed up with criminal forces and must ride for his life. We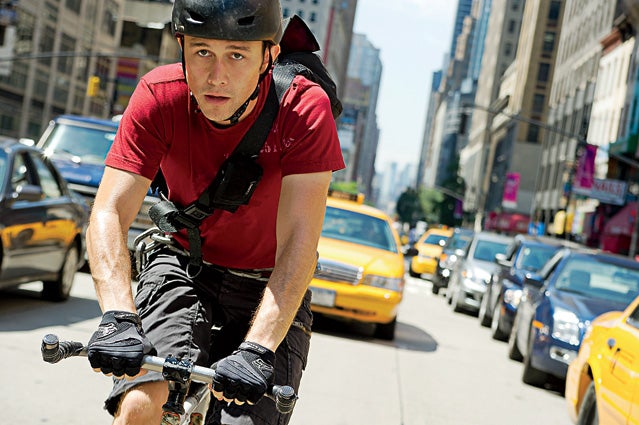 Sarah Shatz(Photo)
Heading out the door? Read this article on the new Outside+ app available now on iOS devices for members! Download the app.
PLOT
Premium Rush: A hotshot messenger, Gordon-Levitt takes delivery of an envelope that a dirty cop named Bobby, played by Michael Shannon of Boardwalk Empire fame, covets. A wild bike chase ensues.
Quicksilver: A hotshot stockbroker turned messenger, Bacon must employ his financial acumen to save his pals from drug dealers. A wild bike chase ensues.
MONEY QUOTE
Premium Rush: "Fixed gear, no brakes. Can't stop, don't want to."
Quicksilver: "I go as fast as I like. Street sign says one-way east, I go west."
EPIC STUNT
Premium Rush: Gordon-Levitt dismounts, slides under a flatbed truck, and remounts without missing a beat.
Quicksilver: Bacon bike-dances with a sexy chick in a leotard in his gigantic loft apartment.
BIKE
Premium Rush: Track bike with bullhorn bars that emits inexplicable freewheel sound and turns into a trials bike for parking-garage stunt scenes.
Quicksilver: Track bike with drop bars that emits inexplicable freewheel sound and turns into an artistic-cycling bike for steamy bike-dancing scene.
WARDROBE
Premium Rush: Haute "fakenger," complete with messenger bag, minimally vented helmet, and chain lock around Gordon-Levitt's waist.
Quicksilver: Helmet? Pshaw! Bacon wears a beret.
VERDICT
Premium Rush: A few years too late—thanks to Internet delivery services, you'd be hard-pressed to find an actual messenger these days.
Quicksilver: High art from a golden age when the stock market was soaring, there was no such thing as email, and a bike messenger could afford a giant loft apartment.
Trending on Outside Online