This New Book Tells the Story of a 6,000-Mile Relay
In 'Spirit Run,' Noé Álvarez recounts the journey that transformed his view of the world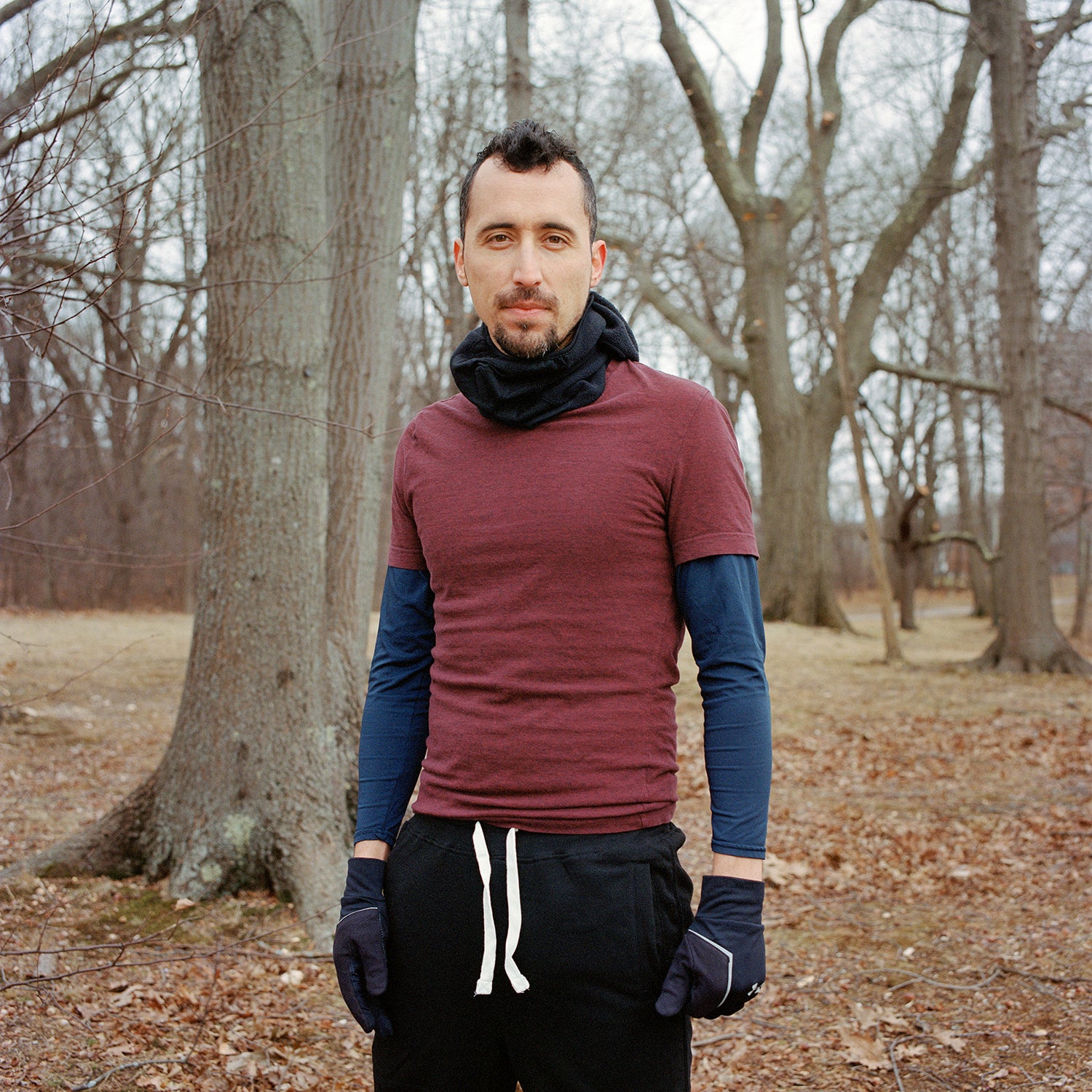 Heading out the door? Read this article on the new Outside+ app available now on iOS devices for members! Download the app.
"I became a writer for a reason," Noé Álvarez tells me a few moments after we meet. "So I wouldn't have to talk too much." The 34-year-old is quiet but friendly, wearing a beanie and a flannel shirt. We're at a coffee shop in Boston, where he lives, discussing his forthcoming memoir, Spirit Run, a remarkable account of a 6,000-mile ultramarathon relay through North America. 
Álvarez was raised working class in Yakima, Washington, the son of two Mexican immigrants. Early on in Spirit Run, he laments the impact that years of labor in an apple warehouse had on his mother's body, explaining how he'd internalized a singular idea: his parents' existence was a painful one, and making it to college was his only way out. 
In 2003, Álvarez earned a full scholarship to Whitman College in Walla Walla and figured he'd secured a more comfortable future. But on campus he struggled, falling behind on his classwork while feeling like an outsider among the largely white student body. In the spring of his freshman year, he attended a student conference and found an escape from academics—the Peace and Dignity Journeys, an organized run that passes through hundreds of indigenous communities in Canada, the United States, Mexico, and Central America  over the course of several months. 
According to a PDJ brochure quoted in the book, the intent of the relay is to "participate in spiritual practices and traditions; spark dialogue on the issue of peace and dignity for indigenous peoples; model their responsibility to Mother Earth, Father Sky, communities, and themselves; and receive the community's prayers." The run takes place every four years, and the route changes each time. Leaders and elders in the communities the runners pass through tell the story of their area, so the group can develop an awareness of the land, its people, and its history. The run is sometimes referred to as "the longest prayer in the world." 
Álvarez's grandfather is of Purépecha descent, and he felt drawn to explore that piece of his heritage. "It was described as an indigenous spiritual run, and I couldn't really make sense of that, but somehow it just pulled me," Álvarez says. "Like, 'I have to do this. This is crazy. I don't have the money to do this. I'm going to do this.' " He was seduced by the PDJ's promise of community, but also by the opportunity to buy himself more time. So in the spring of 2004, Álvarez dropped out of Whitman to join. 
The main conflict in Spirit Run revolves around Álvarez's identity. When he first meets the PDJ runners at the relay's start in British Columbia, he doesn't quite fit in. He's overeager—wearing bright yellow shoes, volunteering for extra mileage, and running his early legs too quickly. Many in the group intimidate him; some are outright bullying. Álvarez is hesitant to speak negatively of the other runners now, and he attributes much of the conflict to the fact that most of them were going through struggles of their own. But it's clear from the book that tensions ran high. In one scene, he describes being deprived of water for extended periods by one of the run's leaders. "I was just so out of my league," he tells me. "For a lot of these people, the run was a lifelong commitment. Why is this outsider coming in, asking a lot of questions, fumbling things, not knowing how to put up a tent?"
"It really complicated my narrative. It gave me this sense of self-love that I didn't have."
In middle school Álvarez ran track, and in high school he would jog along the Naches River in Yakima to clear his head. But long-distance running was new to him. And he learned quickly that measuring time and distance is not a priority on the PDJ. Usually, each relay participant runs their stage alone, with limited info on the route, while the rest of the group rides in a van, often along a different road. At some point, another runner takes over. (Most average between ten and thirty miles each day. They can choose their own mileage, but the group leaders often intervene to keep the run on schedule or push newer participants.) Álvarez struggles in the beginning—on his first morning, he wakes up late and is almost forced to run with his pack on—but soon the journey begins to change him. He learns to navigate the prickly group dynamic and becomes close with a few of the more welcoming runners.
Álvarez's descriptions of the role that running plays in his evolving self-concept contain some of the book's most powerful writing. Recalling the early stages of the PDJ, he writes, "I am … submerging myself in pain like I did when working in the warehouses alongside my mother, so that I may control the turmoil within me. But unlike any other labor, running relieves me of the weight that I should become better than my parents, my people." The farther he runs, the more he realizes that he doesn't need to reject his history. 
"It really complicated my narrative," he tells me. "It gave me this sense of self-love that I didn't have. That it was OK to be proud of where I came from, that it was OK to be working class, that it was OK to be Latino, that it was OK to be from farm country."
Álvarez ran four months of the six-month journey before being forced to drop out in Guatemala, after a doctor warned him that he was at risk for permanent damage if he continued to push through the severe knee pain he was experiencing. He was devastated, but on some level he still got what he set out for. Upon returning to Yakima, he writes, "I know now that every bit of earth contains the sacredness of another person's existence." 
After the run, Álvarez tried to regroup. He eventually found his way back to school, finishing his degree at Whitman and completing a fellowship at Princeton in public policy. He devoted his time to social work and the odd service job. It wasn't until the fall of 2011, when he took a memoir class in Seattle, that he seriously considered writing about his experience with the PDJ. He'd been a diligent journaler during the run, and at one point during our conversation he pulled out his notebook from that time. There's a sticker with the PDJ logo on the front, and inside the pages are filled with cramped entries—material that he shaped into a book.
Today, Álvarez seems more self-assured than the young man he describes in Spirit Run. But he still harbors some insecurities about being seen as an authority on the PDJ. When I ask him about his transition from being an outcast on the relay to becoming something of a spokesperson for it, he bristles. He insists that the book is only his perspective, and is unsure about how the other runners might react to it. "I didn't want to take on that weight, because the run is a different thing to every person," he says.
The next several months will be busy for Álvarez: His book tour is coming up, and he hopes to invite some of the runners from the 2004 journey to a few of his events so they can share their stories. He also plans to run portions of this year's PDJ, aiming for British Columbia, where it all began for him. Running remains a significant part of Álvarez's life, and he tries to get out regularly on the trails near his home. He prefers to go alone, and he longs for less crowded, more rugged terrain than what's available in Boston. But he's doubtful he'll attempt the full PDJ again. "I'm in a different place," he says. "It's a part of my history that I will carry forward, but I'm a different person now."