Sweetgrass Productions' New Ski Film Glows in the Dark
Afterglow isn't just the year's most captivating ski movie—it's also a giant TV ad. And it could be the future of adventure films.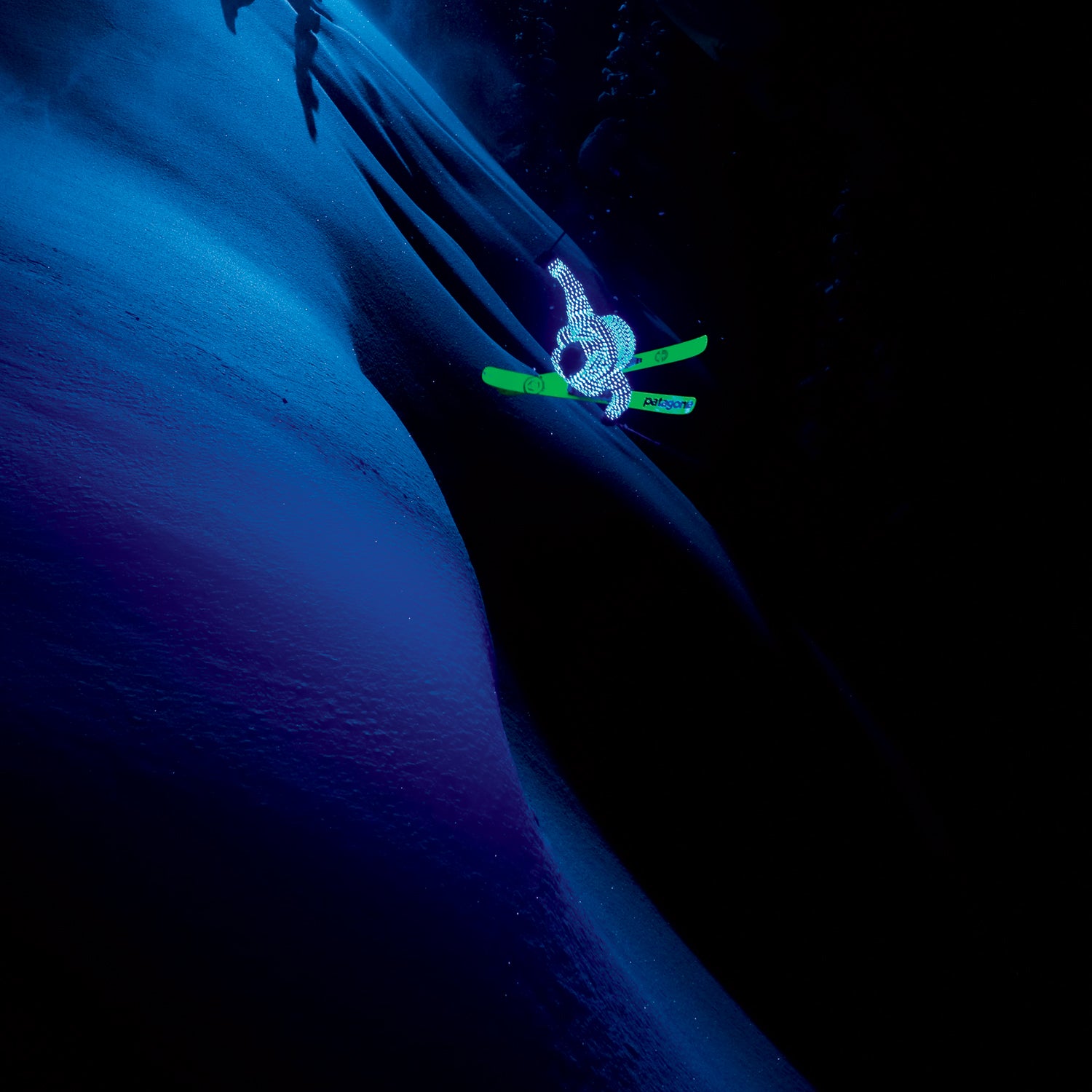 © Oskar Enander(Photo)
Heading out the door? Read this article on the new Outside+ app available now on iOS devices for members! Download the app.
It's only ten minutes long, but Sweetgrass Productions' Afterglow is arguably the most cinematically profound ski movie ever made. The clip was shot entirely at night—a first for the genre—deep in the backcountry of British Columbia and Alaska, and the breathtaking footage achieved by the Sweetgrass team did not come easily. Nick Waggoner, Sweetgrass's 28-year-old founder and the director of Afterglow, oversaw crews that illuminated ski runs as long as 2,500 feet using washing-machine-size lights that were airlifted—along with scaffolding, wires, and generators—onto four-by-four-foot platforms. Octocopter drones and on-the-ground cameras captured skiers clad in LED-studded jumpsuits, leaving bright contrails of billowy powder behind them.
It's beautiful and eerie and looks expensive—and it was. "I'm not willing to say how much we spent on this project," says Waggoner, but the per-minute cost was double what they typically spend. Sweetgrass was able to afford it because Afterglow isn't just a movie: it's also a commercial for Philips's new Ambilight television. After the film debuts this fall, it will be cut into shorter segments that will run as TV ads.
"We decided that a ski film would be a good way to show off the TV," says Joakim Wållgren, cofounder of Stockholm agency Ahlstrand and Wållgren, which has managed Philips's advertising since 2011. "We'd heard about Valhalla, and we liked that it was beautifully shot. We wanted that type of filmmaking." Valhalla, a feature-length movie released by Sweetgrass last year, was noted for its dazzling cinematography—and its nude-skiing scene.
Afterglow arrives at a time when the ski-film industry is stuck in a creative rut. Though Warren Miller's yearly movies continue to be cultural events—thousands turn out for the film tours each fall—his formula long ago grew stale. Production houses like Teton Gravity Research and Brain Farm Digital Cinema now shoot with the same blockbuster-grade cameras used by big Hollywood directors like James Cameron and Peter Jackson, but everybody is still working from the same script: footage of guys hucking cliffs or skiing spines. "I think people are starting to recognize that they can't just produce the same bullshit," says Waggoner. "They can't just shoot a sunny day anymore."
Storytelling may be part of the issue, although outfits like Sweetgrass and Sherpas Cinemas, which produced last year's Into the Mind, have begun incorporating narrative elements, with mixed results. (Afterglow, meanwhile, is snow porn at its purest—visually stunning and too brief to need an arc.) The bigger problem may be budgetary. Most adventure-film companies must seek out several sponsors to cobble together the roughly $400,000, on average, required to make a 30-minute movie. Though ski brand Atomic had a sponsorship role, Afterglow marks the first time an independent ski-film company received most of its funding from just one business.
Ski movies have always included not-so-subtle product placement, but sponsorship from a single source worries some industry veterans. "In that type of situation, you're probably giving up more creative control than you'd like," says Teton cofounder Todd Jones. Waggoner concedes that's partially true. "I had to give up about 15 percent of my control," he told me, although he wouldn't go into specifics about what he surrendered. That may sound like selling out; it also may be the only way a company like Sweetgrass can survive.
"There are more players now, so you have to chase down bigger budgets to compete," says Chad Jackson, head of production for Brain Farm. "If you can get one company to cover the entire cost, that's as good as it gets." For advertisers like Philips, it's also a way to stand out.
"This is the new way of marketing products," says Wållgren. "More people will see this and become engaged than with a typical commercial." As far as Waggoner is concerned, it's a win-win. "It's a cool model, because it reaches outside the ski industry to do things we'd never have the resources to facilitate," he says. "I hope other filmmakers see this and want to push their own limits and do things differently."