The Greatest Ski Films of All Time, Ranked
We asked pro skiers Cody Townsend and Glen Plake which classic ski movies they could watch over and over again. Get ready to hunker down on the couch and revisit these throwback gems.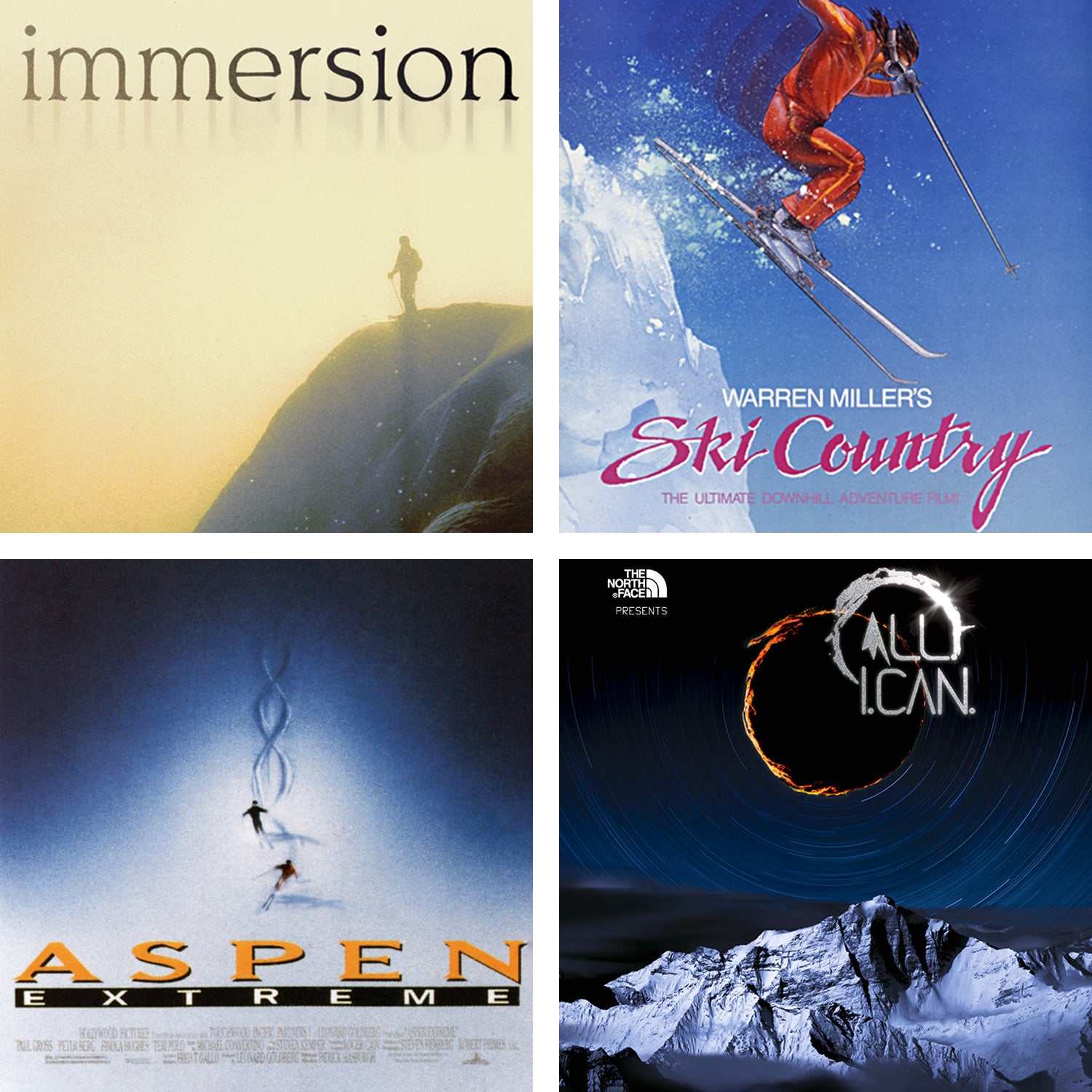 from left, Matchstick Productions; Everett Collection, Inc./Alamy; Warren Miller Entertainment
Heading out the door? Read this article on the new Outside+ app available now on iOS devices for members! Download the app.
Do you remember the first ski movie you watched? Maybe it was a Warren Miller film in a high school auditorium or Hot Dog…The Movie from a friend's 1980s bean bag or a TGR flick seen back when VCRs still existed. Regardless, it was likely a memorable experience. Ski movies transport us—into the mountains, into winter, into a whimsical way of life. "A good ski film locks those moments in time," freestyle ski pioneer Glen Plake says. "They're like time machines. It's an opportunity for us to go to that place at that time with those skiers and ride along on the journey with them."
There's no bad time of year to watch a ski movie, but there's a reason new shred flicks tend to premiere just before winter hits: they get us excited for the snow-filled season ahead. We asked Plake and pro skier Cody Townsend, both of whom have appeared in dozens of ski films over the years, to help us pick the best classic ski movies to rewatch—or see for the first time. One note: the movies listed here are classics and were made before the recent movement to improve representation and accessibility in the outdoor industry. Which means they may feel, for lack of better terms, excessively male and very white. Be sure to cue up newer movies too, like 2020's Paha Sapa, last year's Mountain Revelations, and The Approach 2, which premiered this fall, for a wider sampling of snowsports athletes.
---
10. Immersion (2002)
This classic Scott Gaffney film from Matchstick Productions stars the late Shane McConkey, J.T. Holmes, Robb Gaffney, the late C.R. Johnson, and Skogen Sprang. "It has this soulful, mellow, going-out-with-your friends feel to it," Townsend says. "It transcends time. It's not about the performance, it's about the act of skiing." You'll be treated to 31 minutes of cliff drops, powder turns, and steep spines skied by some of the sport's biggest legends of that era. Immersion also includes an inspiring segment with McConkey and Make-a-Wish Foundation recipient Adam Baillargeon, who go skiing together at McConkey's home hill, now known as Palisades Tahoe.
---
9. Ski the Outer Limits (1969)
This one belongs in a ski museum. Ski the Outer Limits, made by Roger Brown and Barry Corbet of Summit Films, is one of Plake's favorite classic films. The skiers in this movie—shot on film cameras in the 1960s—were among the first freestyle skiers. "These were the skiers who said, 'We're going to run our own course and do things that nobody else has done,'" Plake says. "The famous front flip into Corbet's in the old days, that's from Ski the Outer Limits. That was unheard of at that time."
---
8. Ski Country (1984)
Ski Country—Warren Miller's 35th film—has lots of forms of skiing in it, from mountaineering to moguls to even water and grass skiing. "I first watched this film when I was six years old then watched it over and over for years on end," Townsend says. "It has a classic Scot Schmidt segment on KT-22 at what's now Palisades Tahoe, where he makes turns under the old KT chair without a single track in the distance and sends the Fingers on 220-centimeter-long skis. That was a groundbreaking shot." There's also a thrilling World Cup downhill segment.
---
7. Believe (2007)
Produced and directed by Constantine Papanicolaou of Frozen Ambrosia, this throwback film is one of X Games star and freeskiing icon Tanner Hall's landmark projects, and one Townsend calls "unbelievable." You'll find shots of Hall blasting off powdery pillows in oversized pants set to reggae music, alongside a crew of his friends, including C.R. Johnson, Seth Morrison, and Dan Treadway, skiing in places like Japan, Alaska, and Canada. Up-and-comers Sean Pettit and Kye Petersen—now established pro skiers—appear as young rippers on the rise.
---
6. Aspen Extreme (1993)
Aspen Extreme is the movie that put ski bum culture on the Hollywood map. Friends Dexter Rutecki and T.J. Burke follow their dreams from the Midwest to a little town called Aspen, Colorado, where they get jobs as ski instructors and compete in the famous Powder 8 contest. There's drama, there's an avalanche, there's deep friendship—basically all the things you still find in a ski town, making it a cult-classic that's still beloved decades later. The film, which starred actors Peter Berg and Paul Gross, was based on the real-life experiences of writer and director Patrick Hasburgh.
---
5. Yearbook (2004)
It's 2004 and Shane McConkey is king of the class (and the ultimate goofball). But Yearbook, from Matchstick Productions, has standout performances from other skiers, too, including a notable breakout segment from now legendary big-mountain skier Ingrid Backstrom, who stomps her first major ski movie. "Ingrid's segment set a new benchmark," Townsend says. "Same with Mark Abma and Hugo Harrisson." There are appearances from Mike Douglas, Eric Pollard, Chris Davenport, Seth Morrison and Tanner Rainville in the film, as well.
---
4. Teddybear Crisis (2006)
This indie flick was produced on a low budget and with minimal equipment by a trio of filmmakers-slash-skiers—Henrik Rostrup, Kris Ostness, and Howie Arnstad. It has garnered a cult following on the internet and really captured what was revolutionary about freeskiing at that time. "What a groundbreaking film," Townsend says. "The music was so good, and the editing was so different from other ski movies." Known for its beloved soundtrack, the film stars all the heavy hitters of that era—Simon Dumont, Tanner Hall, Jon Olsson, Sage Cattabriga-Alosa, Sammy Carlson, Mike Wilson, and more.
---
3. Dumb and Dumber (1994)
Sure, this slapstick comedy isn't technically a ski movie, but Townsend would argue otherwise. "I still rate Dumb and Dumber as the best ski movie of all time," he says. "Because it is a ski movie. They move to Aspen and go skiing." Starring Jim Carrey and Jeff Daniels, and made by Peter Farrelly and Bobby Farrelly, this is comedic relief set in a ski town like only the '90s could deliver.
---
2. All.I.Can (2011)
When All.I.Can came out, nothing like it had been made before. From Sherpas Cinema, it was a film festival darling that turned heads for its stunning cinematography—shot in locations like Chile, Morocco, and Greenland—and its documentary-style messaging about climate change and the need to protect our mountain environments. The goal of this movie isn't necessarily to get you pumped for your next powder day, but it will make you proud to be a skier. The street segment from the late J.P. Auclair alone is worth watching on repeat.
---
1. Valhalla (2013)
An artsy, wild interpretation of the quest that skiing often takes us on, Valhalla was made by Sweetgrass Productions' Nick Waggoner, Ben Sturgulewski, Michael Brown, and Zac Ramras. "Valhalla captured that ski bum spirit and why we dedicate so much of our lives to this sport," Townsend says. "It's a romanticized, fabled version of that." Following one man's journey to British Columbia, the film beautifully captures powder skiing set to groovy music and poetic narration. Starring folksy skiers Cody Barnhill and Sierra Quitiquit, as well as athletes Alex Monot, Pep Fujas, Zack Giffin, Eric Hjorleifson, Molly Baker, and Kazushi Yamauchi, this film is best known for its famous naked skiing scene, shot at Whitewater ski area, and a mind-boggling snowless ski scene in a lush, green forest in the Northwest.
Corrections:
(11/30/2022) A previous version of this story misidentified Constantine Papanicolaou's production company. It is Frozen Ambrosia, not Inspired Media. Outside regrets the error.
(12/12/2022) This story has been updated to include additional credits for 'Valhalla.'
Lead Photos: from left, Matchstick Productions; Everett Collection, Inc./Alamy; Warren Miller Entertainment