Before They're Gone: Exploring America's Most Threatened National Parks
Heading out the door? Read this article on the new Outside+ app available now on iOS devices for members! Download the app.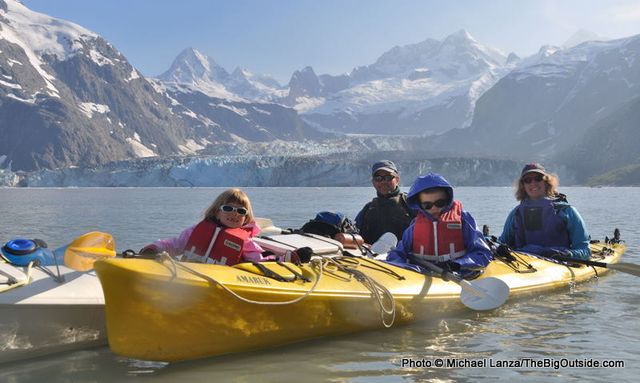 Dodging grizzlies and calving glaciers in John Hopkins Inlet, Glacier Bay National Park 
Yesterday I caught up with Michael Lanza, author of the season's must-read new memoir about bringing up adventure kids in the age of climate change: Before They're Gone: A Family's Year-Long Quest to Explore America's Most Endangered National Parks. 
Lanza is a longtime editor at Backpacker magazine, creator of The Big Outside blog, and a devoted outdoor dad who's logged hundreds of trail miles with his two young kids. Back in 2009, dismayed by scientists' dire predictions that Glacier National Park's namesake ice could melt by 2020, he hatched a plan to visit the 10 national parks most threatened by climate change.
But this wasn't your run-of-the-mill family drive-by. He and his wife, Penny, and their kids ranged from Alaska to the Everglades, Rocky Mountains National Park to Joshua Tree, venturing deep into the backcountry on foot or kayak for days at time. To say that Lanza's offspring, seven-year-old daughter Alex and nine-year-old son Nate, are hardy adventure kids would be selling them way short: Those two paddled through days of driving rain and dodged grizzlies in Glacier Bay, skirted treacherous ice-slicked trails in the Grand Canyon, and spent what amounted to weeks on end in the company of their parents, without electronic diversions. Hard core.
Lanza turned their peripatetic year-long journey into a poignant memoir about the importance of spending time in nature with your kids—while you still can. As Before They're Gone makes painfully clear, the only thing more fleeting than childhood is the natural environment as we know it. His family's race to experience the wild grandeur of the parks before they're irrevocably changed is an enormous gift, both to his children and his readers. If you only do two things this summer, 1) buy and read this book, and 2) take your kids into the backcountry. Because, as Lanza puts it, "If this next generation doesn't grow up to become advocates for wilderness, who will?"
After devouring Before They're Gone on a cross-country flight, I called Lanza at his home in Boise to get his take on inspiring your kids to love the backcountry and care about climate change—no doubt some of our most important work as parents.
Even the title of your book makes me a little weepy: Our parks are changing so quickly, and our kids are little for such a short time. Did you mean for it to touch people on both levels?
Yes, my original thought was that I was talking about the parks, but it quickly became obvious that I was also talking about my kids—how important it was to plan a trip and take advantage of the time we have before they're grown. I had my children relatively later in life; I became a father at 39, and I feel very aware that in seven years my son will be off to college. When you're 51, that doesn't seem like a long time.
You write about two different types of time in the book: kid time, which seems to pass in a blink of the eye, and glacial time, which is epically slow. Do you think we need to reconsider our sense of time when it comes to how rapidly our climate and natural environment seem to be changing?
Yes, certainly the way we've perceived natural events and the time it takes for glaciers to disappear is changing quite rapidly. In researching the book, I found the science really fascinating, but it was also unreal. It felt like science fiction in a way, that 7,000-year-old glaciers can be gone in my lifetime? In my kids' lifetime?! Or that two-thirds of the Everglades potentially could be underwater. The last time that happened was hundreds of thousands of years ago. So it really is kind of unbelievable. One objective I have with the book is to make people more aware of this. I hope the connection that people feel to their national parks will spur them to believe that society needs to do more.
How do you talk to kids about climate change without being preachy or boring?
There are times when kids aren't interested in what you have to say and they tune it out. I try to be sensitive to that and bring it up another time. But kids are very curious, and they also tend to be interested in what parents are interested in or talking about or doing when you're not force-feeding it to them. When they hear our conversations about it, they want to get involved. It seems like something that adults do. At the same time, on most of the trips, we weren't talking about climate change. We were just enjoying the moment, and the kids were really connecting with each of these places. What they'll take away from it is the close encounter we had with a mountain goat at Gunsight Pass or seeing the alligators in the Everglades. On an intellectual level, though, they knew why we were out there, and they connected that subject with those really deep visceral experiences. I can't imagine a better learning tool.
What are the most urgent parks peope should visit first?  
Glacier National Park has got to be on that list. If the glaciers are going to disappear in the next 10 years, what will they look like in five or seven years? They're going to be a lot smaller. The data strongly suggests that there's enormous impact throughout the ecosystem because glaciers have been great late-summer water sources in these valleys. If you're a fisherman and you want to fish the creeks, it could be a really different experience.
I was also stunned by what I heard from people who know a lot about the Sierra snow pack. Within 20 years Yosemite will be a very different place. The southern Sierra is very high, so they'll have freezing temperatures throughout winters for more years to come. Northern Sierra, near Yosemite, has a lower elevation, so there will be shorter winters up there, and the precipitation will fall more frequently as rain instead of snow. Spring run-off will be dialed back by weeks, and Yosemite's waterfalls will be peaking earlier.
In the Everglades, it's more on a scale of decades, but like a lot of our parks, changes could happen abruptly but be unpredictable: enormous wildfires in Rocky Mountain National Park, coastal storm surges in Olympic National Park, and hundred-year floods in Mount Rainier National Park. What had formerly been a day hike to the Carbon Glacier, which is the lowest glacier in the Lower 48, in Rainier, is now an overnight trip because the road washed out and will not reopen.
Even for gonzo adventure parents, backpacking with little ones seems totally insane because you have to carry so much stuff. When is it realistic to do it?
We backpacked with our son when he was a baby. My wife carried him and I carried an awful pack. We were hauling diapers in and out and pretty quickly figured out it sucked. Once you have two kids, it essentially becomes impossible. Or, if not impossible, then not a huge amount of fun. When it first really changed for us was when Alex was six and could walk for several miles through the mountains in a day. That's when you want to start, when your youngest is five or six years old and has more stamina for walking. Kids have no body fat—no reserves—so you have to stop every hour and stuff food in them and constantly remind them to drink.
That makes car camping and river trips sound pretty appealing. 
Yeah, just trying to get out there with kids turns a lot of people off—it's so much work, especially when they're little. It's not like it was before you had kids—when you could hike all day and come back to camp and make dinner and sit around and drink a beer. It's not like that at all. But I've met so many people who say, "We used to do that before we have kids but don't any more." I'd lose my mind if I couldn't get out there regularly.
How do you manage risk when you're traveling with kids in the backcountry?
This is something I'm constantly wrestling with. I try to follow some basic rules: I like to have a very good understanding of the situation I'm getting into because I'm going to have to make decisions. I like to think about what's my kids' skill and emotional comfort level: Is this next thing you're planning so far beyond what they've done that they're going to be scared? And then I explain to my kids what they're going to be doing and ask if they're comfortable with it.
Backcountry bribery is big in our household. What are your secret weapons on the trail?
We try always to bring their stuffed animals. One time our six year old had to climb 3,000 feet on the first day of a trip in the Tetons—the biggest hike she'd ever done—and we told her she should leave her stuffed dog in the car. That was the biggest error in judgment we ever made! We also bring favorite candy bars and everybody gets one halfway through the day. Penny and I also split up and each take a kid. You have long conversations you don't often have time for at home. If it's the end of the day and you're trying to get to camp, you start talking to them, and all of a sudden they've forgotten they're tired.
I was impressed by how many different games you play while you're hiking. That takes some creativity. 
Oh my God, the numbers game [laughs]. The one where you randomly have to guess the number the other person's thinking. Alex and I played it for two hours straight one day. It's brain numbing. Penny ditched us because she knew if we caught up to her, she'd have to play, too.
How do you keep the conversation about climate change going back at home?
They're still kids so you have to repeat a lot of things. I'm the one who goes around the house turning off lights. I'll say, "There's another dead salmon," because our powder is hydropower. And now they'll say that when someone else leaves a light on. Also, I'm always biking around town. I try not to get in the car. I try to drive that stuff home. But they're still kids. It only goes so far.
Are you noticing a generation gap in the backcountry?
Yeah, we need to be concerned as a society that our kids aren't getting out enough because they will be the next advocates for protecting wild places. I'm not seeing a lot of people in their 20s and 30s. The outdoor industry needs to work harder to reach out to younger people who are more into electronics. Still, there are a lot of young people who are really active. I have friends' kids who are river guides and climbers. Hopefully they're carrying the torch.
What's your next big adventure?
I'm usually planning four or five trips at one time. This summer, we're doing a nine-day hut trip in Jotunheimen National Park in Norway, through the highest mountains in northern Europe. It's managed as a wilderness, except that there are huts. We're also planning a trip to the White Mountains in New Hampshire. We'll do family day hikes, and a friend and I are going to do 32-mile, 10,000-foot day hike on the Pemi [Pemigewassett] Loop.
So that's your other secret to taking kids into the backcountry: Going out alone?
Yeah, my wife and I have been on the same page with that from the beginning. We agreed that we would just take turns. It means flying solo with childcare more often, but it also means getting out and getting your fix when you need it. It's a good thing for people to do.
Circling back to climate change. Is there any reason to be hopeful?
Researching this book—and reading it—gets kind of heavy. I interviewed a lot of people who felt despair about it: It's been set in motion and it's inevitable. But others retain powerful optimism that our national parks can be the message bearers that will communicate to the public the importance of doing something. It's important to be optimistic for the sake of our kids.
Before They're Gone, $24.95
—Katie Arnold
@raisingrippers