The Top 10 Adventure Stories of 2010
Heading out the door? Read this article on the new Outside+ app available now on iOS devices for members! Download the app.
A slew of jaw-dropping stories filled the adventure news cycle in 2010. Some set new lows, like when mountain biker Missy Giove pled guilty in January to smuggling marijuana after being arrested at the end of 2009, completing a tragic fall from grace. Some fulfilled promise, like the cornucopia of medals racked up by the U.S. Ski Team at the 2010 Games in Vancouver. Some ended in death, like Fredrik Ericsson's tragic fall while attempting to ski K2. Some involved chest-thumping distance records, like Roz Savage's epic row across the Pacific, Reid Stowe's 1000 days at sea, David De Rothschild's journey on a plastic sailboat, and Greg Hill's quest to ski two million vertical feet in one year. Others set extreme records for causes, like Lewis Gordon Pugh's record breaking swim in a glacial lake under Everest and Eric Larsen's expeditions to the three poles—both missions to raise awareness about climate change.
None of the above made our list. Only those stories that immediately made us stop in our tracks and learn as much as we could about a subject did. Presenting the top 10 adventure stories of 2010, complete with links to long form features, videos, and interviews, just in case you want to learn more too.
10. El Minero Corredor
Reports said that once rescuers made contact with the 33 Chilean miners trapped underground, 34-year-old Edison Pena started to run. Seventeen days after being trapped more than two empire state buildings underground, he cut off the top half of his mining boots, strapped on a miner's light, and ran through a half-mile of dank, dark subterranean corridors in 90 degree heat. "I was running to show that I wasn't just waiting around," he said. "I was running to be an active participant in my own salvation. I wasn't just waiting around. I was running because I was also contributing to the struggle for our rescue," Pena told ESPN. "I also wanted God to see that I really wanted to live."
The group dynamics and collective will of the 33 miners helped a lot, but Pena also had his own way to deal. He ran three to six miles every day. Later, rescuers sent down running shoes and an iPod stocked only with Elvis Presley tunes for Pena. He ran until the 69th day, when he emerged in front of the world as the 12th miner rescued. Soon after, he received an invite to the New York City marathon. He accepted and finished in 5 hours, 40 minutes, and 51 seconds. He ran in the shadows of skyscrapers jutting against the sky, between sunlight enfilading across city streets, and crossed the finish line despite intense knee pain while Elvis Presley belted out of the nearby PA system, "The Wonder of You."
Long Form: Way Down in the Hole, GQ
Alone on the Wall – First Ascent from Mountainfilm in Telluride courtesy of Sender Films.
9. Long, Hard, and Fast
Though climbers like Daniel Woods and Ueli Steck had big years, no climber filled up their resume with more diverse accomplishments than Alex Honnold. Over the summer, the 24-year-old soloed Half Dome and El Cap in 11 hours, then roughly a week later set the speed record for consecutive ascents of El Cap. He wowed on big walls, scaling in Squamish and completing the first one-day ascent of Logical Progression in Mexico. He traveled near and far setting speed records and putting up first ascents, including an expedition with Jimmy Chin and Renan Ozturk to Chad.
Long Form: Yosemite Roulette, Outside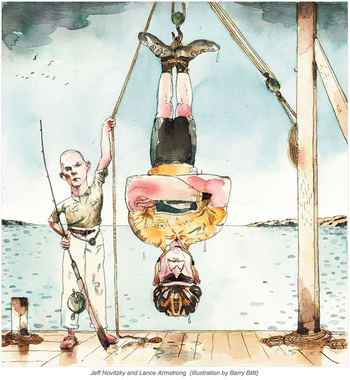 8. Drugs in Cycling, Again
Go ahead, yawn. We have to include it. We'll make it short. Floyd Landis accuses Lance Armstrong of doping. A federal investigator goes after Lance Armstrong. Last year's Tour de France champ Alberto Contador gets suspended after he tests positive for Clenbuterol, a banned substance. It's a soap opera of drugs, accusations, and broken rules fit for Telemundo. Go ahead, yawn again. We're still paying attention.
Long Form: Big Fish, Outside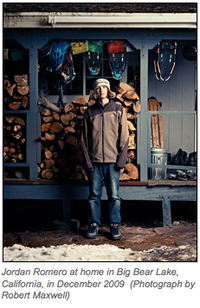 7. Teenie Breakers
How young is too young? That's the question that reared its head all over the web in 2010 when younger and younger teens started tackling the world's most epic adventure quests. Thirteen-year-old Jordan Romero bagged Everest. Twelve-year-old Matt Moniz scaled the highest points in all 50 states in 43 days. Sixteen-year-old Abby Sunderland set sail solo around the globe and battled a life-or-death storm that led her to bail. Sixteen-year-old Jessica Watson went for the same record and completed her quest in Sydney Harbor. How young is too young? There are plenty of variables in the answer, but don't respond yet. The ages keep sliding down. The latest record breaking gossip is that a 9-year-old Sherpa boy is beginnning to train for an attempt on Everest.
Long Form: Into Teen Air, Outside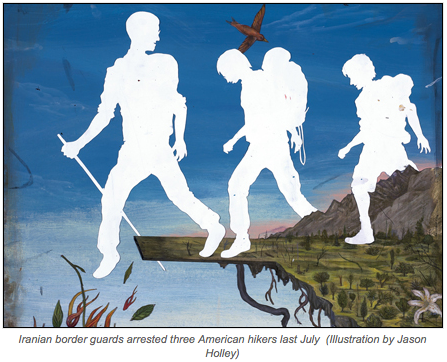 6. Hiking Iran
In July of 2009, three American hikers unwittingly crossed the border from Iraqi Kurdistan into Iran and we're arrested by a guard. A year later, all three remained in prison. In September of this year, Iran released 32-year-old Sarah Shourd on $500,000 bail, but kept her two companions locked up. Shane Bauer and Josh Fattal, both 28, have been detained for 445 days and counting. Supporters around the globe, from Ban Ki-Moon to Desmond Tutu, have asked for the hikers release. How did this all happen in the first place and what needs to happen for it to end? We sent Joshua Hammer to find out last spring.
Long Form: A Mountain of Trouble, Outside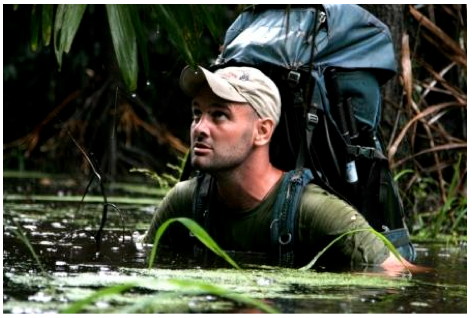 5. Amazon Man
Not only did Ed Stafford become the first man to walk 4,000-miles across the Amazon from source to sea over the course of 860 days, he also blogged about it. He began on April 2nd, 2008 and finished on August 10, 2010, completing the later part with his companion Gadiel "Cho" Sanchez Rivera. He came face-to-face with pit vipers, feared for his life at the arrow points of a group of natives, ran out of food and resorted to primitive dishes like smoked tortoise, lost his funding, and slogged through tropical forests with permanently wet clothes. Over the course of the journey he was buoyed by individual donations, the value of his trusty pack rafts, and support from school children following his quest.
"What would have already been a satisfying thing just to complete the expedition was made even better by the amazing response," Stafford told Outside.
Interview: Walking the Amazon, Ed Stafford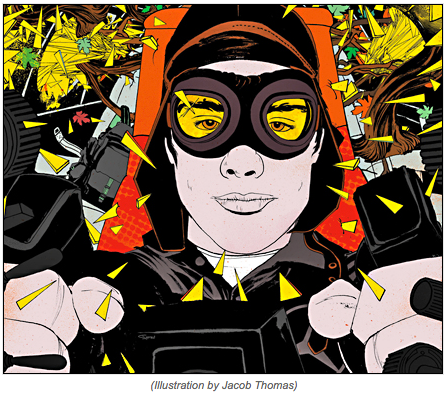 4. The Ballad of Colton Harris-Moore
After leading authorities from Washington to the Bahamas on a wild goose chase for roughly two years, the teen bandit was finally caught in an island standoff. He stole cars, boats, and planes and survived by breaking into more than 100 houses. He took what he could in swashbuckling fashion and in the process gathered the social media following of a celebrity. Even before he was caught his story (based on a feature by Bob Friel in Outside) had been optioned into a book and movie. There's a lot more to the tale than a devil-may-care youth on the lamb from the law. A troubled family history, the rage of an island community, and federal authorities all figure into a story that sounds too Hollywood to be true. More details will likely come out in his trial, but you'll have to wait until July for that.
Long Form: The Ballad of Colton Harris Moore, Outside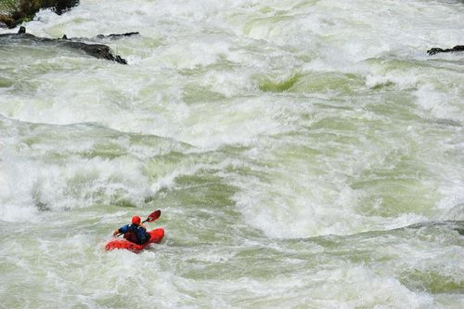 3. Death on a River
South African kayaker Hendrik "Hendri" Coatzee died paddling the Lukuga River in Congo this December after he was dragged under water by a giant crocodile. The 35-year-old guide had racked up a series of first descents and amazing drops throughout Africa, but perhaps the most interesting thing about him was that he didn't seek the limelight. He simply sought adventure in it's most primitive form.
"The only things he had were books. He didn't even own a bicycle; he never left anything behind. Wherever he went, he just sowed a bit of who he was," his mother told IOL News. "He was always so humble, and never spoke about his expeditions or accolades or achievements; he was just Hendrik."
He began the trip guiding four other kayakers. That number dwindled to two (Ben Stookesbury and Chris Korbulic) when the scale of danger became apparent. He led them thorough rapids and edies, aware of the toothsome predators lurking under the surface—crocodiles and hippos waiting with so much force ready to snap. That's worth saying again, he knew the dangers—crocs, hippos, soldiers, rapids—and went anyway. There is no better current insight into why he lived, then his last blog post.
It is hard to know the difference between irrational fear and instinct, but fortunate is he who can . Often there is no clear right or wrong option, only the safest one. And if safe was all I wanted, I would have stayed home in Jinja. Too often when trying something no one has ever done, there are only 3 likely outcome: Success, quitting, or serious injury and beyond. The difference in the three, are often forces outside of your control. But this is the nature of the beast: Risk….
To avoid detection from possible soldiers downstream, we took out at the last big rapid. An army of impromptu porters were eager to carry our boats out what seemed to me a challenging affair. ¾ up, the storm unleashed, dragging a curtain of water towards us through the warped valley. As hard, warm drops trashed at our little selves and a pair of goats, we stood precariously on a unknown slope deep in the heart of Africa, for once my mind and heart agreed, I would never live a better day.
Long Form: Feelings, do they make you soft?, Hendrik Coatzee
2. Surf King
Not long after Steph Gilmore won her fourth consecutive ASP Women's World Title, Kelly Slater put on a performance to remind everyone he's the greatest competitive surfer ever. He scored a perfect 10 at the Rip Curl Pro Search Puerto Rico on the way to winning the event and earning his tenth ASP World Title. He then dedicated the victory to the greatest rival of his career, Andy Irons, who died just days earlier. It was a fitting tribute to a the man who pushed Slater to compete at another level. There is a reason both men are paired together at the top.
Long Form: When a Man Loves a Rival, The New York Times Play
1. The Last Days of Andy Irons
When the news first broke, the story was strange and rife with unanswered questions. Andy Irons may have died of dengue fever in a hotel in Dallas after being too sick to fly home to Hawaii.  A press release short on details came from Billabong. Rumors started to fill the blogosphere. He was in Miami. He got kicked off a flight to Hawaii in Dallas. He was never on the flight in Dallas. He had a severe form of Dengue fever. Methadone and prescription drugs were found in his hotel room, and rumors popped up that he may have been addicted. Facts were lacking. A press release came out from the family and the ASP announcing a preliminary medical review with no solid answers. Brad Melekian stepped in and reported a piece with details about Iron's last few days alive, and the life that led up to those days. The cause of death still hasn't been determined, so there's still mystery. In so many ways the story is a tragedy. If there is hope it comes from the large and caring response from the surf community that Andy inspired. Family, friends, sponsors, and surfers from all over the globe are rallying to bring a strong and vibrant support system to his newborn son, Andy Irons Jr.
Long Form: Last Drop, Outside
–Joe Spring
@joespring