Fat Girls Hiking Wants You to Love Your Body—and Take It Outside
Two friends built an empowering community that encourages everyone to focus on trails, not scales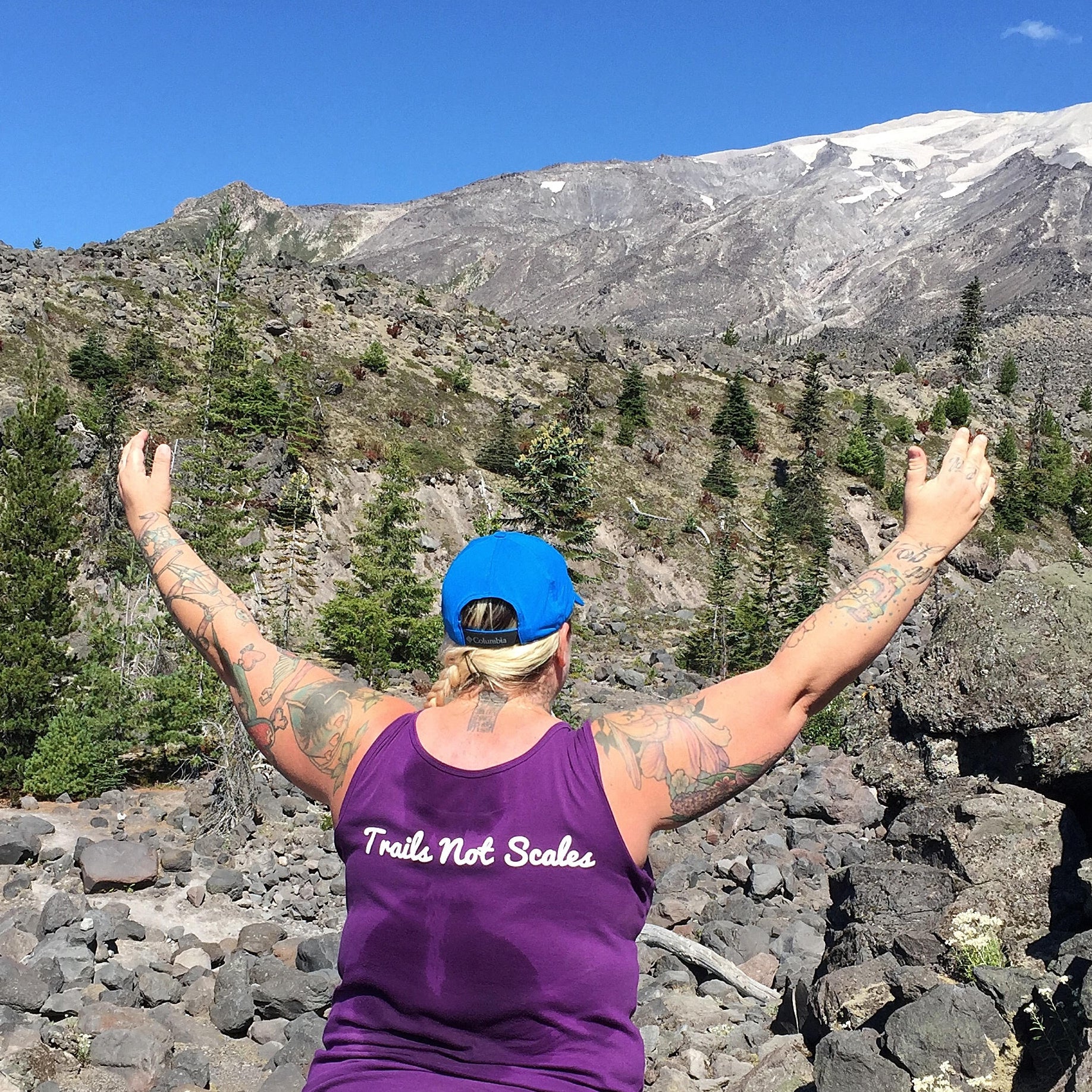 Heading out the door? Read this article on the new Outside+ app available now on iOS devices for members! Download the app.
Fat Girls Hiking is a body-positive outdoors community co-created by adventurous friends Summer and Lezley, who prefer not to share their full names to avoid internet harassment.
​In August 2015, while in Banff National Park, we decided to hike Johnston Canyon. As we were making our way back to the trailhead, we got stuck behind a group of 20 tourists and decided to pass them. After Summer jogged by, we overheard one of the men say, "Wow, you could really feel the ground shake when she went by." We did our best to brush off the fat-phobic comment, but it stung.
While you might say nature doesn't discriminate, people still do. The shame society puts on fat people affects us everywhere we go, including on the trail. Most people who grew up fat have stories of being teased and picked last in gym class. Even as adults, we see stereotypes of fat folks everywhere in the media, perpetuating the idea that fat people are lazy, undesirable, and out of control. People make negative comments online when we use the word fat in an empowering, unapologetic way. When we are slow, out of breath, or sweaty from hiking up in elevation, people assume it's because we are inexperienced hikers and out of shape.
Those attitudes become embedded in our psyche, and it's hard not to think about it when we're having fun outdoors. But we have climbed mountains! We have hiked in five national parks, 12 national forests, and countless state parks in Washington, Oregon, California, Montana, and Canada! We regularly camp, bike, and swim! Even if we weren't so experienced, we shouldn't have to prove ourselves against this expectation that fat people aren't physically active.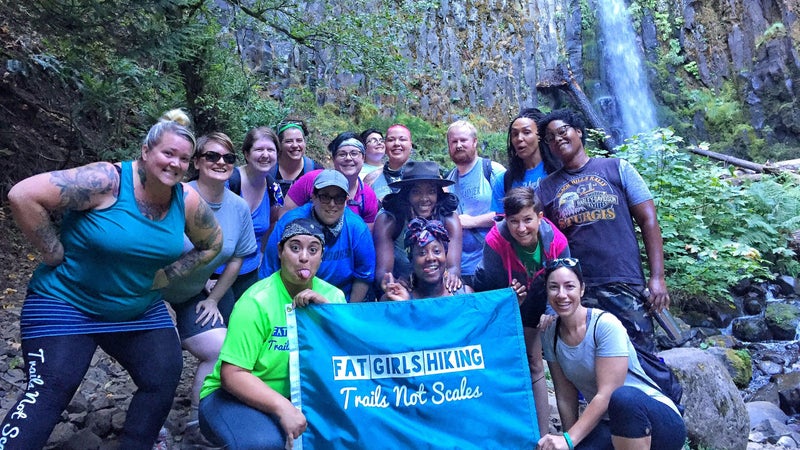 We started Fat Girls Hiking in May 2015 as an Instagram account. The name came from a song we made up while hiking Oregon's Coast Range, our happy hiking endorphins mixed with slight discomfort at being the only fat folks on the trail. We originally used the account to document our own hiking adventures, but our experience in Banff changed the idea of what Fat Girls Hiking should be. We wanted to show people that all body types belong in the outdoors. After all, the average American woman wears a size 16, but how often have you seen that in gear advertising or featured Instagram accounts?
We want to reclaim the word "fat" and empower it.
We noticed other people using the #fatgirlshiking hashtag and started asking folks if we could feature their photos. The Instagram account quickly became a diverse, inclusive community where people could finally see themselves in the experiences of others. Now we also have a blog called Be Heard, where we bring individuals from our community on a hike, take photographs of them, and interview them. We started hosting monthly group hikes in November 2015 around Portland, Oregon, and we host pop-up hikes wherever we travel. People attending group hikes often tell us that they love hiking but haven't always felt comfortable on a trail because they're slow or they don't see anyone who looks like them. We always go at the pace of the slowest hiker so no one feels left behind. We know that regardless of our size, we will get to the waterfall or viewpoint at the end. It's empowering to know that our bodies are strong enough to get us there.
Recently, we started a club that gives plus-size people an opportunity to experience adventures they were always afraid or embarrassed to try. For our inaugural trip, we went to a cabin in Mount Hood National Forest for a weekend of cosmic tubing and snowshoeing, and then held a dance party at night. One participant who traveled to Oregon from Tennessee cried as we sat around the table, telling us, "It's so great to be around people who don't talk about weight loss or diets. I just don't have this where I'm from."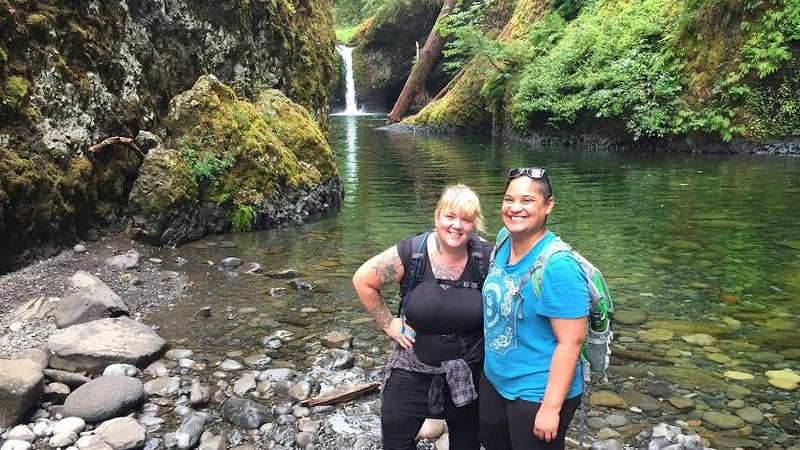 Some people are shocked when we say, "We're Fat Girls Hiking!" They want to find a nicer word: "You're not fat—you're big-boned, curvy, beautiful." Identifying as fat isn't always easy, because it's seen as something we can change if only we stopped being lazy and dieted enough. The truth is that identifying as fat is still a radical act, mostly because everyone sees fat as a negative word, but it shouldn't be. We want to reclaim the word fat and empower it. If you cringe when someone self-identifies as fat, think about why that is. How often do you see ads, articles, and photos showing plus-size people as happy, healthy, active, loveable beings?
Fat Girls Hiking identifies as a body-positive community, centered on the idea that all bodies are good bodies. We aren't a group only for fat folks, we are for everyone—regardless of age, gender, race, size, sexual orientation, religion, and socioeconomic status. Our goal is to spread the idea that hiking is a path to loving ourselves just as we are. When we're crossing creeks, climbing rocks, navigating downed trees or snow, we are creative problem solvers. We're focusing on what our bodies can do, not how they look. We forget about what stereotypes society imposes on us. We want all people to feel the same strength and perseverance.
Lindy West, author of the book Shrill, said it best: "Maybe you are thin. You hiked that trail and you are fit and beautiful and wanted and I am so proud of you, I am so in awe of your wiry brightness; and I'm miles behind you, my breathing ragged. But you didn't carry this up the mountain, you only carried yourself. How hard would you breathe if you had to carry me? You couldn't. But I can."
We knew that if we wanted an outdoor community that better understands this—that's more inclusive and diverse—we'd have to make it ourselves. So we did.