We Salute You: Editor's Letter, October 2012
Heading out the door? Read this article on the new Outside+ app available now on iOS devices for members! Download the app.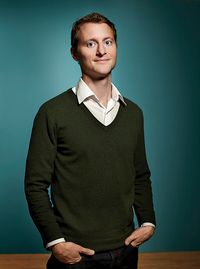 I wouldn't describe myself as a control freak, but turning over a huge chunk of Outside's editorial and photography to readers this month was still a somewhat terrifying experience. When we launched the 35th Anniversary-themed reader-submission pages online in May, asking you to supply everything from images (for Exposure) to reader-profile nominees (Dispatches) to odes to your favorite gear (The Essentials) to your greatest fitness and nutrition wisdom (Bodywork), we had no idea what volume—or quality—of participation to expect. I was pessimistic, and the first day or two tripled my anxiety. (A reader tip about bone-marrow soup for athletes was a memorable low point.) But gradually the trickle of initially tepid responses turned into a flood of bang-on submissions. As you'll soon discovery, starting with the Exposure section, Outside's readers delivered. And then some.
That's always been the case, of course. You're the reason we're able to celebrate another anniversary. Some of you have been with us since the beginning, in 1977. Many more of you became subscribers in the wake of Jon Krakauer's "Into Thin Air," in the 1990s. And for a lot of you, this copy of Outside is your first. But no matter how long you've been reading the magazine, we know you have an opinion about its contents. Believe it or not, we read your letters and emails and online comments with great care. Your feedback is what makes Outside a living, breathing, evolving publication, ensuring we stay relevant three and a half decades on.
That's why, when it came time to commemorate those 35 years, it made far more sense to honor Outside readers than to use the occasion for another long look back at our past—especially given the digital tools we now have to interact with you directly. Whether it's the results of our Facebook contest to select the best river town in America or the more than 1,400 reader photos we used to compile the mosaic image on our subscriber cover announcing the winner (Richmond, Virginia!), your contributions are all over these pages.
This issue represents our best effort to balance an ambitious desire to crowdsource Outside with our monthly duty to gather the highest-quality content we can. You gave us the raw materials this month, and we're certain we've created an issue for the ages.
—Christopher Keyes
@keyeser
Trending on Outside Online