What Our Editors Loved in April
The books, movies, music, and podcasts we couldn't stop talking about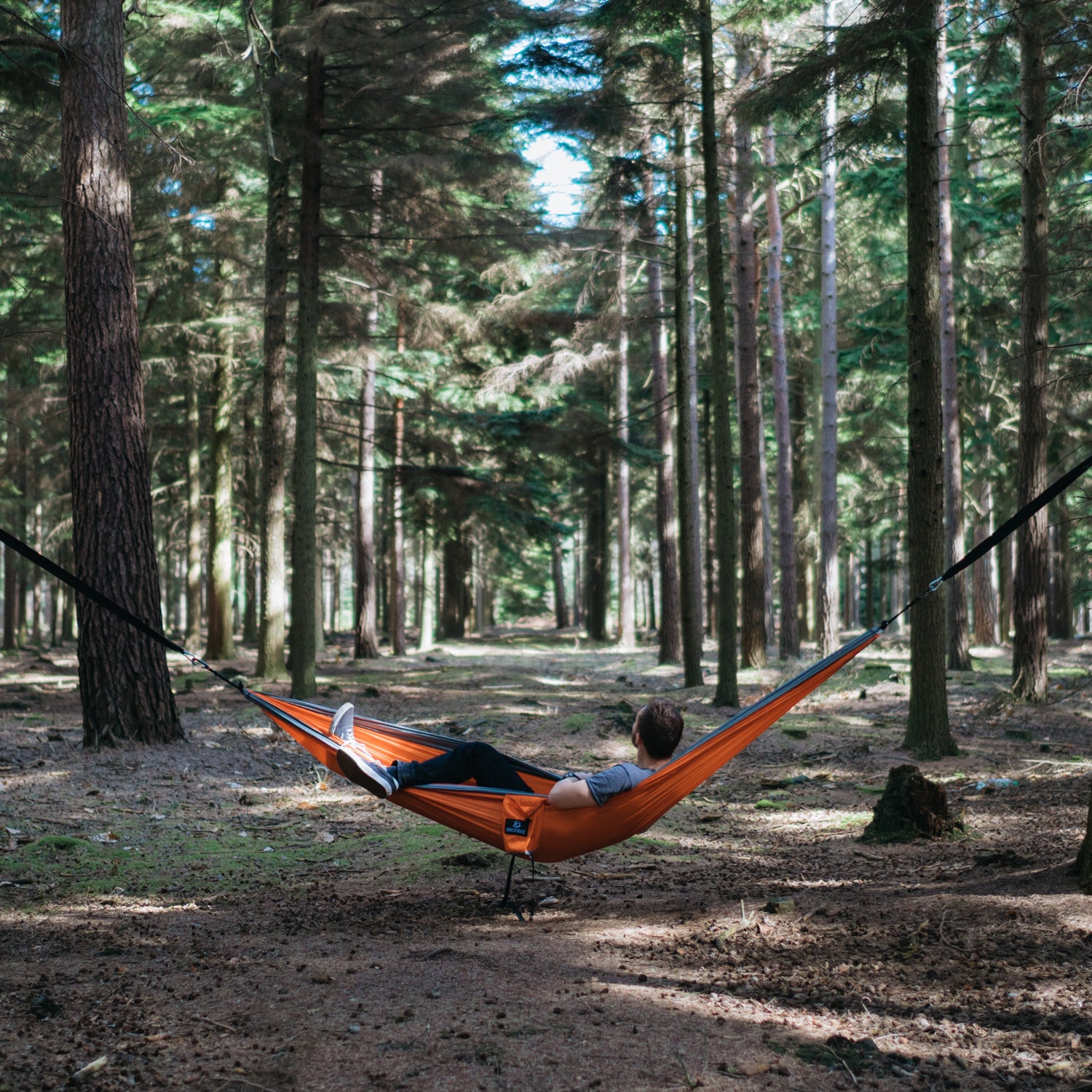 Heading out the door? Read this article on the new Outside+ app available now on iOS devices for members! Download the app.
The beginning of April feels a little like taking the training wheels off after winter—maybe we should wait one more weekend to store the skis? But the end of April feels like barreling full speed ahead into backpacking and climbing trips, summer race training, and hammock lounging. But we already had plenty of momentum going when it came to reading stacks of books and binge-listening great new podcasts. (No joke: online managing editor Abigail Wise got halfway through the podcast The Habitat within a day of its release.) These picks made a lasting impression.
What We Read 
I've been reading The Harder They Come, T.C. Boyle's 2015 novel about guns, sovereign citizens, and violence. Set in the forests of Northern California, it follows a few converging story lines—a retired school principal who kills a mugger while on vacation, his mentally ill survivalist son, and his conspiracy theorist older girlfriend. It's Boyle at his best. Shockingly inventive language, perfect pace, plots that keep you moving from the next page to the next. I'm 50 pages from the end and already regretting it's not longer.
—Jonah Ogles, articles editor
This month, one of my favorite newsletters, The Hustle , launched a weekend edition where they report an original story, rather than sharing curated links and the latest business and tech news. I especially loved the first story on the unlimited, first-class ticket for life American Airlines sold in the early 1980s. They needed a lot of money, and fast, so they came up with this inventive offering and sold 28 passes for $250,000 each. But what AA failed to account for were "super-travelers" who would take over 10,000 flights in 25 years, and cost the airline millions. If you don't already subscribe, I highly recommend it. 
—Jenny Earnest, social media manager
Is it sad that I read all day and go home and read more at night? My excuse: I've been following the top ten book lists of famous folks posted regularly by bookstore One Grand and decided to tackle the favorites of Greta Gerwig, whom I admire. Her choices include a lot of inherent feminism and storylines involving coming-of-age revelations, and the authors hail from various parts of the globe. I loved Chimamanda Ngozi Adichie's Americanah and Joan Didion's The White Album, Alice Munro's Lives of Girls and Women (a fantastic finale!), and The Death of the Heart (what a great title) by the late Irish novelist Elizabeth Bowen. I hated Virginia Woolf's To the Lighthouse, though. Still have another five to get through, and then maybe I'll hit the lists of Tom Hanks or Alice Waters.  
—Tasha Zemke, copy editor
I read Ken Kesey's novel One Flew Over the Cuckoo's Nest years ago, but I hadn't heard of the Oregonian's second book, Sometimes a Great Notion, till recently. I'm about three-quarters of the way through it now (and it's a big one, at over 600 pages), and I have to say, I like it even better than the first. Kesey dedicates long, lyrical paragraphs to descriptions of the Pacific Northwest's dense forests, which become as much a character in the book as the human protagonists—a tough logging clan staking out a claim on the banks of an Oregon river outside the fictional town of Wakonda. It's a world to get lost in during long hours reading on the beach this summer. 
—Axie Navas, executive editor
What We Listened To
I binge-listened to all the episodes of "No Filter," a series from WNYC and The Cut about women and the internet. The cast of interviewees is totally stacked on its own (think Christiane Amanpour, Barbara Kruger, etc.), plus host Manoush Zomorodi also has big-name writers from The Cut, like Ann Friedman and Allison P. Davis, come on to discuss the interviews afterward. The conversations cover a wide variety of subjects—politics, art, media, tech, and more—so there's something for everyone, even if you're not the kind of person who's constantly scrolling through Twitter (as I am). I'm surprised the series hasn't gotten more buzz—don't sleep on it!
—Molly Mirhashem, associate editor 
Kacey Musgraves's new album, Golden Hour, makes me feel like I'm 13 and listening to Taylor Swift's namesake album for the first time. Musgraves has a way of dealing in well-worn themes like crushes, love, and heartbreak that casts everything in a fresh light. Perfect for driving through the desert with the windows down, crying your way through a breakup, or dancing around the kitchen. I never thought I'd care for country-pop after middle school, but I was hooked when I heard "Space Cowboy," a genius, genre-blending breakup song. Then I listened to the whole darn thing three times in a row. The first track, "Slow Burn," is another standout.
—Abbie Barronian, assistant editor
Remember MTV's The Real World, in which a bunch of strangers lived in a house and we watched to see how they got along? Gimlet's new podcast The Habitat is like that, except on fake Mars. That is, a remote Hawaiian volcano that apparently resembles Mars, where NASA sent six volunteers for a year-long experiment in 2015. I've listened to three episodes so far, and I'm hooked. Host Lynn Levy introduces the participants and helps us understand why they're there: Crew commander Carmel from Whitefish, Montana, loves the outdoors and wants to see what kind of plants will grow in HI-SEAS, the name of the habitat. Growing up, engineer Andrzej watched the cheesy '80s film Space Camp and decided he wanted to become an astronaut. The crew sends recordings to Levy, and she mixes it all with recordings from real space missions throughout history, giving listeners a feel for what it's like to eat, exercise, and unclog a toilet in space. For someone who grew up going to space camp—not the cool kind with flashy gadgets like zero-gravity machines, but the ultra nerdy kind where we were quizzed on facts about the papier-mâché planets we crafted—this podcast is the dream. 
—Abigail Wise, online managing editor
I've spent the last few days listening to Bob Dorough, a jazz pianist and singer who passed away at 94 earlier this month. If you're familiar with Schoolhouse Rock!, then you're familiar with Dorough's music. He composed many of its songs, including the classic "Three Is a Magic Number." Although that's his most recognizable credit, he also played with Miles Davis and is responsible in part for bringing together a community of jazz musicians in the Poconos. You could walk into the Deer Head Inn, a jazz club/inn in Delaware Water Gap, Pennsylvania, and see a hiker or two from the Appalachian Trail, a top-notch jazz performance, and Dorough hanging out at the bar. 
—Will Gordon, assistant editor
What We Watched and Otherwise Experienced
The Giro d'Italia starts on May 4, and I'll actually be able to watch the race live from my desk. That's because FloBikes is expanding and adding events like the Giro, Tour de Suisse, Amstel Gold, and Il Lombardia to its streaming schedule. In the past, bike race coverage was a mess: a weird mix of illegal streams, paid apps, and way-too-short TV highlights. Some races like the Tour de France aren't available on FloBikes, but the company's expanded schedule is a move in the right direction for fans. It's not cheap, but for $150 a year or $30 a month it's finally possible to watch some of the most exciting races of the year in one place.
—Scott Rosenfield, digital general manager
I'm just over two decades late in watching Contact, but I finally did after a visit to the Very Large Array in southern New Mexico, which features fairly prominently in the movie. Contact is about an hour and a half too long (much of it spent on an unconvincing romance between Jodie Foster and Matthew McConaughey) but it does make a great case for getting a Ph.D. in astronomy. Foster's character, inspired by real life SETI director Jill Tarter, gets to travel to the lush surroundings of Puerto Rico's Arecibo Observatory, the dramatic desert of the VLA, and—spoiler alert—a wormhole. I struggled (with enthusiasm!) through astrobiology lectures, but Contact has me wishing I were smarter so I could live in such beautiful locales and spend my days listening to outer space.
—Erin Berger, senior editor
After watching the season two premier of Westworld, I am very excited about the robot buffalo. Longhorn cattle appeared as glorious valkyries alongside badass heroine host Maeve in a season-two trailer; the buffalo made a brief but impactful debut in the premier. And given that a white buffalo is also showcased in the season's new opening credits, and that this is going to be an official Summer of the Megafauna, I'm keeping my fingers crossed for a stampede reckoning that cries vengeance for a thousand sport hunts.
—Aleta Burchyski, senior copy editor
Lead Photo: Simon Migaj