What We Read, Watched, and Listened to in May
Everything our editors couldn't stop talking about this month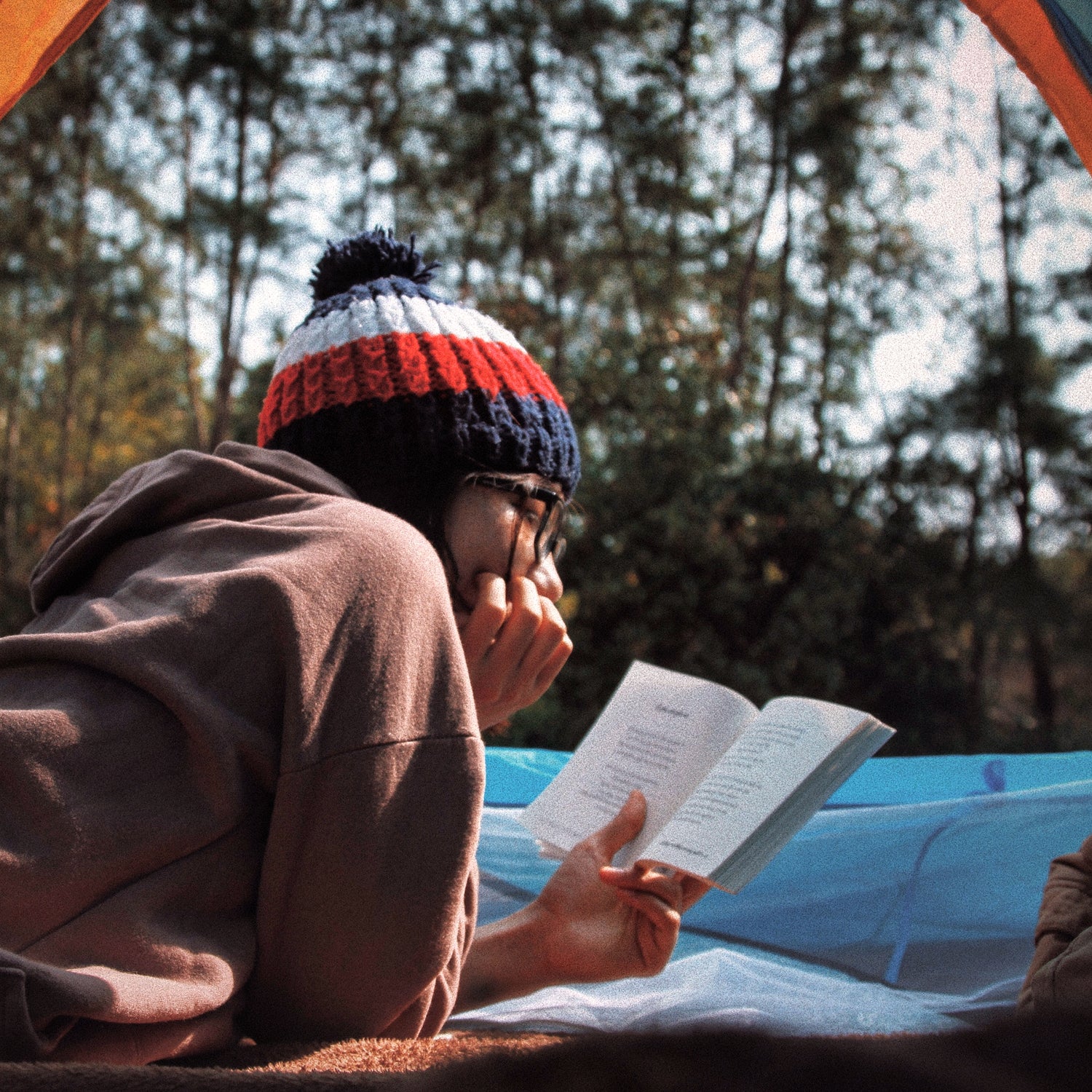 Heading out the door? Read this article on the new Outside+ app available now on iOS devices for members! Download the app.
This month, many Outside staffers mingled with the masses at Telluride Mountainfilm and many more escaped into the woods for low-key weekends with no humans in sight. Either way, we made sure to return to the office with favorite new books, podcasts, movies, and music.
What We Read
I read Rough Animals by Rae DelBianco. There are a lot of Cormac McCarthy comparisons getting thrown around for this gunfight-heavy, violent debut, and it's clear that DelBianco was influenced by the master of the ultra-bloody novel. But what's just as clear is that she's spent long hours shaping a compelling plot: A 14-year-old female cartel assassin walks onto a northern Utah ranch run by one-eyed Wyatt Smith, the two get in a gunfight, and all hell breaks loose. The tension doesn't let up for the rest of the book. If the narrative keeps you turning the pages, her almost Biblical voice makes you want to stay and dwell on each sentence. —Jonah Ogles, articles editor
Pamela Colloff's article "Blood Will Tell, Part One" in the New York Times Magazine is a masterclass in criminal justice reporting. I look forward to reading Part Two soon. —Will Gordon, assistant editor
I'm not one for books about finance, but Bill Browder's Red Notice: A True Story of High Finance, Murder, and One Man's Fight for Justice is a fascinating read from page one. The author simply lays out his life, which includes building the largest hedge fund in Russia before tackling the country's corruption head on. It's a must read for anyone who pays any attention to today's biggest news stories. —Madeline Kelty, deputy photography editor
The Red Caddy: Into the Unknown with Edward Abbey brings together some of my favorite writers: Edward Abbey, Luís Alberto Urea, and Charles Bowden. Urrea, who wrote The Devil's Highway, writes the introduction. He reflects on Bowden, now dead, during a time when he viewed the journalist and author as a kind of demi-god, traipsing the Sonoran Desert, talking to saguaro, or snuffing out the last cigarrete over beers with a Mexican narco. Bowden, author of the memoir, became friends with Abbey when they both lived in Tucson, Arizona. They were kindred spirits—desert rats who wrote with beauty and power, and curmudgeons who tended to view our current state of humanity as spiraling the sink. Bowden looked up to Abbey, but he didn't let that get in the way of telling readers how his friend Abbey was, like all of us, a jumble of contradictions. The gruff anarchist had a delicate ego and he could be childlike in his spite. In Abbey's later years, the avowed environmentalist zoomed the desert in a gas-guzzling red Cadillac and saw little wrong with this pleasure. Bowden warns about turning the dead into saints, but he also can't deny that Abbey's spirit lives on. —J. Weston Phippen, senior editor
What We Listened To
We've all spent the past couple years reading about the Bundy family, who overtook the Malheur National Wildlife Refuge in Oregon in a standoff against the federal government. But most of those headlines portrayed the Bundys as straight-up lunatics who called on a militia to fight the BLM over unpaid cattle grazing fees and a belief that the government should not own public lands. The new podcast Bundyville goes much deeper. Leah Sottile explores this strange family through episodes dedicated to topics like the ghost town in Arizona where a couple hundred people—the majority of them with the last name Bundy—once lived. At the end of the seven-part podcast series, will you sympathize with the Bundys? No, but you'll feel like you have a better grasp on what motivates them. —Abigail Wise, online managing editor
I don't know why, but every morning I've been listening to Andrew Bird's meandering cover of The Mountain Goats' "Distant Stations." He did it for the podcast I Only Listen to the Mountain Goats a few months ago, and it hasn't yet gotten old for me. —W.G.
As a culture editor at a niche lifestyle magazine, I'm always looking for ways to shoehorn my completely unrelated interests into my work and sell them as "kind of outdoorsy." Imagine my delight when one of my favorite musicians, Mitski, released a song called "Geyser," complete with a music video in which Mitski runs around on a gray beach and digs frantically in the sand (hey, that's an outdoor activity!). Okay, it's not about geysers in the Yellowstone sense, but it's a great use of the metaphor, and the oddly structured song ratchets up Mitski's melodic, emo style to dramatic new levels. —Erin Berger, senior editor
I guess this month's theme was catching up on all the things I should have known about. None of my history classes covered Watergate, leaving me to go through life without knowing more than what the movie version of All the President's Men had taught me. Enter Slow Burn: A Podcast About Watergate. Each episode kept me captivated while walking my dog, and I finished the series wondering if history was doomed to repeat itself. —M.K.
What We Watched and Otherwise Experienced
I went to Telluride Mountainfilm over Memorial Day weekend, where the who's who of the outdoor world gathers to watch films, attend panels, and schmooze. I was very excited to find that one of my favorite writers, Peter Hessler, was giving a talk. Hessler was the New Yorker's correspondent in China for many years, and then moved to Egypt right as the Arab Spring was starting. He started off talking about what it was like to experience that political uprising, but then things took a fascinating turn when he described discovering a Chinese man selling lingerie to devout Muslim women while reporting on violence in an Egyptian city on the upper Nile. He ended up unraveling an almost-unbelievable economy of Chinese business people from the coastal city of Wenzhou moving to Egypt to sell underwear to local brides and grooms. He's writing a book on the phenomenon, but in the meantime, check out his New Yorker story on it. —Luke Whelan, research editor
---
Sponsor Content: Patagonia
Come for the running. Stay for saving the rainforest. Takayna, a new film from Patagonia, tells a rich story, intertwining both of these subjects. The Tarkine, called takayna in the Aboriginal language, is a 1.2 million-acre swath of temperate rainforest on the Western coastline of Tasmania. The landscape is home to old growth forest, 60 threatened and endangered species, uncontaminated rivers, and the artifacts of the Aboriginal people who were nearly wiped out by a largely-unacknowledged genocide. It's one of the world's last wild places—and it's under threat.
While Tasmania is thousands of miles away from the United States, the public lands conflict happening there will feel surprisingly familiar and relatable for an American audience. Takayna, which made its North American debut at Telluride MountainFilm over Memorial Day Weekend, tells the story of the Tarkine from all sides: a trail running doctor who uses her feet to help activists, a storied environmentalist, Aboriginal voices, and locals who rely on extractive industries for their livelihood.
---
The Facebook algorithm gave me a great present this month: the Facebook Watch series called Red Table Talk. Jada Pinkett-Smith, her daughter Willow, and mother Adrienne, open up about motherhood, blended families, and body image. The conversations in this series have ripped my heart wide open and made me reconsider many things about my own life, from broken friendships to self-value. Maybe social media isn't the death of the millennial generation after all. —Emily Reed, assistant gear editor
I just saw Cristina Constantini and Darren Foster's documentary Science Fair at Mountainfilm. The film traces the journey of a handful of high school students from around the world as they compete to make it to the most prestigious science fair out there: the International Science and Engineering Fair. It's a brilliant film, wildly funny and tear-inducing in turn. The students' projects are mind-bending—AI-created artwork, cancer prevention technology, a new aircraft—and their stories touch on deeply important themes including public education funding and immigration (many of the American students are first-generation). Where the film truly shines, though, is in its perfect depiction of the curiosity, insecurity, exuberance, and unfettered idealism that comes with being, say, 15 years old and impossibly smart. It's the best documentary I've seen in a long time. —Abbie Barronian, assistant editor
I discovered two artists worth mentioning and following. For your eyes: Italian ceramicist Sebastiano Fischer, who likes to play with fire to create stunning vases and other pieces that lovingly objectify the island of Pantelleria in ways that make me pine to return. And for your brain: writer/historian/photographer Teju Cole, whom I'd describe as an emotionally available globetrotting intellectual. He's my newest literary crush, something that happened at the opening of his Santa Fe, New Mexico, exhibition for his latest book, Blind Spot. In one caption, he describes falling in love with his Italian interpreter while she was interpreting his comments. That's like something from a movie. Swoon. —Tasha Zemke, copy editor
Netflix's new series The Rain is a patchwork of post-apocalyptic drama—there's The Road's family core, Maze Runner's capable band of teens, and Resident Evil's ethically questionable biotech corporation, just to name a few. And yet: it's so much better than the sum of its parts, with survival-competent characters who are easy to care about and plenty of plot twists and action to keep you hitting "Yes, I'm still watching." —Aleta Burchyski, senior copy editor
Ali Wong's new stand-up comedy special, Hard Knock Wife, launched on Netflix this month. Obviously, I devoured it the day it came out. It's hilarious and relatable, and as an Asian-American, it's great to see more on-screen representation of Asian-Americans in the mainstream media. Just make sure to watch her first special, Baby Cobra, first. —Jenny Earnest, social media manager
I drove six hours from Santa Fe to the lovely city of Denver just to see Taylor Swift's Reputation Tour. I danced to "Shake It Off," Outside's proven snow-summoning song, live. If that doesn't please the snow gods for next season, I don't know what will. —M.K.
Lead Photo: Le Tan