The Wonk: National Geographic Adventure Closes
Heading out the door? Read this article on the new Outside+ app available now on iOS devices for members! Download the app.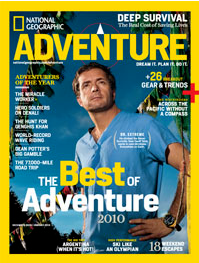 Sigh. That may be the best way to summarize our collective reaction here at the magazine when we heard that National Geographic Adventure has ceased publication of its print edition. (They'll continue to maintain a website and various other enterprises, we're told. To read more about the details and history of the magazine, check out NGA West Coast editor Steve Casimiro's blog about the closure.) On the one hand, yes, of course, we were rivals. But it was a friendly rivalry—one based on deep mutual respect. The magazine industry may be massive, but when it comes to outdoor magazines, it's a small world. Over the years, our two publications have swapped staff members and writers, including NGA's editor-in-chief, John Rasmus, who was a founding figure here at Outside and who spent much of the eighties creating the magazine we're all so proud of today.
To the staff and contributors of NGA, we'd like to offer a salute for everything you've accomplished. Like any worthy opponent, you spurred us to make a better magazine. We already miss the competition, and we hope that all of you fare well and prosper in 2010.
–Sam Moulton, Executive Editor, Outside