The Daily Rally
Andrew Gibbs-Dabney Gets Better Every Time He Tries
Being incarcerated at a young age taught the gear designer that we can move past our biggest mistakes—as long as we keep going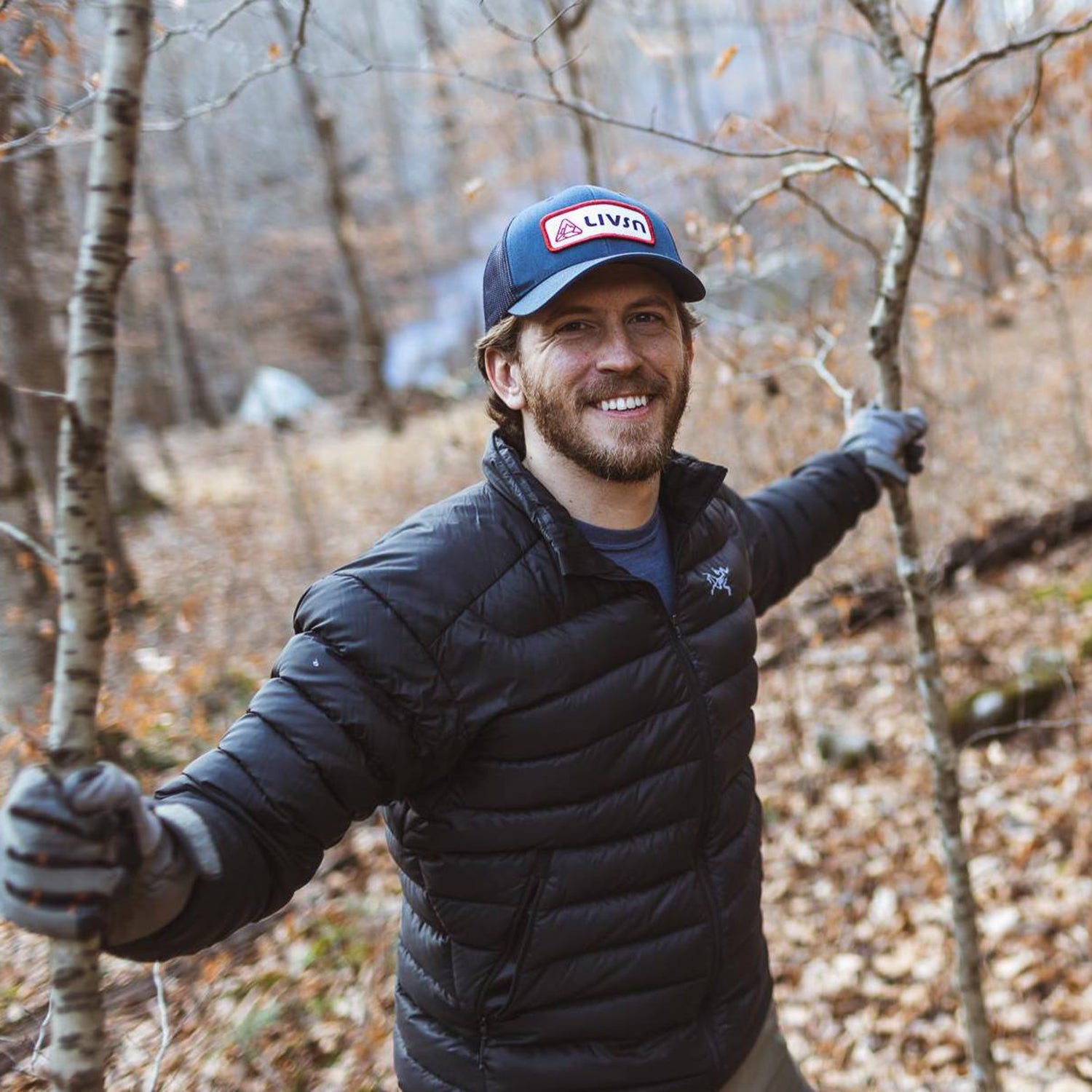 Andrew Gibbs-Dabney
Heading out the door? Read this article on the new Outside+ app available now on iOS devices for members! Download the app.
Andrew Gibbs-Dabney shared his story with producer Sarah Vitak for an episode of The Daily Rally podcast. It was edited for length and clarity.
Before I ever got in trouble, I was a gear junkie. I was an outdoors guy. I had all this stuff. When you go to prison, you get everything taken away from you. You're handed a shirt, and some pants, and some crappy shoes, and a little towel roll with a toothbrush in it. That's what you got.
I'm the founder and CEO of Livsn Designs. We do outdoor apparel focusing on durability and versatility. I'm in Bentonville, Arkansas.
Bentonville is tucked into an area of the state called the Ozark Mountains. It's a beautiful place. Rolling hills, lots of green forests, rivers and bluffs, and really good mountain biking.
A big turning point in my life that got me where I am today was a run-in with the law and becoming incarcerated at the age of 23, back in 2011.
I was a student at the University of Arkansas, and I just wasn't doing well. I was partying too much. I was doing way too many drugs. And I had moved from recreational drug use to an addiction to prescription Oxycontin and other opiates. So I wasn't doing well. I was underweight, mentally unhealthy, failing out of school. I ended up in that state robbing a liquor store in our hometown.
After I did that, I had to make a choice: Was I gonna own up to what I did and move on with my life and make the best of what the future can possibly hold? Or am I going to continue down this road?
When I was in rehab near Austin, Texas, I was sitting outside in the middle of one of the worst droughts. The weather was over 110 degrees with driving winds. It felt like sitting in a hair dryer. After the haze of addiction had worn off somewhat and my mind was starting to operate the way it's supposed to, I started to really feel the gravity and the physical pain, and the effects and the consequences of my actions. I realized that I was looking at potentially 40 years to life in prison, and had all of the consequences of my actions weighing down on me. That was the mindset I was in when I made the choice to get clean and sober.
During that time I was learning to meditate and really learning to sit with my thoughts. In that experience was this realization that life is very short. I spent a lot of time thinking, OK, with whatever time I'm given, how am I going to maximize both the time potentially incarcerated, and then when I'm free again, to live the best kind of life that I can possibly live? I wanted to spend my time concentrating on what's important.
And what's important to me is experiences. When I was looking back, it was the time spent outside. That's my passion. I love to be outside. I really love to be in the woods alone.
Realizing that what was most important to me when everything was taken away were my experiences outdoors was very illuminating.
I was able to actually get the plea deal. I ended up only being behind bars in jail and prison for about four months. Then in a military-style boot camp for the next three months. At that point, the absolute best case scenario that we were shooting for from the beginning ended up being the scenario. It was the best feeling to know that instead of restarting life again at 32-ish, I would be in for six-to-eight months or maybe a year and get the second shot at this.
I was lucky to be given a lot of my time back and be given a second chance, and that meant I was going to spend as much time as I could outside with friends and with family. That's my happy place.
You look back on life and you don't remember all the things you have, you remember what the experiences were that those things facilitated. So you may have fondness for an item or a car or a backpack, but you have fondness for those things because of the experiences that they give you.
That idea led to a whittling down of possessions. I'm still a gear junkie, so I still have to fight this every single day. Livsn was born out of this idea and this effort to simplify the things that I own and replace them with very high quality, very versatile things.
Something else I think I learned is that life is iterative and an ongoing process, and you can't beat yourself up for not being at the finish line. They call them "BHAGs," big hairy audacious goals. My BHAG was to not use opiates, to not go back down that path. To stay clean and sober from this drug that almost destroyed my life. That's overwhelming sometimes. You have to think, What are the small steps I can do along the way to accomplish that?
This idea that if you get a tiny bit better every time you try, then ultimately you're gonna end up in a much better place than almost everybody else ends up in. The trick is not beating yourself up along the way.
Mountain biking is a good parallel. So say you see people clearing these big, incredible jumps, boosting them, getting a big whip, landing it really smoothly, and you're like, I want to do that one day. You can't just run up or ride up to that lip and send it. You can, but you're not gonna have a great result. So you set these small goals along the way. You say, "I'm gonna learn to bunny hop, and then I'm going to work up to small jumps, and then I'm gonna hit the big-ass jump."
Set big goals, but don't beat yourself up when you don't get them on the first try.
Andrew Gibbs-Dabney is the founder and CEO of Livsn Designs, which crafts versatile and sustainable outdoor apparel designed to last longer. Learn more at livsndesigns.com.
You can follow The Daily Rally on Spotify, Apple Podcasts, Stitcher, or wherever you like to listen, and nominate someone to be featured on the show here.
Lead Photo: Andrew Gibbs-Dabney