What 'Free Solo' Taught Me About Love
When Sanni McCandless started dating legendary climber Alex Honnold, she never expected that millions of people would soon be watching her relationship on screen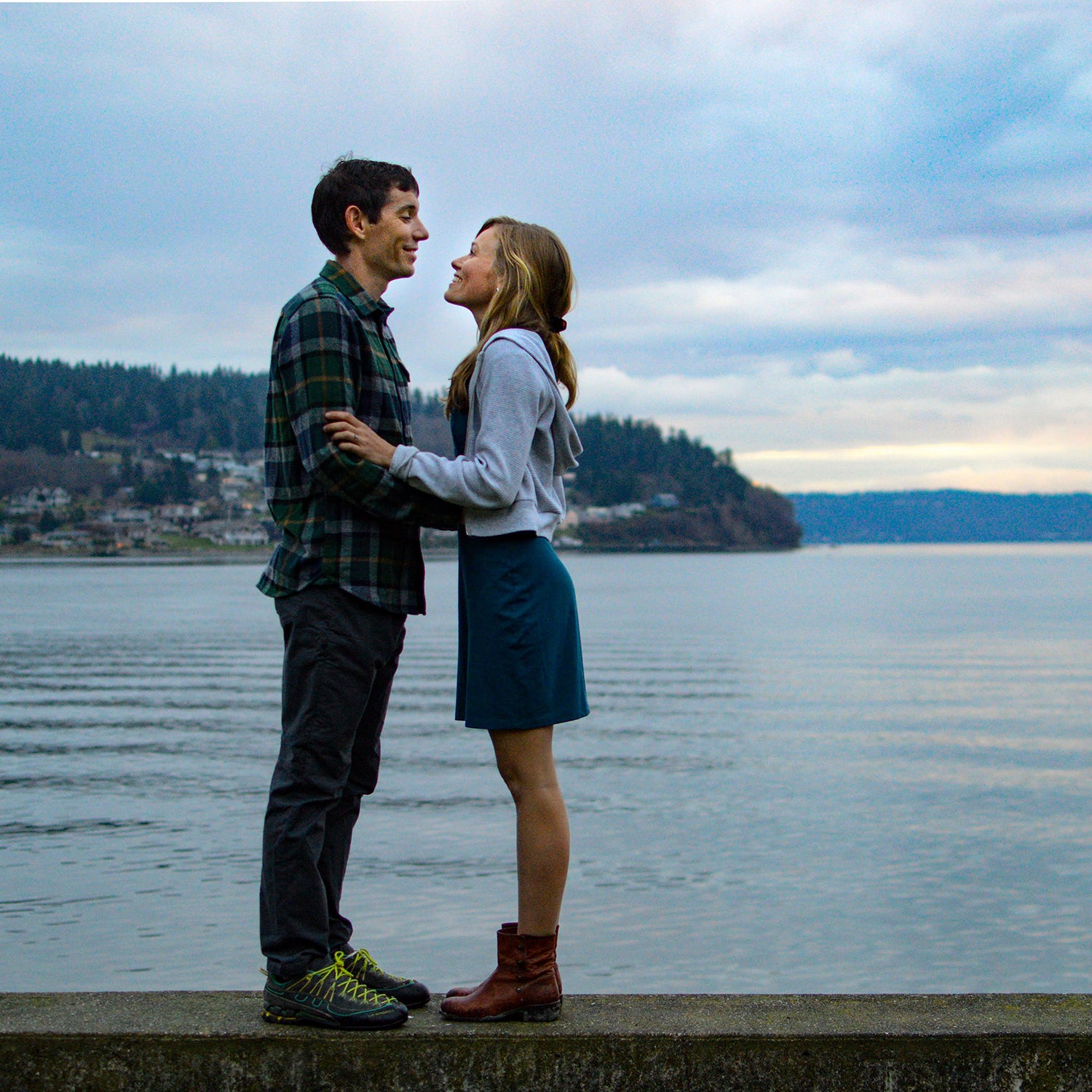 Heading out the door? Read this article on the new Outside+ app available now on iOS devices for members! Download the app.
On June 3, 2017, my boyfriend, Alex Honnold, became the first person to free-solo El Capitan, a 3,000-foot wall in Yosemite National Park. It was an achievement compared to the lunar landing.
Just a year and a half prior to that day, Alex and I met at a talk and book signing he'd done in Seattle. I hadn't known a single thing about him, but after listening to him speak, I decided he was cute and funny, so I left my phone number on the table as I walked away. A few weeks later, we went on our first date. It was a dry, cloudy day in early December, and we sat across from each other in the upstairs of a crowded pizza joint. As we chatted, we learned about each other: I was an outdoor dilettante; he had committed his entire life to rock climbing. I lived with four friends in the middle of the city; he spent entire rest days alone in his van. I treasured nuance and context; he found clarity in the black and white. We were total opposites, yet somehow there was a spark. As we laughed and watched each other, I was unaware that he had recently signed a contract with National Geographic to film a documentary about his life.
---
In June 2016, six months after Alex and I met, I quit my job in Seattle, shoved eight boxes of my belongings into the crawl space beneath my rented room, and traveled to Europe with him for the summer. We climbed at crags across France and Switzerland and counted waterfalls as we hiked on trails through the Alps. He was like no one I had ever met: incredibly brave, quietly in need of love and approval, confident, and whip-smart. Mostly, he was playful and made me laugh. I think he appreciated my self-deprecating sense of humor and enthusiasm for life, but maybe it was my convenient lack of employment. When we got back to the States, it didn't take long before we took three boxes from the basement and placed them in the back of his van. As we drove away from the house, I asked, "Did we just move in together?"
As our relationship developed, so did the documentary. When I first heard about the project, I imagined a few days of interviews and some low-key climbing shooting over the course of a season. But on the day we awoke to a cameraman quietly entering the van to film our morning routine, I realized it was anything but low-key. Little did I know that in the months to come, many of our most intimate, painful moments would happen in front of the crew. A camera would be there when I asked Alex if we would take me into account when he risked his life soloing, when I held myself together for a cheery goodbye before leaving Yosemite a few days before his ascent (only to lose it completely when I got in the car), and during petty fights as we bought our first house.
There were moments early on when I could tell the filmmakers were frustrated by my presence—because, let's face it, relationships complicate things. My arrival hadn't been part of anyone's plans, and no one had expected Alex would fall for someone on the eve of his solo of El Cap. Even Alex came to me at one point wondering if we should break up. He worried that I would get in the way of his climbing and that he needed to choose: love or greatness. I remember asking, "Why not both?" And so we forged ahead, delicately balancing our blossoming affection with the headspace he needed to free-solo at a high level. In the end, the story of us falling in love became a key plotline in the film, and the directors, Chai Vasarhelyi and Jimmy Chin, captured the intensity of a new relationship developing in the midst of Alex's pursuit.
---
Then, one day, our relationship was on display for the world to see.
Free Solo premiered at the Telluride Film Festival in August 2018. As I watched on opening night, I could appreciate the beautiful and skillful filmmaking, but that did not prevent the emotional roller coaster I felt as I watched almost two years of our relationship condensed into 20 minutes of footage. There were moments when I wanted to leap up and provide context to the crowd. At one point, when asked if I climb, Alex responds, "I'd hardly characterize her as a climber." To a viewer, that might sound like a rude, off-handed quip, but in reality, he made the comment when I'd only been climbing consistently for a few months. I didn't even self-identify as a climber yet. I felt equally frustrated as I watched a shot of me fumbling with a knotted rope shown right before Alex sprains his ankle falling on a run-out slab—the underlying implication being that my ineptitude was to blame. While I didn't want to shy away from personal responsibility, details that felt important to me—he skipped a bolt, he pushed himself away from the wall—flooded my mind. And yet I recognized, painfully, that I had no voice in how the story would be told or remembered.
I could see that the directors were addressing the concern that Alex was hanging out with someone new to the sport while training for the greatest climbing feat of all time, but I couldn't help but feel defensive. Ultimately, I'd always trusted that he would do what needed to be done to succeed, whether I was in the picture or not.
---
In the months to come, Free Solo would win an Academy Award, a BAFTA, and seven Emmys. It would be seen by millions of people and set box-office records. As more people around the world saw the film, it felt like opening up my heart and giving everyone a peek inside. My sensitivity grew, and even casual comments could feel torturous. Jimmy told me about an A-list actor who watched the film and said that the whole time he just wanted me to get out of the way so Alex could do his thing. I received direct messages from people who believed I was in an emotionally abusive relationship. On my social media feeds, there were endless comments that Alex shouldn't climb with me because I was a hazard. I was shocked that people felt they knew the ins and out of our relationship after having seen so little.
There was one interview that left me feeling particularly raw. Chai, Jimmy, Alex, and I were seated in a circle with a journalist from the Los Angeles Times. At some point, the group began discussing the infrequency with which Alex uses the word "love." (Words of affection aren't always his strong suit.) It was a conversation I'd had many times in the early years of our relationship, usually in the van or under the covers, but always when he and I were alone. As the exchange continued, the group began debating where I stood in his priority list—was it above or below his passion for extreme rock climbing? I remember holding my breath and thinking, Can't some things be equally important? As I exhaled, it hit me just how public my life had become.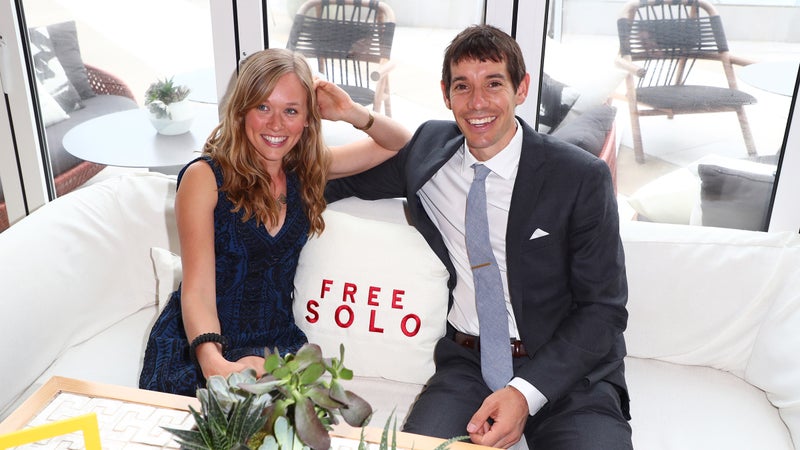 In those first few months post-release, I suffered severe anxiety. I remember one night in particular, when Alex was away on the film tour and I was home alone. My anxiety had morphed into paranoia, and in the middle of eating dinner, after triple-checking the front door and closing every blind in the house, I grabbed my largest chopping knife from its magnetic holder on the wall and laid it down next to my plate. A few nights later, I recall lying awake in bed for an entire night, certain the house had been bugged and there were hidden cameras in my room.
When I mentioned these occurrences to friends and family, I faintly registered their concern but felt helpless to do anything about it. The idea of seeing a therapist felt exhausting, and I perhaps naively believed that the situation was too unusual to be understood. It took me a while to identify this experience as the side effect of going from an everyday person to a subject of a documentary viewed by millions: I was feeling an utterly profound lack of control.
Initially, it was the fear of being misunderstood that clawed at my consciousness. In the weeks following the film's release, Alex (the give-no-shits expert) reminded me again and again, "Sanni, the only people whose opinions matter are your family, your friends, and yourself." Eventually, his point sunk in. I could not control how the world chose to interpret me.
Yet there was a bigger fear lingering beneath the surface. Somewhere deep down I was realizing the pain of forever being seen simply as an extension of my significant other. I wanted to create a name for myself, and there was a line between closeness and independence that I was struggling to find. Could we pursue our own dreams without drifting apart? Slowly, I recognized that my frustration might be coming from a lack of confidence that I would find my own way.
---
A few months after the Free Solo premiere, a company I'd started with two friends designed to help people create outdoor-driven lifestyles held its first event. It was a Sunday night in early winter, and I had just spent four days running around, leading nearly 100 people through a life-altering weekend. I was exhausted. And yet I felt like myself. It hit me that Alex's life had the forward momentum of a tornado, but in the midst of falling in love, I didn't want to be swept off my feet. Instead, I wanted to focus on what I knew to be true: I was very much a woman in love, and very much my own woman.
Time passed, and life began to slow down, as did the press, fan sightings, selfie requests, and Instagram threats. We came back to our routine, hit the road, and spent weeks in Yosemite thinking of nothing but climbing and hiking. As I healed, I felt immense gratitude for the Free Solo team, and I could once again appreciate the experience without triggering an anxiety attack.
More than a year after the film's release, Alex and I were at a small Airbnb on Washington's Whidbey Island when he pulled out a ring box and asked, "Do you want to keep doing what we were doing?" I said, "Yes," with an enormous smile.
Looking back, I can see how navigating Free Solo prepared us for the journey we are just beginning: our marriage. Alex and I faced almost every pressure a new relationship could take. We fell in love in front of a film crew, knowing that if it didn't work out, we'd have complicated many people's lives for nothing. We had to discuss not only the prospect of death, but what we each needed to truly feel alive. The overwhelming sea of press and publicity taught me to let go of what other people think of me and my relationship. Most important, because of Free Solo, when it comes to the dance between closeness and independence, I can finally ask: "Why not both?"
Lead Photo: Courtesy Sanni McCandless