How Model Quannah ChasingHorse Is Fighting for Her Community and the Planet
A new documentary, 'Walking Two Worlds,' chronicles Quannah's rise in fashion alongside her activism on behalf of the climate and her Indigenous community in Alaska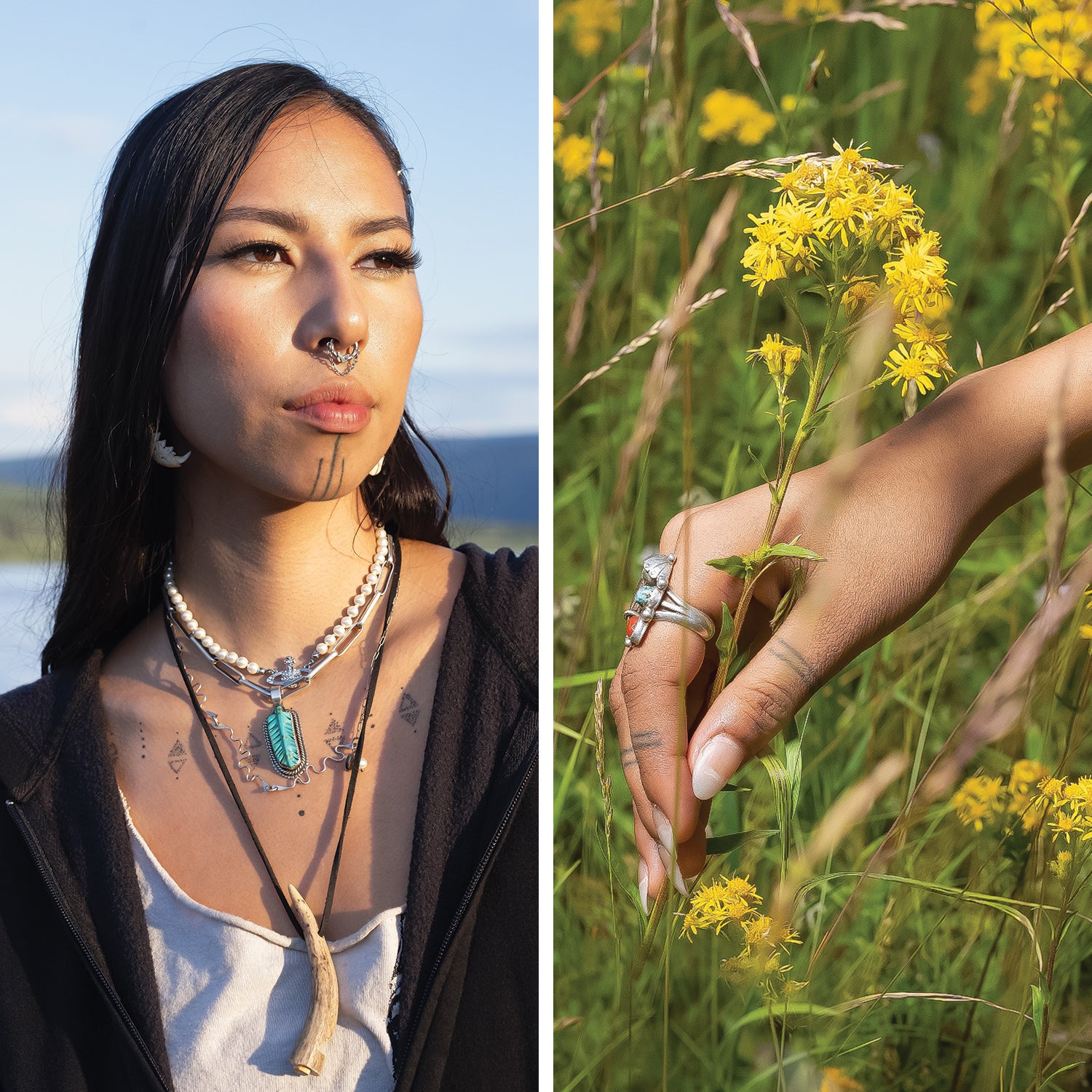 Jenny Irene Miller
Heading out the door? Read this article on the new Outside+ app available now on iOS devices for members! Download the app.
When Indigenous activist and model Quannah ChasingHorse was three, her family moved to a small village in Mongolia, where her mother, Jody Potts-Joseph, had taken a job teaching English. During supply trips to a nearby town, Jody would often find Quannah in front of their hotel's small television, transfixed, watching a channel that showed nothing but high-fashion runway shows.
"My memories start in Mongolia," Quannah, now 21, says of those years. "There's a picture of me sitting, with my legs crisscross, just staring at the TV in awe. Ever since then, my dream was to be a model."
That dream is now a reality. Quannah—whose mother is Han Gwich'in and is from Eagle Village, Alaska, and whose father is Oglala and Sicangu Lakota (tribes based in South Dakota)—has gone from being a teenage climate activist to walking in runway shows for brands like Chanel, Chloé, and Gucci, providing an Indigenous presence at fashion's top levels and helping boost visibility for Native brands and designers. Her ascent is chronicled in a new documentary short, Walking Two Worlds, supported by the North Face. (The company premiered Walking Two Worlds on its YouTube channel 0n September 12.)
In advance of the film's release, I spoke with Quannah and Jody remotely. They were sitting at the kitchen table at Jody's cabin in Eagle Village, where their Han Gwich'in ancestors have lived for thousands of years, just west of the border with Canada, on the upper Yukon River. I could hear barking dogs outside the cabin—Jody's sled-dog team.
As the women explained, modeling may have been Quannah's destiny, but it was advocacy work that first put her in the public eye: as a teenager, she protested against drilling in the Arctic National Wildlife Refuge (ANWR), served on the International Gwich'in Youth Council, spoke at climate rallies, and worked with the Alaska Wilderness League. Quannah's mother and grandmother are also activists, and Quannah came to her role as a land and water protector through their influence and from close observation of her surroundings while growing up.
"In my life I have seen these changes, I have experienced these changes, I have witnessed these changes," she tells me. For Indigenous activists, climate is more than personal—it's existential. "Our way of life is at risk," she says. "Our culture, all of those things that make us who we are, that make our identity."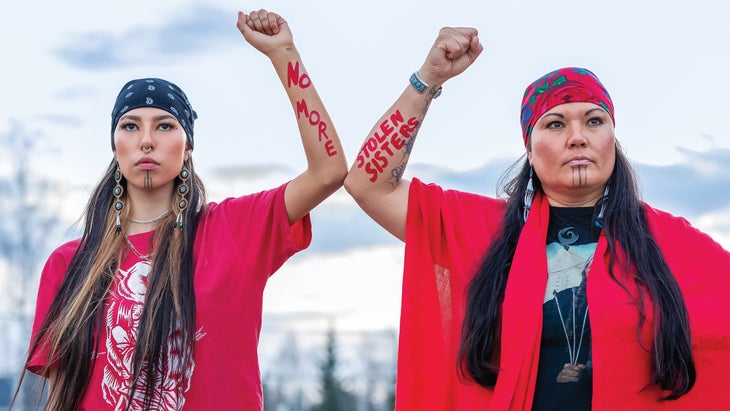 In 2020, Quannah was doing get-out-the-vote organizing when she was noticed by a Calvin Klein casting agent and hired for the CK One campaign One Future, which featured young people from across the U.S. Quannah, who has traditional tattoos on her chin and temples—hand-poked by Jody during a coming-of-age ceremony—was one of its breakout stars. She soon signed with the modeling agency IMG.
In a fortunate twist, a documentary filmmaker was along for much of the ride. Maia Wikler, a PhD candidate in political ecology at the University of Victoria in British Columbia, first met Quannah and her mom in 2019, at a summit in Washington, D.C., organized to fight drilling in the ANWR. "Quannah was incredible in meetings on Capitol Hill," she recalls, "and in her conviction that they needed to hear and understand what she was saying. I think she was born for this."
Wikler pitched the North Face on the possibility of a film project—inspired by the brand's long-standing support for advocacy efforts around the ANWR and other causes—and began what became more than two years of pandemic-interrupted shooting. Wikler was convinced that Quannah and Jody's story could resonate with a wider audience. "I felt there was a gap in the storytelling around climate for something that was relational and empathetic," she says. "I was thinking, How can we get people who never set foot in Alaska to care about what's happening there?" Fashion wasn't initially on her radar, she says, "but there's a saying in documentary film—if you end up with the story you started with, you didn't do the film right."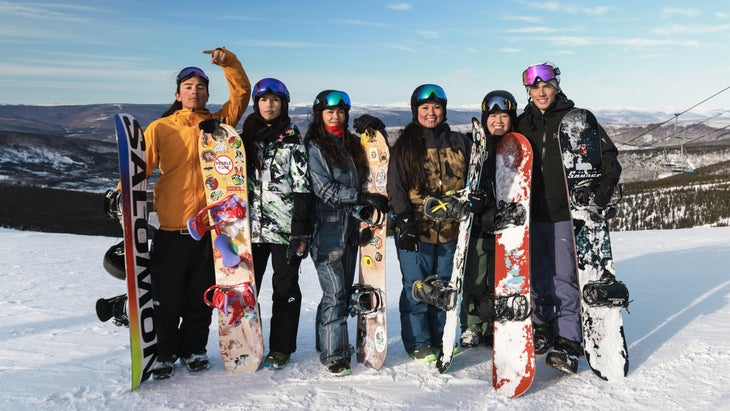 Walking Two Worlds has plenty to say about climate and activism. It's also a deft portrait of a young woman coming into her own while navigating two different realities: her traditional culture and the flashy realm of haute couture. Jody, who watches over Quannah's career as her "mom-ager," experienced a similar tension—between her dreams for the future and a feeling of responsibility to her community and her culture—when she left Alaska in the late 1990s to attend college in the lower 48. While raising Quannah and her two brothers, she says, she taught them how to find their way, "to make sure they were really grounded in their culture and had a connection to their Indigenous lands, but also that they could still be successful in the modern world."
It's been heartening for Quannah and Jody to see that message getting attention in their own community—the realities of Native life are too rarely depicted on screen—but the hope was always to broaden the reach. "I want my community to be heard and seen in the right way," Quannah says. "Not a stereotype, not a fake version of what this industry wants Natives to look like or be like or sound like."
That task of educating people can be challenging. Her traditional facial tattoos, which are called Yidiiltoo and represent a part of Han Gwich'in culture that was long suppressed, often draw questions. "Someone at a job recently was really intrigued by my tattoos and everything about me," Quannah says. "I was explaining that I was Native American from Alaska and from South Dakota, that my bloodlines come from two tribes, and they just couldn't comprehend it."
Quannah hopes the film will help people understand not just where she comes from, but how threatened her home and her culture are. In it we see her walking through burned stands of trees near the family's Yukon River fish camp, the result of a wildfire. This summer, the village experienced an unprecedented heat wave and abnormally high river temperatures.
Near Jody's cabin, other fish camps were quiet as they faced a fourth straight summer of critically low salmon runs, forcing a closure to subsistence harvests. "The salmon are one of our main food sources," Jody says, "so we're facing food insecurity, but also the loss of our culture." The shared knowledge behind the use of salmon—catching, filleting, smoking, canning, utilizing every part—is passed down through generations on the riverbanks. Without fishing, that doesn't happen.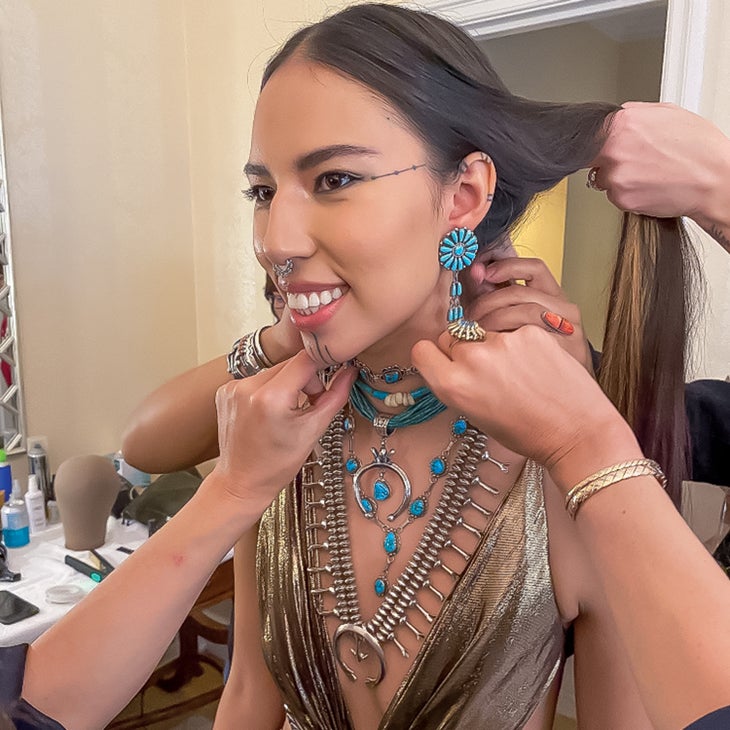 Quannah acknowledges the inherent tension between her activism and the fashion industry's carbon footprint. But she hopes to use her influence to nudge companies in the right direction. "It's possible to be a part of these industries and create changes and inspire change," she says. "I always tell people you have to be at the table where they're making these decisions."
That messaging strategy seems to be working, both through her own following (more than half a million on Instagram) and through reposts from new fashion-world connections like Gigi and Bella Hadid (78 million and 59 million followers, respectively), who have shared some of her calls to action with their fans.
This can all be a heavy burden for a young person, and it isn't always easy to stay upbeat. "A lot of my generation, including myself, have climate anxiety," Quannah says. "It's a true feeling of being worried about our future." But amid the pressure, expectations, and demands, she's found ways to stay grounded in her new home base of Los Angeles, where she FaceTimes frequently with her mom and extended family and "impulsively" got a dog, a black German shepherd named Pepper, who she takes on hikes every day that she's home.
When life becomes too much, the ultimate tonic is being back in Eagle Village, a place where she feels understood and embraced, and where her thoughts turn to future plans—like creating a space to host youth camps and community discussions, and growing Native Youth Outdoors, an organization the family recently founded to help Indigenous kids connect with nature.
As our conversation wound down, I asked Jody and Quannah what the plans were for the rest of her visit. It was raining, and they decided some new tattooing might be in order. The next day, they planned to load up their skiff and head downriver for a camping trip on the beach.
"That's my favorite thing to do," Quannah says. "Just build a fire and be at camp. Summertime—it's just so fun, because you're on the river, you get to fish and swim and all those good things."
Trending on Outside Online