How Running with My Dog Makes Me Feel Braver
After an alarming encounter on a trail, getting a dog helped me enjoy running again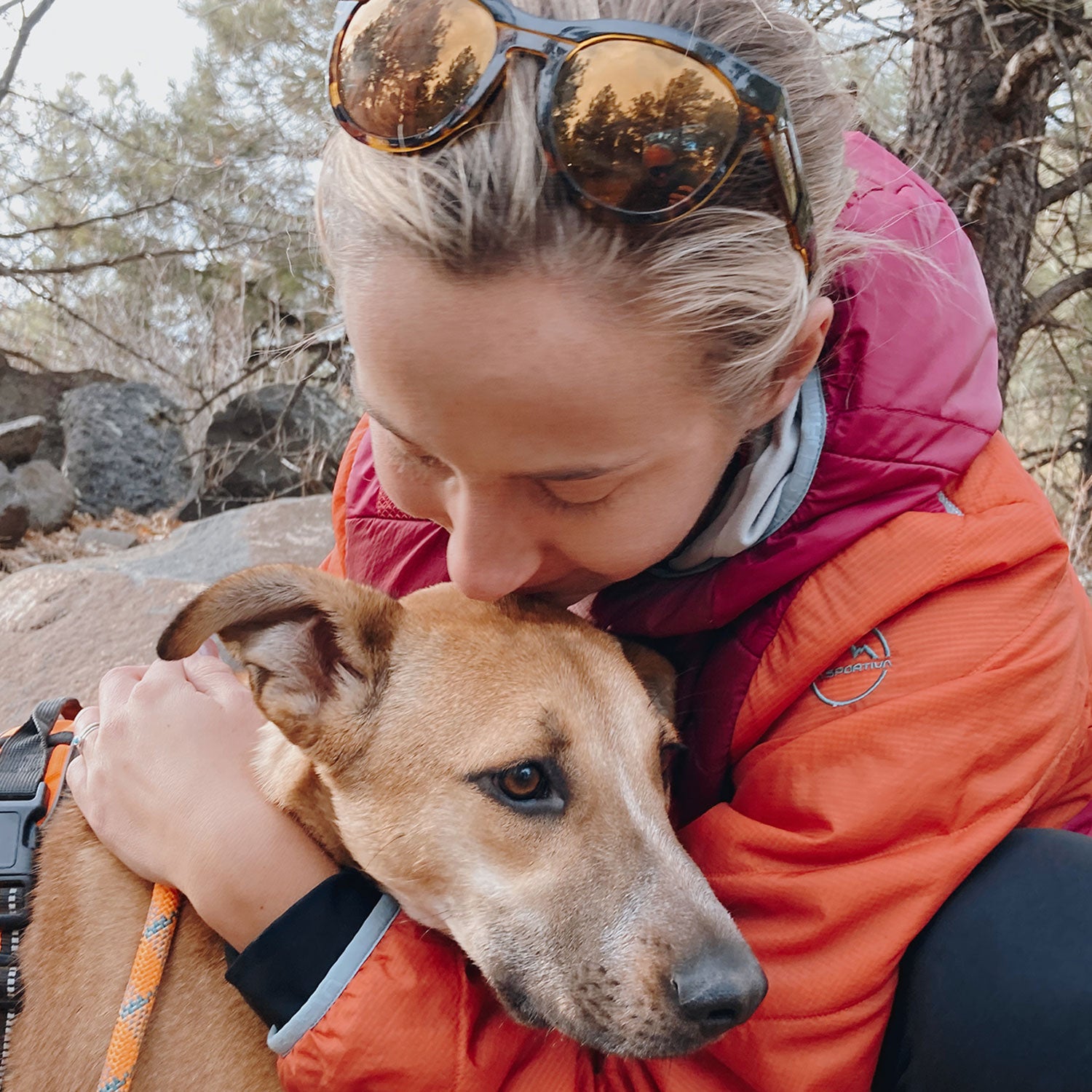 Courtesy Amelia Arvesen
Heading out the door? Read this article on the new Outside+ app available now on iOS devices for members! Download the app.
One fall morning on a run, a man jumped out of the bushes toward me on a trail near my home in Flagstaff, Arizona. I'd seen him in the area a few days prior and had run past him on my way up the hill earlier that morning. I even said hello. But I hadn't expected to see him again, let alone hiding in the trees, on my way back down. Had he been waiting for me? I panicked, picking up my pace as he approached me, and passed him before we could interact. There was no way to know his intentions without stopping, but I couldn't help thinking, "What if?" It spooked me so much that I didn't return to that section of trail until the next spring.
For months, I felt flinchy even when I stuck to the roads or joined my husband on his workouts. The joy, strength, and confidence I got from running had drained out of me.
Then we adopted a dog.
At only eight months old in December 2021, Kona's whole body rippled with energy. We knew she was our perfect match as soon as she licked our faces within seconds of meeting us at her foster family's home. With a little bit of greyhound mixed with cattle dog, German shepherd, and boxer, her body is lean, her legs and neck are long, and her big, floppy ears express all her emotions.
Our new schedule was bookended by walks in the mornings and evenings, when Kona's curious nose would lead the way through the neighborhood. She'd find these massive logs and balance them in her mouth for the entirety of our stroll, causing a scene and making us laugh. But when she'd zoom around our 500-square-foot apartment, I realized this puppy probably needed more than a few walks. It hadn't been my intention to train her as a running companion. It just sort of happened naturally. One winter day in Buffalo Park, we started trotting along the two-mile gravel path together.
Watching Kona move that day—with her tongue hanging out, ears pointed backwards, tail held high, and body coursing like a dolphin—brought purpose back to running for me. She was built for this movement, and I could tell that she was happiest running. It reminded me that I once was, too.
The trail I had been avoiding was a 0.75-mile stretch from our house to the park, where I felt much safer around more people. I had run past the bushes with my husband, but never on my own, and it was annoying to drive to the park or rely on his schedule to get out.
Now that I had Kona though, I decided it was time to reclaim my runs. I suited up in my running vest stuffed with treats, poop bags, water, and pepper spray. With her tethered around my waist, we jogged along the sidewalk for two blocks until we hit the dirt path shaded by ponderosa pines. The bushes were just ahead. Then we passed them. Then we were at the top of the hill almost to the park. We ran the entire loop and back down the hill past the bushes again for a total of four miles—a run I hadn't completed on my own since the incident. Thanks to Kona, I felt empowered.
That spring, I fell back into my running routine, and Kona started to learn the cues for when I was heading out. She'd follow me around as I dressed in my tights and socks, collected my hat and sunglasses, and looped my arms through my running vest. By the time I was lacing up my shoes, she was right beside me waiting at the door. Her big brown eyes would grow wide and her forehead wrinkled with concern as if to say, "You're bringing me, right?" Of course, my girl.
We've since moved away from Flagstaff to Portland, Oregon, where I'm running more often in flowering neighborhoods than on forested trails (though we love Portland's Forest Park). I bring her along for a few miles every week. For the first few steps, she's forceful, yanking me along behind her as if she's a sled dog and I'm her sled. She can't contain her excitement.
Eventually she eases up and falls into sync by my side. We've gotten better at navigating around other runners, parents with strollers, parked cars, and cyclists. She looks both ways when we cross the streets, and she hunts for squirrels, crows, and cats while I try distracting her with treats.
Running with Kona makes me feel brave again. I'm not jumpy, and I don't ever feel scared. I know that if something were to happen when we're together, she would likely do whatever she could to protect us. She's not a trained guard dog or anything, but having a companion makes me feel safer. More than anything now, she is my motivation for getting out the door. She keeps running fun—especially when she muscles a stick that's comically bigger than her body. "Weight training," I joke to the people amused by her determination as we pass.
Lead Photo: Courtesy Amelia Arvesen