Approaching Outdoor Sports with Steez and Flow
Fitness comes and goes. Allow Glen Plake to make a case for prioritizing style—that elusive athletic skill that endures.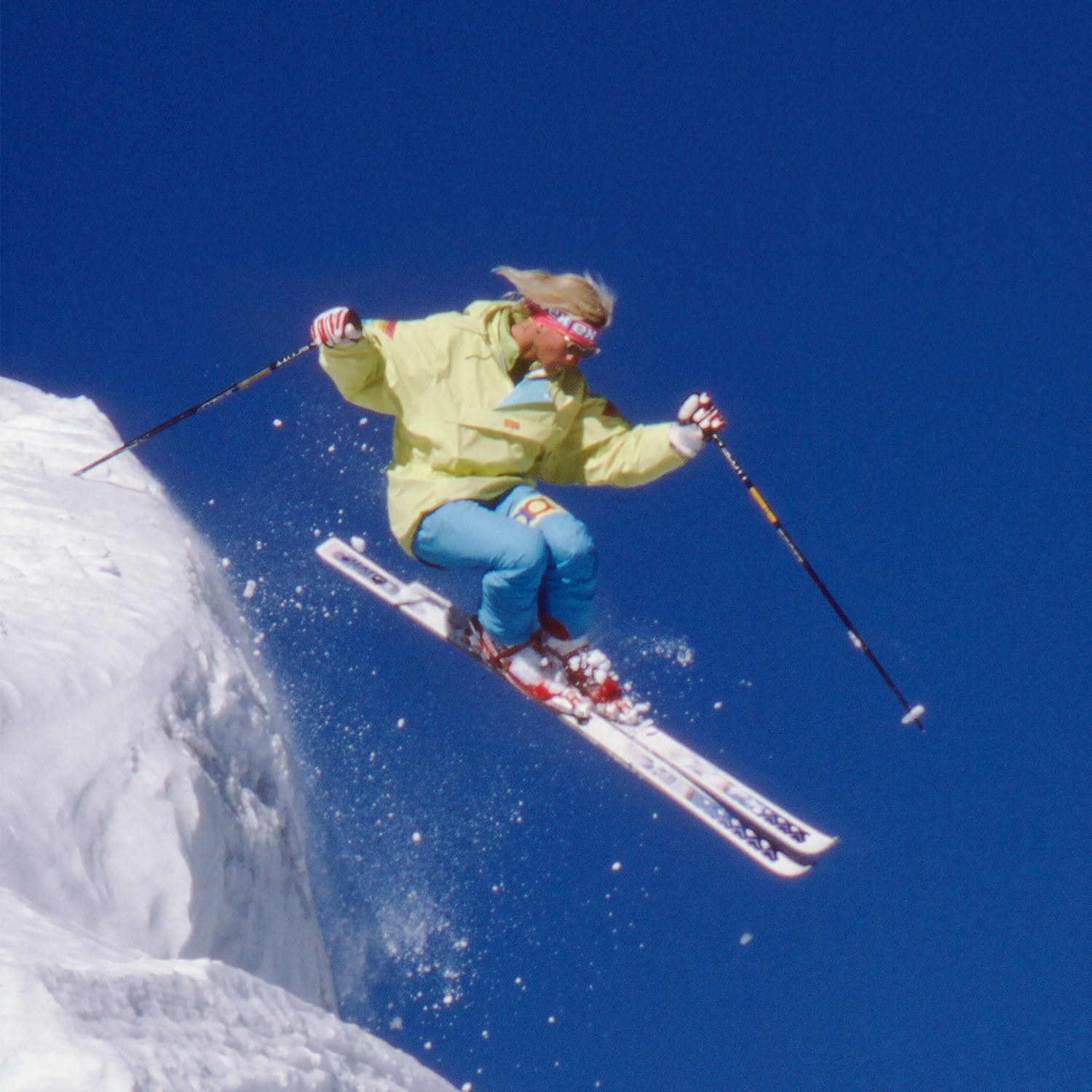 Rod Walker
Heading out the door? Read this article on the new Outside+ app available now on iOS devices for members! Download the app.
Like any good amateur athlete, I spent a long stretch of my life taking myself too seriously. My sport was mountain-bike racing, and what I lacked in physical gifts I made up for in the gift of free time. Basically, my competitive edge was that I didn't have kids. I could ride my bike six or seven days a week. I could splurge an entire weekend on a race. I could do gym work and intervals and hard group rides all to get fitter and faster. So I did.
But two summers ago, my priorities were suddenly realigned when a man driving a van struck and nearly killed my then partner while he was riding his road bike. Sitting bedside with a loved one in the ICU has the effect of changing your perspective. Suddenly all that time spent trying to become a better amateur bike racer seemed meaningless. In the months that followed, I supported my partner and rode my bike when I could, which was sporadically. As I watched friends pull away from me on climbs, it struck me how difficult it had been to build all that fitness and how easy it had been to lose. In the future, I told myself, I would put my time toward things that were less fragile. Things that endured.
I'd ridden with a lot of people in the previous decade. The riders I always admired most were never the fastest to the top or the first to the bottom. Rather, they were the ones who handled their bikes like they were dancing: a little tail whip over that bucket-handle root, a floaty hop over that dip in the trail. When I was a snowboarder, we called this steez, a portmanteau that describes an elusive blend of style and ease, and on both snow and dirt I loved to follow athletes who had it. In mountain biking, some of these riders were total sleepers, middle-aged guys with a beer belly who'd show up for the group ride and suffer up the climb. But then they'd transform on the descent, still as light and quick on their feet as foxes. The body remembers.
In my second life as a mountain biker, I decided, I would no longer pursue the fleeting qualities of speed and strength. Instead—using the parlance of the youths who are now elder millennials—I would seek only to be steezy. With a straight face, I told friends that fitness comes and goes, but style is forever.
I started learning little tricks, like how to pull the rear brake at high speeds to skid my back tire in sandy corners. I practiced bunny hopping over small obstacles. I spent nearly two months exclusively riding jump trails. Almost no one saw any of it, which was fine. I was a grown woman learning the same tricks as my friends' preteen sons. But when I succeeded, joy coursed through my veins. Style was a paradox, in that it looked cool but wasn't about showing off. Moving with style just felt good.
---
"I can clearly see somebody skiing with style," legendary freestyler Glen Plake tells me when I call him one afternoon. "It sticks out like a sore thumb." Most recognizable by his one-foot mohawk and his role in classic ski films like Blizzard of Aahhhs, Plake built a nontraditional career in front of the camera instead of on the racecourse, demonstrating equal prowess hotdogging down mogul fields and skiing freaky-steep big mountains. He is both icon and iconoclast, one of the most expressive athletes in one of the most stylish sports. But he says skiing isn't the creative endeavor it used to be. "I think we've lost a lot of style," he says. "Everybody looks like robots."
Plake, now 57, attributes our homogeneity to a few factors, including our modern-day powder mania—"Nobody wants to ski moguls or groomers anymore"—and our stiflingly too-cool attitude: "If you do daffies or spread eagles or some ballet trick, it's like, he-he ha-ha, that's funny old school. What makes it any less of a style move than some rail trick?" Finally, there's the gear: "Everyone's skiing these big wide skis. You don't really have to plant your poles or move up or down. You kind of sit there and lean and bank." Back in the day, he recalls, he and his friends would occasionally ski on superlong 225-centimeter skis, just for the challenge.
"Is difficulty some element of style too, then?" I ask.
"I think so, yeah," he says. "Funny little style tricks take time to learn." In other words, style has to be earned. That's really what we appreciate when we see a beautiful skier coming down the mountain under the lift line, right? The fluidity and ease that belie years of practice. Even in the Instagram era, you can't fake style.
But with enough work, Plake says, anyone can learn to be stylish. And it's worth pursuing as the ultimate form of self-expression. "You're trying to say something," he tells me. "Skiing is a great opportunity to say something. Sport in general is a great opportunity to say something."
I found myself wondering whether every sport offers the opportunity to express style. For example, do runners—poor bastards—experience the same unfettered joy I felt floating off a tabletop jump?
Um, yes, says ultrarunner Dylan Bowman. It's just more subtle, and it's more about economy of motion. "There is definitely a sense of joy and play in trying to turn your brain off and move through challenging, technical terrain with a sense of style and efficiency," he says. Road cycling has a version of this, too, embodied by the French term souplesse, which describes a rider's smooth, beautiful, and high-cadence pedal stroke.
Still, the concept of style is probably more important in some sports than others. "To generalize, if you ask 20 rock climbers, 'What's your goal?' they'd say, 'Get better'—as in climb a higher number," says International Federation of Mountain Guides–certified Danny Uhlmann, who leads both rock and snow expeditions out of his home base in Chamonix, France. "If you ask that question to any skier, most would say, 'Improve my style.' There's no greater compliment to be paid as a skier than 'You looked good doing that.' People will say, 'You looked good climbing that,' but if you don't get to the top, who cares?"
Maybe it's worth thinking about not just what we do but how we do it. Maybe prioritizing style could even make us happier people.
In fact, there's a scientific explanation for why my little steez quests feel so good. "Working on style will inadvertently produce a tremendous amount of flow," says Steven Kotler, head of the Flow Research Collective and bestselling author of books like The Rise of Superman: Decoding the Science of Ultimate Human Performance. You know flow: it's the mental state that underpins peak performance and is characterized by complete immersion, effortless concentration, and a sense of timelessness. Flow is triggered by a number of preconditions, Kotler says, several of which occur when we're trying to be more stylish.
The most important is the challenge-to-skills balance. In order to enter a flow state, you have to be challenged just beyond your skill level. Kotler, who surfs, mountain bikes, and skis, says that working on style elicits the sweet spot "because you're just trying to get a little more graceful, a little smoother, a little more creative than last time."
I tell Kotler that in my twenties, when I was deep into snowboarding, I used to say that chasing flow is the secret to life. But this was before I understood the science behind it. I only knew that sometimes when I was surfing between trees, my mind went quiet and it felt like I had tapped into something profound. Now I know there are powerful neurobiological reasons for this.
"The five to six neurochemicals released during flow are the five most potent feel-good drugs the brain can produce," says Kotler. "It's one of the most overarching conclusions in psychology. You want more meaning, purpose, overall life satisfaction, happiness, and well-being in your life? You need more flow in your life."
---
When Glen Plake was younger, he got in a fair amount of trouble and even served a few months of jail time. Not everyone was amused by his antics. In a 2000 profile for Ski, Steve Casimiro wrote: "Dismissed by many in the sport as washed-up or irrelevant, Plake should have disappeared years ago." His detractors, as Casimiro put it, thought of him as "a braying bad boy long on hype and short on substance."
Today, however, Plake is not only relevant but revered, known less as a bad boy and more as a fun-loving ambassador for the sport. He and his wife, Kimberly, make cross-country road trips to ski with fans and staff at tiny local ski areas. He became a Professional Ski Instructors of America Level 3 instructor, finally joining the establishment to encourage more people to take up the winter pastime.
"That guy loves skiing," says Uhlmann, the Chamonix guide. He pals around with Plake, who spends his winters there. "He really, really loves skiing." This has proven to be the binding ingredient in Glen Plake's staying power.
Maybe this is the final element of style: it comes from a place of love.
I realized this on an unseasonably warm, cloudless Sunday in November, as I set out on the longest mountain-bike ride I'd attempted in months. On my last lap up the mountain, the sky was turning pink and everything in my body ached. But I still expended what remaining energy I had to swish my rear wheel up and over sandy little hips on the final descent. I remembered something Steven Kotler said about why flow feels so good.
"You ever fallen in love?" he asked.
I laughed. "Yeah."
"Feels good, right?"
"Mm-hmm."
"That's norepinephrine and dopamine," he said. "That's two of the five feel-good chemicals that show up in flow. So take romantic love and a bunch of pleasure drugs on top of it. Now you understand why flow is so addictive and it feels like the meaning of life and blah blah blah."
Another sandy rainbow beckoned. I scrubbed it with my rear wheel. Flow would elude me today, but hey, love felt pretty good, too. And whatever this was I was doing, however it looked from the outside, love is where it came from.
Lead Photo: Rod Walker