Sponsor Content: Bonjour Québec
Adventures on the Water in Québec
From the mighty St. Lawrence River to ocean exploration, summer and fall in Québec are all about enjoying nature on and around the water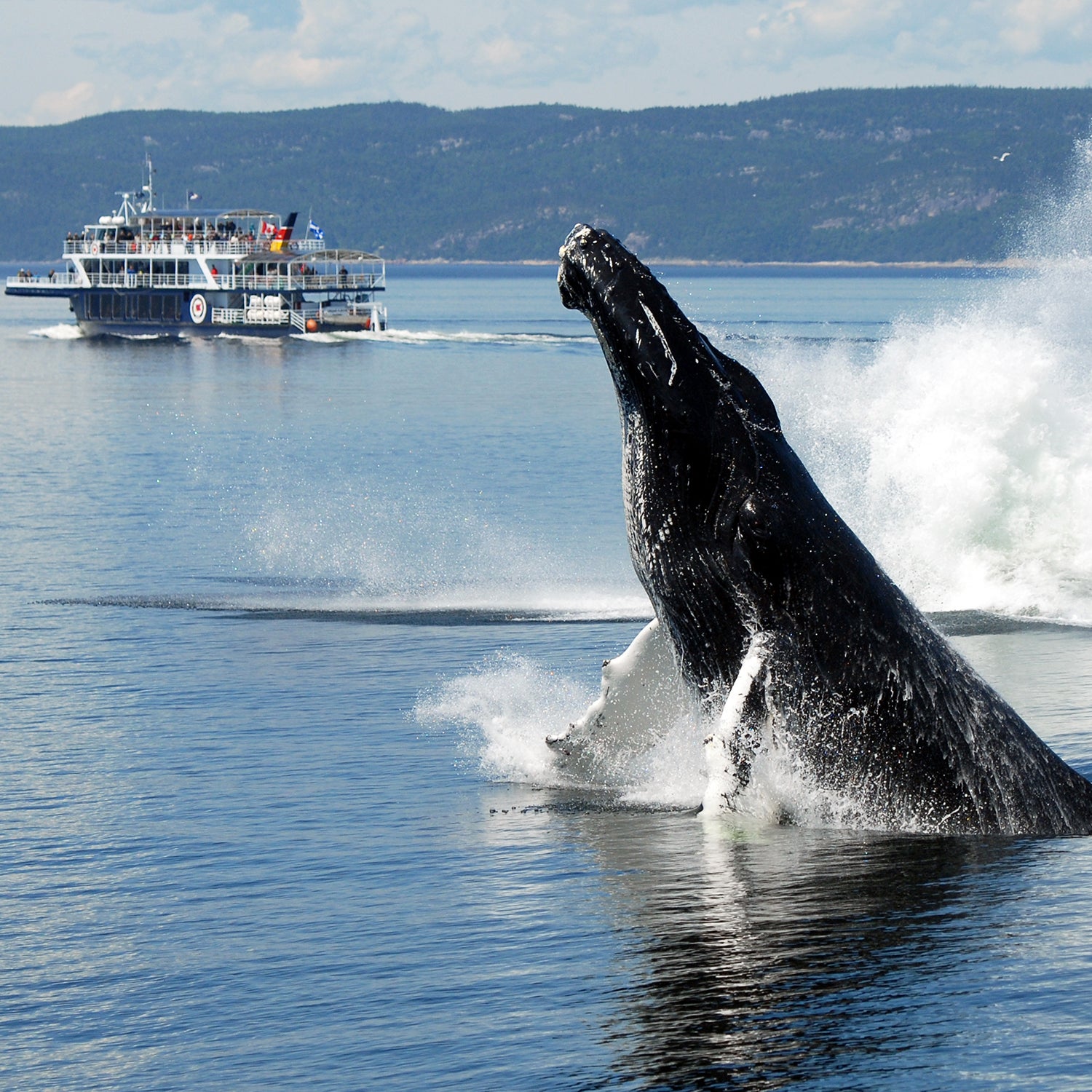 Tadoussac © Le Québec maritime JP. Sylvestre
In the warm months of summer, vibrant meadows of wildflowers and green hills spring to life, and with them beckon Québec's summer adventures, which stretch into late September or early October. The lifeblood of it all is the province's waterways, especially the mighty St. Lawrence River, which becomes a hub for a wide variety of summertime activities. The St. Lawrence River may be one of the longest rivers in the world, but it's also an estuary and a gulf, and its changing marine environment is as spectacular as the wildlife it attracts. The river is also the source of Québec's history, culture, and identity, with life moving to its rhythms and tides. But perhaps the most powerful thing this waterway creates isn't something you can touch and see—it's something you feel. It's a sense of adventure that takes over and drives you to wonder what's around the next bend. 
No matter what kind of outdoor experience you're looking for this summer, Québec is the place where mountains, rivers, and ocean converge—and where the sun is as warm as the people's welcome. Here's what to do and see this summer. (And the next—you'll be back.)
Exhilarate 
If you like your vacation with a strong surge of adrenaline, Québec offers plenty of thrills. For amazing views of the St. Lawrence River with a side of exhilaration, head to Charlevoix. The region is known for its kitesurfing—some of the best in the East. Or explore by car along the St. Lawrence Route. This 48-mile stretch offers panoramic views of the river and is considered one of the most scenic roadways in North America. Of course, Charlevoix has plenty of on-the-water adventures too. Paddle into the Saguenay Fjord, a 65-mile-long inlet created by ancient glaciation, and greet curious minke whales and seals as they play near the water's surface.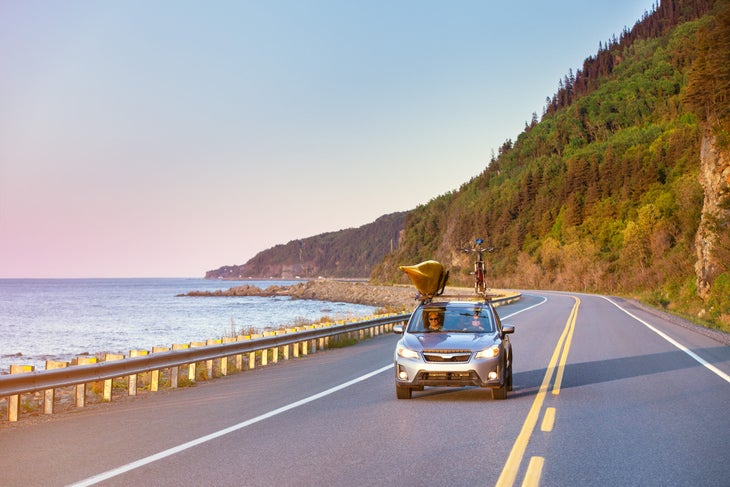 Had your fill of human-powered water adventures? A cruise might be the way to go. In other parts of the world, the word "cruise" might conjure images of megaboats, but in Québec the experience is much more up close and personal. Join a naturalist on a whale watching boat that departs from Tadoussac Harbor for a once-in-a-lifetime experience spotting the 13 species of cetacean that frequent the area. Or enjoy spectacular sunset views and treat yourself to a five-course meal on a dinner cruise down the St. Lawrence River.
Relax
On the quieter side, there are plenty of options for relaxing rejuvenation in Québec. For a huge dose of restorative nature, head to the diverse array of national parks that flank the St. Lawrence River. With half of Québec wild and wooded and 300-plus lakes peppering the landscape, there are more than 50 national parks and wildlife reserves throughout the province. Beautiful beaches, peaks, rivers, lakes, and trails—even monoliths, in Mingan Archipelago National Park Reserve—make these parks the perfect place to unplug and unwind. Whether you prefer roughing it in a tent or renting a cottage, you'll find an experience that will feed your soul.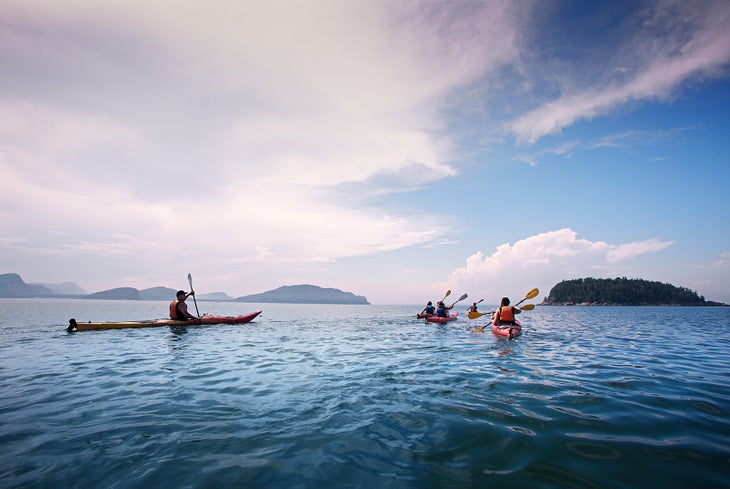 One of the most enchanting ways to experience the majesty that unfolds from the St. Lawrence River's shores is from the railing of a cruise ship. More than 150 international cruise ships stop in the province each summer, and scores more local operations offer everything from a dinner cruise to a Zodiac tour to a guided fishing excursion. All of them offer a front-row seat to the most exciting show on Earth: the 13 species of marine mammals, including whales, that make the Gulf of St. Lawrence their summer home. If whales are your thing but cruises are not, you can also watch them breach, play, and even say hello with their huge tails right from shore. Pack a picnic and head to the shores of Saguenay-St. Lawrence Marine Park, the largest marine conservation area in Canada. Or drive the scenic Whale Route, a 550-mile stretch along the edge of the Gulf of St. Lawrence, and stop to soak in maritime history at the interpretation centers and museums that dot the coastline. You'll also spot thousands of other animals—gannets, puffins, seals, and more—along the way.
Explore
Québec's greatest adventures are all tied to the St. Lawrence River. To get a taste of what this prominent waterway is all about, follow the Navigators' Route from Nicolet to Rimouski, stopping in Québec City and waterfront villages along the way. This stretch of the St. Lawrence River has a rich maritime history spanning three centuries, so there is no shortage of cultural and historic sites to discover. Don't miss visiting the Musée maritime du Québec or touring inside the 295-foot Onondaga submarine. Soak in the region's beauty as you wander through picturesque villages and dine at waterfront eateries. Or spend the day hiking in Parc écomaritime de l'Anse-du-Port or Parc des Chutes et de la Croix, both situated on the banks of the river. In its entirety, the route runs about 300 miles along the shores of the St. Lawrence. For the best experience, plan to spend about ten days leisurely exploring this area.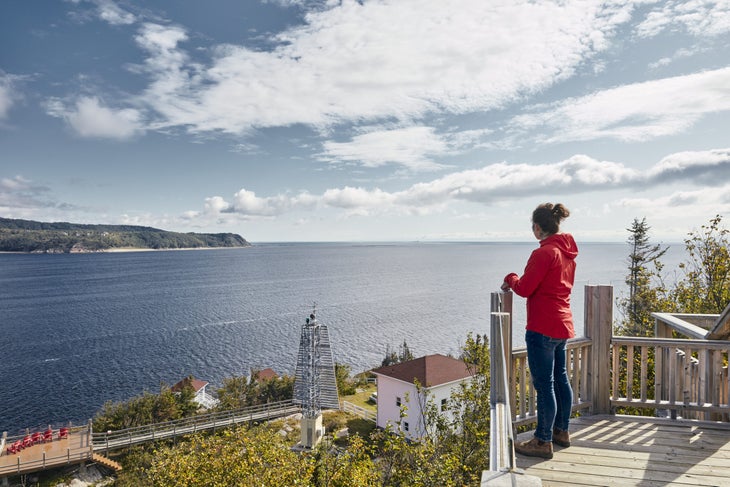 Farther north, where the river meets the sea, you can experience another side of the St. Lawrence. Explore more than 40 traditional lighthouses dotting the sea cliffs on the Gaspé Peninsula. These beacons helped ships navigate safely through the St. Lawrence Seaway and are now treasured icons of the region's storied maritime history. Visitors can tour many of the lighthouses along the Lighthouse Trail, and some of these historic structures even welcome overnight guests. Or travel by boat to visit the region's outer archipelagos and coastal national parks. There, you'll have a chance to indulge in some of Québec's fresh, flavorful seafood, including smoked salmon, shrimp, scallops, lobster, and more.
---
Bonjour Québec's mission is to promote the destination. We are proud to highlight this magnificent land, its creative culture, and authentic experiences and to encourage people from near or far to discover Québec as never before. It's a place you will fall in love with at first sight or change yours by saying you have to come back.
Lead Photo: Tadoussac © Le Québec maritime JP. Sylvestre
Trending on Outside Online