Sponsor Content: Hill's Pet Nutrition
Trail Training for Your Adult Adventure Dog
Make sure your adventure buddy is trail-ready with these training tips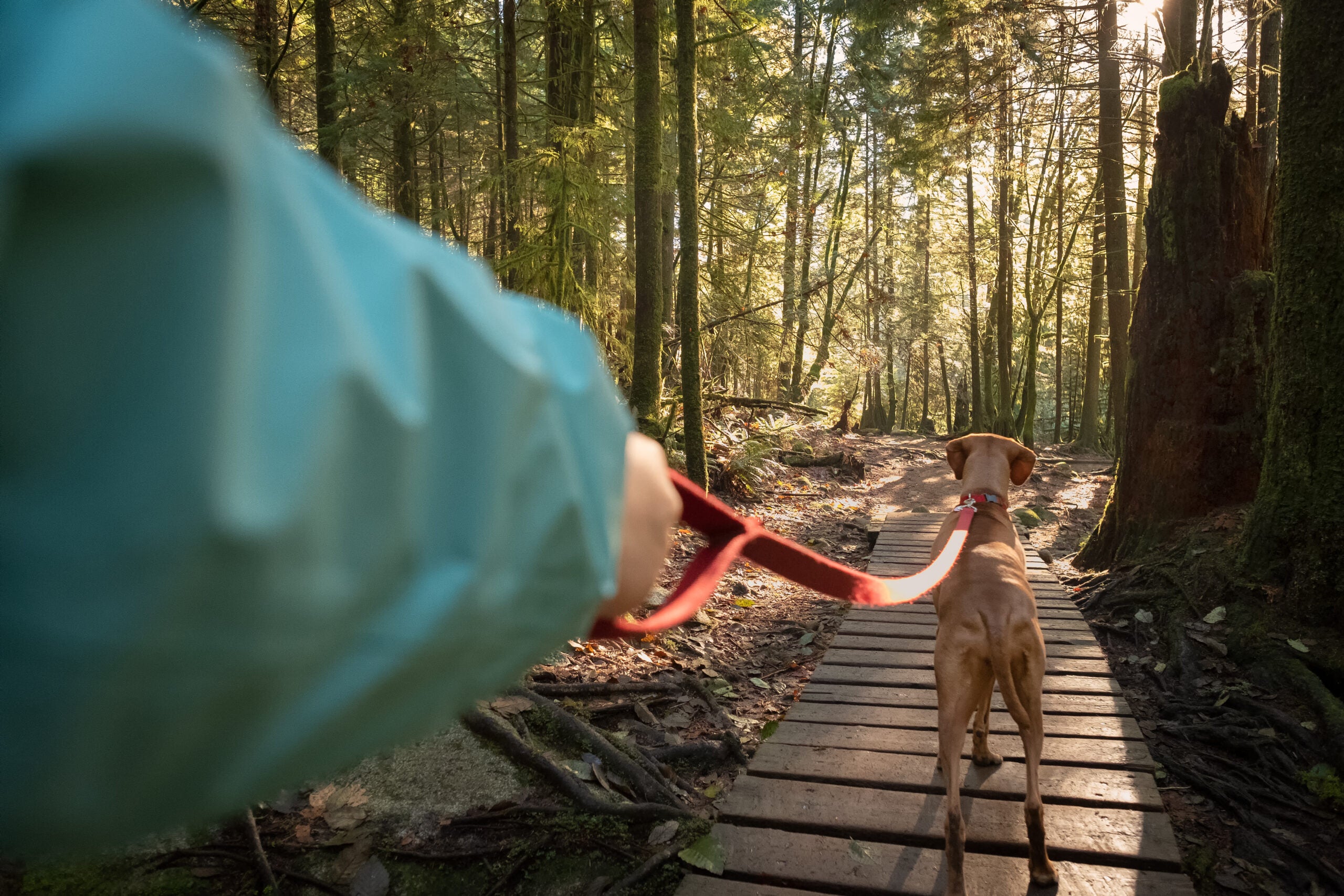 Training any dog to be confident and well-behaved while hiking requires hard work and commitment. But if you adopt your adventure dog as an adult, you might need extra time and patience to get your dog to a place where they feel comfortable joining you for hikes and you can both enjoy your time in the wilderness together. Here are tips for training your adult dog for adventures in the great outdoors.
Practice in Safe Environments
Whether you and your dog are still getting to know each other or your dog is just new to outdoor adventures, choose a familiar, safe environment to start training. A fenced yard or on-leash in a park you visit frequently are great options. If you are training in a public place, choose a time when fewer humans and dogs will be around so your dog won't be as distracted.
Keep Sessions Short and Positive
Although dogs seem to have endless energy, their attention span for training is only 5-10 minutes at a time. "Instead of working with your dog once a day for 30 minutes, try training throughout the day in shorter sessions," says dog trainer Anne Parkes, who lives in the Eastern Sierra and spends her free time hiking and cross-country skiing with her three dogs. "Challenge your dog by increasing the distance [between you and your dog], duration, and distractions in small increments." The key to a good training session is to only work with your dog as long as they can continue to be successful. Ending on a positive note will make both you and your dog excited for the next session. 
Reward Early and Often
Positive reinforcement is the best way to build your dog's confidence and foster trust between you and your dog. When you're working with your dog, keep a handful of your dog's kibble with you at all times so you can reward your dog as soon as it performs the command or behavior you're working on.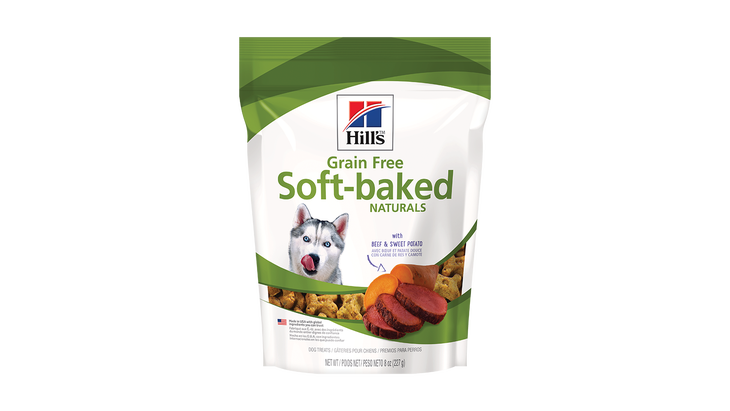 Hill's Grain Free Soft-baked natural dog treats with beef and sweet potato
"Even when your dog has mastered a command, continue to randomly reinforce those "known" behaviors with random treats to always keep your dog engaged and excited to train," says Parkes. For harder tasks, such as responding to come, use high value rewards—special treats that your dog loves, such as Hill's Pet Nutrition training treats, to create an even more positive association with that command.
Tip: Recall or "come" is one of the most important commands for keeping your dog safe, especially in the wilderness when there are more distractions than at home. To foster a strong recall, Parkes recommends you always reward your dog when they come, even if you are only intermittently using food rewards for other commands.
Read Your Dog's Cues
Just like humans, every dog has their own set of experiences that shape the way they interact with the world around them. An adult dog that hasn't been exposed to hiking or spending time in the wilderness may be more cautious than a puppy that grew up with positive outdoor experience. Let your dog take the lead when it comes to showing you what it feels comfortable doing. That might mean hiking at times when the trail is less crowded if you know your dog is nervous around people and other dogs or avoiding trails that have creek crossings or bridges if your pup isn't confident around water. Remember, positive reinforcement is the way to continue to grow your trust as a human-dog team.
Work Toward Confidence
There's nothing more defeating for a human-dog team than encountering something on the trail that makes you one or both of your nervous or stressed. Some dogs exude confidence on the trail. But many adult dogs who didn't grow up hiking might be cautious when it comes to certain obstacles. Build your dog's confidence on the trail by setting them up for success on a hike—taking distance, weather, and train conditions into account before you head out on an adventure. For more practice off the trail, consider signing up for beginner dog agility training together. It's a great way to practice relying on each other and expose your dog to new obstacles that mimic things they might come across on the trail. 
Research Local Animal and Plant Populations
Curiosity is one of the most endearing traits of man's best friend. But sometimes it can lead to incidents on the trail. Before you head out on a hike with your dog, especially in an area that is new to you, research the flora and fauna you might encounter along the way. You can keep your dog safe and avoid run-ins with dangerous animals or plants by planning ahead so you're aware of the areas that are home to these species. In the event you do come across a dangerous species, Parkes says your dog's skills can help keep them safe. "Training your dog to 'leave it' can be an invaluable skill both at home and on the trail," she says. If you live in or regularly visit an area that is affected, talk to your veterinarian and local training professionals about options for keeping your dog safe should they ever come across a plant or animal that could harm them.  
Remember Off-Leash Isn't The Only Way to Win
While hiking through stunning canyons or to the top of a mountain with your pup frolicking off-leash beside you sounds like the ultimate adventure, your dog can have just as much fun on-leash. As you're working on training your dog for the trail, don't lose sight of the fact that the best adventure for your dog is the one that is a safe and positive experience for you both, whatever that looks like for the two of you.
---
At Hill's Pet Nutrition, our nutrition is inspired by science, not trends, to create differences you can see, feel and trust. Science-led nutrition is designed to anticipate each pet's ever-changing needs, keeping pet parents a step ahead so they can enjoy every day with their pet. Our food scientists understand the combinations of nutrients and ingredients that deliver unique nutritional benefits for pets of every age, size and need. Plus, more U.S. veterinarians recommend Hill's products than any other brand. Hill's Prescription Diet therapeutic nutrition and our everyday foods, Hill's Science Diet and Hill's Healthy Advantage are sold worldwide at vet clinics, pet specialty retailers and e-retailers. For more information about Hill's, our products and our forward-thinking approach to nutrition, visit us at HillsPet.com or HillsVet.com, or connect with us on Facebook, Twitter, YouTube and Instagram.
Lead Photo: Getty Images