Elyse Rylander Is a Trailblazer for LGBTQ Youth
The founder of Out There Adventures discovered power in nature while growing up gay. Now she's sharing it with the next generation—and taking the industry by storm.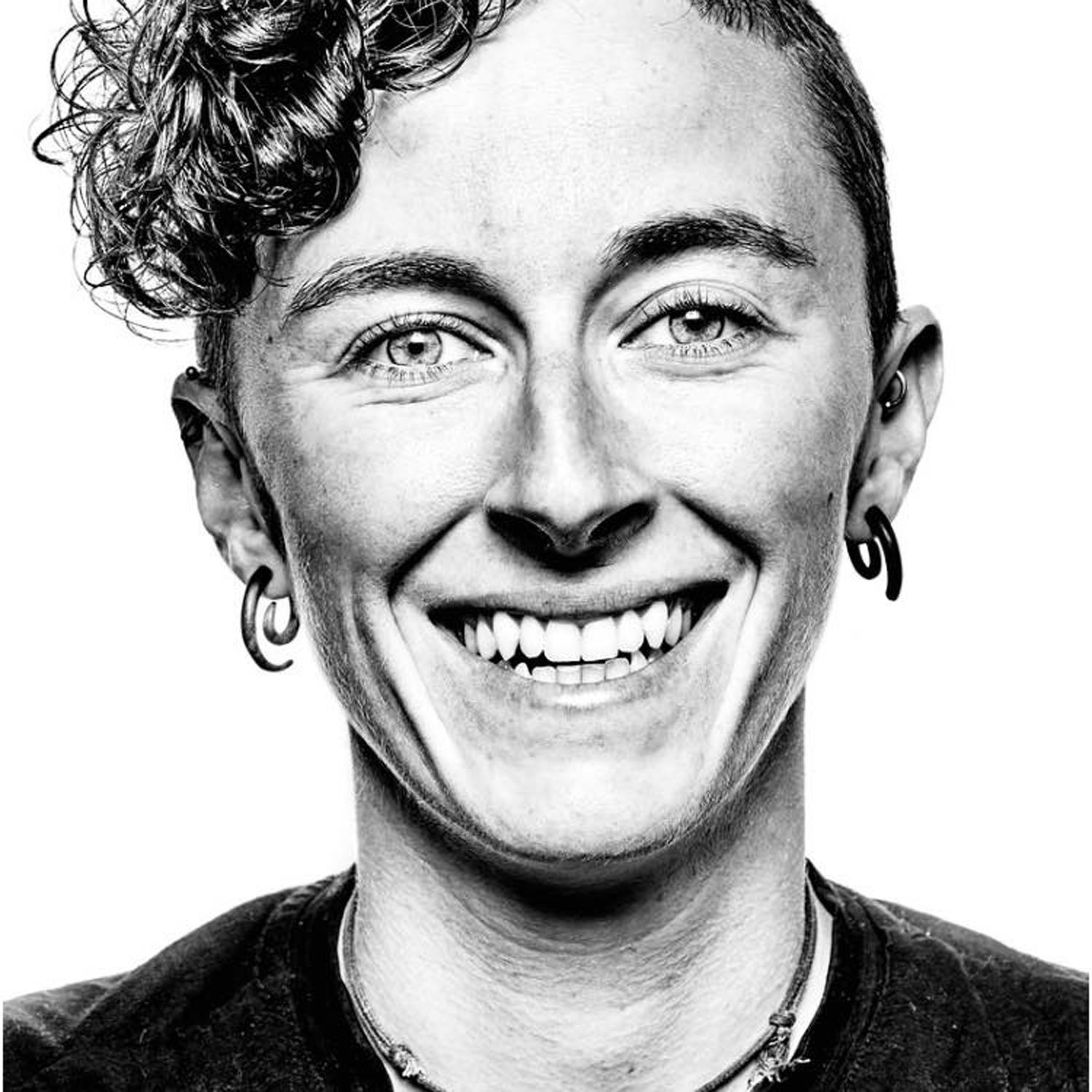 Heading out the door? Read this article on the new Outside+ app available now on iOS devices for members! Download the app.
On a blustery afternoon late last August, members of America's first LGBTQ youth conservation corps, traveling by kayak, found themselves momentarily stranded on Patos, an uninhabited island in Washington's Puget Sound.
Elyse Rylander, the founder of a trailblazing organization that brings LGBTQ youth outdoors, had hoped to make the crossing to a YMCA-run camp on Orcas Island earlier in the day. The Queer Crew's seven teenagers and two trip leaders had spent four weeks doing conservation work throughout Washington under the programming umbrella of Rylander's nonprofit, Out There Adventures (OTA), and the Northwest Youth Corps. This kayaking outing would close their summer program.
They had a rare evening of rest planned on Orcas, but as midafternoon approached, strong winds kept the group pinned down on Patos Island. Rylander deemed it too risky to attempt the crossing. "Never a dull moment when you're working with Mother Nature," she said.
Rylander, 27, officially launched OTA three years ago to fill a gap she'd noticed over more than a decade working as an outdoor teacher and guide: a lack of nature programming geared toward LGBTQ youth. The seedling idea for OTA began years earlier, while Rylander was an undergraduate at the University of Wisconsin; she developed her plan in a Microsoft Word document throughout her twenties. To keep the dream alive, Rylander told me she'd "donated eggs a couple of times" and worked part-time jobs.
"My vision, originally, was just to have a gay Outward Bound," she says. But when OTA launched its initial programming in 2015, Rylander learned the extent to which the kids usually craved something more than just an eight-day backpacking adventure. "There is this need to connect and to find a community," Rylander says, noting that queer high-schoolers often feel ostracized in their schools or peer groups. She refocused OTA's programming to be especially attuned to participant's emotional nuances, and to follow-up with groups and participants after an adventure in a way more similar to wilderness therapy than Outward Bound. 
In just a few years, OTA has grown exponentially. In 2015, Rylander ran an eight-day sea kayaking adventure with just two participants; in 2016, she ran daylong and multiday surfing, climbing, and hiking trips with several dozen kids. A turning point came in 2017, when Rylander partnered with the Northwest Youth Corps to create the nation's first Queer Crew, providing a multiweek experience that combined outdoor education, conservation training, and individual empowerment. Youth conservation crews have been a big part of maintaining public lands since the 1970s. The national forests and parks hire kids to groom trails. The kids, in turn, get vital job training in conservation while spending a whole summer outside.
The Queer Crew was like the multiple other crews Northwest Youth Corps ran in Oregon and Washington last summer, but it also made use of OTA's expertise to boost confidence and bonding for its high school–age members, all of whom identify as LGBTQ in some way (as did all but one of the group leaders). "We want to get them to the point that they're comfortable outdoors," says Jay Satz, director of Northwest Youth Corps' partnerships, explaining the need for a queer-only crew. "Sometimes you have to build that without the distractions and baggage that society comes with." In other words, the kids were able to focus on learning to cut trails without the constant worry that crew mates—like society at large—might judge them for not identifying with the gender they'd been assigned at birth.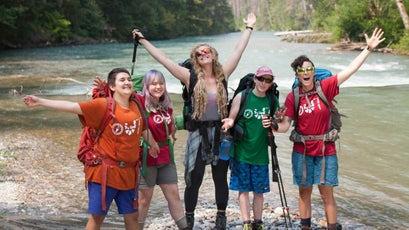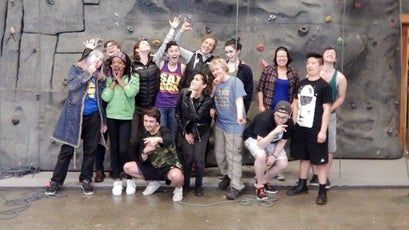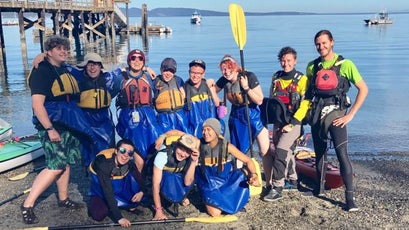 Crew members signed up for different reasons. Caroline Shea, 18, traveled from the Washington, DC, area for an opportunity to work outside with other peers who identified as LGBTQ. She considered herself "outdoorsy" and spent a semester of high school at an environmental education school. But being queer and loving the outdoors had "always been super separate" parts of her life. The programs she participated in prior to Queer Crew were largely "dominated by straight cisgender guys." Queer Crew gave Shea an opportunity to be outside with a group culture where she could be fully herself. An added perk? Northwest Youth Corps' conservation job training meant that Shea and other crew members were compensated for their work, rather than having to pay for an outdoor adventure through Outward Bound or NOLS.
Mel Hanby, who identified as a trans young man, said he jumped at the opportunity when a Northwest Youth Corps outreach coordinator visited his high school's Gay-Straight Alliance to promote Queer Crew. He is considering a career in conservation, so Queer Crew was valuable initial work experience. The openness of the group culture was also a life-changing first: "It's very one-foot-in-the-closet for me, in my rural little town," Handy says. "Being out here has allowed me to identify as what I want to identify as. I want to bring that sense of safeness out into the world."
Attention to details make the program accommodating to queer kids. Overnight camping programs, for instance, traditionally divide tents and facilities by gender assigned at birth; OTA does not divide tent groups by gender identity or expression. For a young person who has not yet come out to their parents, signing up for the Queer Crew or an LGBTQ-focused outdoor experience presents a unique hurdle. In response, Rylander frames OTA as programming "for queer youth and their allies" and is experimenting with encouraging self-organized outdoor group activities that OTA can incentivize through social media.
The people OTA and Northwest Youth Corps select to support their shared programming are also equipped to handle emotional trauma. "Queer folks are overrepresented in all those negative statistics of youth depression, anxiety, even homelessness," Rylander says. Several Queer Crew members referenced supporting one another through bouts of intense sadness and anxiety during the summer, "because [depression's] a thing, and I've been there," one said simply.
By the time Rylander and the Queer Crew found themselves stranded in the farthest corner of Puget Sound, they'd been outdoors with one another for weeks. They had cleared brush and stabilized trails in four different work sites across Washington. Their two transportation vehicles had been unreliable. They named the first "Rachel," after Jennifer Aniston's character on the '90s sitcom Friends, because "it kept having breakdowns"; the second one was "Ross," another Friends character, "because he sucks." They'd seen bears. Mice had gotten into their weekly rations. They'd been rained on, scraped by brambles, and pushed to their physical and emotional edges. Being stranded on Patos Island for an afternoon, at that point, was just another challenge served up by the elements that they could overcome.
Eventually, the winds changed course. Rylander and the crew relaunched their kayaks and, before sundown, arrived at Camp Orkila on Orcas Island, where they kicked back over pizza for one of their last nights of summer together.
---
Rylander frequently characterizes nature as a "disruptive force." Borrowing from the theorist Sara Ahmed, she believes nature to be a particularly orienting space for queer people, whose identities resist the "straight and orderly" and whose place can often be uncertain in a society dominated by cisgendered straight people.
Nature is full of fluid expressions of gender and sexuality—from the ways plant and animal species behave to the fact that the trail is often literally not straight.
Nature, by contrast, is full of fluid expressions of gender and sexuality—from the ways plant and animal species behave to the fact that the trail is often literally not straight. Plus, on a practical level, being in the wilderness can render obsolete some of the obstacles that queer young people face in their everyday lives. "We always joke that trees don't care where you pee," Rylander says, referring to political controversy in some states over same-sex bathrooms.
Rylander developed an appreciation for the benefits of nature at a young age. She was born in a small town in Wisconsin and spent her childhood canoeing, skiing, and kayaking. Her parents were college-educated, outdoorsy, and liberal; educated at Madison, they "tried pretty hard to create a narrative counter to the very conservative and small-town feel of the community we grew up in," Rylander says. She vividly remembers the Confederate flags and "ignorant" beliefs of some people in her hometown.
At age five, Rylander—a self-described "classic tomboy"—found herself with "a fat crush" on the pink Power Ranger on TV. But it was not until later that she began to consider her sexuality. "Ellen's show was not on at that time," Rylander says, "and there were no other queer narratives that I had access to that talked about even just being gay. I guess there was Will and Grace, but that was so far removed from my reality."
In high school, Rylander began working and teaching for Rutabaga Paddle Sports, an outdoor store in nearby Madison whose staff included queer women. "I was seeing these really wonderful, strong, female, queer role models," she remembers. Rylander felt empowered by being a kayaking teacher and encountering positive queer idols for the first time. "It just happened to be a place that was doing all the things I need it to do."
In many ways, OTA is designed to replicate the safety and empowerment that Rutabaga gave to Rylander as a teenager. Ultimately, she wants the outdoors to be an equitable space for queer kids to learn, work, grow, and thrive—and be recognized. "We prize people who can go out and be successful in the outdoors—the sex appeal and the badassness of folks that are guides or professional outdoor people," Rylander says. "That creates a lot of confidence and self-worth," qualities that can be particularly life changing for young people who are often marginalized because of their identities.
---
The day after the kayak stranding, atop Orcas Island's Mount Constitution, tourists milled around a sandstone-and-steel observation tower—which, incidentally, was built in the 1930s by the Citizen Conservation Corps, a grandfather program of today's youth conservation crews. Amid the swarms of chattering families in Patagonia and khaki travel pants were Queer Crew members—a curly haired youth clad in a T-shirt and beige gypsy skirt, a spry participant wearing an orange beanie and transparent black mesh tank top, another with a puff of pink hair. It was their last day together, and they gathered around Rylander—tall and athletic, with close-cropped hair, orange sunglasses, and an unconscious tendency to strike a camp-counselor pose of resting hands on hips.
She led the crew in an "affirmation circle," a closing ritual in which everyone piled praise on one another. The young crew members fidgeted, shuffled to hug different friends, or wiped tears from each other's eyes. They regarded Rylander with admiration verging on awe.
After each turn, Rylander resurrected an age-old camp tradition, giving each crew member a friendship bracelet made from rainbow-colored string—"Very gay," she declared to the group.
Afterward, when the affirmation circle reached Rylander, the crew's veneration spilled out: "You're just this really badass queer woman who saw something that needed to be done." "You're someone who leaves a lasting impression on people." "You're so cool!" "I can see Elyse on a solo kayaking trip and she, like, breaks her arm and just keeps motoring."
She wants the outdoors to be an equitable space for queer kids to learn, work, grow and thrive—and be recognized.
"It's interesting for me to hear you all say these things to me and to think of how I've gotten to where I am now," she said. "One, because of my queer identity, and also because of all the time I've spent outdoors being worked by Mother Nature over and over again—having to learn that stuff never ends up the way you want it to, but often it winds up way better than you thought it would.
"All those tools that I have now that you all talked about," Rylander continued, "I have because I spent time outside like you all just did for the last five weeks. You're all on that path now as well." Soon, it was time to say goodbye. Rylander and Alec Robinson, another OTA staffer, waved as the crew piled aboard "Ross" and drove toward the Orcas Island ferry terminal.
This year will be the biggest yet for Rylander and OTA. In Washington, Rylander will run daylong and short multiday events before she and Northwest Youth Corps launch their second Queer Crew. She has launched adult programming in Seattle. In both San Francisco and Seattle, she has launched mentorship programs and partnered with Outward Bound to create a program that combines two weeks of hiking with a period of urban service. She is piloting an initiative in four different cities that encourages kids and their parents to self-organize adventures. (OTA provides outdoor challenge ideas and rewards—often gear—from its sponsors.) 
Rylander has realized that the queer kids in OTA's programs are eager for queer outdoor role models—one of them being her. She and her partner fronted The North Face's first queer advertising campaign. She also launched the industry's first LGBTQ Outdoor Summit in Seattle last November, with major support from the Wilderness Society, which drew 120 participants from the United States and Canada. This year's summit will be held in October in the San Francisco Bay Area.
"What I feel like we're experiencing right now is the industry as a whole kind of dipping its toe into this conversation around queer equity, and I do think we will galvanize folks," Rylander says. "People in the industry who are queer and haven't been able to find a place for themselves are sort of coming out the woodwork. And I really think we're going to be able to bring people together."
Portrait: Clayton Boyd/The North Face
Corrections:
(03/28/2023) An earlier version of this article misstated Elyse Rylander's age. She is 27.
Lead Photo: Clayton Boyd/The North Face