Enough with the Podium Girls Already
We must resolve the sexism ingrained in cycling—starting with ditching the outdated practice of flanking successful male athletes with scantily clad women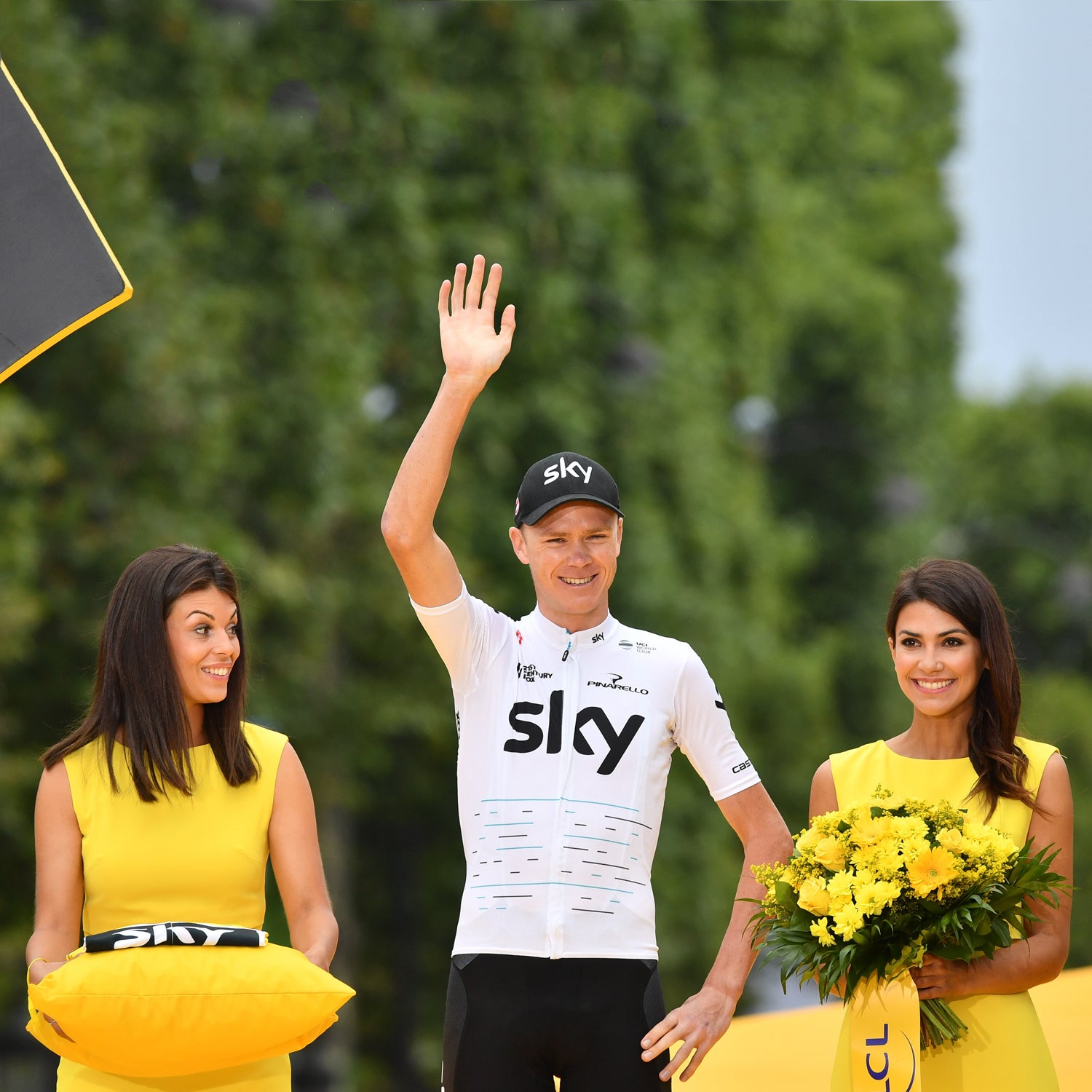 Heading out the door? Read this article on the new Outside+ app available now on iOS devices for members! Download the app.
If you've ever seen a pro men's cycling race, you know the image: a lycra-clad athlete clambers onto the stage flanked by two beautiful women—so-called "podium girls"—in slinky dresses and heels. As he accepts his flowers and a signature colored jersey, he receives a kiss on both cheeks from his female escorts.
On March 1, organizers of the Tour de France announced to The Times their intention to end this antiquated practice in the 2018 race. This decision makes the Tour the second Grand Tour event to stop hiring podium girls—Vuelta a España was the first, in 2017.
That leaves just the Giro d'Italia, where presumably we'll still see scantily clad, well-heeled women kiss the male athlete du jour this summer—especially now that the UCI, cycling's governing body, has declined to ban the practice. When asked about the Tour de France's decision, Mauro Vegni, cycling director for the Giro d'Italia organizer, RCS Sports, told Cycling Central:
RCS Sport believe that in this specific moment it is more of a temporary trend to remove podium girls from sport events…As long as those girls are treated with respect and carry on their job in a professional manner, there is no reason for changing the hospitality process.
What Vegni and UCI officials don't seem to understand is that the very nature of the podium-girl job disrespects these women. Ending a position that forces women to be seen and not heard isn't a "temporary trend"—it's the next step in the evolution of feminism. Podium girl glorifies women as objects, ignoring the incredible female athletes who are also citizens of the pro-cycling world. (Remember, women's cycling has been an Olympic sport since 1984, and their races are often championed as more exciting than the men's). 
In the age of #MeToo and #TimesUp, the podium girl has got to go. The only other holdouts—Formula One and the Professional Darts Corporation (yep, it's a organization)—got rid of their podium-girl equivalents in January. It's time for professional road cycling to follow suit.
Perpetuating the idea that societal worth comes from being pretty instead of powerful does not help make cycling a popular sport, especially among young people. (Thanks to continuing doping allegations, it needs all the help it can get.) With viewership of the Tour de France finally on the upswing for the first time since 2013, organizers are rethinking their event. If they want to woo and keep viewers (especially women), it's in their best interest to ditch the overt signs of patriarchy. Women's viewership of sports, and participation in sports, is at an all time high: according to a 2015 Gallup Poll, 51 percent of women considered themselves sports fans. These watchers take note when their values don't align with those of the organizers.
And let's be honest: male cyclists aren't winning over many hearts lately. Even ignoring all the depressing Froome and Wiggins allegations, they haven't comported themselves well on the podium. In 2017, Belgian professional road cyclist Jan Bakelants told reporters he brings condoms to the Tour de France because, "You never know where those podium chicks have been hanging out." In 2015, cyclist Marjn de Vries tweeted a particularly appalling photo from the Flanders Diamond Tour:  
At the 2013 Tour of Flanders, cyclist Peter Sagan groped Maja Leye onstage. Two years later, an advertising campaign used Sagan's harassment as inspiration, featuring the turquoise gloved hand of a cyclist reaching for a woman's butt in its ad.
You get the idea.
The worst part about it is that podium girls are just one symptom of widespread gender inequality in cycling, where women get paid less (if at all) and race shorter events than the men. For 2018, the minimum salary for men on Union Cycliste Internationale Professional Continental teams is €30,885 (about $38,000). The minimum salary for women? Zero. At most events, the women's purse is less than the men's. They also often have to contend with general, good-old-fashioned sexism. In 2016, British Cycling technical director Shane Sutton allegedly told 25-year-old British track cyclist and multiple Commonwealth Games medalist Jess Varnish she was "too old" and to "go and have a baby" rather than keep racing.
Now, things are beginning to shift. At UCI's world championship events, women earn equal prize money, and in 2016 the organization increased the distance for women's events, from 140 kilometers (86.9 miles) to 160 kilometers (99.4 miles) in the World Tour. The presence of podium girls cannot negate this momentum—I refuse to give it that much sway. But it does hinder the forward progress. If women's road cycling is to continue to grow, it needs empowered, inspirational figureheads on the front (well-broadcast) lines. Those won't be the women that hand out trophies, but rather the women who earn them. Getting rid of podium girls acknowledges the effort female-identifying athletes like Anna van der Breggen, Emma Pooley, Marianne Vos, and Megan Guarnier have put forth for decades. 
Perhaps the answer to the podium-girl dilemma comes from Australia. Recently the Tour Down Under equalized the purse prize for the men's and women's races. Two years before, the Tour had retired podium girls and replaced them with junior racers. It's a win-win, giving young athletes the opportunity to stand next to the sport's superstars and envision themselves on the same podium one day. And maybe, just maybe, the kids watching at home will see somebody who looks like them right up there on the top step, and that will inspire them to hop on a bike, too. 
Lead Photo: Mustafa Yalcin/Anadolu/Getty