Equal Prize Money Is Great—But Only Half the Story
Last week, surfing became the latest sport to close the prize-money gender gap. So where does that put us on the greater path to equality in sports?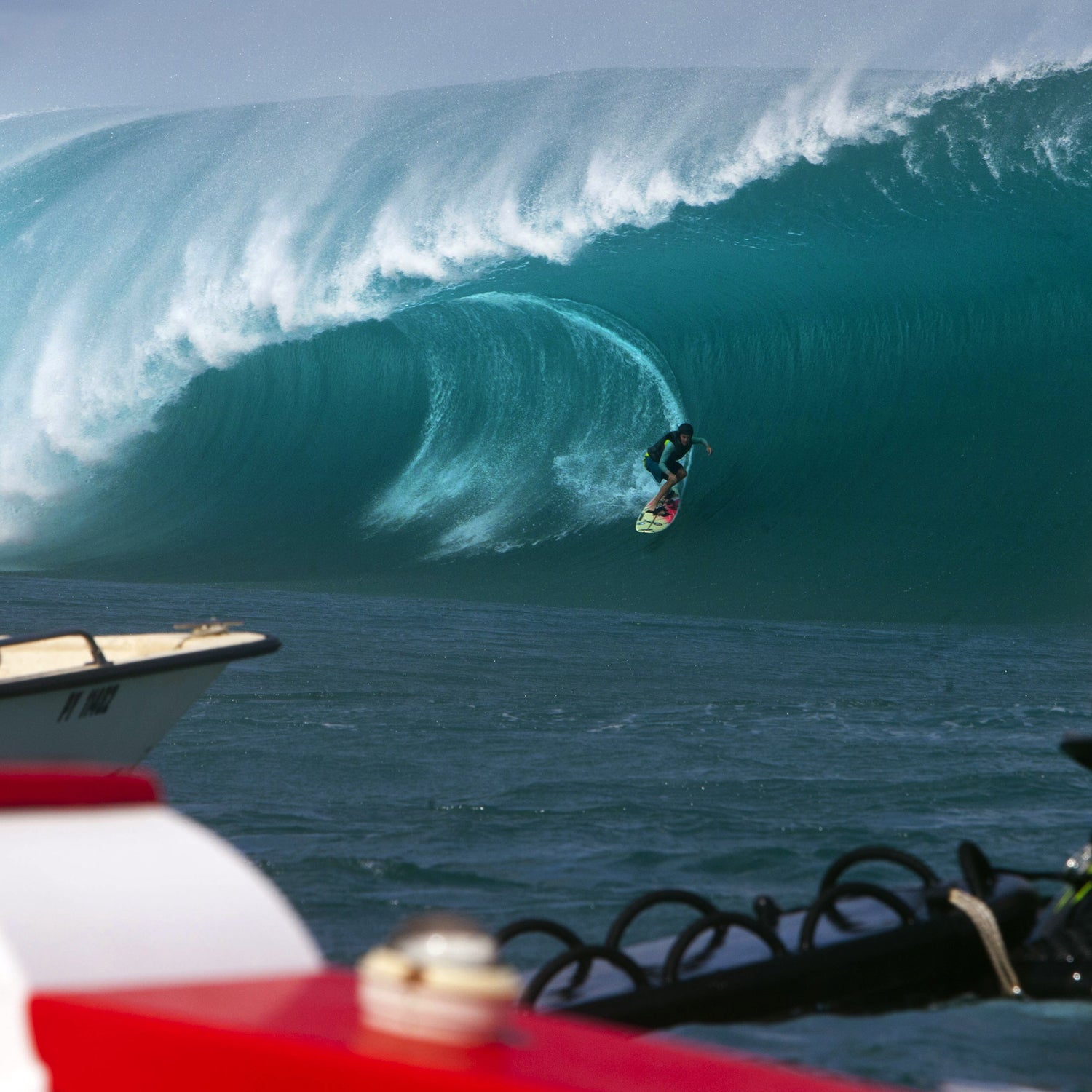 Gregory Boissy/AFP/Getty Images(Photo)
Heading out the door? Read this article on the new Outside+ app available now on iOS devices for members! Download the app.
On September 5, the World Surf League announced a major milestone: equal prize money for male and female surfers at every WSL event in 2019 and beyond. It was a watershed moment for a sport with a history of treating women as second-class athletes.
"Bravo to the WSL for their commitment to equal pay," says Bianca Valenti, a San Francisco–based pro who conquered 20-foot waves to win Latin America's first big-wave surf competition this summer. There, she won $1,750—a quarter of the $7,000 men's purse. "Maybe we'll find we have created equity not just in surfing, but for all sports."
So where do other sports stand? Surprisingly, when it comes to prize money, a great number have reached parity—as high as 83 percent, according to one BBC Sport survey. But prize money isn't the whole story, and because it's a public-facing number, organizations have a considerable PR incentive to make purses equal. Harder-to-quantify issues like salaries, sponsorships, representation, and opportunities often still lag behind for women athletes.
When Title IX passed, in 1972, not a single sport rewarded men and women equally. Tennis became the first, in 1973, after Billie Jean King and eight other female pros pressured the U.S. Open. By 2004, sports like volleyball, marathon running, and skating were awarding equal prize money. In the past four years, according to the BBC, at least 12 more sports joined the club. Climbing, alpine skiing, cross-country skiing, freestyle skiing, snowboarding, BMX, mountain biking, triathlon, and track and field pay men and women equal prize purses at the world championship level. Sports that haven't closed the gap include cliff diving, ski jumping (in 2017–2018, the sport's male leader in prize money raked in more than twice as much as the women's leader), and many cycling events.
Road cycling is a particularly egregious offender: a UCI-sanctioned World Tour one-day road race pays the male winner nearly 18 times more than the female victor. But recently, the sport has taken some significant steps forward. This March, the Tour of Britain increased prize money for the women's race by more than $60,000 to match the prize purse for the men, making the most lucrative event in women's cycling even more rewarding. Also this year, the Tour Down Under raised its women's prize to match the men's. In 2014, Le Tour de France introduced La Course, a women's race with prize money equal to what a man wins for winning a stage of the Tour.
However, these events are still several stages shorter than the men's races, and other elements, such as media coverage, remain unequal. This year's La Course delivered a thrilling race but fell short of delivering the audience it deserved. Only the last kilometer was televised in the United states, and the rest required a $50 streaming subscription. Still, it was considered a victory after years of women fighting to have any event, with little success.
On the other hand, younger sports are more likely to have reached gender parity than historically male-dominated sports. The International Triathlon Union, for example, has paid equal prize money to men and women in every race for every year since its 1989 inception—more than a decade before triathlon became an Olympic sport, in 2000. (Triathlon is indeed a more progressive sport for gender equality, but one of the sport's biggest events, the Ironman World Championship in Kona, offered more qualifying spots for male pros than for women until 2018.) The International Federation of Sport Climbing has also offered equal pay from the start.
There's now a push from the highest echelons of sport—the International Olympic Committee—to get all sports paying equally and paying attention to harder-to-quantify factors of equality. On International Women's Day in March 2018, the IOC announced the results of its Gender Equality Review Project, including 25 recommendations for promoting gender equality in sports. Three of them related to funding, and one specifically called out financial rewards, urging international sport federations to "establish mechanisms to address inequalities between genders in prize money or other athlete payments."
As with so many other watershed moments of progress, this Olympic push is being led by a woman: Marisol Casado, president of the International Triathlon Union since 2008 and a rare example of a woman elected to the top post of a sport's highest governing agency. (Of 40 Olympic International Federation presidents, Casado is one of two women.) As the chair of the IOC Gender Equality Review Project, she has pushed for not only equal prize money but also equal media portrayal and gender balance in leadership—perhaps the next frontier in the quest for gender parity in sports.
Speaking of leadership, it's worth noting that surfing's rise to equal prizes is happening under the WSL's first female president, Sophie Goldschmidt. But it didn't happen without an external push from a vocal group of women, including Valenti and other pros, San Mateo County Harbor Commissioner Sabrina Brennan, and a pro bono attorney, who formed the Committee for Equity in Women's Surfing. The committee demanded that a women's division be added to the Mavericks Challenge, a big-wave competition that for decades was open only to men.
The women prevailed. Mavericks added a women's competition. But it took government involvement to push things forward. By excluding women, the contest was violating anti-discrimination laws that apply to events held on state lands, and the state of California mandated the inclusion of women as a condition of issuing an event permit. The resulting publicity put a spotlight on the inequality that pervaded other areas of the sport—like prize money. And the victory for women's surfing could have larger implications for other sports that play out in publicly funded venues. 
"Every time I drive by one of those ginormous sports stadiums, I've always thought about how much public funding goes into them," Brennan says. "So now we're looking at what can this do for other sports?"
Lead Photo: Gregory Boissy/AFP/Getty Images