Why the North Face's Defense of Its Pride Campaign Matters
The brand's new campaign, featuring drag queen Pattie Gonia, struck a nerve with conservatives. The company's continued support of the LGBTQ+ community despite the backlash has real impact.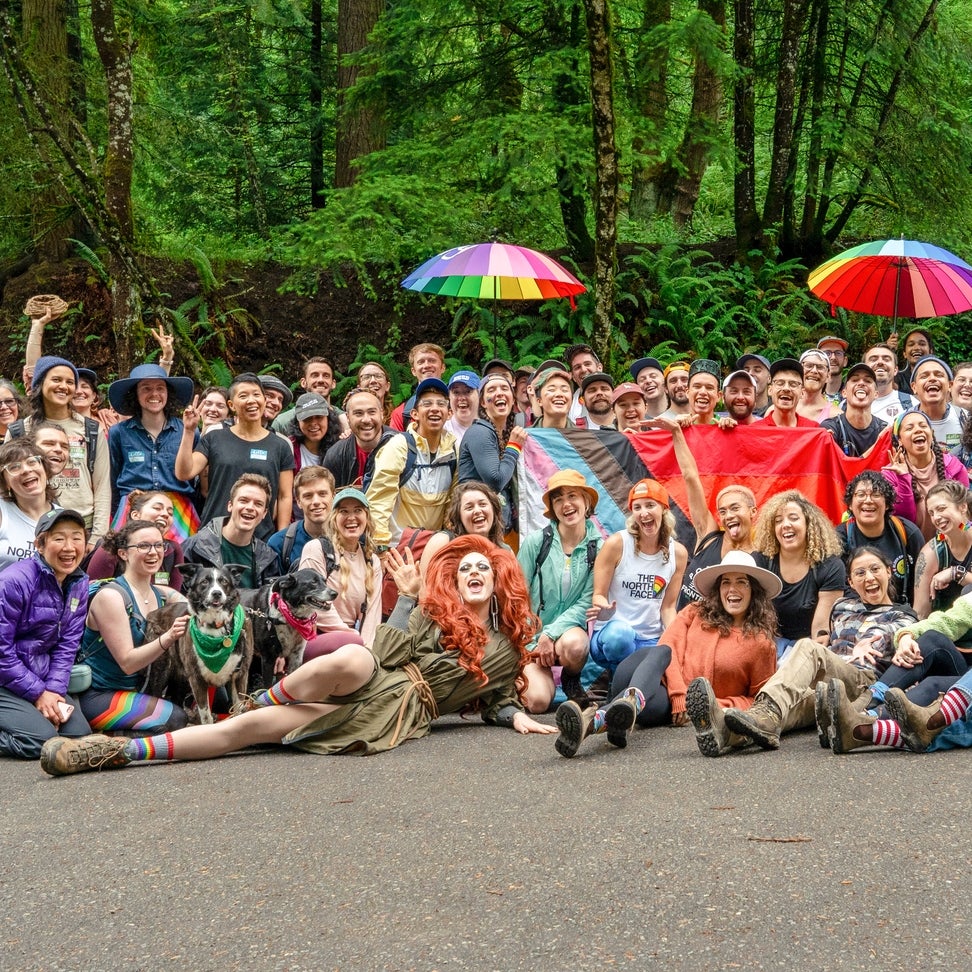 The North Face
Heading out the door? Read this article on the new Outside+ app available now on iOS devices for members! Download the app.
"We invite you to come out," says drag queen Pattie Gonia, pausing an extra beat before continuing, "-side with us!" Pattie, the alter-ego of outdoor influencer and environmental advocate Wyn Wiley, sashays through the woods in a rainbow minidress and matching leg warmers from the North Face in a recent video from the brand. It's a promotion, highlighting a national event series titled Summer of Pride, developed by TNF to support the LGBTQ+ community. 
The lighthearted one-minute ad has been met with anger, disgust, and calls for boycotts from conservative media figures and politicians. Far-right congressperson Marjorie Taylor Greene tweeted that the partnership made her want to switch to "generic brand clothing," and Republican representative Lauren Boebert called for a boycott of all North Face products.  
The Summer of Pride campaign, and Pattie's involvement, aren't new. TNF put out a very similar ad around this time last year. What has changed, though, is the level of public vitriol being directed at trans people, drag performers, and the queer community at large.
TNF also isn't the first brand to come under fire from conservatives for publicly supporting the LGBTQ+ community. Target, Budweiser, Nike, and Hershey are just a few of the high-profile companies who have recently faced public backlash and calls for boycotts after launching pride products or featuring LGBTQ+ individuals in advertising campaigns. While some brands have doubled down on their support, others have backed down under the pressure, pulling pride products and quietly distancing themselves from LGBTQ+ partners.
TNF has stood behind Pattie Gonia and the Summer of Pride initiative, saying: "The North Face has always believed the outdoors should be a welcoming, equitable and safe place for all. We are honored and grateful to support partners like Pattie Gonia who help make this vision a reality."  
The vitriol directed at TNF and Pattie Gonia doesn't exist solely online; it stems from real-world hatred that drives violence and anti-LGBTQ+ legislation. Last year, the LGBTQ advocacy group GLAAD reported that there were 166 protests, threats, or attacks against drag events in the U.S., which doesn't include other parts of the queer community being violently targeted, like the shooting at Club Q, a Colorado Springs queer bar, that killed five people. By the ACLU's tally, nearly 500 anti-LGBTQ+ bills are actively being considered in legislatures across the U.S. These measures include prohibiting teachers from discussing gender identity in class, limiting or outright banning gender-affirming healthcare, restricting public bathroom usage, and blocking trans individuals from listing their correct gender identity on identification cards. 
The backlash against TNF highlights the need for vocal and active support for LGBTQ+ people. It also raises a now-familiar question: What will it take to make the outdoors a genuinely accessible and welcoming place for everyone? In an interview with Field Mag, Pattie Gonia described herself as the "visible little iceberg" of a much bigger community working towards a more equitable and diverse outdoors. For these hardworking advocates, Pattie—and TNF's support of her—is encouraging.
"When we're not visible, then other people don't realize that LGBTQ people still need a safe space in the outdoors," said Justin Yoder, founder of LGBT Outdoors, which organizes community events to bring queer people together and get them outside. "Everybody needs to know that everybody is welcome in the outdoors, and I think a lot of that can actually start with what the big outdoor companies are putting out on their social media."  
Kiersten Short, an administrator at the LGBTQ+ summer camp Brave Trails and parent of a nonbinary young adult, agrees. "The 400-plus campers whose paperwork I'm dealing with are hearing messages from the outside world that are so profoundly negative," she says. "To be an ally is more than wearing a rainbow flag. It means that I need to speak up when people are saying disparaging and untrue things, and work harder to create spaces that are safe for LGBTQ youth to thrive." 
A few days after the Summer of Pride ad was released, Wiley took to Instagram to share a few thoughts on allyship and thank his supporters, saying: "Homophobia f***ing sucks, and it has no place here. Especially in the outdoors."  
Lead Photo: The North Face
Trending on Outside Online