Behind the Scenes at Our 2022 Snowboard Test
How do we decide which snowboards earn coveted slots in our Winter Buyer's Guide? Take a virtual tram lap with a few of our Utah testers.
Outside tests upward of 30 snowboards every winter, but only a few wind up featured in the magazine. How do we pick which boards make the cut? Normally, we have a weeklong test and invite riders from far and wide to put all the industry's new boards through the wringer. This past year was anything but normal, however, so we switched things up. Our test director converted his garage at the bottom of Utah's Little Cottonwood Canyon into a gear library, with stacks of boards lined up and ready to rip. Then he sounded the horns in the Wasatch, rallying an army of local riders, who came to check boards out for up to two weeks at a time and then fill out review forms. We repeated this process over the course of the season, and our favorite boards of 2022 rose to the top. Scroll through the photos, below, to enjoy a few testers in action during one of our last days this spring at Snowbird.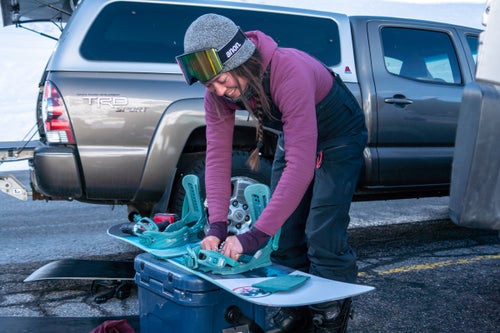 Jerrica Lavooy, a first-year tester and Cottonwood Canyon regular, dials in her stance at the base of Snowbird. Some testers always rock the same stance on every board, while others adjust binding angles or stance width based on the board size and style. It's all a matter of preference. The key to testing snowboards back-to-back is simply a consistent methodology.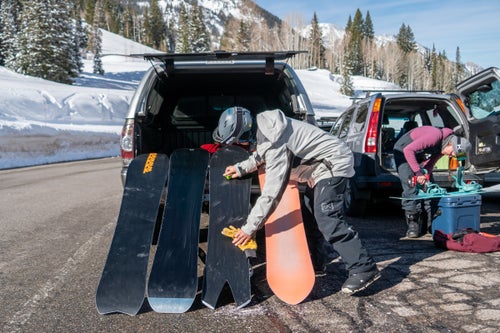 Jacob Levine, a longtime tester, coach, and the director of Team Utah Mountain Sports, knows that a board is only as fast as its wax job. Here, he reduces variables by applying his decades of expertise—and a bit of elbow grease—to four of our favorite rides. From left to right: the K2 Excavator, Salomon HPS Louif Paradis, Korua Dart Plus, and Burton Show Stopper.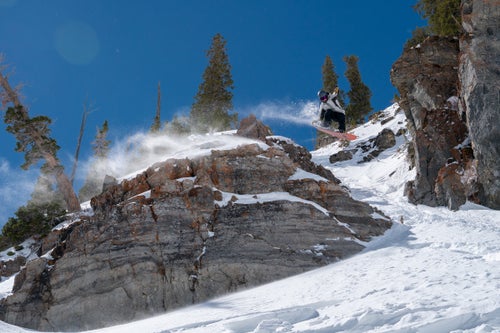 Levine spends his winter coaching the Wasatch's best up-and-coming freeride and freestyle snowboarders. Here, he shows his pupils how to properly combine the two worlds by bringing freestyle flavor to a big-mountain setting. A shorter, wider directional deck, Burton's Show Stopper was an ideal blade for this terrain and Levine's playful approach.
If we had to pick a single lift for all of our snowboard testing, Snowbird's iconic tram would likely reign supreme. After a ten-minute climb up 2,900 vertical feet, the tram deposits you atop a sampling of the Wasatch's finest riding. In a single run, you can link technical steeps and open groomers, then pop stoke-worthy side hits or cruise through a mini terrain park. World-class freeride lines are within reach if you're willing to hike or traverse for them.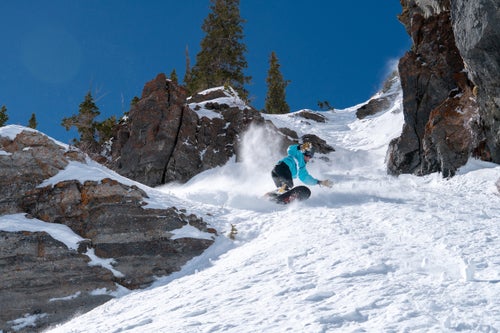 Dedicated tester Jackson Webber reaps the rewards of a long, excruciating, and not so snowboard-friendly traverse: hot spring pow moments before it's overcooked in the apron of a tight couloir. He's ripping the Capita Mega Merc, our favorite all-mountain board for 2022.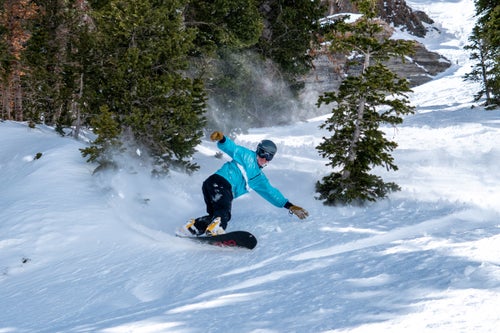 It's imperative to test boards across varied snow conditions. A few hundred yards below his hot-pow-smeared couloir, Webber sniffs out a patch of cold, protected powder in the shade.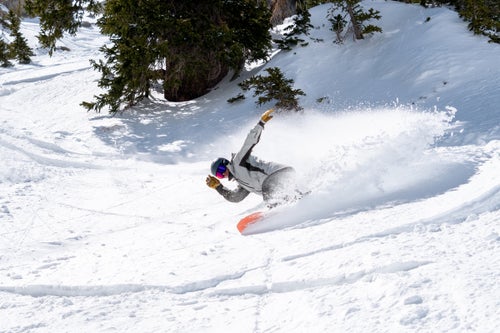 Levine brings the heat with a surf-inspired backside hack.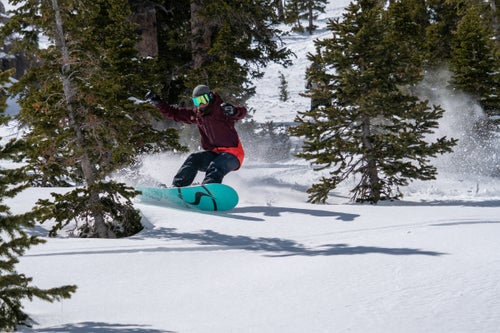 Lavooy rips through the trees on Never Summer's durable, buoyant Harpoon, which was one of our top picks for intermediate riders looking for easy turns and ample float in powder. At the end of the day, this is what our test—and snowboarding in general—is all about: riding fast, charging hard, and having fun with your friends.