The 68-Year-Old Canyoneer Legend Descending Death Valley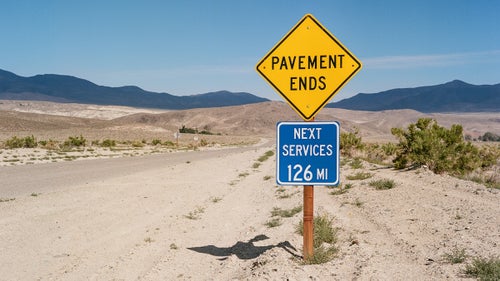 Scott Swaney, a former oilman and current badass a couple years shy of 70, has more first descents in Death Valley National Park than anyone on earth. He spent the past decade looking for everything from tight canyons to massive drop-offs and is believed to have led or been involved with 203 of the 258 first descents in the park. Swaney has burned through partners who couldn't stand the heat and hard labor of exploring his hellish playground, but he continues to recruit new ones, eager to keep exploring. This spring, photographer Ian Tuttle, who had never canyoneered, stuffed his camera—a film Mamiya 645 AFDii—into a backpack and followed along.
Photo: Death Valley Road, Inyo County, California.
Death Valley is enormous, hot, dry, rugged, and remote. It's the largest national park outside Alaska and holds the world record for hottest air temperature (134 degrees Fahrenheit). Of its 3 million acres, 91 percent is designated wilderness. It's not a friendly place if you don't know what you're doing. As of this writing, there is only one paved road across the park—flash floods wiped out the other two in 2015. Cell service is sporadic at best. To have any chance of seeing much more than the tourist sites, you need to hike, carrying all of your water, for miles across open desert.
Eureka Dunes from Hammer Mjolnir Canyon. May 24, 2016.
Extreme conditions leave much of the park unpopular, unvisited, and undisturbed but full of splendid beauty. And while there are fewer "firsts" available to true adventurers, Death Valley has in the past decade provided a select group of canyoneers the opportunity to rack up hundreds of spectacular first descents through the park's dramatic canyons. Of these first descenders, Scott Swaney, 68, has distinguished himself as particularly committed to exploring, logging, and naming all of Death Valley's numerous canyons.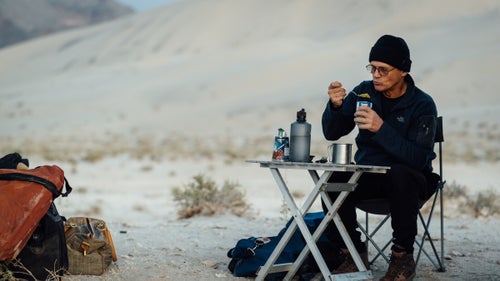 Swaney eating breakfast below the Eureka Dunes. May 21, 2016.
I learned about Swaney from a good friend who's been following him on Facebook, fascinated by stories and photos of huge rappels, remote natural bridges, slick rock dryfalls, and rattlesnakes. My friend and I have been exploring Death Valley regularly for 15 years, and we've had many hikes end abruptly at the foot of an impassible canyon dryfall.
I reached out to Swaney via Facebook, and he quickly replied within minutes with a thumbs-up emoji. Then: "You will have to join up. Been going every weekend this season. Lots of new canyons to check out." One month later, I'm riding in his dust-coated Nissan Pathfinder, heading from Los Angeles to Death Valley, while he gives me lessons on rappelling.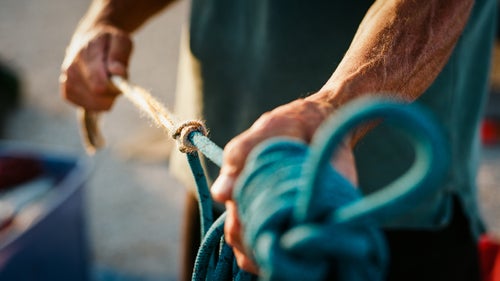 Swaney demonstrating a Prusik knot. Amargosa Valley, May 2, 2016.
There are five of us on this trip, and we car-camp that night on the Amargosa Valley floor, a few feet from a wilderness boundary sign. Swaney teaches me the Prusik knot, explains ascenders, and talks about how it's likely that no human has ever been where we're going.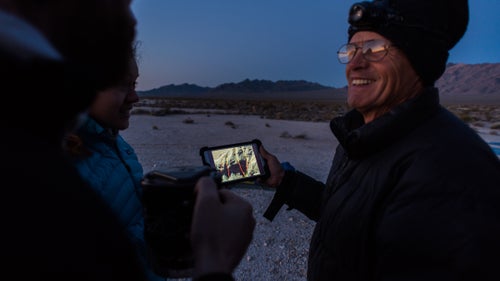 Swaney shows Navarro and Plummer the route of the first descent we'll attempt. May 3, 2016.
The next morning, we're up before the sun and hike in the dark for two miles while Swaney's GPS shows zero feet of elevation gain. Our group: Jared Plummer, Stephanie Navarro, me, Aysel Gezik, and Scott Swaney. I'm the only one without multiple first descents under my belt. Around sunrise, we reach an alluvial fan dotted with fragrant creosote bushes and finally begin to gain some altitude. "What he did is a pretty cool thing," Swaney muses about Buzz Aldrin. He says Neil Armstrong gets all the credit, but Buzz was right there with him. And yet there can only be one first.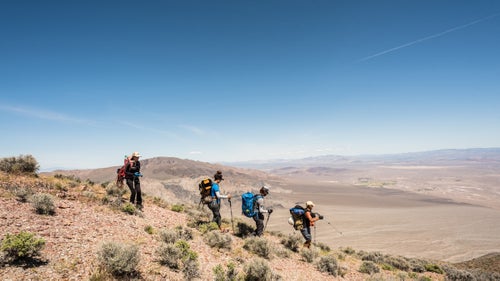 The group approaches the top of Cyclops Canyon in the Funeral Mountains. May 3, 2016.
Swaney's not the only one exploring remote canyons in Death Valley. He's not the first one, either. But nobody has documented as many Death Valley first descents as he has. By his count, Swaney has personally led or partnered on 203 of the 258 first descents in the park. Klaus Gerhart, owner of Uber Adventures, a canyoneering store in Los Angeles, hosted a lecture in September 2015 called "Scott Swaney: Master of First Descents."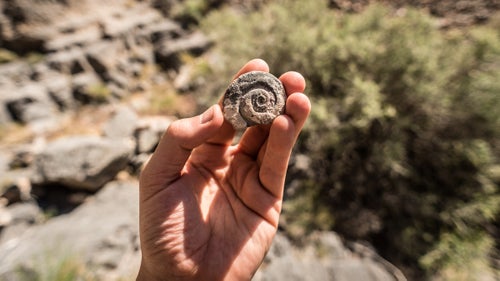 A 350 million-year-old fossil high up in the Funeral Mountains. We saw hundreds of fossils throughout Cyclops Canyon. Nobody has been there to disturb them. May 3, 2016.
Perhaps the greatest danger with first descents is you don't know what you'll find. Swaney researches as much as possible ahead of time, using topo maps, Google Earth, and on-the-ground scouting, but there are always surprises. Nobody has been in these canyons before, so there's no information about what's in them. What if you encounter a 250-foot rappel and have only a 200-foot rope? What if there's nothing to anchor from? What if your hair gets stuck in your belay device?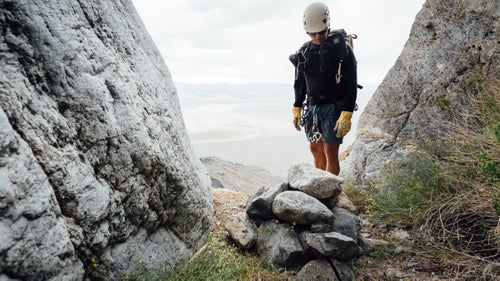 Swaney inspects a rock-pile anchor in Sand Witch Canyon. May 21, 2016.
We are now climbing a steep ridgeline toward an unnamed summit, at which point we'll traverse around and drop into a drainage that will deepen into a canyon. I ask Plummer if I can trust Swaney. Plummer's accompanied him on about 30 canyoneering trips in Death Valley, including many first descents. He tells me that Swaney knows what he's doing. He also tells me that I need to make my own decisions about what is safe and what is not. I respect his response.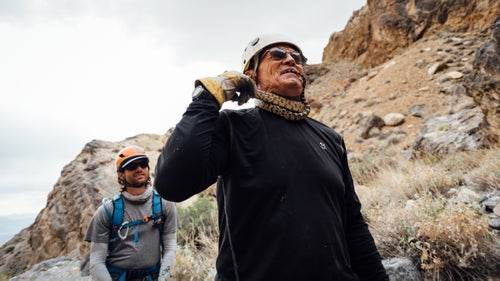 Swaney plays with a snake in Sand Witch Canyon while Plummer looks on. I've visited Death Valley more than 30 times and had never seen a snake. Every day I spent with Swaney, he found at least one. May 21, 2016.
The weather is pleasant. We're up around 5,000 feet, and it's not too hot. We down-hike the drainage just a few hundred yards and reach our first rappel. Swaney and Plummer scope out potential anchor points. Gezik finds a little pool of standing water in a rock and scoops it into her bottle, using her bandanna as a filter. "Plenty of UV," she says to explain its potability. There's a desiccated, twisty tree growing near the edge of the rappel, and Swaney declares it perfect. He loops webbing around it, clearing a couple twigs out of the way, and then attaches a rapide quick link. Once the rope is thrown over the edge, he inspects its lie. The stone is sharp where it transitions to vertical. Swaney uses another rock as a hand sander to smooth the lip. "This could cut the rope," he says. "Try not to pendulum or bounce."
Swaney smooths a sharp rock lip so it won't cut the rope. Cyclops Canyon, May 3, 2016.
So many things can go wrong that when I am finally leaning backwards over the edge of my very first canyoneering rappel, I have to adopt a mind-set of pure faith. Behind me is a 160-foot drop. In front of me is a gnarled knee-high tree with a loop of webbing around it. I trust Swaney. I trust Plummer, who has already descended this section and is waiting below, backing me up with a fireman's belay. I trust the others and their decades of combined experience. I trust this tiny tree. And I do trust myself to stay calm and execute a proper rappel. Swaney reminds me to never, ever let go of the brake rope in my right hand. Otherwise, I'll zip straight down the line and die on impact.