Arizona BASE Boogie 2014: Scott Rogers Photography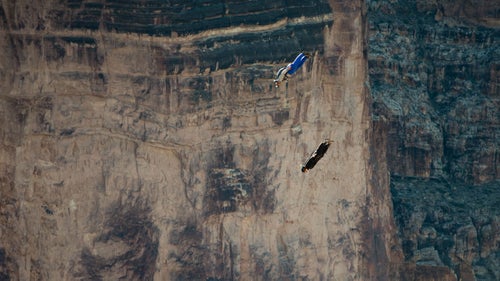 Sponsored by Antigravity BASE of Mesa, Arizona, and Apex BASE of southern California, the Arizona BASE Boogie draws jumpers from all across the country. Photographer Scott Rogers covered the event in January, 2014 and came away with some stunning images.
Photo: Jumpers Ian Mitchard (top) and Scotty Bob perform a jump in close proximity to one another. Both are wearing tracking suits and falling in a steep dive to gain speed which they can use to drive themselves forward towards the landing area.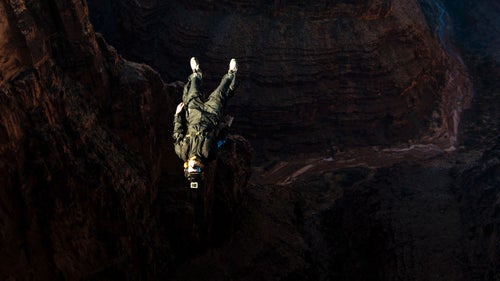 Base jumper Scotty Bob performs an aerial at the beginning of a jump while wearing a tracking suit. This suit inflates with air via several vents and increases the surface area of the jumper, allowing Bob to propel his body forward without the use of a dangerous and restrictive wingsuit.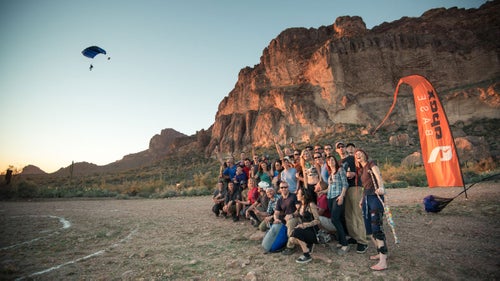 The event's host, Matt Frohlich, has performed more than 1000 BASE jumps during the course of the past several years. A small landing target is painted in the dirt; jumpers try to hit the bulls eye.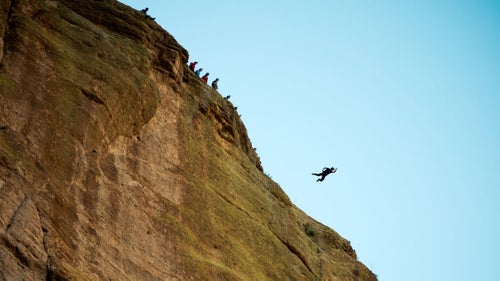 Joe Nesbitt performs a jump off a cliff near Apache Trail road, one hour northeast of Phoenix, Arizona. BASE is an acronym for: Building, Antenna, Span (bridges) and Earth (cliffs), the four main objects these parachutists tend to jump from.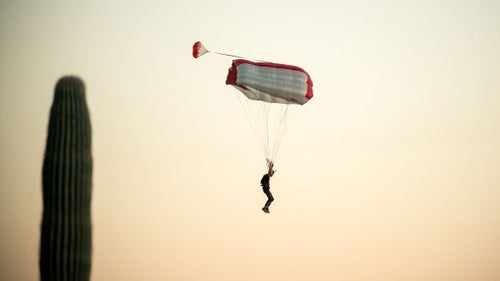 Aron Cohen comes in for a landing after a jump. In Arizona, the danger isn't over until you've successfully navigated between the towering saguaro and the parachute-destroying cholla cacti.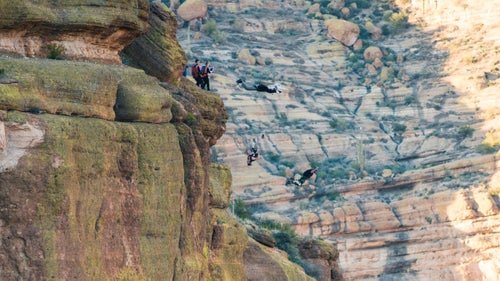 Jumpers Jordan Kilgore, Scotty Bob, and Mathew Kenney launch together in a highly coordinated jump. With three people jumping at the same time from a short cliff such as this one, jumpers must open at very specific altitudes to avoid becoming entangled in each other's parachutes.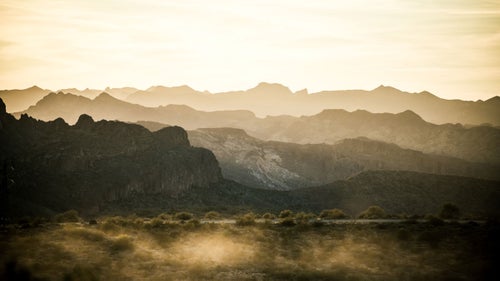 Dust and dusk settle upon Apache Trail road. Just east of Phoenix, this road acts as an access point to many jumps in and near the Superstition Mountain Range of Arizona.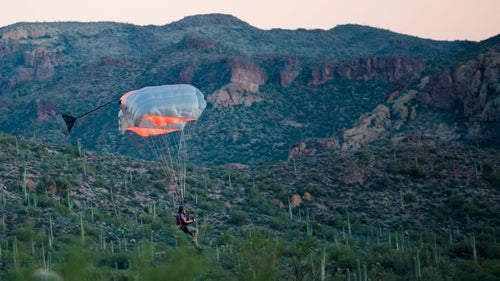 A female jumper lands on an old road below a jump from the Peralta cliffs. This popular jump is located near Gold Canyon, Arizona, which was the location of this year's accuracy contest at the Arizona BASE Boogie.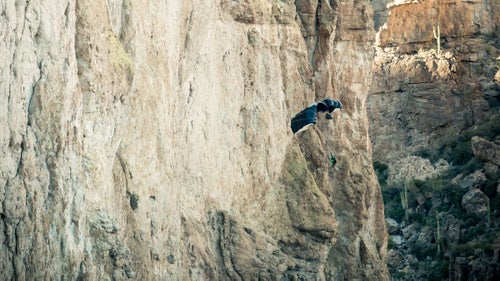 One of the most dangerous parts of jumping solid objects, such as cliffs, is the possibility that one's parachute can open backward, causing the jumper to fly at the cliff. A 180, as it's called, can cause the parachute to snag and/or result in serious injury leaving the jumper dangling and helpless. In this photo James Yaru opened with a 180 but narrowly avoided the cliff as he managed to turn around with a couple feet to spare.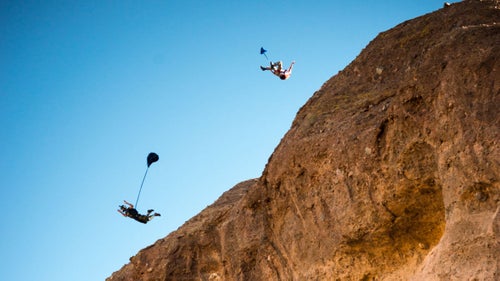 Jumpers Mathew Kenney and Jordan Kilgore perform a jump off Camelback Mountain in central Phoenix. Jordan is seen doing an advanced aerial named the "tweener."