Pete McBride Shot These Wildfire Photos from His Porch
Photographer Pete McBride got front-row seats to the massive Lake Christine Fire as it nearly destroyed his 120-year-old home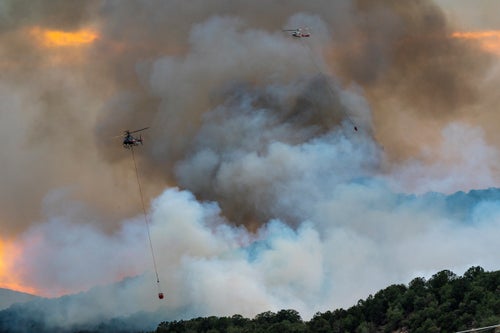 July 3, 5:30 p.m.
A friend texted me that there was a "fire close to your home," so I raced back to Basalt, Colorado, and watched billowing smoke from the nearby shooting range. Two helicopters were already working the fire, dropping water via slurry pods from nearby Lake Christine, which the fire would come to be named after. I was amazed to learn that despite the Stage II fire restrictions (no fires, no fireworks, no nothing), our state-managed shooting range remained open despite calls to close it from the town and the fire department.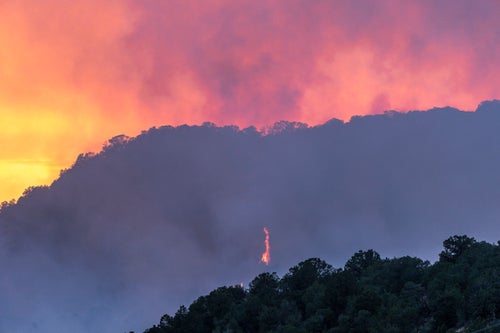 July 3, 8:30 p.m.
At dusk, the helicopters ceased operation due to flight curfews as a few stubborn flames licked a far ridge. All the neighbors on my street gathered on the west end, discussing what to do. Some were in tears, others were already packing up, but most felt confident that the light easterly wind was favorable and that we would be safe. I stayed in communication via text with neighbors who all took turns keeping watch throughout the night. We knew the hill above us was a juniper tinderbox.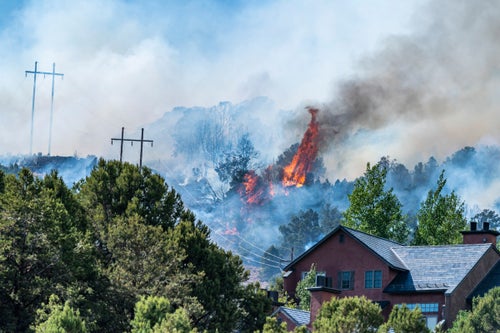 July 4, 11:30 a.m.
A white haze hung over our town, and the drone of helicopters started up. The wind remained light throughout the night, and the fire seemed to be under control. Regardless, no one was willing to leave their homes to attend Fourth of July celebrations. At 1:15 p.m., the wind shifted. Black smoke billowed above us, and then flames crested the ridge. A rattled police officer drove down the street, telling us evacuation was imminent.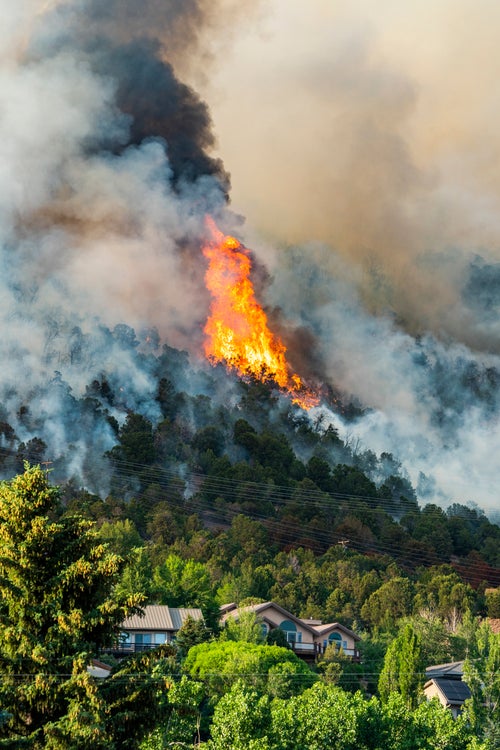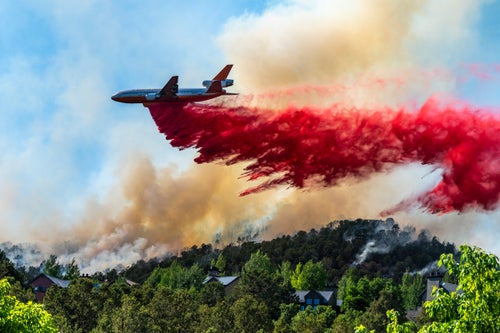 July 4, 4:45 p.m.
After loading what I could into my truck—art, photos, a table I built by hand—two friends showed up panting, ready to help. "We have to go now," they said. Slurry bombers joined the helicopters and created an aerial ballet above town, taking turns dropping red fire retardant just above us. We watched from my front door, mesmerized as first the crop dusters made their runs, then twin-engine planes and even jets, ending with a DC-10 sending down torrents just a few hundred feet over my neighbors' rooftops to the north.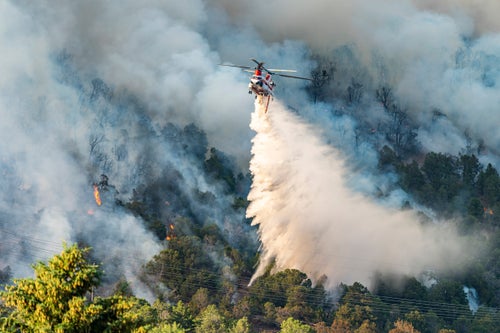 July 4, 7:30 p.m.
My friends drove my belongings to their home while I stayed back, reluctant to leave my 120-year-old abode, fearing it may be the last time I saw it and the 80,000 images (the backbone of my archive after 20 years working as a photographer for Outside, National Geographic, and other magazines) that I left in the basement. I cursed myself for not backing it up better. Mandatory evacuation went into effect across Old Town Basalt, and I watched with neighbors from the town park as 200-foot flames roared down the hill. A Chinook helicopter flew laps to the Roaring Fork River and back to the flames, dropping water and river mud (due to the low river level) directly on the flames. We marveled at the precision and effectiveness of the drops.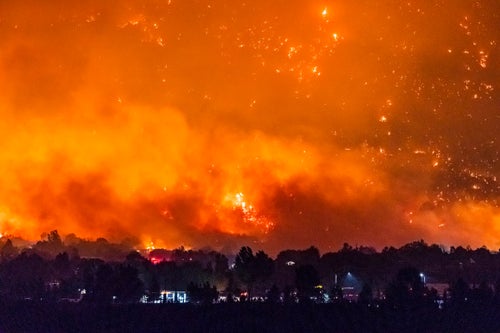 July 4, 11:30 p.m.
The wind changed again. Just as we thought the old section of town might be at risk, the fire moved to the west, jumped a ridge, and swept toward the highway and the commercial core. Sirens wailed, and people were evacuated with little notice. The entire hill behind town was aglow with flames and an ember storm. Reports said the fire was more than 3,000 acres and zero percent contained a day after it had started. Local fire crews on the ground held their line to save a trailer park, but the town looked beyond protection.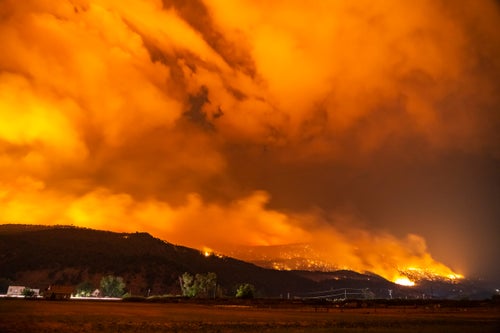 July 5, 8:30 a.m.
After a sleepless night, Basalt was a ghost town. But somehow, it was still standing. Smoke and ash hung over everything, and the mountain above was decimated. The fire continued up high to the north. Firefighters, hotshots, and first responders were the only vehicles on the road. No one was allowed back to their homes. The few residents I encountered looked like walking zombies caught between shock, disbelief, and frustration. We learned the fire was started by two locals using illegal tracer bullets at the firing range. Everyone questioned why the range was open at all. The Lake Christine Fire was now more than 5,000 acres and still zero percent contained. It would continue for the foreseeable future, and amazingly, thanks to the efforts of the community and bravery of a few, so would the town.
Update: July 10, 6:30 p.m.
After a week of mandatory evacuation, I returned to my historic Basalt house feeling like a little kid finally coming home after a long trip. The hill above me looked like a wasteland, but I know it will explode with life again. The flames still crackled, smoked, and smoldered above us in the distance, and the Chinook was still flying slurry laps, rattling my old windows as it zoomed back and forth to the river. The Lake Christine Fire currently covers about 6,000 acres. It has displaced more than 500 homes and destroyed three (one of them a firefighter's). As of this writing, the fire was 35 percent contained. Across the West, there are some 60 fires burning, spanning hundreds of thousands of acres. As a changing climate fuels hotter temperatures and drier conditions, scenes like this will only become more common.
To all the firefighters, hotshots, pilots, and volunteers who saved our little town, thank you.