Forest Selfies Are Helping Save B.C.'s Old-Growth Trees
For over a decade, TJ Watt has been shooting photos of disappearing forests in Canada's westernmost province. This striking before-and-after series may help protect what's left.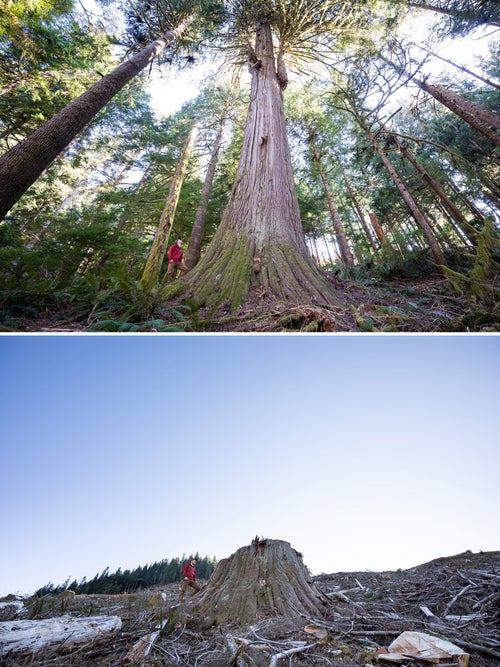 On a clear day last fall, TJ Watt shouldered his pack, stepped off a logging road in British Columbia's Caycuse Valley, and started hiking up the hillside where the trees used to be.
A skateboarder turned activist and conservation photographer (and definitely not the pro football player of the same name), Watt has spent much of his adult life exploring the skyscraping forests of his native Vancouver Island. Or what remains of them, to be more exact—despite B.C.'s left-leaning politics, more than a century of nonstop logging has turned most of the island into a patchwork of barren cut blocks and second-growth plantations.
Larger than the Hawaiian Islands combined, almost all of Vancouver Island was once covered in monumental fir, spruce, and cedar trees. But less than 10 percent of its original old growth is currently protected, and more than 10,000 football fields' worth of untouched forest are still harvested each year. It's a question of global relevance, as B.C. still holds the world's largest intact stands of temperate rainforest, providing critically important carbon storage, wildlife habitat, and biodiversity reserves. These forests boast more biomass—the total weight of living matter—than any terrestrial ecosystem on earth.
Watt is one of the founders of Ancient Forest Alliance, an environmental nonprofit working to protect old-growth forests, and he hopes to focus attention on his province's many unsustainable logging practices. When he came across a spectacular stand of old-growth cedars that was flagged for harvest in the little-traveled Vancouver Island backcountry, he saw an opportunity to photograph it in a way that would cut through the clutter of the public's social feeds.
"I'm always trying to convey the sheer sense of beauty of these forests and the devastating loss when they're cut down," he says. "As a photographer, you're always trying to find the most impactful way of doing that, and I finally landed on the idea that maybe doing carefully planned before-and-after images would show just how clear that loss was."
Back in April, before the Caycuse Valley grove was clear-cut by a company called Teal Jones, Watt bushwhacked through the forest, set up his tripod, and photographed himself with the majestic thousand-year-old trees. When he returned in November, the landscape had been completely transformed.
"This is not a series I ever hoped to complete," he noted on Instagram. "Heart-wrenching as they are, I hope these images stand as a stark example of what is still happening every day across B.C., and what needs to end now."
The response to the images was almost immediate. As the likes and comments rolled in, along with reposts from actors and rock stars, it was clear that Watt's forest selfies had struck a nerve, and they've sparked a new campaign to pressure the B.C. government to better protect its forests.
"In ten years of doing this," Watt says, "I've never seen a reaction to photos as big as this."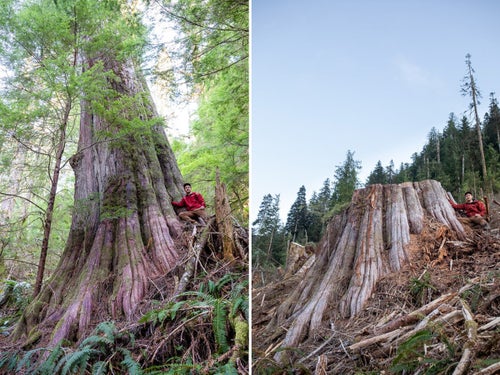 "When I first hiked in there," Watt remembers, "a friend and I parked and walked in on an old road that was completely covered in bear scat. We went down a steep slope, across a creek, and up into this forest that was an absolute wonderland. The trees were 12 feet wide, 800 to 1,000 years old, and just an amazing density of old-growth cedars. It was like the redwoods of Canada. It's not all the time in old growth that you'll get concentrations of trees like that, but this place was second to none. And sure enough, right through the whole forest was pink ribbon reading 'Road Location' or 'Falling Boundary.'"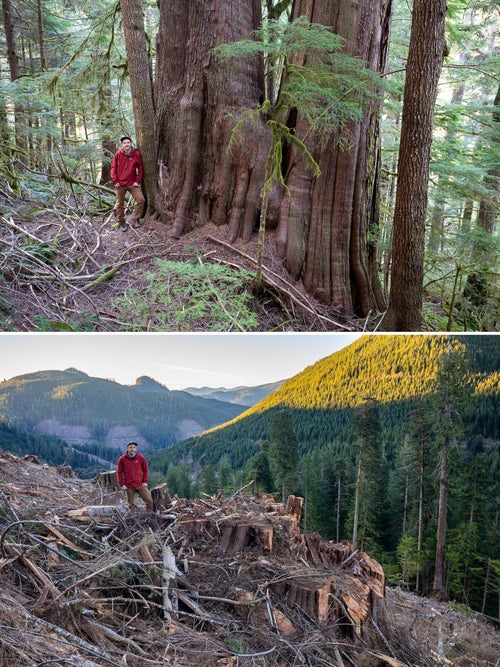 Watt photographed his before-and-after series over a dozen or so trips to the Caycuse Valley, several hours from his home on southern Vancouver Island. "I saved the before images on my phone," he recounts, "so I could recreate them as best as possible. And I was really hoping this technique would have the impact it did. When you think about it, a tree that's lived for a thousand years disappears in a day right in front of peoples' eyes. It's wild to think that if we were ever to let these forests come back—which we don't—it would be the year 3020 before you'd ever see a forest like that there again. That's one thing we're trying to get across—that under B.C.'s system of forestry, where we cut again every 30, 50, or 80 years, old growth is nowhere near a renewable resource."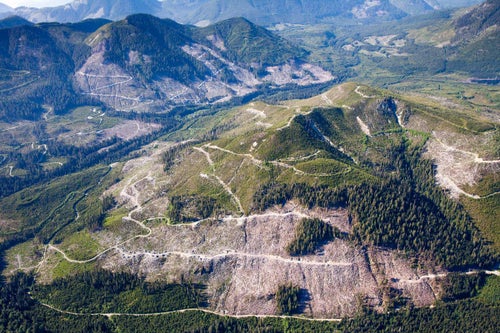 Most of the province's forestry happens on mazes of logging roads that would take years to explore, so Watt's search for unprotected old growth often begins online. "I'll pour over the satellite imagery," he says. "Once you get good at discerning forest types, you can tell old growth from second growth and even start to spot individual big trees. Then I compare that to public data, to check if there are pending road or cut-block applications. There's nothing that really replaces on-the-ground exploration, though, which means hours of driving down remote roads and then a ton of bushwhacking. There aren't any trails in these forests, and they're some of the most rugged forests on earth. You need to come prepared."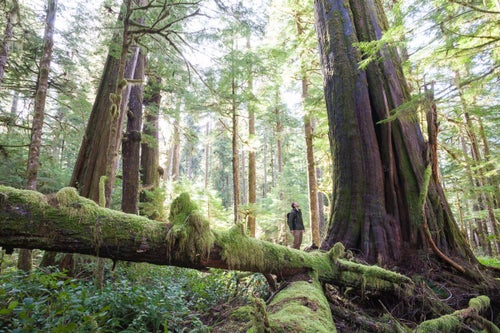 "When I'm out there shooting," Watt says, "I bring my camera, a few lenses, and my tripod in my backpack. Also a sat phone, an InReach, extra food and water, and a headlamp. If it's winter and I'm hiking on my own, I'll also have a Therm-a-Rest, a tarp, a bivy sack, and first aid stuff, so at least I'd be warm and dry if something happened and I couldn't get help until the next day."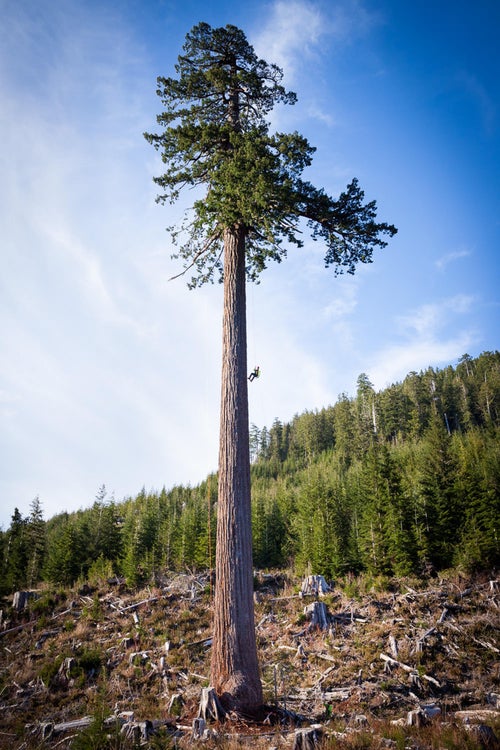 "It doesn't matter where you live," Watt says. "What's going on here is part of a global environmental crisis, and wherever we are, our actions impact everyone else. I don't have to live in India or Africa to know that we shouldn't be buying tiger skins or rhino horns anymore. To me, taking ancient trees is about at that level."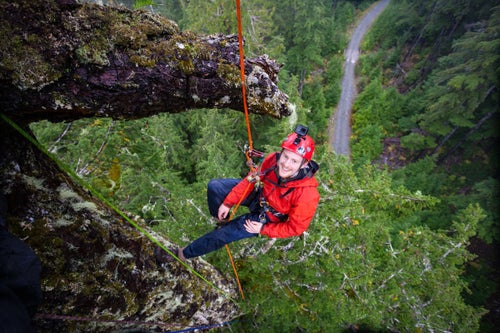 Watt cites pioneering trail builder, activist, and photographer Randy Stoltmann, who was killed in a mountaineering accident in 1994, as one of his inspirations. "He was one of the first to go hunting for big trees to document and appreciate them," Watt says. "He'd do these epic seven-day riverbed-to-mountaintop adventures through remote valleys, bringing attention to places like Carmanah that needed protection at the time. I'm trying to follow in that tradition. I just love being out and exploring in these super remote and rugged forests, and combining that with art is a perfect dovetail for me."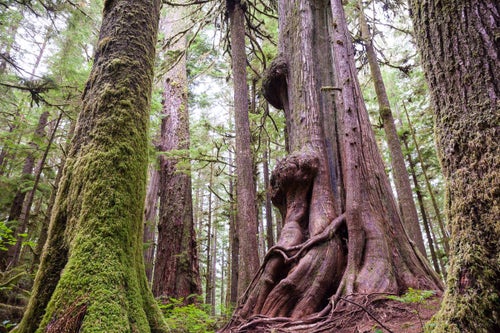 A decade ago, Watt and a few friends began wandering an unprotected old-growth stand near the tiny logging town of Port Renfrew. Lush and draped with moss, they named it the Avatar Grove. Watt's photographs helped convince the provincial government to protect the grove in perpetuity, and the resulting ecotourism helped the down-on-its-luck settlement turn its fortunes around. Now the town bills itself as the Tall Tree Capital of Canada. "For a place like Renfrew," Watt says, "ancient trees are worth far more standing than they are in the back of a logging truck."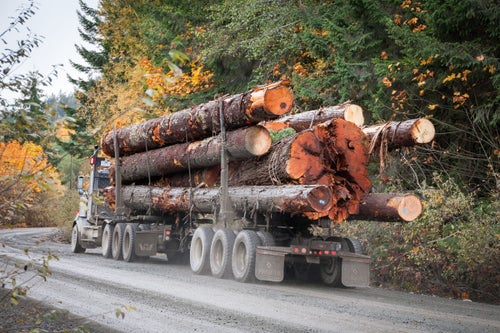 Watt's photos haven't portrayed forestry in the finest light, but he notes that he's not against logging per se. "We need to transition to a sustainable, value-added, second-growth forest industry," he says, "and we need to do it on a really rapid time scale, not just when the last unprotected old growth runs out."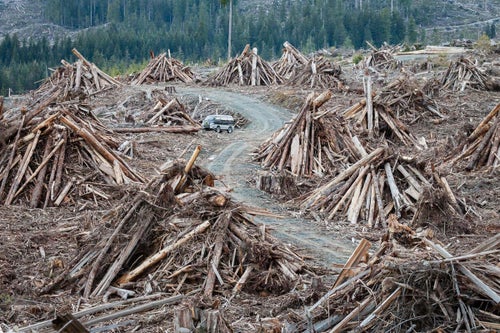 "The biggest loss in forestry jobs here hasn't come from the creation of parks or protected areas," Watts says, "it's been from overcutting and unsustainable practices. And now we're left in large part with the old growth on the steeper slopes, smaller trees, and diminishing returns." But rather than coming up with creative ideas about moving toward a more value-based industry—as opposed to a volume-based one—Watts argues that the logging industry is "just racing toward a cliff and killing the environment along the way."