The Bikes, Art Cars, and Wacky Vehicles of Burning Man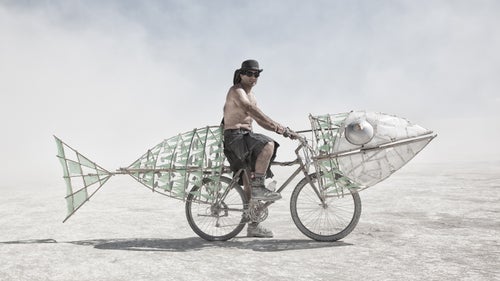 I never thought I'd attend Burning Man, the week-long party and famous gathering in the heat of the Nevada desert. Not even when I pitched the idea to my editors on a whim. Then they said yes, and I ended up in the middle of Black Rock City in August. After waiting more than 24 hours to get in, I was greeted with a hug and a "welcome home." It certainly didn't feel like home. Hell, it barely felt like this planet. With a swarm of 66,000 people congregating on a patch of dirt for the week, the scale of the event was colossal, covering more than five square miles. With so much to see in such a vast area, you need some sort of vehicle get around. And in true Burning Man fashion, the crazier the better.
Photo: A veteran burner poses with his converted bike during one of the week's many dust storms.
If you aren't sporting a decked-out bicycle, you've spent the year building and working on your art car. These creations come in all shapes as sizes and can emerge suddenly ten feet beside you during a dust storm. Many of the larger cars feature DJ booths and act as traveling sound stages.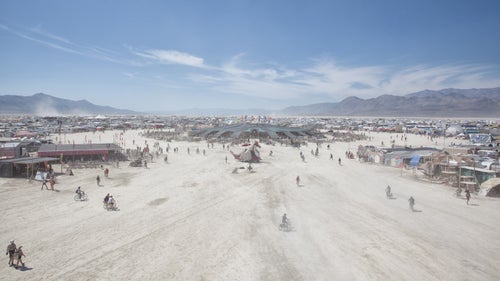 Organized like the face of a clock, the city is built in an arch ranging from 2 p.m. to 10 a.m. Streets are labeled from the center out using letters A to L. Located in the middle of that arch or at 6 a.m. & A, Center Camp looks out onto the central playa and is always bustling with attendees on bikes.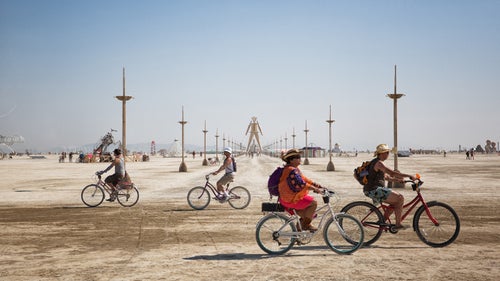 The Man—a towering wooden effigy and perennial symbol of the festival—stands tall in the middle of the playa awaiting the ceremonial Saturday night burn.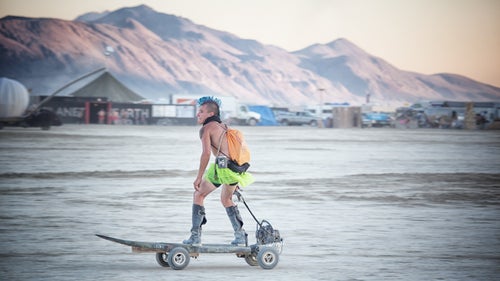 This surfer didn't have to obtain a vehicle pass, but anything with a motor bigger than what you'd find in a go-ped needs to be approved by the staff at Burning Man.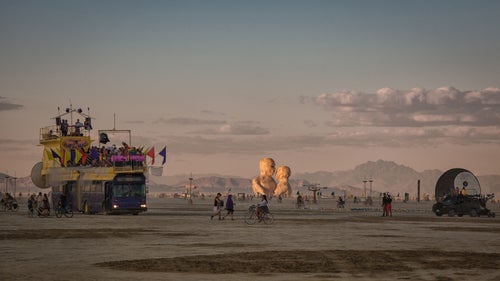 The circular patch of desert in the middle of the city is referred to as the playa, which is filled with people, art, and music. Embrace, always one of the largest art installations, is illuminated in the background.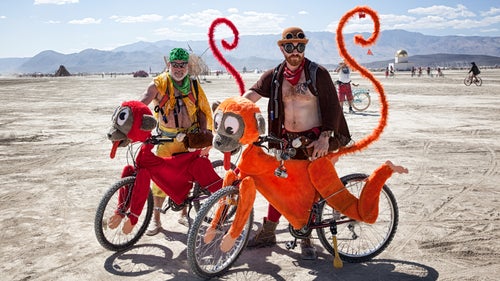 Costumes and bike modifications are more fun with a partner.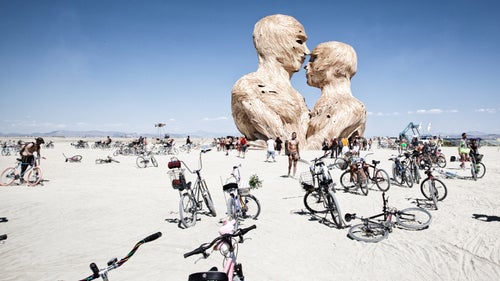 This year's Embrace—an art installation dedicated to love and relationships—was a 72-foot-tall wooden sculpture created by The Pier Group, which was funded through a Kickstarter campaign that raised $52,000.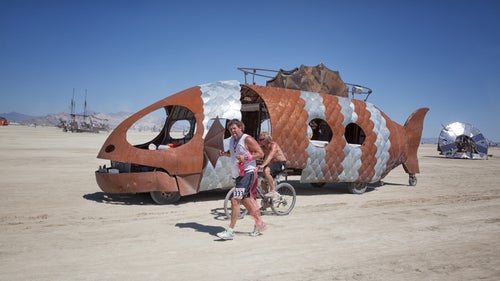 For the fifth year, a 50k race was held Wednesday morning. The event started at 5 a.m., with participants completing about four laps around the playa in temperatures approaching triple digits.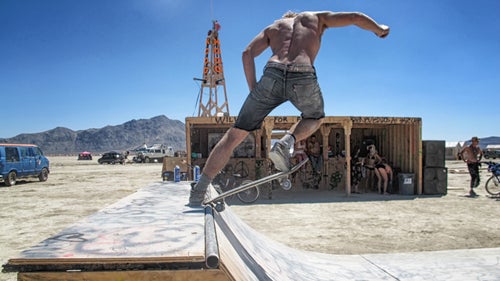 While a skateboard won't get you far on the clay-like desert, a few small skate parks were always busy, even in the heat of the day.