This Photo Book Explores Lake Tahoe from Below
'Clarity' dives into North America's largest alpine lake, highlighting the beauty of, and threats to, its renowned clear water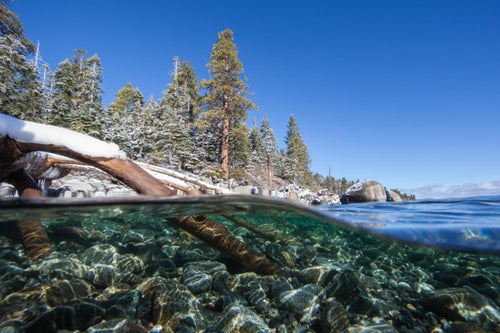 Photojournalist Dylan Silver had been shooting his adventures on and around Lake Tahoe for four years when, in 2014, he bought his first waterproof camera housing and began training his lens not at the lake but into its clear waters. In the six years since, Silver has amassed a colossal photo archive with thousands of images that document its underwater world and shoreline environments.
Lake Tahoe—deep enough to swallow the Empire State Building and holding enough water to submerge an area the size of California—is a geologic wonder and recreation paradise located in the High Sierra on the California-Nevada border. In Silver's photo book Clarity: A Photographic Dive into Lake Tahoe's Remarkable Water, which was published in May, images capture the interplay of sunlight, sky, water, sand, and stone through the looking glass of Tahoe's renowned clarity.
Decades of research and studies have documented numerous threats to Lake Tahoe. And Silver's photographs highlight just what is at stake as climate change, urban runoff, algal blooms, and human impacts literally haze the waters. "I began this project purely for selfish reasons, to experience the lake in a fun new way, but over time I created this massive archive that I hope helps people understand changes in Tahoe's underwater environment," Silver says.
Tahoe is oligotrophic, or low in the kinds of nutrients that cloud many lakes. "Sometimes it's so clear and bright under the surface that it seems you can see into the distance forever," says Silver, who took this image of rippling sunlight and waves in the winter of 2015 during a period of reduced lake levels that allowed him to wade for several hundred yards in knee-deep water.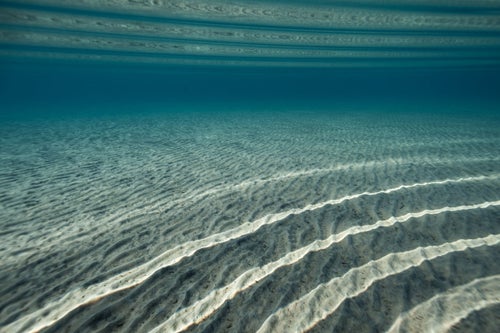 "I like the contrast between bright-white snow and blue water," says Silver. He began visiting Tahoe as a child and lived there for 12 years. He snapped this image on the west shore, south of Emerald Bay, in late spring following a snowstorm. "It's one of the least-developed areas of the lake, so there is a long stretch of shoreline with no houses or private property." Wintertime is when the water is most clear, "so you can get the best definition."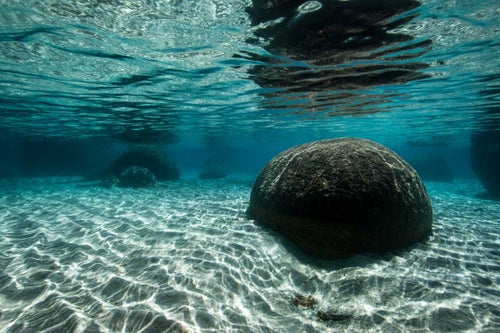 Sunlight surges across the sandy bottom like an electrical storm in this image of a rounded granite boulder. The lake's clear waters are due to granite bedrock from the Tahoe basin decomposing into granules, sinking to the bottom, and leaving little suspended sediment, as well as the fact that much of the area's precipitation falls directly into the lake rather than entering it as runoff. Silver took this image in Secret Cove, on Tahoe's east shore. "Secret Cove is a nude beach. But I didn't shoot this one nude," he says. "Too damn cold."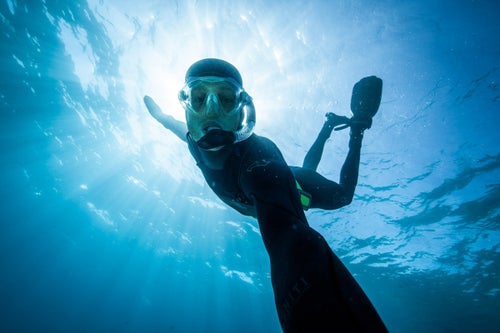 While he occasionally scuba-dives, Silver prefers freediving with a snorkel, fins, wetsuit, and weight belt, allowing him to travel fast and light, and using a paddleboard to reach inaccessible shorelines. He wears a five-millimeter wetsuit in the summer and a nine-millimeter suit in the winter, when water temperatures can plunge to the high thirties.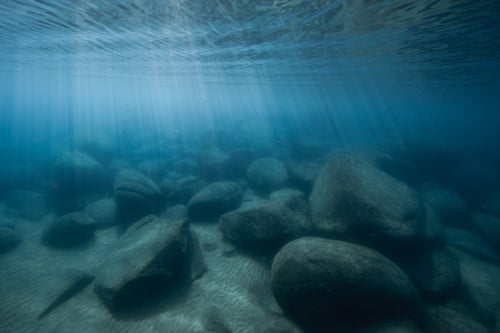 "It amazes me to think these rocks have sat here for thousands of years," says Silver, who likes returning to the same location in different seasons and subsequent years to document changes. Lake temperatures are rising, and the summer of 2018 brought some of the warmest temperatures ever measured, fueling algal growth. "The algae is so much more noticeable," he says. "Now in summer you frequently see brown algae covering rocks, and in some areas, even big mats of bright green."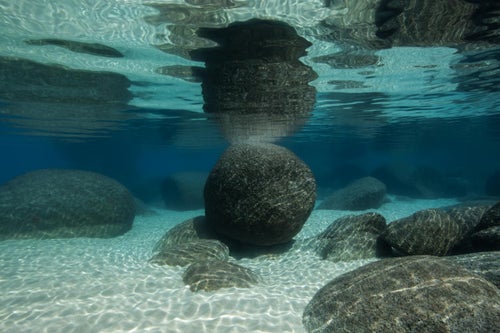 Like a mirrored ceiling, the underside of the water's surface reflects the bottom. With an average visibility of more than 62 feet, Tahoe is still remarkably clear—though its clarity is far short of the 97.4 foot restoration target set by state and federal regulators. One threat: invasive, tiny Mysis shrimp, which eat native zooplankton that clean the water. Researchers are now trawling to remove them.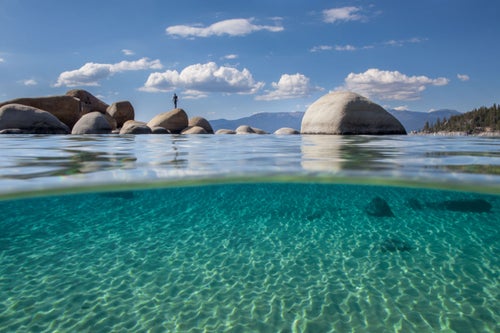 Taken at Whale Beach on a blue-sky spring day, this image provides a split-screen view of the world above and below. "I like to shoot these rocks in the late afternoon when the sunlight hits them from the side and they glow," Silver says. He posed a friend on a boulder for scale.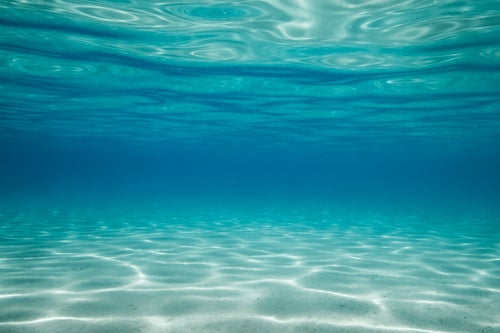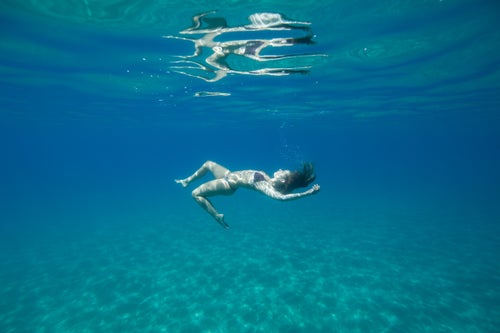 For Silver, the image of a swimmer in relaxed repose evokes the lake's calm and inviting nature. "The water is so clear that you can open your eyes without a mask and watch the bubbles float away from your face," he says. This shot was taken above a sandy shelf that drops into deep water.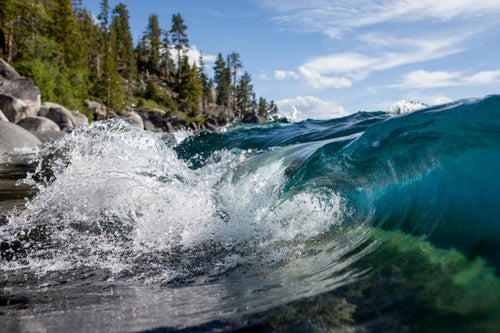 As a surfer, Silver enjoys the intricate beauty of a wave. Tahoe's waters are constantly moving and mixing, with cold and clean water from the depths circulating upward and surface waters sinking to the bottom. But this circulation is declining as a result of warming temperatures. Last year the lake fully mixed for the first time in eight years, contributing to lower algal growth and less nitrate buildup.