Ethiopia Epic: Mountain Biking the Country's Highest Peak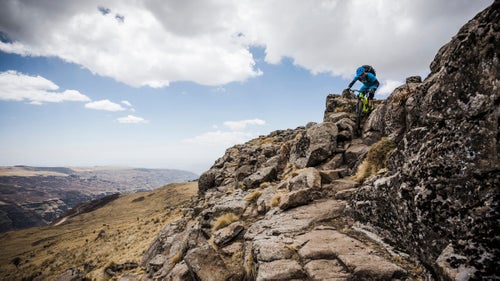 In late February, I went with a small team of mountain bikers, including MTB World Cup champ Kamil Tatarkovic and pro mountain bike racer Sarah Leishman, on an expedition to the Simien Mountains of northern Ethiopia. The stated goal was to summit the country's highest peak, 14,928-foot Ras Deshan, and ride back down.
The expedition was a terrible idea, mostly because the trails were sometimes about as rideable as cocaine-addled donkeys. There were 1,500-vertical-foot hike-a-bikes—both up and down. Every single one of us went over the bars. The crew caught dozens of scrapes, a softball-size contusion, a festering eye infection, and stitches in the chin. And day after day, we were half-wheeled and passed by muleteers and local marathon runners.
And yet our Giro-sponsored group made the trip's high point and found some incredible singletrack along the 10-day route. We saw some of the world's wildest and most untamed mountains, shared trailside injera with villagers who spoke only Amharic, were chased by exuberant children at almost every turn, learned the Ethiopian national shoulder dance (badly!), and pedaled our bikes in places that few people will ever be lucky enough to experience.
The plan was simple: Fly from Addis Ababa to Gondar, the jumping-off point for Simien Mountains National Park. There we'd meet our local guide, Getachew Enyew, for the drive to Aynameda Camp, elevation 12,008 feet, and spend the next eight days grinding to the summit of Ras Deshan, then back down to the pickup point in the lowlands, with mule-supported camps every night. Tom Bodkin was the mastermind, and his company, Secret Compass, now offers the itinerary.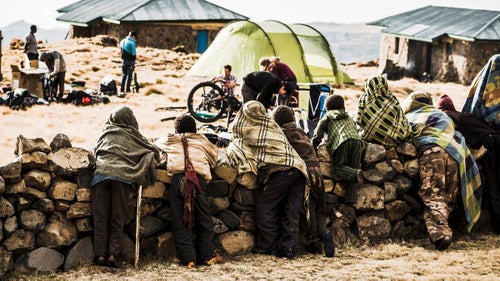 At Aynameda Camp—three stone buildings on a rubbly plain—we had our first sensation of feeling a bit like zoo animals on display as locals gathered from nearby villages to watch us build bikes. Only twice before had outsiders brought mountain bikes to these hills, we were told, so we were a fairly novel spectacle.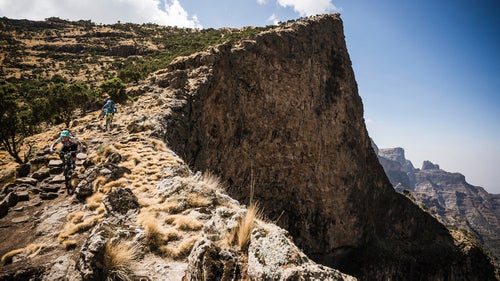 The first hour of riding presaged the difficulties of the climbs to come: In the little ring, up broad, open slopes, breathing as if through a straw because of the high altitude, with Ethiopian children easily keeping pace on foot. But from the day's 13,353-foot high point, the escarpment dropped away like the Grand Canyon, and we sent baboons scuttling for cover on the rough-hewn trail down to camp two.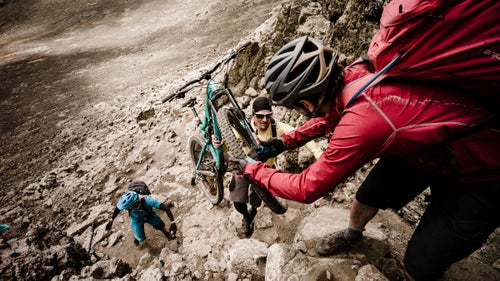 We summited Ras Deshan on day three, hand-over-handing bicycles in the final 200 vertical feet to the peak. The reward was three hours of nonstop of descending and a hero's welcome in Ambiko camp, where our guides and mule men greeted us with dancing, clapping, and shrill ululations and presented us with white scarves and smudge sticks of rumax, a pink-flowered weed used for magic ceremonies.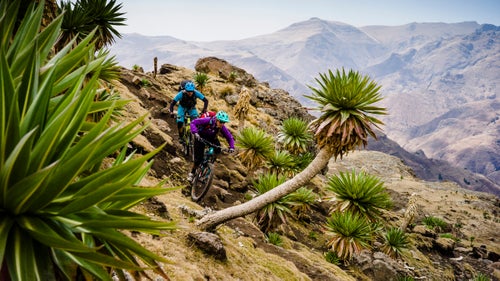 Pro racer Sarah Leishman tears up the descent from Ras Deshan on loamy trails as sticky as Velcro that wove through stands of giant lobelias. The Ethiopian highlands are the only place in the world to see these Dr. Seussian plants, like basketball-size green asterisks on head-high stems. In the highlands, Sarah was almost as much of a rarity as the plants are elsewhere. Whole villages would shout and gape to see a woman shredding as hard as the boys. A few marriage proposals ensued.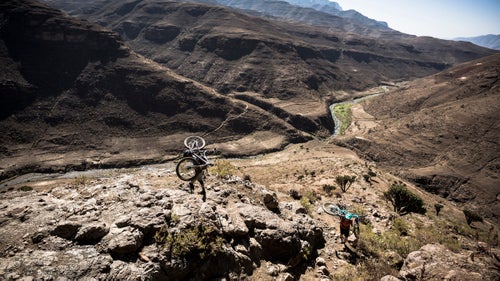 Foot traffic and livestock created the trails that we followed, and we spent long stretches negotiating loose, steep hillsides with our bikes balanced on our backs. It was the price for accessing remote villages that few travelers ever see.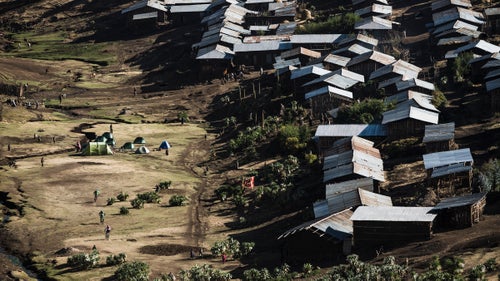 Homes in Arkwasiye, the valley town we camped beside on night five, were some of the nicest we encountered, with walls of eucalyptus and mud beneath corrugated-tin roofs. The structures were like new; the town was relocated here three years ago because its previous site interfered with migration patterns of ibex, bush buck, and Ethiopian wolves.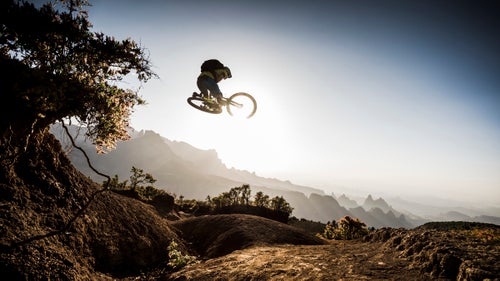 We took to calling Kamil Tatarkovic, one of the pro riders on the expedition, "No Big Deal" Kamil for his ease on the bike. Surf that rubbly chute? "Of course." Gap that gaping ravine? "No problem." Even days away from assistance and medical care, he was so confident and deft that he never once declined—and came away the least beat-up of any of us.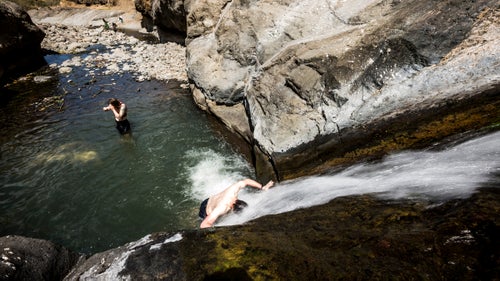 Hopes were high for the journey between Sona and Mekarbya camps, as the 3,000-foot vertical drop boded well for fun descents, but the trail was a precipitous goat path choked with boulders. Fortunately, at the bottom of the downward march into the scorch of the lowlands, these bright pools granted the first bath in seven days.