A Historic Day on Maui's North Shore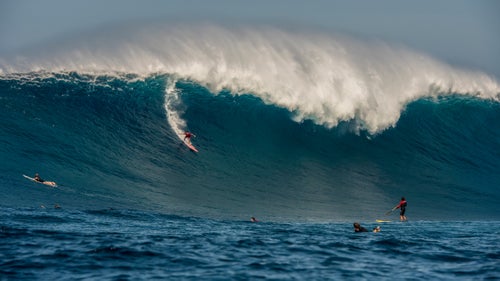 Two weeks ago, surf photographer Ryan Moss was at his home in San Jose, California, when he got a text about a swell headed towards Maui's North Shore—an area that, due to the size and potential lethality of its waves, most surfers simply refer to as Jaws. At first, he was skeptical. The swell was three days out, and they can easily change in that time. Plus, many of Jaws' swells peak in the middle of the night, when even the best big-wave riders won't surf it. Moss wasn't sure he'd bother.
Then about 48 hours before the swell was expected to arrive, Moss got an email from his forecaster: "We're going to see some of the biggest waves we've ever seen. It's going to be a historic day." He scrambled to get everything lined up—flights, transportation, equipment, jet skis, and ski pilots—and two days later, on the back of a jet ski under bright afternoon Hawaiian sun, he was in the water with dozens of surfers and photographers capturing what many are calling the biggest day of paddle-in surfing in Jaws' history.
Here, alongside photos from award-winning, Los Angeles-based surf photographer Fred Pompermayer, you'll find some of Moss' best images.
Photo: It's tough to give an exact height of the waves but Moss guesses the biggest ones were 60-to-70 feet tall. Aaron Gold (center) caught what most likely was the largest wave of that day, seen here. Moss was attending to renowned surfer Ian Walsh's brother, D.K., who suffered whiplash after a bad spill, when Gold dropped in. "I saw him out of the corner of my eye and shot really quick," says Moss. Unfortunately, Gold almost got hurt as well on this wave. "He got destroyed," says Moss. "He made it to the bottom of the wave, had nowhere to go, and the wave landed on top of his head."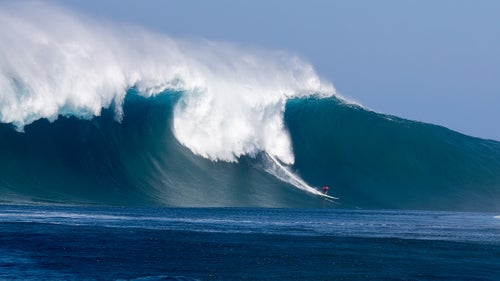 For his part, photographer Pompermayer says he's certain the biggest wave ridden that day wasn't by Gold, but instead by 19-year-old Brazilian Pedro Calado, whose wipeout last May at Jaws was deemed the best of the year by Surfer Magazine.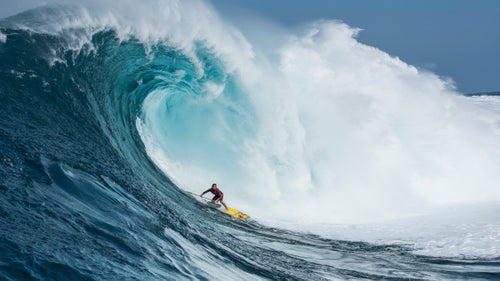 Kai Lenny, a 23-year-old "waterman prodigy," as Moss called him, rides a monster on his stand-up paddleboard. Moss says that in moments like this—when he's on the back of a jet ski, precariously close to a crashing wave—both he and the driver must have the reaction time of a surfer. "I've never caught a wave that big, and I wouldn't compare myself to [the surfers], but [the pilot and I] have been out there in critical situations and know how to read waves."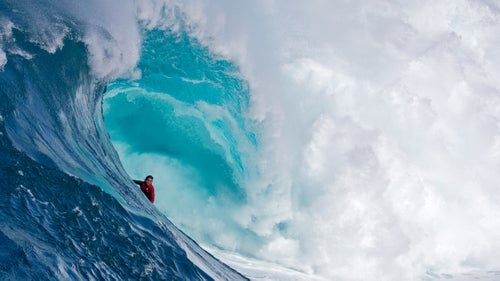 Lenny charges out of a barrel. Echoing Moss, Pompermayer calls young Lenny "the most outstanding surfer out there right now. His ability surfing, stand up paddling, kite surfing, wind surfing…He is the ultimate waterman."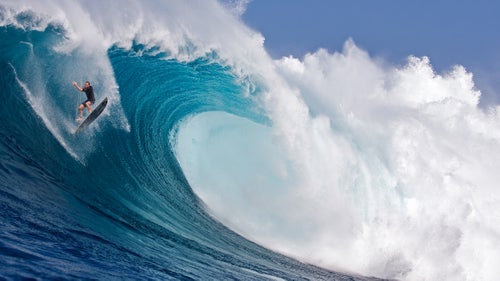 South African Josh Redman, captured by Pompermayer, finds himself on the wrong end of Jaws. "A lot of the guys were really, really scared," says Moss, who's spent the last ten years shooting the best surfers on the biggest waves in the world. "[Surfers were saying] 'Today might be the day when we find the ceiling, the day when we find out how far we can actually push it. Today someone might die.'"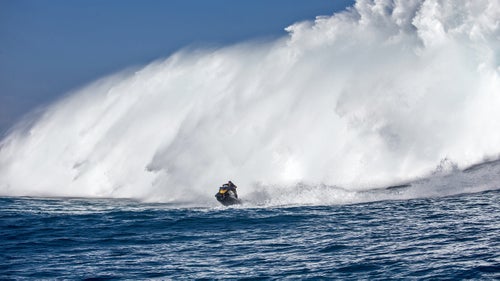 Less than a decade ago, surfers wouldn't even entertain the thought of paddling into Jaws. It was assumed the only way to catch waves that big was via a jet ski. Today, Jaw is regularly paddled into. "Big-wave surfers' testosterone has gone through the roof," says Moss. Jet skis, however, are still employed for safety and to shuttle photographers. Here, Danilo Couto, an accomplished big-wave rider, narrowly escapes the impact zone.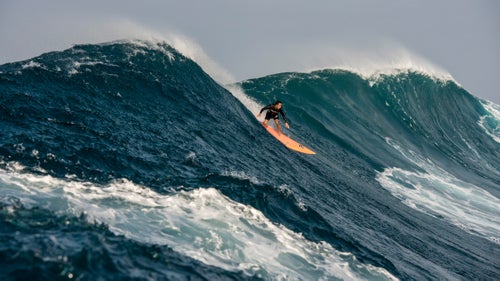 Eli Olson, a promising 23-year-old Hawaiian, has become a regular at Jaws in recent years. Here, he catches a modest wave that, during any other swell, would have most likely been the biggest of the day, says Moss. The streak of light blue water in the foreground is the trail of a passing photographer jockeying for position—evidence of the day's chaos.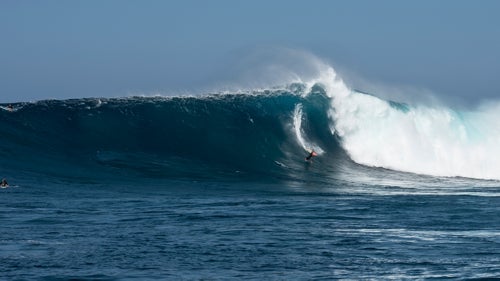 The day was so chaotic, in fact, that Moss isn't able to identify the unlucky surfer here. There were a few surfers that Jaws regulars didn't recognize—Moss calls them "the unknown superheros." "They were just going for it," says Moss. "They were trying to catch the wave of their life. Those couple of guys—they kept going for it and I believe they had this same outcome every time. But you have to respect that they were trying."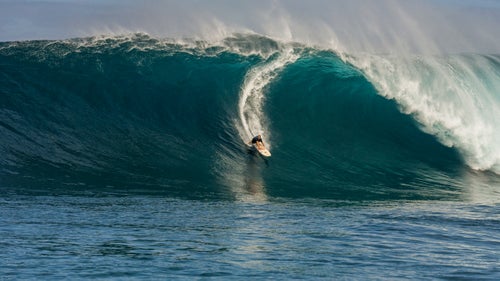 Another contributing factor to the weekend's historic conditions was the lack of wind. Winds on the North Shore are usually heavy. "It's called 'the windsurfing capital of the world' for a reason," says Moss. And paddling into a wave with 35 mph winds makes for a turbulent experience. But water that day was clean and glassy. "To have [all of the conditions] come together like that…was basically 15 years in the making."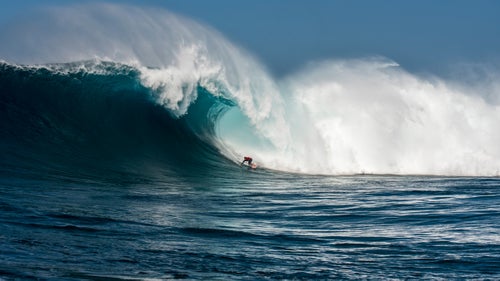 Paddling into Jaws is the surest way to make a name for yourself in the world of big-wave surfing, Moss says. Here, Albee Layer carves a monster. "There were so many guys and I was impressed by them all," Moss says.