Hold Your Breath, These Freediving Photos Are Insane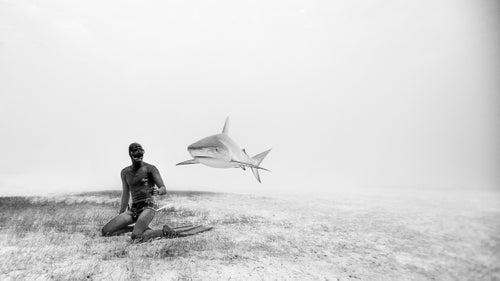 The husband and wife duo of Eusebio and Christina Saenz de Santamaria have set freediving records all over the world. Eusebio is one of few men to have reached below 100 meters under his own power, and Christina recorded the deepest self-powered dive of any Australian woman at 85 meters. Possibly more impressive than their diving skills is the pair's photography, which they've made into a business under One Ocean One Breath. Based in Koh Tao, Thailand, the couple captures dazzling underwater scenes as they train and dive in some of the world's most vibrant oceans. Here, the couple tells us about a few of their favorite shots.
Photo: One of our favorite images of all time is of Eusebio kneeling on the grassy sea floor as a Caribbean reef shark cruises by. The crystal clear waters of the Caribbean allow for this type of creative black and white photography, which we like to use as a way to express the surreal and magical world we experience—an otherworld where sharks can fly.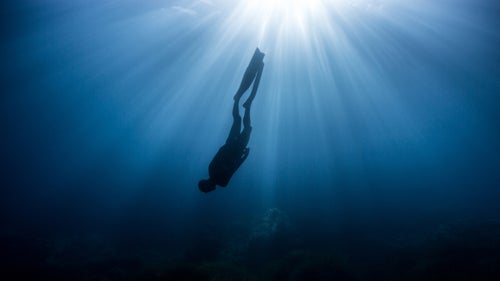 Eusebio descends into the darkness of the deep Mediterranean ocean near Ibiza, Spain. What impressed us the most about photographing the sea surrounding Ibiza were the long twilights that created magical and eerie light beneath the surface.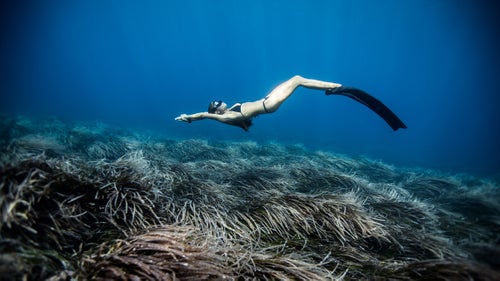 Christina glides above the swaying seabed of Posidonia Oceanica, a seagrass endemic to the Mediterranean Sea. The largest colony is found off the south of Ibiza measuring five miles in length and estimated to be around 100,000 years old.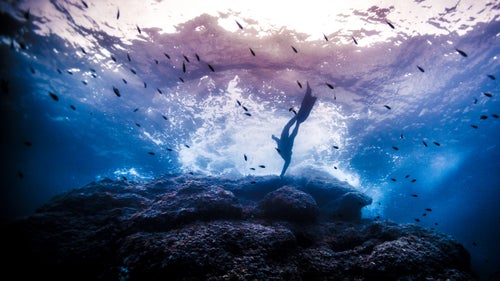 Although the shallows of the Mediterranean are mostly devoid of large marine life, the underwater rocky landscapes and playful light are wonderful for photographs.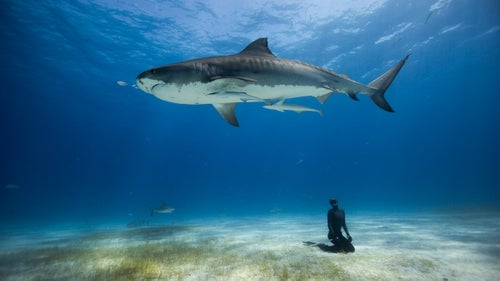 This image represents an incredible week-long expedition freediving with the tiger sharks of the Bahamas. As freedivers, marine life tend to be far more curious of you without the noise of scuba equipment, however some tigers were bolder than others. This particular tiger was quite timid and it required a lengthy breath-hold and avoidance of eye contact to allow her to choose to encircle us with curiosity.
Eusebio and a tiger shark on the sandy shallows of Tiger Beach. These tigers ranged from 11 to 14 feet in length and some days we were surrounded by up to six tigers at once. It takes experience, knowledge, and constant awareness to freedive with any type of shark. Ultimately sharks are apex predators and we have entered their environment knowing and accepting that there are risks.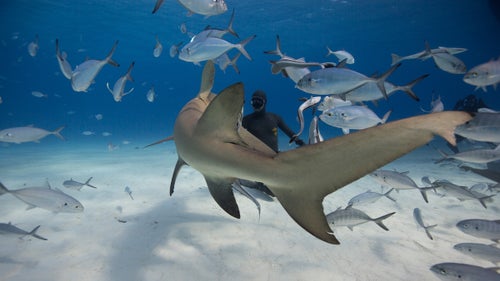 Eusebio faces off with a lemon shark using eye contact and a 'shark deterrent device', which is basically a PVC pipe one meter in length. It's not used to harm the shark in anyway, however to be placed between your body and the shark should they come in for an investigative bump as sharks use their mouths much like we use our hands.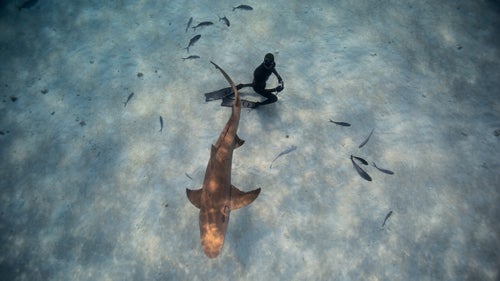 Eusebio kneels beneath the belly of a lemon shark. We never take our eyes off any of the sharks while in the water and have to be aware of any change in behavior or mood in case it was time to retreat to the boat.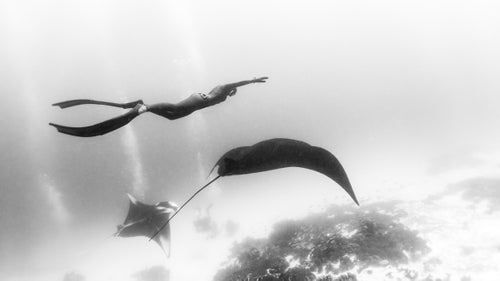 For this image, Christina teamed up with freediver Monica Ganame to swim above a black manta of Raja Ampat, Indonesia. These animals have mercurial behaviors, sometimes curious and other times timid. As with all underwater animals you must allow them to come to you. Mantas are always mysterious, appearing and disappearing with a small yet powerful sweep of their wings.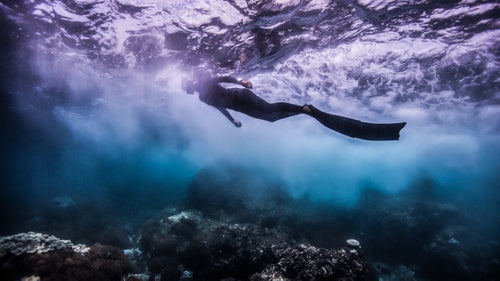 As freedivers we sometimes battle with rough seas, varying visibility, and strong currents, which is simply part of the adventure.