Human/Nature, Explore/Protect: Zion National Park in Twos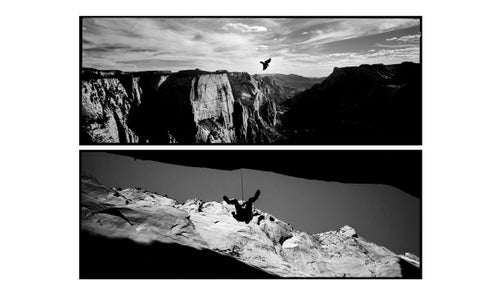 As I prepared for my artist in residency program at Zion National Park last September, I faced a daunting challenge. More than three million people visited the park the previous year, most of them with a camera. Legendary photographers have captured this extraordinary place. What could I offer to the visual conversation that was different?
I read the original 1916 congressional act giving the National Park Service two mandates that are sometimes at odds with each other: "to conserve" and "to provide for the enjoyment of" our national treasures (often through development). Striving to capture this delicate balancing act on film became the driving force behind my month in Zion.
I chose to use a Hasselblad XPan II panoramic film camera. The long, narrow frame lends a cinematic feel, but the 16-year-old camera did not allow me to see what I shot each day. I only saw the shots after I processed all 105 rolls of film when I returned home. Thankfully, all the planning and detailed mental notes during hours of hiking produced many images that unexpectedly lined up together.
Each of these diptychs pairs similar or contrasting images of both natural beauty and humans interacting with nature. I hope the combination says something greater than either image could say alone.
Photo: More than 2,000 feet above Zion Canyon, a bird whips past Observation Point free to ride the currents and drafts, while a rock climber is suspended in a slot canyon of Zion's Kolob Canyons.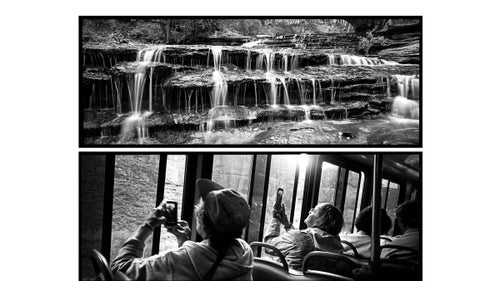 Above: Three miles of cold river hiking up the Left Fork rewards with a stair-step cascade on the way to the iconic Subway. Below: Shuttle bus passengers experience nature as many of us do, through windows and with our electronic devices.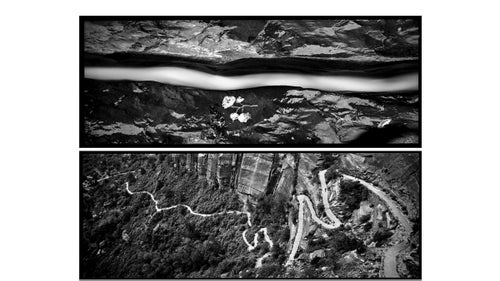 Above: The normally wide, trickling Left Fork has chiseled down into a crack in the riverbed in one hundred-yard section, finding the most direct route. Below: The man-made trail to Angel's Landing, one of the park's most popular and treacherous hikes, twists upward. Thousands of visitors follow the route each day.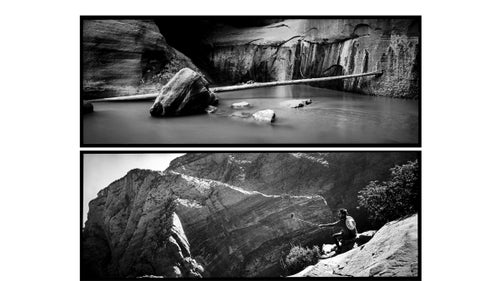 Above: A log lodges between a boulder and the towering cliffs of the Narrows, awaiting the next flash flood to move it downstream. Below: A man memorializes his 1,500-foot ascent to Angel's Landing with the instant gratification of a selfie stick.
Above: The setting sun grazes the mountaintops at the entrance to Zion Canyon. Below: Those same mountains are seen through the windows of a shuttle bus, which has carried into the canyon some of the more than three million visitors who visited in the past year.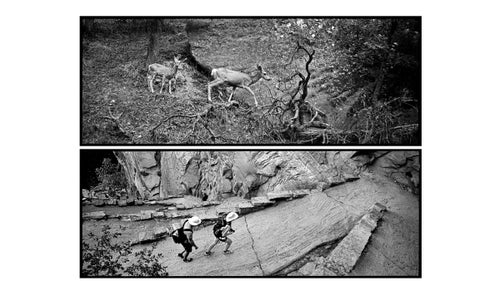 Above: A fawn follows its mother along a hillside in Zion canyon. Below: A pair of hikers follow the paved, steep series of 21 switchbacks knows as Walter's Wiggles, which Zion's first superintendent Walter Ruesh designed to allow visitors and livestock access to the top of the canyon.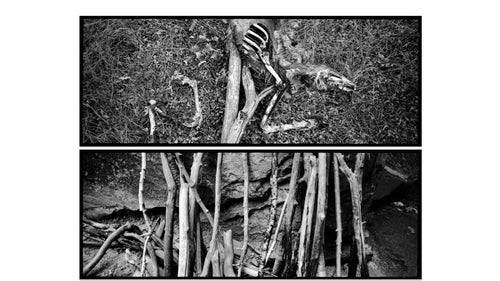 Above: A predator-killed deer carcass slowly returns to the earth. Below: Walking sticks are returned to the head of the Narrows trail for other hikers to use.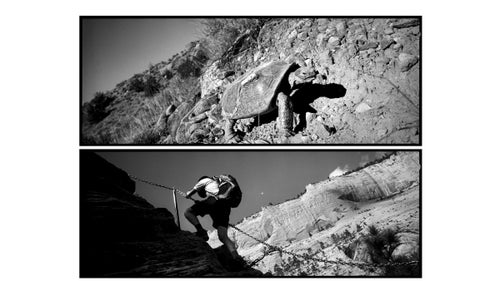 Above: A threatened desert tortoise scrambles up a hillside having evolved and adapted to this harsh terrain. Below: A hiker climbs up the treacherous ledge trail to Angel's Landing with the assistance of steel chains.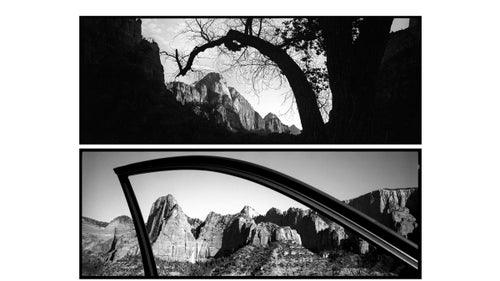 Above: The natural arch of a tree frames a peak in Zion Canyon. Below: In the Kolob Canyons, the arch of a car door frames the view.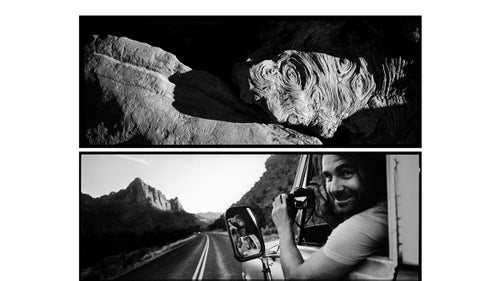 Above: Swirls of burled wood and undulating stone attest to the passage of time in an ancient landscape. Below: A man driving cross-country passes through, barely stopping to take a few photos.