Khadjou Sambe: The Surfer with Olympic Dreams
The Senegalese surfer is making fans all over the world. Next stop: The 2020 Olympics. Words by Anna Kusmer.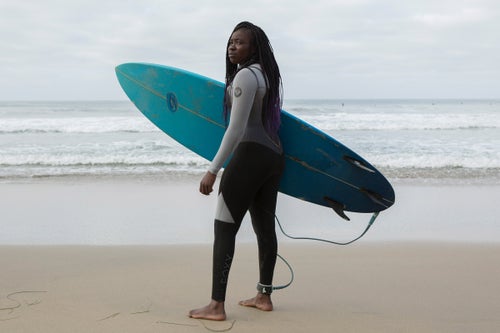 When Khadija "Khadjou" Sambe started surfing at age 14, she was the only local woman in the waves in her hometown of Dakar, Senegal. She spent her teenage years surfing with her uncles and cousins, hoping to one day find a community of professional female surfers to train with and compete against. Now 23, she lives in Northern California, training every day in hopes of going pro, representing her country at the Tokyo 2020 Olympics, and inspiring a new generation of Senegalese girls to surf. We spent three days with her in San Jose and Santa Cruz, California. Sambe is 6,000 miles away from Dakar but says when she gets into the water, she's home.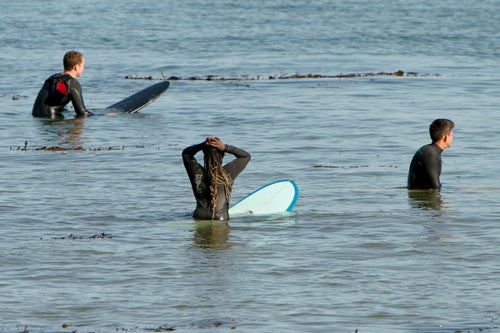 Sambe can often be found at her favorite surf spot, Pleasure Point in Santa Cruz, where dramatic cliffs overlook crashing waves. It reminds her of the break right outside her home on the tiny Ngor Island, off the coast of Dakar, Senegal, where she first surfed. On a sunny California morning, dozens of people float on boards in the water like driftwood. Sambe is easy to spot, with her long flowing braids and her bright blue board. Halfway up the cliff, her coach, Rhonda Harper, watches her, taking photos and making notes on her techniques, placement, and wave choices.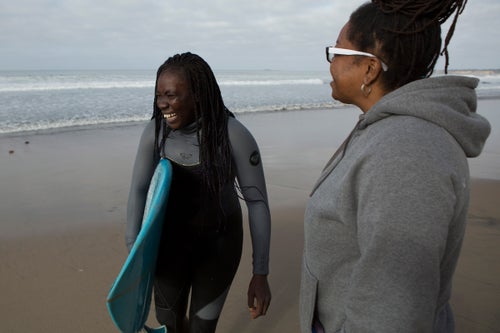 Harper has been a surf coach and competition judge for decades. In 2014, noticing a dearth of black women in the surfing community, she founded Black Girls Surf, an organization that trains black women and girls to become professional surfers. She came across Sambe online in 2016 while looking at photos of surfers in Dakar. She noticed one woman who kept coming up in the photos and contacted locals to figure out who she was. At the time, Sambe was a surfing teacher at a camp and had dreams of going pro. The fact that Sambe was the only woman surfing in Senegal made it impossible for her to formally compete, so she was eager to travel elsewhere and connect with the world of pro surfers. Harper reached out to Sambe. They were in contact for two years, messaging every day on Facebook and WhatsApp, before Sambe finally came to the United States to start training. "Every single time we talked, Khadjou would ask when she was coming," Harper says. When Sambe landed at the San Jose airport in July, she and Harper met for the first time. "Both of us had these huge grins on our faces," Harper says. "The first thing I thought was, 'This is my sister right here.'"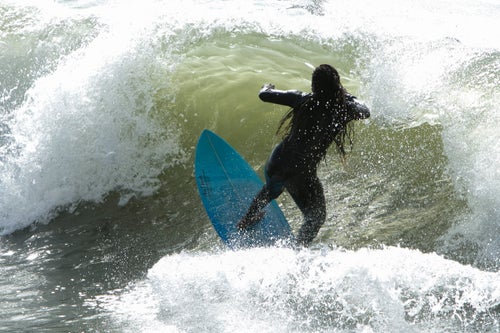 This is the first time Sambe has ever left Senegal, and she plans to travel the world for surfing competitions. To represent her country in Tokyo, Sambe must rank in the top ten of the World Surfing League (WSL) by competing in sanctioned competitions in Peru, Brazil, France, and Australia over the coming year. She's currently one of three Senegalese members of the WSL, and the only woman. "I love surfing, and I want to represent my country. I want to represent my country as well as girls," Sambe says in her second language of French (her first is Wolof, a common West African language). If Sambe ranks highly enough, she will compete against hundreds of other women to get one of the 20 coveted spots when surfing makes its debut as an Olympic sport in 2020. Her next stop will be Lima, Peru, where she plans to compete in the Pan American Games this coming July.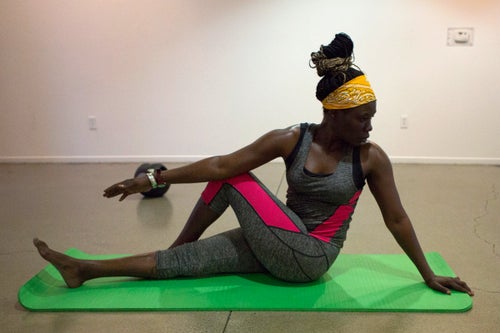 Since she came to California in July, Sambe has been training with Harper, who coaches her for free. She wakes up at 6 a.m. in the San Jose apartment she shares with Harper, eats breakfast, and trains at the gym downstairs. She runs four miles on the treadmill most days and does workouts to strengthen her arms, legs, and core. Sometimes Sambe grumbles about the workouts, but Harper says she's getting stronger. "One day, she walked in, and I noticed she had these Angela Bassett biceps," says Harper, laughing. "I pointed them out to her and I go, 'I guess the training is working.'" They try to get to the water by 8 a.m. to catch early waves in Santa Cruz or Pacifica, where Sambe will spend up to four hours surfing in the morning. After a surfing session, Harper goes through photos and gives feedback. After lunch, Sambe will do afternoon on-land training or get back in the water for another four hours.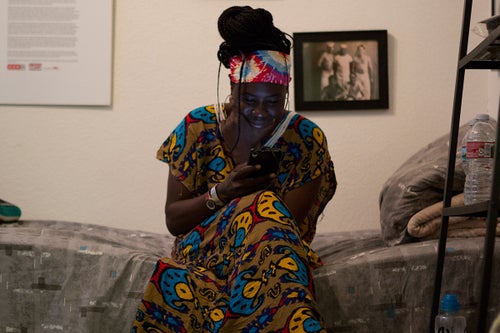 Sambe often stays up late into the night texting family and friends in Senegal. She says she mostly misses her grandmother, with whom she lives back home. Although some people in Senegal are skeptical of a woman surfing, Sambe says her grandmother always encouraged her. "All the time, she tells me to go, go, go," Sambe says. She also misses the food from back home—warm plates of fish or chicken with rice—as well as the surfing right outside her house in Dakar, where she got her start as the first female surfer in Senegal. "I didn't see any women surfing, so I said, 'Why not me?'"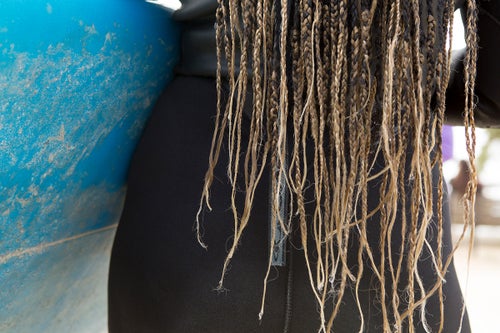 Cultural norms make it hard to be a female surfer in Senegal. "The country's Muslim, and for girls there, you finish school, get married, stay in the house, cook, and have a baby," Sambe says. She is proud of her Muslim identity but says she doesn't identify with that lifestyle. When she was younger, she would sneak out the window to surf the break right outside. Sambe says many women don't surf because they don't want their skin to get darker in the sun, and she wants to change that culture back home.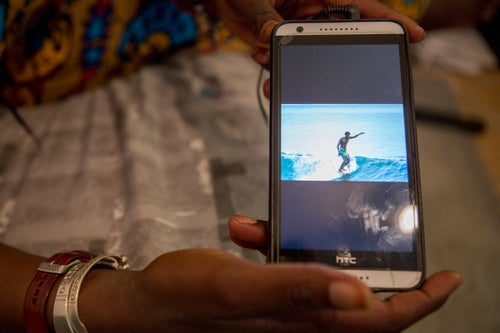 Sambe shares a photo of one of her first fans: her uncle Kouka, who encouraged her to surf when she was a teenager. After a video of Sambe showed up on the local news in California in September, she became an overnight sensation. Hundreds of people saw it on Facebook in Senegal and around the world. Harper says donations poured in for an upcoming trip to compete in Japan. (They ended up not being able to make it due to immigration complications.) Even a month later, Harper says she gets about ten calls a day from Senegal. Sambe received hundreds of Facebook friend requests from fans back home. "She's a newfound celebrity," Harper says. "She's going to be larger than life when she goes back."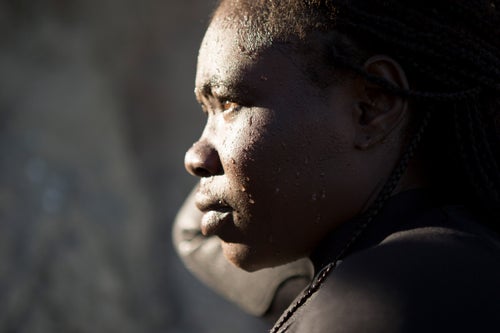 Lifting up African and African-American surfers is Harper's calling. "It's very hard to acclimate yourself to surf culture, particularly for girls of color," she says. "You're coming into this predominantly white industry, and it can be very uncomfortable to get the resources you need to go forward." Harper raises money through donations and sales of Black Girls Surf gear to fund Sambe's travel and living expenses. She wants to see more black women rise to the professional level.
In January, four more girls will be joining Harper and Sambe in San Jose, and they're going to train together. Harper says when Sambe surfs with other black girls, such as Natasha Brown, who was part of Brown Girl Surf, she lights up. "She becomes a different person," Harper says. "When you see them in the water and they interact, that's a black girl moment."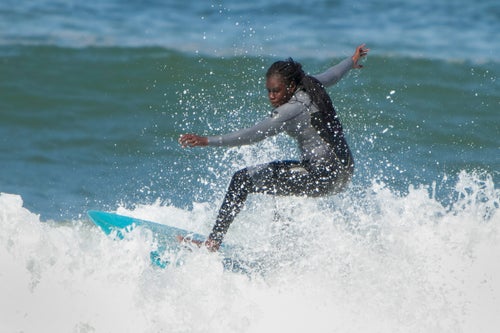 Besides Olympic greatness, Sambe wants to spread her love of surfing to other girls back in Dakar, where she has worked as a surf instructor for the past six years. She works mostly with white tourists now, but she wants to work with local Senegalese girls. "I want it for black girls, all girls, not just me," she says. Sambe wants to start a surf school in Dakar, and with Harper's help, she has already started laying the groundwork, figuring out what she needs to do and how to secure funding. "I'm 100 percent behind her," Harper says.