The Master Shapers Building the World's Best Rock Climbing Holds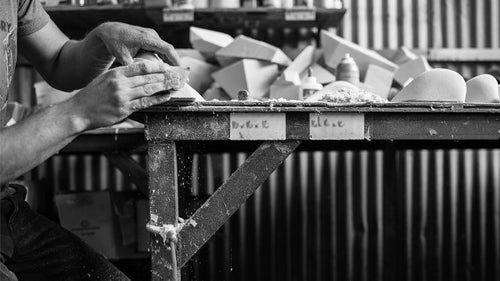 Pinches. Slopers. Jugs. Baby heads? Ever stop to wonder who makes the holds bolted to the wall at your local climbing gym? These guys do. Starting with blocks of foam and working in showers of dust, they craft the pieces of the puzzles we love to solve after work and on rainy weekends.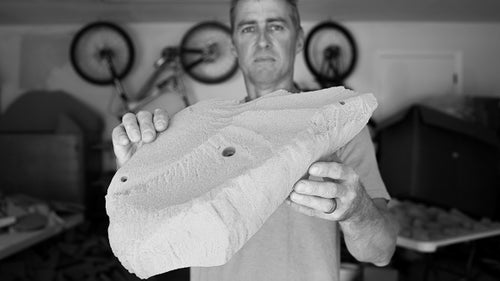 Louie Anderson is an accomplished outdoor climber, guidebook author, gym owner, route setter, and master shaper. He thinks a lot about the relationship between indoor and outdoor climbing. The outdoor climber in him wants holds that mimic real rock, while the route setter in him wants holds that draw climbers to a wall. When designing a new line like his recent set of granite holds, he often starts with a centerpiece shape, a large form that will attract climbers to and advertise the feel of a route.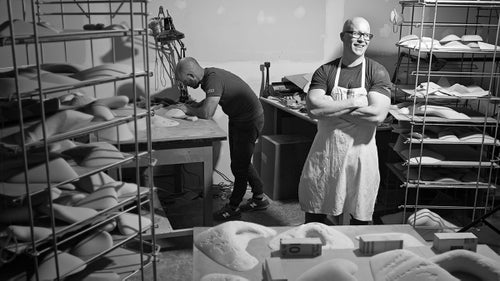 Ian Powell is a formidable figure. He's also quick to smile. He says "right?" a lot. When I visited his brand new studio outside Boulder, Colorado, he and an apprentice discussed a non-standard approach to pouring a hold: "That's what everybody says, but fuck it. I'm gonna try it." Icon and iconoclast, Ian's current quest is to gather the best shapers into a single collaborative collective. Mentoring is as important as shaping to Ian, and many of the most promising up and coming shapers have spent time under Powell's wing.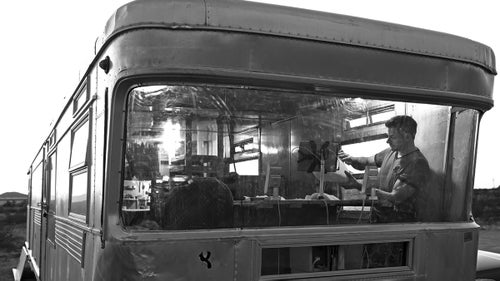 Ty Foose shapes in a trailer parked just outside Hueco Tanks State Park near El Paso, TX. Over the past 20 years, Foose has shaped everything from limestone ledges to caterpillar edges to bird wing jugs. Working on a large circular volume with several offset embedded circles positioned along an arc bisecting the larger form, he frets the fact that the inset circles don't yet rest on parallel planes. Foose is as exacting as he is creative. 
Jason Kehl has shaped holds modeled after everything from baby doll heads to pipes. "I see things all the time that I want to climb," said Kehl, "like something industrial or like a piece of fruit." An accomplished outdoor boulderer, Kehl is nevertheless known for his "urban" shapes. Like many shapers, he uses direct light to right lines and spot imperfections in his shapes. When I met Kehl, he was shaping in a single car garage in a suburban Boulder condo complex.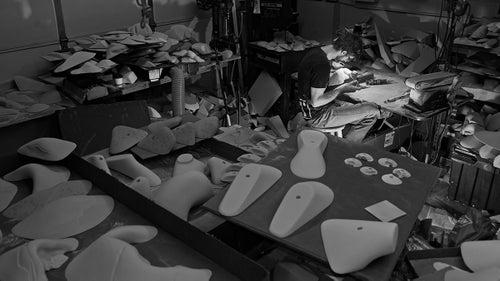 Will Anglin wants to make you fall. Most route setters do. Many do it by requiring big, athletic moves. Anglin does it by requiring precision. He wants his holds and the routes he sets with those holds to require intention and accuracy: the climber has to know where she wants to grab and then grab exactly there. Pictured here amidst a sea of holds at Kilter Grips, Will Anglin apprenticed under Ian Powell.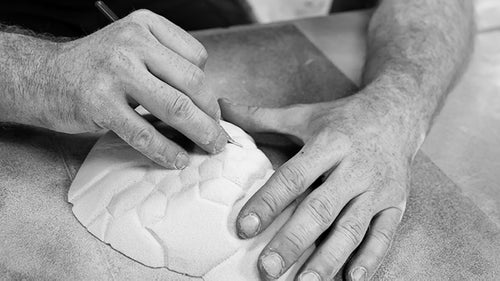 Keith Dickey is head route setter at Earth Treks Golden and apprentice to Ian Powell. The path to shaping often runs through route setting. Imagining a movement but not having the holds to require  it, a setter finds his way to the shaping studio. There he can design the components that facilitate—even require—the movement or the course he imagines. Here Keith is working on a pattern of his own design, cleaning up the grooves between bulges.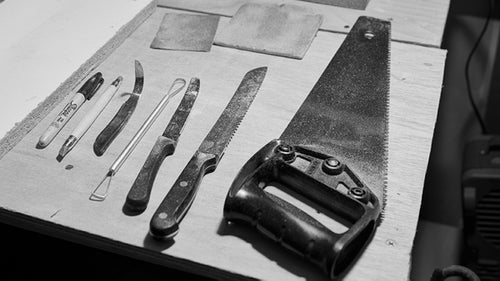 Saws, knives, files, wire loops, and sandpaper are the tools of the trade.  A shaper often starts by sawing a chunk from a large block of foam. From there he uses progressively more precise tools as the hold takes shape before him. From the finished shape, a manufacturer makes molds. Those molds are then filled with urethane plastic to mass produce the holds originally shaped in foam.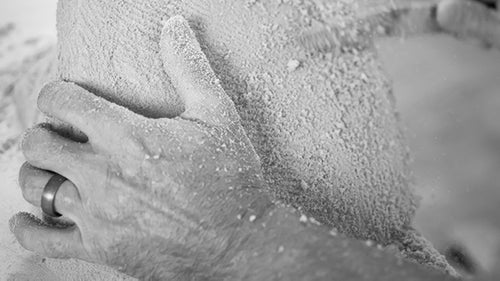 Shapers shave excess material quickly with a file or knife to realize the basic form of the hold.