The Sweetest Adventure Rigs from Overland Expo West 2022
We tracked down everything from old-school DIY projects to cutting-edge all-electric builds
We love cruising the attendee parking lots and camping areas of Overland Expo coverage looking for unique builds. These rigs aren't quite as high-gloss as what you'll see in the show itself, but they often employ more ingenuity and have more character. These are the 11 builds that impressed us the most.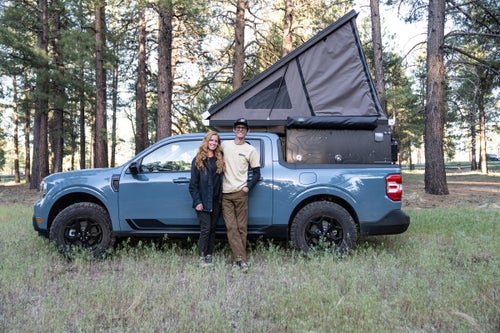 2022 Ford Maverick
The Ford Maverick wouldn't be most people's top choice for an overland build because it has a tiny four-and-a-half-foot truck bed. But that didn't stop Justin Marquand and his partner Amber Behlings of Norco, California. They took the small bed as a challenge and built a surprisingly roomy DIY camper that comfortably sleeps two adults and also has enough room for cooking and lounging. Marquand used the tent from a Go Fast Campers V2 Platform Camper and then built an aluminum shell for the base. Inside, the camper has all the creature comforts including a diesel furnace, hot water heater, sink, stove, and 15-gallon water tank. The camper weighs just 700 pounds and he says the Maverick still gets 22 mile per-gallon.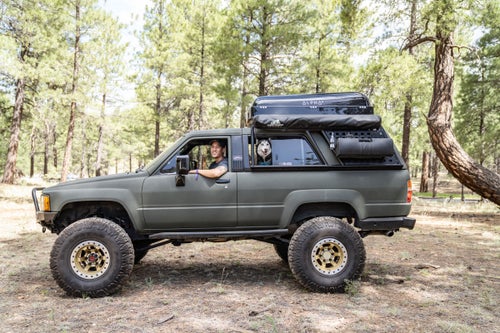 First Generation Toyota 4Runner
The Toyota Tacoma and 4Runner have been around long enough that they fall into their own kind of classic car category. People love to restore them and Alvin Thai of Arcadia, California has the cleanest first-gen 4Runner we've ever seen. It's a 1989 with 380,000 miles on the frame. Standout upgrades include long-travel suspension, 35-inch tires, Black Rhino wheels, and brand new paint. "I picked it up because I love older analog cars," he says. "It's been a challenge to restore and upgrade something like this, but I also know that because it's a Toyota that it's totally dependable."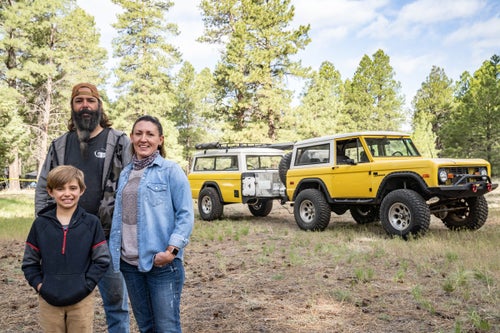 1972 Bronco
Andy Lotz of Camp Verde, Arizona was building out a 1972 Bronco while his wife Rachel was pregnant and quickly realized that the car was not going to be big enough for camping as a family of three. So he tracked down a 1965 Ford F100 bed, narrowed it by eight inches to fit the form factor of the Bronco, and turned it into a custom sleeping camper. Today it has a flip side that comes up to reveal a custom pull-out kitchen and plenty of room for all three family members to sleep comfortably. The Bronco runs on 37-inch tires and has a Ford 351W crate engine.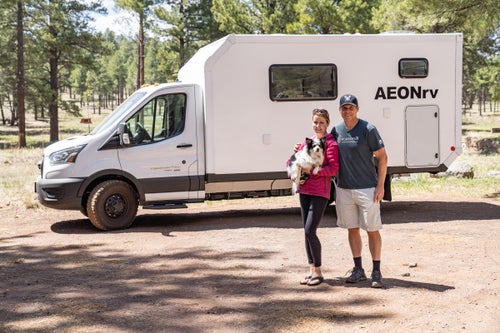 2022 AeonRV
Jim Ritchie (pictured with his wife Michelle Ritchie) and his co-founder Lars Severin, of AeonRV, are both Silicon Valley veterans with lots of tech experience. So when they set out to start a modern, off-road RV company, they made sure their designs pushed the envelope. Built on top of a capable Ford AWD Transit chassis, their rigs have too many specs to list in one paragraph but highlights include: a construction process that relies on high-strength glue (which allows the camper to flex while off-roading), an average of R-15 insulation throughout the camper (which makes it highly efficient), a full kitchen, bathroom, queen-size bed, and a host of soon-to-be announced tech upgrades that will utilize app-based control of everything from the air conditioner to the fridge.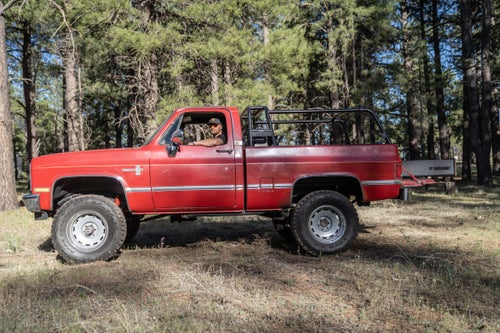 1985 Chevy K10
Even though the Chevy K10 is a well-known classic truck, it's not that popular with the overlanding crowd—yet. We predict more folks will gravitate to this old-school, square-body style rig because they're beautiful and are designed to be great off-road vehicles. This version, which was built by Sean Jennings, runs on 35-inch Toyo Open Country R/T tires that are slung on 18-inch Detroit Steel wheels. Under the hood, it has a Chevy 350 crate engine, and the back features a two-drawe,r utility height all-weather drawer system from Truck Vault. There's also a bed rack designed to look like it was built in the 1980s.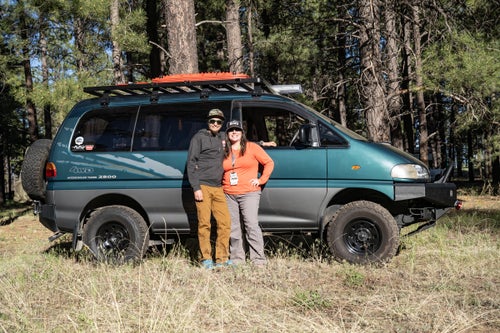 1994 Mitsubishi Delica Space Gear
Andy Lilienthal and his wife Mercedes are long-time Delica fans—this is the second one they've owned. "We're definitely repeat offenders," Andy jokes. It's a right-hand drive, turbo diesel with 96,000 kilometers (about 60,000 miles) on the engine and it's totally kitted out with everything from a Warn winch to Coastal Offroad front and rear bumpers, as well as a long-range fuel tank, ARB awning, Lightforce lights, and BF Goodrich KO2 all-terrain tires. These vans are now quite popular as showpieces, but the Lilienthals use theirs as a tool and have criss-crossed the entire United States in it on both pavement and dirt.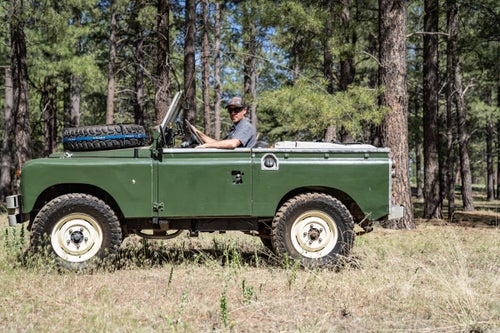 1964 Land Rover Series IIA
Affectionately known as "Sarge," this Land Rover is owned by Owen Mesdag and was originally designed to be a mobile radio station for the U.S. military. As such, it got special upgrades including a dual gas tank, overdrive, and a one-ton rear axle to carry all the extra radio weight. It still has its original gas engine, and Mesdag uses it as his daily driver up in Seattle, Washington. "This vehicle was definitely built on purpose and put function before form, but nowadays it's the form we've come to love," Mesdag says. "And in terms of function it still goes. This thing will drive around the world no problem…at 40 MPH."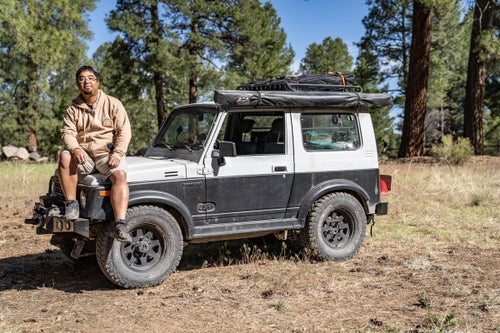 1986 Suzuki Samurai
Owner Gerin Toguchi of Las Vegas, Nevada says he lusted over the Samurai when he was in high school. "It took me 18 years to get one, but I made it happen," he laughs. His 1986 has 180,000 miles on the engine and he loves the it because of the small form factor and capability. It has full four-wheel-drive and he's added an awning, front and rear bumpers, and mud terrain tires. The Samurai is known for being underpowered, and Toguchi says he cruises at 65-70 MPH on flat freeway and about 45 MPH on uphill sections. The slow speed doesn't bother him, he says, because it allows him to better take in the surrounding views.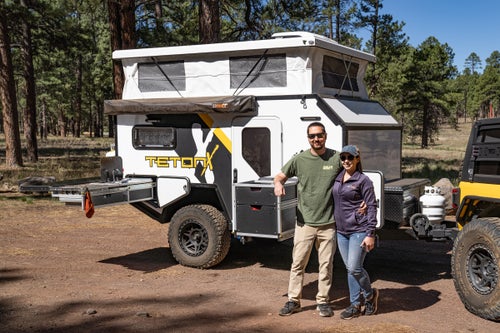 Teton X Hybrid Trailer
Josh and Viki Africk have two small kids—a two-year-old and a three-month-old—but still wanted to get out and explore so they bought this Teton X trailer. Thanks to a special suspension design, the trailer can be raised for off-road use, lowered for on-road use (better gas mileage), and also leveled at camp. It's about the size of a normal teardrop trailer, but comes with a pop-top feature so that both adults can get in and walk around. Their trailer also comes with an exterior slide-out kitchen, which saves additional inside space.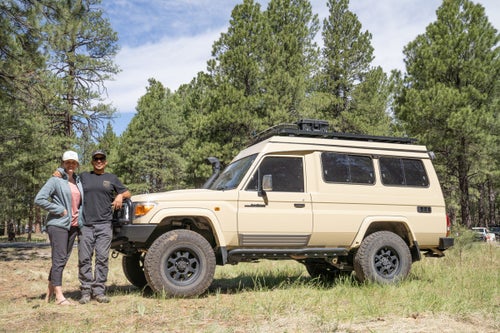 2019 Toyota Land Cruiser 78 Series Troopy
This build drew gawkers all day long. It's owned by Ernesto Lopez and Taisa Welhasch, who are well-known on Instagram as @overlandtheamericas, and is likely the only one of its kind in the United States. That's because it's an overseas model they sourced in the United Arab Emirates. Lopez added a Mulgo pop-top conversion for sleeping and then built out a spotless interior that includes all the most important creature comforts (sink, stove, etc.). Lopez and Welhasch say they love this rig because it's specifically built by Toyota for NGOs, police departments, and the military, so it's nearly indestructible. "This is definitely the holy grail for international travel," Lopez says.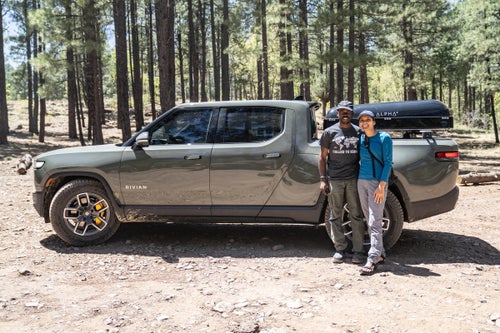 Rivian R1T Launch Edition
Sanjay Sinclair and Karen Purba of Rancho Cucamonga, California rolled up to the Expo in their head-turning Launch Edition of the new Rivian R1T truck. It came with bed rails, so the only upgrade they made was the addition of a rooftop tent. Equipped with features such as quad-motor AWD, this version of the R1T is an off-road beast and definitely the future of the overlanding space.