A Trek to the Edge of the World
How to tackle Chilean Patagonia's Dientes de Navarino, considered the most unpredictable trek in the world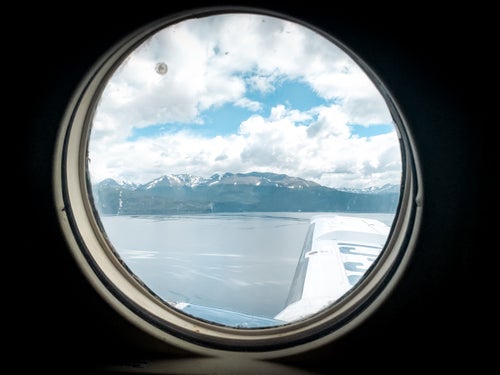 In Chilean Patagonia, Dientes de Navarino is a trek of superlatives. It starts from the southernmost town in the world—Puerto Williams, on the 55th parallel. Because it's so close to the Antarctic tectonic plate, cold air and ferocious weather blow up from the frozen continent below. No other landmasses extend this far south, so winds from the east race uninterrupted around the globe before violently crashing into the hike's namesake dientes, which translates to "teeth," in reference to mountain peaks. The result is a fickle and volatile climate that earned the route another unofficial superlative: the most unpredictable trek in the world.
Our upcoming trek would cover anywhere from 35 to 45 miles, depending on what route we chose and how accurately our trackers would monitor our steps through mud and snow. First trekked in the late 1990s but only officially (and partially) marked in 2016, around 200 people attempted the trail annually before its blazing. Since then, the number has gone up to between 1,000 and 1,500 per year.
When I embarked, it was nearly 11 P.M. on December 8, 2019, closing in on the longest day of the year. Due to freezing cold rain and extremely deep snow, the trail is walkable only during a short window: roughly December through the end of February, the peak of the Chilean summer. But because of the mountain terrain, cold temperatures and snow exist year-round. My companions, solo travelers grouped together by guiding company Chile Nativo, are all active types: an aerial arts instructor from Tennessee, a professional kayaker from Chile, an author who had just recently hiked New Zealand's Te Araroa Trail, among others. We'd stayed up too late in the bar of La Yegua Loca, our hotel in the town of Punta Arenas, the closest town on the Chilean mainland to Puerto Williams on Navarino Island. The sun was only just beginning to go down despite the late hour, and as we sat around the bar table, we tried to temper each other's expectations of our hiking prowess before returning to our rooms to sort out our packs and enjoy the last bit of Wi-Fi.
At 9 A.M., we climbed into a nine-person propeller plane for a one-hour flight from Punta Arenas to the town of Puerto Williams. The winds were gusting at 75 miles per hour, and the plane looked like something out of an Indiana Jones movie: a single front propeller; an open cockpit of cloudy dials and hanging cords. The wind slowly blew the plane across the runway as we boarded, dismally creaking under the weight of each new passenger as if to protest that it was never meant to carry a full load.
Laughing at our concerns about the weather, the pilots told us to buckle up, hold on, and not worry as the winds dropped and lifted us like a paper plane over the Strait of Magellan. I focused on the glaciers, hovering at the surface of the choppy and nearly frozen sea of the Beagle Channel below us.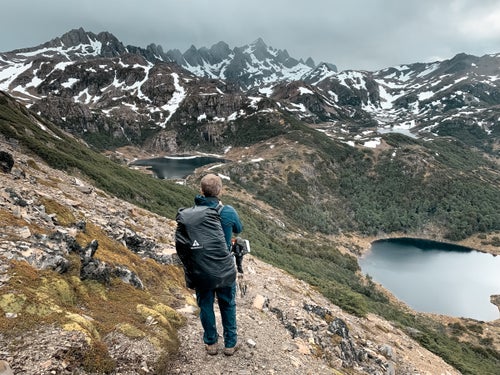 After landing, we stopped at Chile Nativo's headquarters to pack up tents and cooking supplies, piled into a car with our guide, and made the quick ten-minute drive to the trailhead. Though it was pouring rain as we unloaded, the skies cleared after less than a mile of hiking as we gained elevation. The Dientes de Navarino route has no formal campsites, reservation system, or, at some points, even a trail. Hikers operate with a compass, a GPS tool, and your guide's direction. What route you take around, over, or through certain segments of the trek is often determined by weather and the preference of your guides.  
Our plan for the first day was to trek roughly 7.5 miles, though the island's remoteness and undulating terrain make measuring miles more of an educated guess than an accurate distance. When we hit the tree line after 90 minutes, we get our first taste of Patagonia's famously fickle weather. From miles away, we could see darkening clouds over Lago Salto, where we would spend our first night, and it didn't take long before the sunny skies turned to clouds dispensing snow. We hiked a few more miles of narrow footpath along a ridgeline before making a steep descent down a perilously loose shale face to our first campsite, surrounded by cliffs on the marshy area next to the lake. The shore was muddy with melting snow, and I was lucky to find a spot dry enough to fit my one-person tent before our guides prepared us a hearty dinner of vegetable soup and fresh king crab legs, bought that morning in Port Williams. That night, the wind was so forceful that I didn't sleep for fear that my wind fly would blow off. I laid awake in my tent, in my wet shoes, in case I needed to suddenly chase it down in the middle of the night.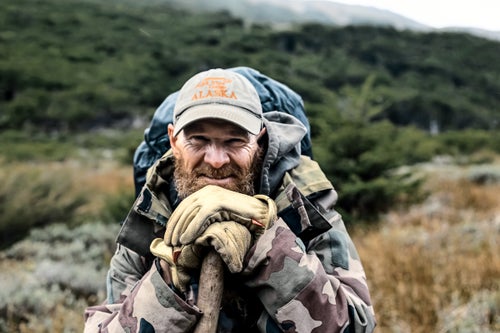 Day two was set to be six miles—though my phone measured ten—and involved moving deeper into the landscape, crossing the saddles of two ridgelines and descending to one of the few forests along the trek that are protected from the storm-force winds. Halfway through the day, I fell in line next to Pascal, a French porter and part-time hermit who summers in Alaska because "Navarino is too crowded." (Its year-round population is 2,800 across 955 square miles.) Pascal considers himself a loner who prefers Navarino Island's infamous beavers to people, though he's got plenty to say. He tries to stay out of "downtown" Port Williams as much as possible, but he makes an exception to visit the internet café and upload hiking videos to his YouTube channel, El Shov, the French word for "bald."
As we walked, I asked if there was ever a chance that the trek's campsites could be full when we arrive. He laughs. "C'est pas possible," he says. "Look around. There are no people here." I looked around to see if I could find evidence of other people, and he was right: it was just miles and miles of snow-covered mountains and valleys. Though I did see a Chilean condor, making the ratio of other hikers to birds zero to one.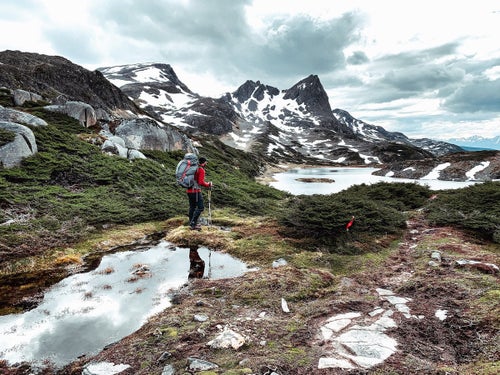 There were stunning vistas at every turn, but day three in particular reminded us of why we came. We'd already gained 10,500 feet out of approximately 13,500 total feet of elevation. As we ascended, we saw dozens of serrated peaks and gleaming lakes, some of which have names and some of which are just snowmelt that will dry up during the short four-month window, from December to March, when the trek is passable. At this point, we were halfway, and I'd already climbed up a flowing waterfall, crossed snowfields, and precariously stepped across narrow, forgotten beaver dams, packed down into secure paths across the waterlogged terrain by the pressure of years of wind and heavy snow.
The weather was mostly clear and warm, which is atypical for this part of the island. Just a week prior, our guide Mathias had come across a group of panicked trekkers who lost their way in a storm. They were rescued, but not before becoming hypothermic. Hikers needing rescue is common on this trek; fortunately, Chile Nativo owns one of the only two satellite phones on the island. Pascal later told us a story about a Spanish solo hiker who got lost and followed stray dogs back to town. Whether it's true or not, it underscored the point: even experienced hikers often underestimate Patagonia's forces and fury.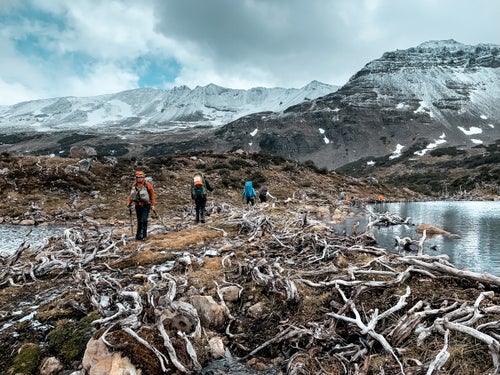 That afternoon, after hiking anywhere from five to eight miles, depending on the GPS, we passed through the most remote part of the island, an area filled with beavers. Argentinians introduced the species in 1946 to jump-start the trapping industry. Without any natural predators, they have taken over the region and can grow upwards of 60 pounds. Evidence of their thriving population was everywhere, and at times it felt like we were crunching across piles of gnawed tree branches more than we were dirt. 
After summiting the surprisingly calm 2,283-foot Paso Ventarrón, we came to the end of the partially blazed trail. We rock-hopped and stream-crossed to reach our campsite at Laguna Martillo, one of the lowest-elevation sections of the route, with amazing views overlooking the backside of the island's jagged and snow-covered teeth. I set up my tent in the protection of a U-shaped pile of downed trees left behind by hardworking beavers.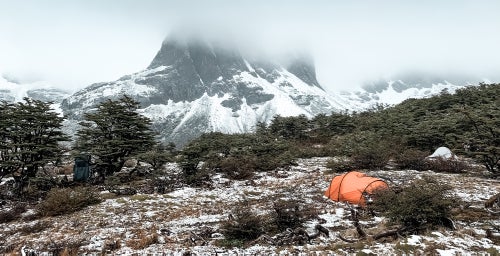 I still felt pretty good by our third night—except for my feet. My "waterproof" boots leaked in the snow on the first day, and my toes hadn't warmed up since, so I put my extra gloves on my feet like socks before I climbed into my sleeping bag. I borrowed a puffy jacket from our guide Gonzalo and, combined with the wind protection from my beaver-built campsite, stayed asleep for nearly nine hours. We woke up to fresh snowfall on our tents, and while everyone else reported a restless night, I felt better than I had the past few mornings.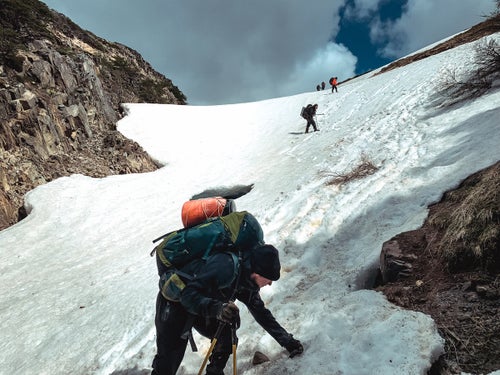 Despite the unrelenting winds pounding down on us for the last half-mile, we reached the top of Virginia Pass before noon. It's a wide ridgeline with views in all directions: Cape Horn to the south, the Beagle Channel to the north, Tierra del Feugo to the east, and a steep, jagged talus pile below. It's the highest point of the hike, at 2,818 feet above sea level. We played with the wind gusts that carried us a few feet with every jump. "Have fun up here," Gonzalo said. Then his face turned serious: "But be very careful on the way down. If you fall, you can't stop." 
He was right. We took uncertain steps down the steep talus beyond the pass, sliding more than a few feet with each move. I tried not to trigger a rockslide, but we were at a 30-degree grade and had at least 1,500 feet to descend. This seemed like the most dangerous part of the trek—the trail below crossed a sloped snowfield most ski resorts would consider a double black. As I got closer to the bottom, I could start to make out small crevasses in the ice that would have dropped us into the freezing stream below if we misstepped.
On our last night, camping at Laguna Los Guanacos, we stayed up late at the campfire sharing personal stories that got progressively deeper as the red wine our guides carried just for this moment flowed. (Yes, wine is a staple of these trips.) A fellow hiker pulled out a flask of Scottish whisky that his father gave him when he turned 18 and passed it around to celebrate our last night together.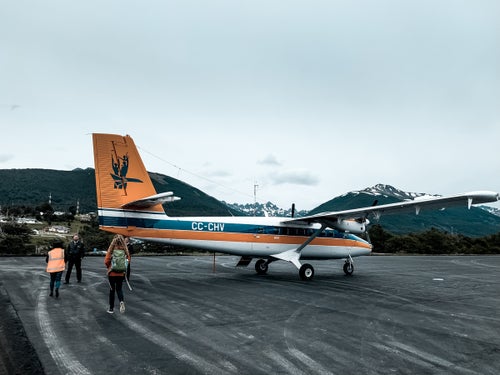 After a short fifth day of hiking three downhill miles, we arrived at Lakutaia Lodge on the outskirts of Port Williams, proud and dripping in mud. An hour later, we met our guides and porters for a traditional Chilean open-fire barbecue of sausages, grilled fish, chicken, salad, potatoes, and vegetables. In true Navarino fashion, beaver was on the menu. We ate and drank what would be a shameful amount if we hadn't just hiked for five days before fatigue—and several bottles of Chilean wine—started to set in. But we managed to rally that evening, capping off the night at El Alambique, the second southernmost karaoke bar in the world. (The karaoke bar at McMurdo Station on Antarctica reserved for staff and base inhabitants is the first.)
The rickety tables were occupied mostly by international scientists stopping over in Puerto Williams on their way to research stations on Antarctica. Fellow hiker and professional kayaker Pedro Astorga belted out a version of "Hey Jude" that got everyone singing along.
Fortunately, our flight the next day was delayed due to weather, as it often is, so we got a few extra hours to sleep. The weather was calmer on the 90-minute flight back to Punta Arenas. As I waited for departure, I looked out on the near-midnight sun and thought about the past five days. Despite the rocky and muddy terrain, cold nights, and wild winds, I'd do the trek again in a heartbeat—but next time I'll bring better boots.