The Secret Lives of Wild Animals
Jonny Armstrong is a portrait photographer, but he's never met any of his subjects. He sets hidden cameras that are triggered by motion sensors and captures candid, amazing portraits of wildlife.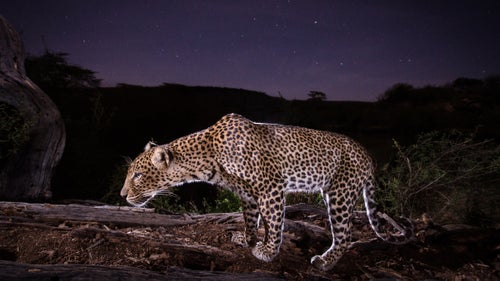 Jonny Armstrong is a portrait photographer, but he's never met any of his subjects. That's because he doesn't actually press the shutter button when his camera takes a picture, he leaves that up to his models: grizzly bears, leopards, and other wild animals. Armstrong is a camera trapper—he sets hidden cameras that are triggered by motion sensors and capture candid portraits of wildlife. But his images aren't just classic hunter trail cam shots, they are beautiful and composed as if he is there. Armstrong's use of wide-angle lenses allows viewers to observe iconic carnivores from up close—most pictures are triggered within a few feet of the camera. Since many carnivores are active at night, it's up to Armstrong to light them. Using studio lighting techniques, Armstrong mixes natural and artificial light to create his stunning portraits. Here, Armstrong—who spends much of his time as an ecologist—shares a collection of his favorites from around the world.
Photo: A leopard caught in front of the camera in Laikipia County, Kenya.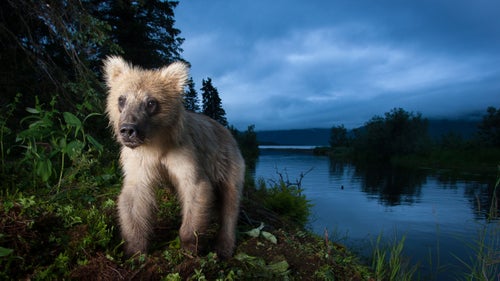 A young grizzly bear travels a streamside game trail in search of salmon, Lake Nerka, Alaska.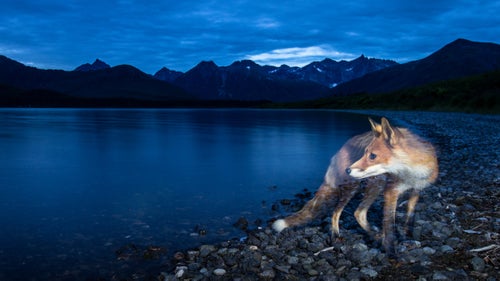 A red fox appears translucent as an ephemeral burst of flash mixes with a long exposure of ambient light. While foxes in the lower-48 are often skittish around camera traps, they are extremely bold in the wilderness of Alaska. This fox liked to steal the cable that attached my motion sensor to the camera.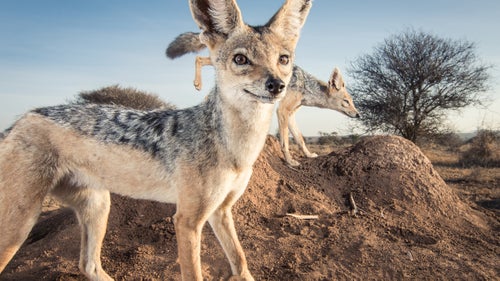 A mating pair of black-backed jackals stroll past a termite mound in the rain shadow of Mt. Kenya. Only minutes before this shot a Maasai herdsman and dozens of cattle passed in front of the camera. Laikipia County, Kenya.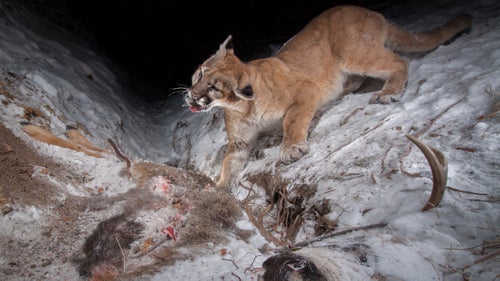 While wandering the woods with my friend's dog, I stumbled upon one of the freshest cougar tracks I'd ever seen. I followed the tracks in reverse and they led me to a mule deer carcass cached under a thin layer of snow. A few hours later the cat returned and triggered a camera I placed downhill from the carcass. After pausing to curiously inspect my camera, the cat tore into the frozen carcass without restraint. Though wide-ranging and difficult to intercept, cougars are fearless of camera gear, making them one of my favorite animals to pursue. I have yet to see one in real life.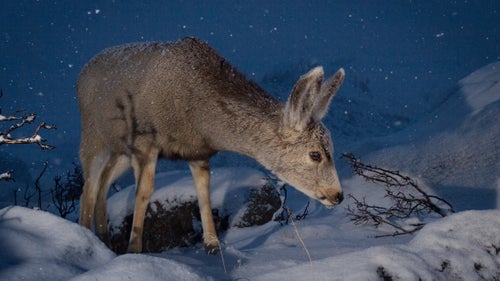 I followed a set of cougar tracks to this ridgeline and set my camera where a large rock outcropping funneled multiple sets of tracks through a narrow passage. The first animal to trigger the camera was not the cougar I was after, but instead its primary prey, a mule deer. Over the course of the winter I found several cougar-killed deer in this area.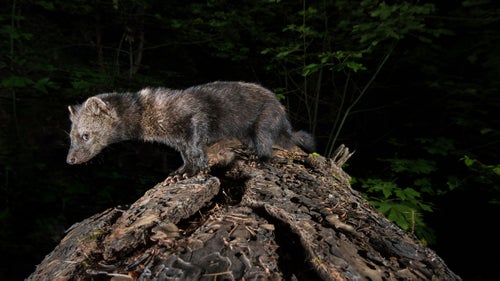 A Pacific fisher uses an old-growth Ponderosa Pine log to cross a steep ravine in the Siskiyou Mountains, Oregon. This fisher hopped effortlessly over my camera shortly after the image was taken. Rarely seen or photographed, Pacific fisher have been extirpated from most of their range and are under consideration for listing by the Endangered Species Act.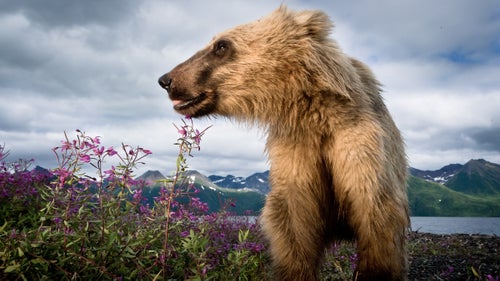 A subdominant grizzly bear, too small to compete for prime fishing spots, roams a lake shore in hopes of finding a washed up salmon carcass. My PhD adviser, Daniel Schindler, helped me set this camera while we're taking a break from field research.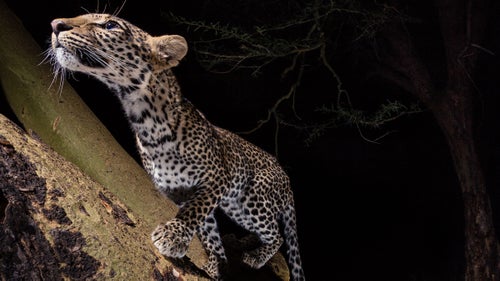 I climbed way up a yellow acacia tree and crawled out on a branch overhanging hippo pools to set this camera. For several days all I got were monkeys, but on my last night in Kenya, this leopard bounded up the tree, triggering a single image. Laikipia County, Kenya.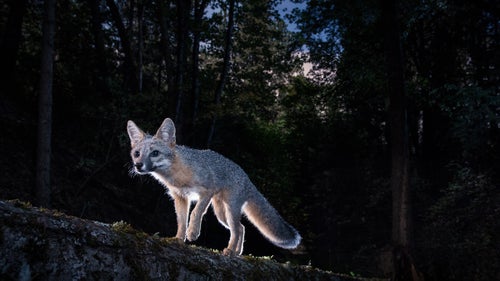 I missed the recent super blood moon eclipse because I was stuck in an airport. Luckily my camera was rolling and captured this grey fox shortly after the eclipse, as the bright moon illuminated the night sky. Siskiyou Mountains, Oregon.