Why We Ride
Very few things are more conducive to conversation—real, deep, true conversation—than long rides. In the saddle, we inevitably end up sharing memories about moments and people that have affected our lives. Photographer Tracy Chandler spent months capturing the shared scar stories of these California cyclists.
Kelton Wright, 30
Editorial director at Headspace, Topanga
After the tumor, two things seemed to cement in my mind: I couldn't trust my body to work, and I couldn't trust other people to help me. I just felt so frightened and alone. And it's been years of work to get back to the girl who on that first doctor appointment said, "I know you have a medical degree, but I know I have a tumor!" I'd felt like something was wrong for a year, but medical professionals kept brushing me off. They dismissed me as stressed or anxious. Finally, I found someone to run tests and they discovered a big tumor in my neck. They operated immediately.
Now, when I feel something off, like my heart beating irregularly hard, or a pain in my arm that persists, I get lost in my head wondering if I tell someone, if they'll believe me. But the bike helps. It's helps to feel my heart and trust it. It's helps to beat the crap out of myself on a climb and find myself recovered on the descent. It's helps me relearn my body and to trust myself.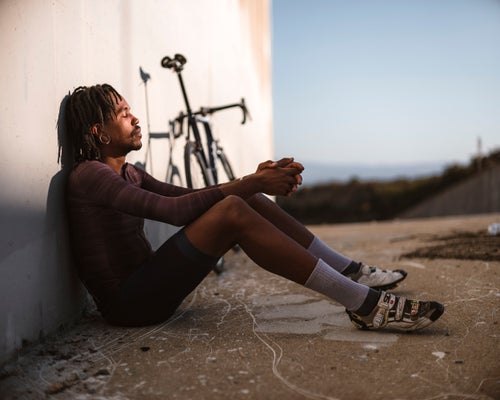 Tyler Johnson, 25
Cycling mechanic, Pomona
It was a huge challenge getting into racing and joining a team a few years ago. I was not the competitive type, I enjoyed adventuring around and finding new places. I was still new at this and it took work to develop my ability. A buddy sold me his fixed gear with some BMX pedals, I made ghetto foot straps out of bolts, duct tape, and an old guitar strap. I would be out all day and climb Mount Baldy Road on that bike just to prove to myself I could. I dedicated myself and eventually made friends and got on a team.
Then there was a race out in Riverside called the All Chill Crit. I rode with two friends, Paul and Seabass, out from Pomona. After registration, we were just hanging out waiting for the race to start. There were some legit riders and I thought I wouldn't be able to hang. Paul told me something like, "It's not about how fast they are, it's about how fast you are." The race started and I managed to stay in the main field and finish top ten. During the long ride home I was so tired, yet so stoked. Thinking back, that is when it became clear I shouldn't get caught up about others but focus on my own road.
Isabella Sandoval, 23
Student, Alhambra
I felt vulnerable when I started riding in college. I had always felt confident in my own skin, but now out on the bike, it was different. I did not feel like myself when wearing cycling kit. There was was nothing out there that made me feel like my body type was meant to be on a bike. It was hard to view myself as a cyclist or an athlete in general. But I kept going anyway. As I put myself out there, the feedback and support has been amazing. Now I look at riding as my little escape to just get out of my head for a bit and to remind myself that I could do anything with the right mindset.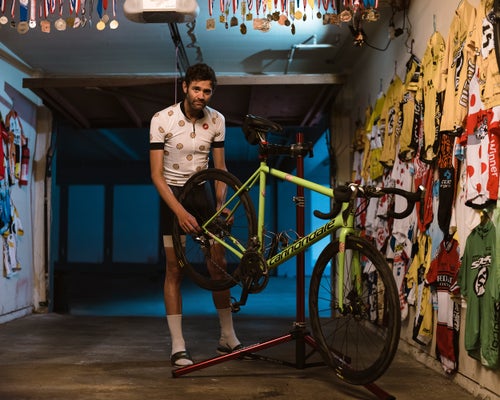 Phil Gaimon, 31
Former professional cyclist, Taluca Lake
If you try and be a pro athlete or an astronaut or a rock star, it probably won't work out. You know who doesn't want you to chase your dreams? Your landlord who wants his check on time. If you roll the dice, you could spend a decent portion of your life and get nothing. So what? Dream small? Dream reasonable? Don't dream at all?
I didn't decide to follow this dream of being a pro cyclist, I was kidnapped by it.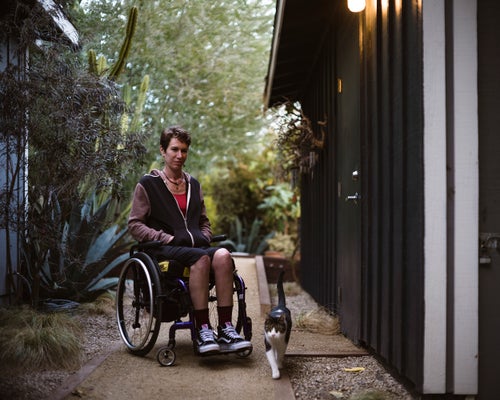 Edie Perkins, 47
Educational publishing, Los Angeles
The car came out of nowhere. I knew it was too late and there was nothing I could do. This striking and incredibly powerful sense of calm came over me. And then I was out.
I'm not angry. I don't dwell on the past or think about 'if only' or 'why me'. Sometimes I wonder if it's unhealthy. If I should be more angry. Maybe it's for survival and self-protection. A way to keep from slipping into deep depression. But I just don't go there. I move on. I work hard to learn how to make do with what I've got. I've always liked physical challenges. And, ugh, now I've got plenty.
Everything takes so long. The little things like getting out of bed, putting on my shoes, going to the bathroom. Patience is not my strong point.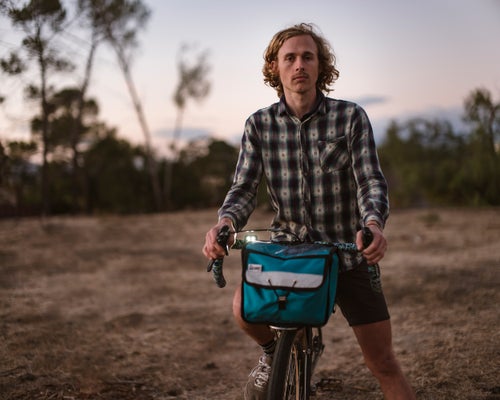 Brad Adams, 27
Entrepreneur, Los Angeles
I stepped off my bike to take a photo and it seemed to come out of nowhere. A surprise strike of piercing pain. I looked down and there he was—a rattlesnake hanging from my leg.
I hauled ass down the mountain as my leg seemed to fill up with lead. Good thing it was all downhill. I wouldn't have been able to pedal or climb. The venom causes your blood to sort of coagulate and turn into a spongelike foam. It felt like burning pressure. My vision began to blur and I could feel my esophagus closing. I saw some other riders and told them to call the medics. I made it to the base of the mountain and was airlifted immediately. It was 50 minutes from bite to hospital.
Since being bit, I've coined a little phrase that I repeat to myself when I'm getting a little too "buck:" Look, listen, stay on the trail.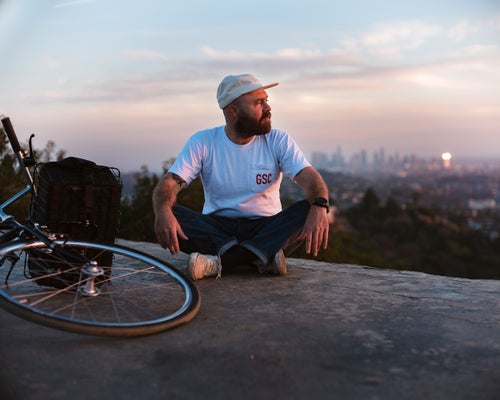 Kyle Kelley, 35
Bike shop owner, Silverlake
It's hard distinguishing what is work and what is play on the bicycle. When your work so closely relates to your hobby and stress reliever, it's hard to know when to turn it off.
I had recently planned a trip with my girlfriend, where I was going to ride from Badwater Basin, then hike Mount Whitney, where I'd then propose to her. I was going to document the whole thing and then write a story about it. I began to think about how that would just be work and the last thing I wanted to do was make it a project. This trip was supposed to be all about us. So I bagged the solo-bike portion and kept it all about us. I proposed mid-hike. She said yes.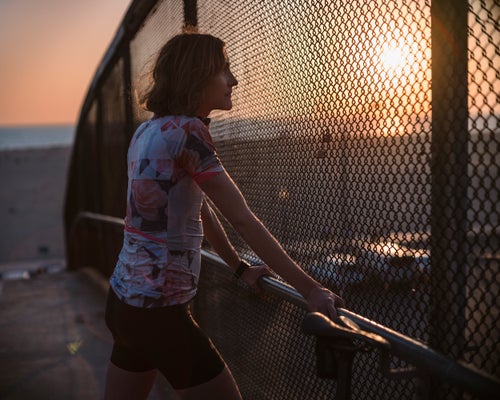 Kathryn Donovan, 35
Professional cyclist, Oxnard
I just knew it was over. It was Redlands, so it was a big race for the year. I was doing well, fourth or fifth in the general classification. There were three laps to go in the crit and all I had to do was sit in the pack. I caught my pedal in a corner and my bike flung me to the opposite side. No road rash, straight down on my hip. I knew then that it was over for me. It is crazy how racing works. One day you are on top, super fit, and all the work is paying off, and the next day you are on the ground. After I crashed, I was laying there in pain and someone yelled, "You are in the way!" It sucked.
I've had a lot of injuries during my career as a professional cyclist and I've always prided myself on making fast recoveries. When I broke my pelvis during this crash, something changed. It was by far the worst injury I've ever had. I needed help with everything. Asking for it was difficult but the best thing to happen to me. It made me connect. You can't use crutches and a cell phone at the same time and it's crazy how much more of the world you experience without it. I was able to catch up on the parts of life that I had been missing.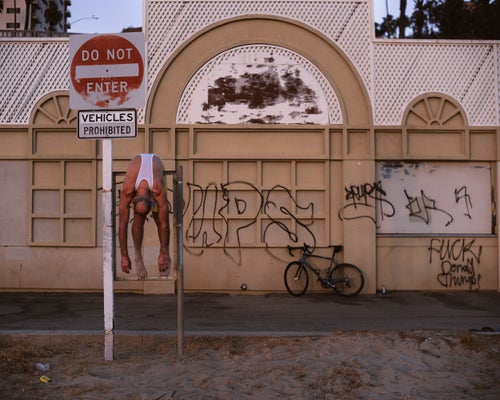 Tony Manzella, 44
Artist and business owner, Santa Monica
When I'm out riding, I am out scouting, too, looking for light and shape, experiencing my changing neighborhood. So much has evolved yet it is still so much the same. That dynamic is art for me: balancing where you come from and where you are now. Not feeling you have to follow the social norms of masculinity. Finding your individuality and smashing the preconceived notions of who you're supposed to be.
A man can be emotional, a man can be soft, a man can wear pink. A man can like art and make art, and still be masculine, and more importantly, a good human. I want my son to feel that.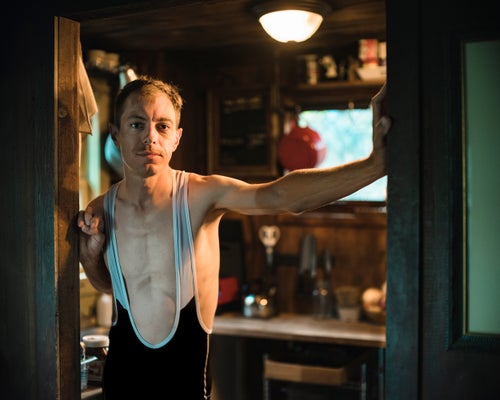 Benjamin Foster, 36
Semi-pro cyclist, Topanga
I have accepted the fact that I am attempting to do the impossible and get a pro contract at my age. To commit myself fully to something that could end in failure is difficult, and knowing that my lack of experience would make it all the more challenging is scary.
As cliché as it sounds, not quitting on your goals even when faced with extreme adversity is a quality that can be applied to any element of life. It's the main quality I hope to take from this experience and apply toward whatever I tackle next.