Skiing 213 Glaciers in Washington Before They Disappear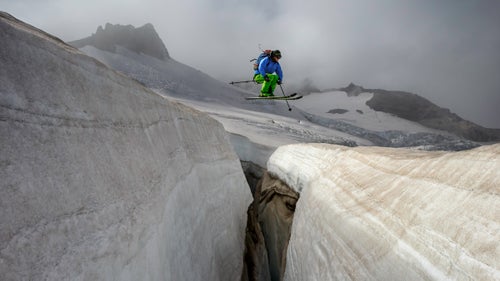 Ever since I could walk, I've been in the mountains of Washington. Throughout my life, I've observed the retreat of their glaciers. Recently, I set out to record these places as they are, turning them into a time capsule for future generations. As a bonus, the project pushes me to look outside the typical routes to those less-visited corners just beyond my doorstep.
Since 2014, I've completed 134 of the 213 named glaciers in Washington, and it will take me another five to ten years to finish. Each glacier can require as much as a week to get to because snowfall and foul weather can disrupt travel in the Cascades. It has taken hundreds of missions so far and will take a hundred more, depending on how I link them together.
When I was a teenager, my twin brother, Josh, and I decided to ski every month of the year. I've been doing that for 220 months straight, and I've seen the snowpack cycle swell through fall and winter and melt into spring and summer. Throughout those years, it was easy in midwinter to see the normal blanket of snow that covers the mountains. But in summer, when the snowpack is at its minimum, I've seen a steady retreat year by year.
Photo: Adam Roberts launches a ballsy air over a crevasse on Paradise Glacier, Mount Rainier National Park, Washington.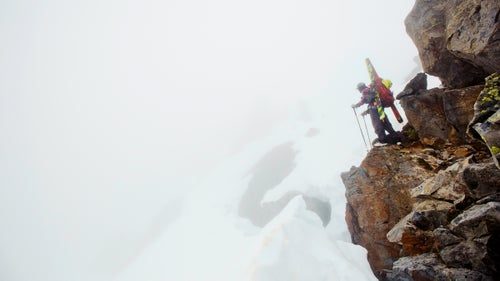 The winter of 2014–15 was record setting in Washington—and not in a good way. Lakes that would otherwise be buried in feet of snow were half melted out. An entire season of snowfall didn't add up to a week's worth of snow during a normal season. Ski areas were closed, but snow could still be found on the perennial snowfields high in the alpine. On big snowfields, like the Olympic Traverse that Tim Black is looking at here, sometimes there's nothing but white on white intermixed with occasional rock outcroppings, which makes visibility tough.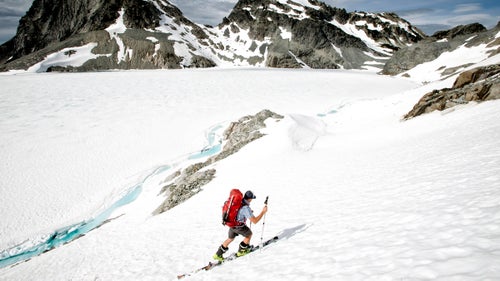 In the 1970s, the Lynch Glacier on Mount Daniel, in the Alpine Lakes Wilderness, covered half of Pea Soup Lake, where Jeff Rich is skinning in this photo. In the decades since, the glacier has retreated and the lake has expanded. Many of the receding glaciers in Washington have left terminal lakes in their wake. Some lakes don't even have names yet, but by default often carry the name of the glaciers that birthed them. In the North Cascades, 73 percent of mountain sites studied have seen the average mountain snowpack decline. Spring runoff is occurring earlier each year as well.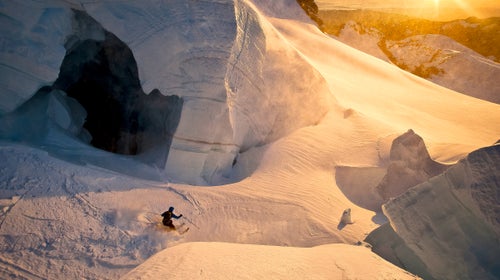 Out the backcountry gate, Mount Baker has incredible crevasses and similarly prodigious snow. Here, my brother Josh Hummel skis past a giant hole in an ice wall on Coleman Glacier in Mount Baker Wilderness, Washington.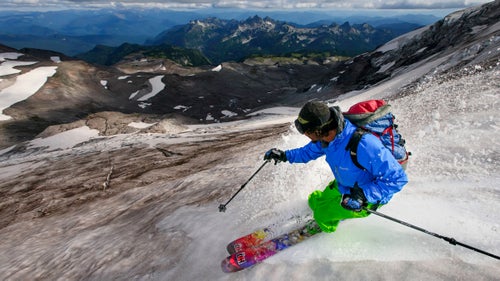 Paradise Glacier, located in Mount Rainier National Park, once held the world's longest mapped glacier caves, at 8.23 miles. Today, the caves and the entire lower Paradise Glacier are gone. In their place is a valley of volcanic rocks. At its head lies a broken, rotting sign: "Caution: Near Ice Caves." Far above this valley, Adam Roberts skis on the remaining upper Paradise Glacier. According to Mauri S. Pelto, professor of environmental science at Nichols College in Dudley, Massachusetts, and director of the North Cascades Glacier Climate Project, 53 glaciers in the North Cascades have completely disappeared since the 1950s.
Washington has more square miles of glaciers—279.93 to be exact—than any other state in the lower 48. Wyoming comes in second place by volume with 45.5 square miles. Mount Baker alone has 30.45 square miles of glaciers on its flanks. According to the Washington State Department of Ecology, glaciers in the North Cascades have lost 18 to 32 percent of their total volume since 1983. Adam Roberts makes a tele turn near the edge and gets a close look into a crevasse on the Coleman Deming Route on Mount Baker. Some crevasses here can be well over 100 feet deep.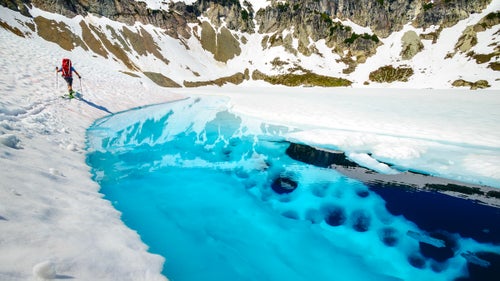 Mount Baker set the world record for snowfall (95 feet) in 1999. Snowpack here can limit my window to ski the glaciers to spring missions. Here, skier Jeff Rich traverses past Circle Lake in the Alpine Lakes Wilderness.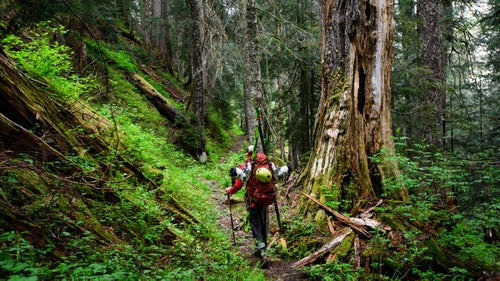 In this photo, Tim Black hikes below Anderson Pass during our quest to complete the first north-to-south ski traverse of the Olympic Mountains, from Hurricane Ridge to Lake Cushman.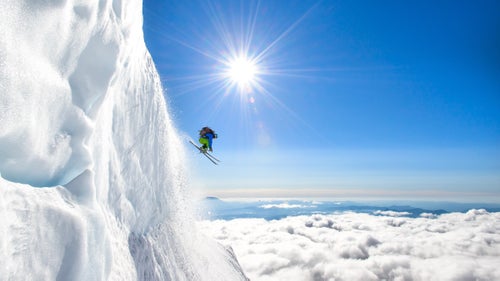 Over the past 18 years, I've worked to ski every skiable route on Mount Adams. The North Face Northwest Ridge is among my favorites. My all-time favorite image is this incredible moment when Adam Roberts, ever the daredevil, aired a massive serac on Adams Glacier and launched himself over the hills and valleys below.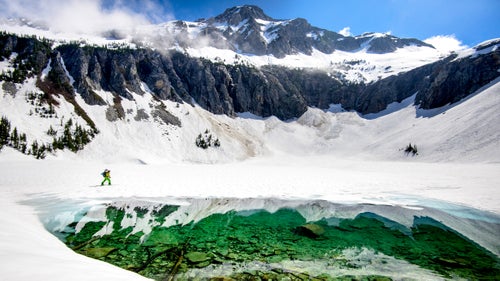 Many of these glaciers have never seen a skier, let alone humans. I love the ability to explore and see these incredible places. Here, Adam Roberts crosses Blum Lake on the Makin' Bacon Traverse in North Cascades National Park.
Sadly, Roberts, seen in many of these images, died in an avalanche at White Pass Ski Area in Naches, Washington, on December 27, 2016. Losing friends to the mountains is humbling. Nature is a great equalizer in that regard. It can bite any of us. But Adam was most at peace when in nature. He was quite literally a guy who would sit in a meadow and smell the flowers. It's a rare soul these days who can turn off the noise and turn on the current moment. You can read more about his life here.
You can follow Jason Hummel's adventures in the mountains on Instagram or Facebook.