Slacklining Through the Waves of Nazaré
The massive waves of Nazaré, Portugal are famous for surfing—but one group of athletes has embraced a new way to engage with these waters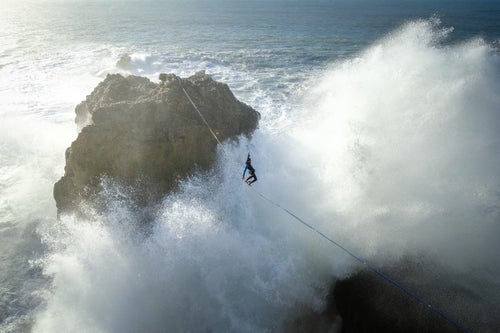 Located on the Portuguese coast roughly 80 miles north of Lisbon, Nazaré is home to some of the largest ocean swells in the world, sometimes reaching as high as 100 feet. For the Western Riders, a Portuguese slacklining and highlining team comprising José Ferreira, Bertrand Jny, Claudio Dores, Emerson Machado, and Pê Pê, a spot next to the Nazaré Lighthouse presented an opportunity to test the steadfastness and resilience the sport demands. They were joined by Andrey Karr of Russia and Joshua Leupolz of Germany.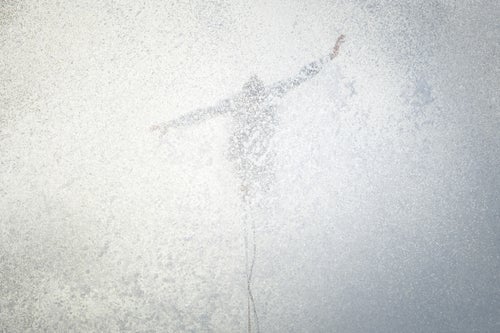 Standing 50 feet above the ocean attached to the line with only a leash, it's a simple mindset for these athletes: walk or fall. Here, Emerson Machado tries to keep walking, pausing to balance himself as a wave consumes him on his way back to the cliff.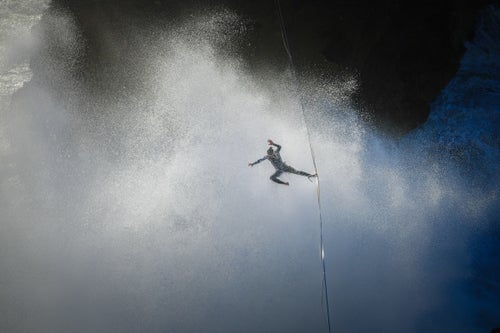 No matter how hard a highliner fights to stay on the line, everyone here succumbs to the waves eventually.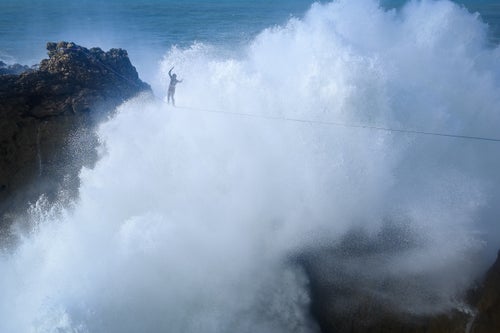 Nazaré is home to some of the largest ocean swells in the world, thanks to the combination of powerful winds blowing in from the Atlantic and Nazaré Canyon, an undersea gorge just off the coast that's 140 miles long and three miles deep in places. It's notorious as an extreme surfing location is well established, but the waves pummeling the fishing village also make for the perfect backdrop to highlining.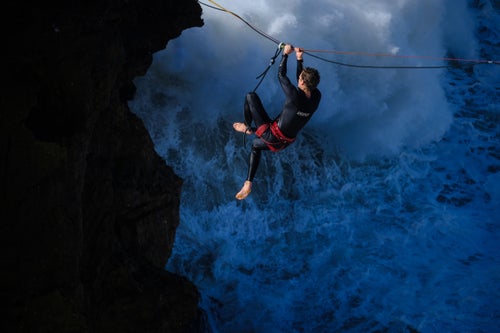 The only way to get back to the anchor point after a fall is to climb back up the leash and onto the line before the next wave and walk, which is exactly what José Ferreira does after his fall.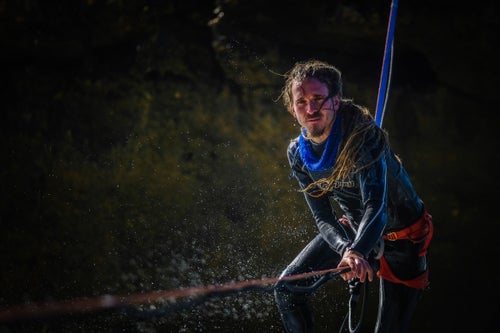 Joshua Leupolz, a 26-year-old highliner from Germany, is on the line and ready to go, taking a moment to comtemplate life. For highliners, finding the right mix of balance and self-assurance can be difficult under the best of circumstances. It's even harder with Nazaré's waves crashing underneath you.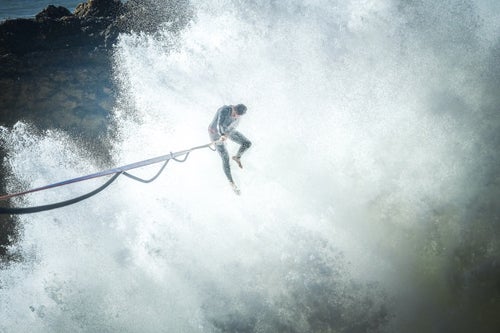 Waves hit with such force, the splashes can make it hard for a highliner to see anything around them, even the line at their feet. Here, Bertrand Jny braces himself as a wave hits the line.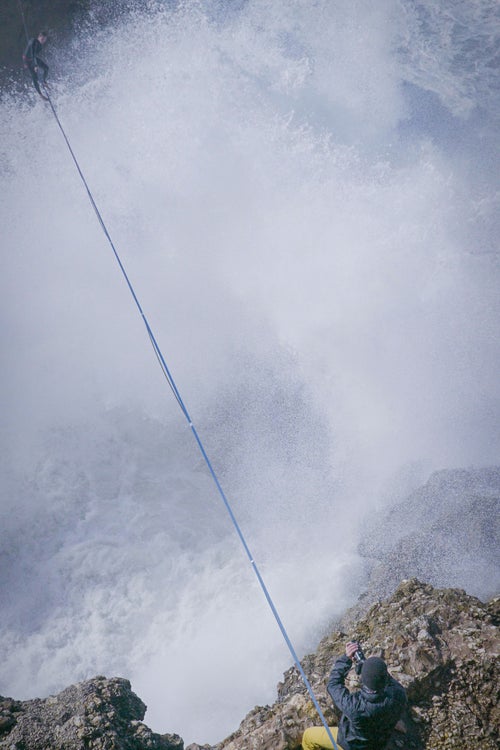 The location provided plenty of challenges for taking photos too. To get the shots, you have be right on the edge of the cliff, which included rigging, downclimbing, and getting hit by waves while trying to take the picture.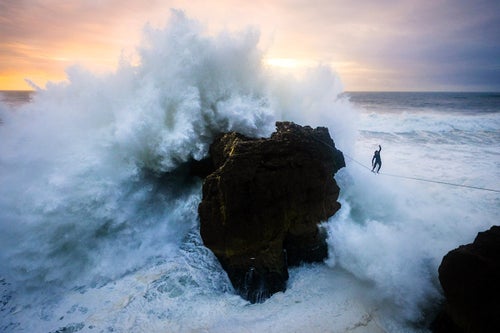 This is the image I had on my mind the entire time, but I wondered if I would be luckily enough to capture the moment. It was a good feeling to get the shot of Andrey Karr gracefully moving over this line at sunset with an enormous waving crashing into the rock behind him.