Traveling the World—and Raising Two Kids—in a 2003 Land Rover Defender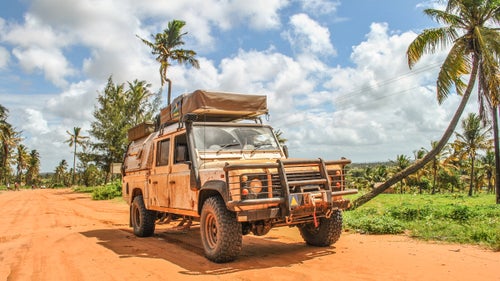 Many of us dream about buying a Land Rover and seeing the world. Graeme and Luisa Bell, along with their two kids, Keelan, 16, and Jessica, 11, actually did it. Since 2009, the family, originally from South Africa, has driven more than 100,000 miles in their 2003 Land Rover Defender 130 diesel. They've visited 29 countries, road-tripped across southern and eastern Africa, circumnavigated South America, and driven from Argentina to Alaska and back down to Mexico. They're currently in Baja, Mexico, and headed for the U.S. After touring the Southwest, they plan to cross to Europe and drive to Asia. We had them email us some photos so we could find out more about their trip and their trusty rig.
Photo: We bought the Land Rover Defender in 2009 in anticipation of an overland journey from Cape Town to Kenya. Here's the Landy in Mozambique during the first leg of that journey.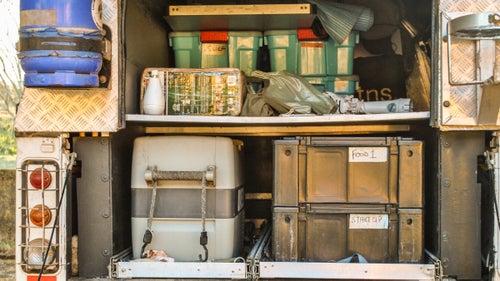 We made all the modifications in our yard. I bought and installed an aluminum canopy, then designed and built a drawer system and load area.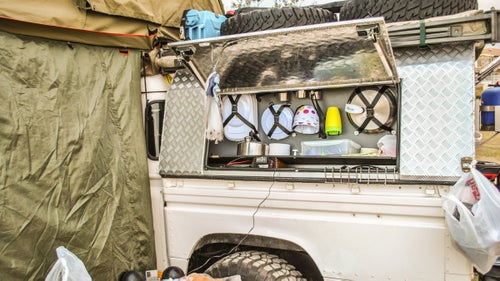 To the left of the load area we installed a small kitchen area to store the cutlery, pots, pans, and accessories. Our go-to foods: pasta of all sorts, sandwiches, braai (BBQ), and anything else cheap, local, and healthy.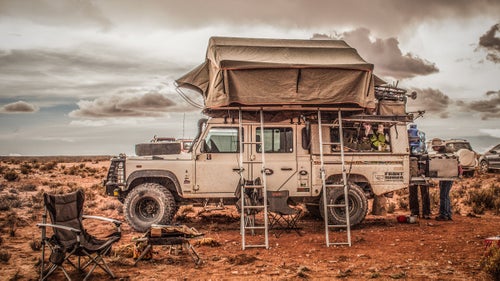 Our family of four needed to find a way to sleep high and dry. The XL roof tent by South African Howling Moon provided a nest where we could sleep well, huddled, warm, and comfortable. Here we wait for the 2015 Dakar rally in Bolivia.
Repairing the wheel bearing in the middle of the night in Brazil. Important tools we always carry: a good socket set, special tools for wheel bearing and fan repair, a Nanocom to read the vehicle ECU, and a Leatherman. For spares, we have air, fuel, and oil filters, wheel bearings, oil, lubricants, and replacements for parts we predict are going to fail.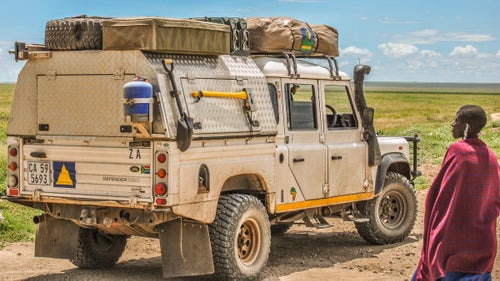 A Maasai approaches the Landy in the Serengeti.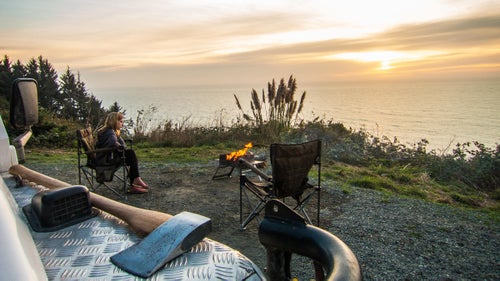 The Oregon Coast. The family is currently running a Kickstarter to fund a "how-to" book about overlanding.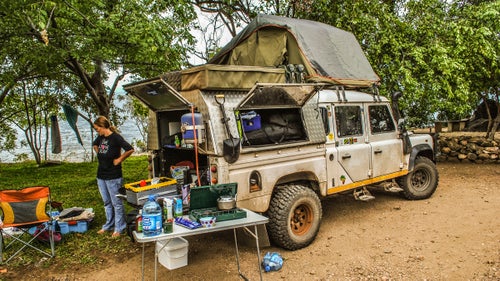 Camping in Zambia. Hippos, the most dangerous animal in Africa, often frequented the camp.
Grand Canyon, 2015. The Landy stands 7.9 feet high without the tent up—the maximum height for slotting into a shipping container for ocean crossings.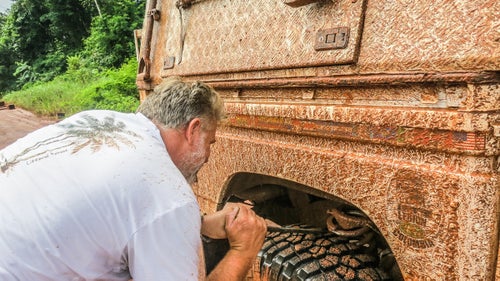 Roadside repairs in Guyana. Our Landy has only left us stranded once, after the fuel pump failed. But that happened in a campsite in Argentina, with a large swimming pool and a good butcher nearby. The oil cooler failed in the Atacama Desert but we were able to make it down to the coast to make repairs. The wheel bearings failed in Northern Brazil but we were able to fix them. And the water reservoir cap failed once at high altitude in Peru.