Watch Pro Surfer Mark Healey Tag Sharks for Science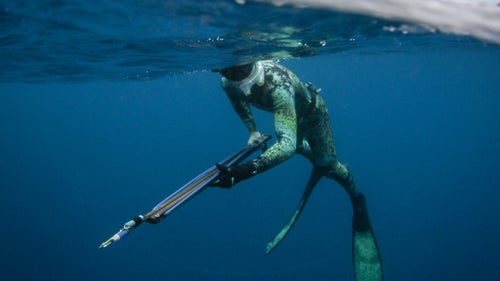 Last year, pro surfer Mark Healey and a team of scientists journeyed to island of Mikomoto, a craggy, deserted place off the coast of Japan, to study a community of endangered hammerhead sharks that congregate nearby. Healey joined the expedition to tag the rare sharks with a speargun and photographer Kanoa Zimmerman came along to capture it all.
For most of the trip, however, the skittish sharks didn't even show.
"We didn't see hammerhead sharks for a while—for days," Zimmerman says. "We were starting to think there weren't even hammerhead sharks around. We'd hear from tour groups that they'd seen some. Everyone had seen them but us. We started to go insane."
In a feature this month, Thayer Walker details Healey's quest to tag these rare sharks. But even the days Healey spent searching for hammerheads are chock full of adventure. From tagging other rare creatures to exploring big-wave surf spots around the world, this is what a few days in the life of a professional waterman look like.
Photo: Healey learned to swim before he could walk and says he's spent "a third of the year with a dive mask on since the age of 12." Though he earns a living surfing the biggest waves he can find, Healey's first love is spending time underwater. "People always think of Mark as a professional surfer," says spearfishing record holder Cameron Kirkconnell, "but the truth is, he surfs to support his diving habit."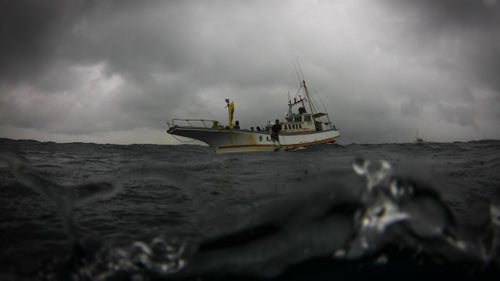 The scientific expedition operated out of a 40-foot fishing boat, the Otomaru. While Healey and Zimmerman spent their days underwater hunting for hammerheads, the Otomaru was rocked by storm waves: "One moment the gunwale is ten feet in the air, the next it's slamming into the water," wrote correspondent Thayer Walker. "It was sketchy," Zimmerman adds.
The potentially dangerous storm took a toll on most, but not all, of the crew. "The scientists are shell-shocked, and the crew is angry," Walker wrote. "The captain cranks the throttle to head back to shore. Healey throws his arms toward the heavens triumphantly, a grin stretching from here to the mainland."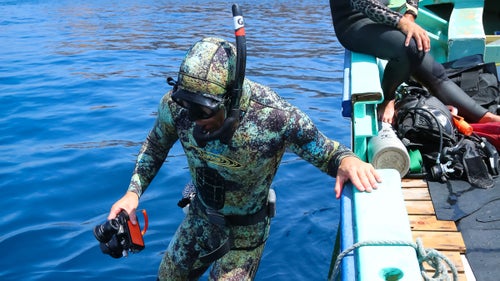 "As a waterman, Mark is unrivaled," big-wave icon Laird Hamilton told Walker. "When it comes to riding giant waves, diving deep, and hunting fish, he's the total package—unique even among us."
Since any bubbles from scuba equipment could spook the hammerheads, Healey had to freedive—to descend without any artificial respirator—more than 100 feet to tag the sharks. "If I wanted to follow him, I had to freedive, too," says photographer Zimmerman. "If I had scuba gear on I wouldn't be able to follow him to go up and down like that." Zimmerman says 15-to-20 percent of the photos he takes are underwater, but diving to 80 or 90 feet without added oxygen "adds another element to it all."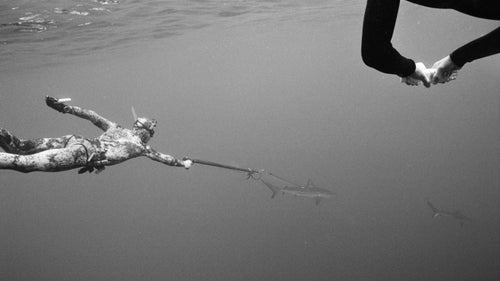 For the trip, Zimmerman often shot 35 millimeter black and white film on his Calypso camera, a Nikon originally conceived by Jacques Cousteau. "I've gotten better results with black and white," Zimmerman says. "The way the tones translate to black and white film, it just works. It'll do more of a subtle shift of tones — in color you'll just see blue and it just registers as blue, but with black and white you see the shifts in gray in the highlights and shadows."
Here, Healey tags Galapagos sharks for the expedition.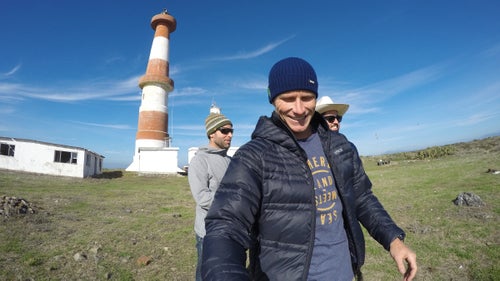 Despite his work on scientific expeditions, Healey is still a big-wave surfer by trade and often travels the world in search of swell. This shot, captured on his GoPro, is of the famous lighthouse on Todos Santos island, off the coast of Baja, Mexico. "I had traveled there to meet a giant swell that I had already surfed in Hawaii," Healey says. "The [World Surf League] Todos Santos big wave event was scheduled for the next day, and a couple of my friends and I get to take a heli out to the island to check it out."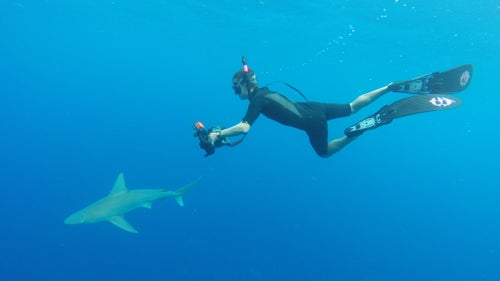 Last year, Healey took teenager Kyle Soto out for some cageless shark diving off the North Shore of Oahu. Soto, an aspiring photographer, had lymphoma and swimming with the sharks was part of his Make a Wish foundation dream. "He's a very impressive guy," Healey says. "He is taking some amazing photos."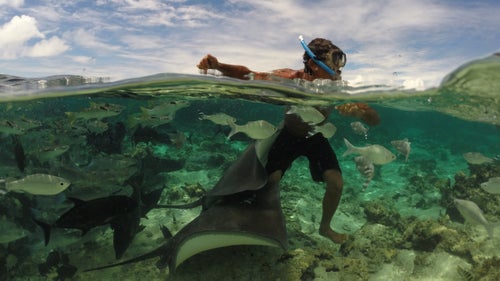 In French Polynesia, Healey met Wilfred, a local who's built a relationship with the local wild stingrays, and captured these shots on his GoPro.
French Polynesia is home to Teahupo'o, one of the gnarliest waves on earth—a roaring, enormous barrel that breaks over mere feet of rocky reef. Healey rides it as well as anyone on earth, but here's what it looks like when things go wrong.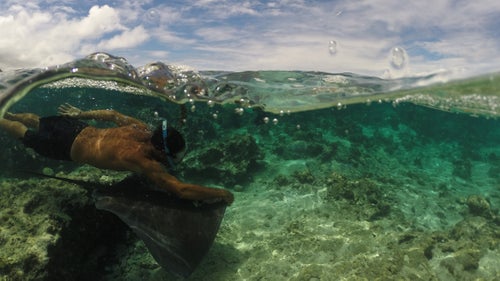 Healey took this photo of Wilfred catching a ride on one of his Stingray friends. "He doesn't even bother to wear fins to get around, as he can always rely on one of the Stingrays to give him a lift in exchange for a half sardine," Healey says. "Uber Mo'orea style." Healey has been coming to Tahiti and French Polynesia for the surf for over 20 years, he says.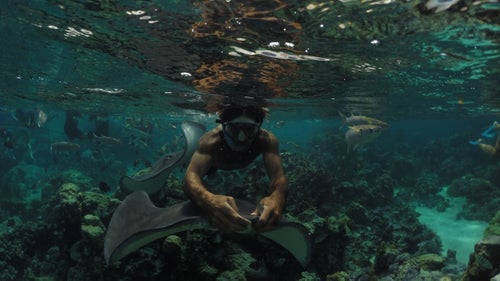 "This is Wilfred again, riding a Stingray over to me to hand off a half Sardine," Healey says. Healey then hitched a Stingray ride of his own and was dragged along until the ray found a giant eel. "Sounds ridiculous, but it's true."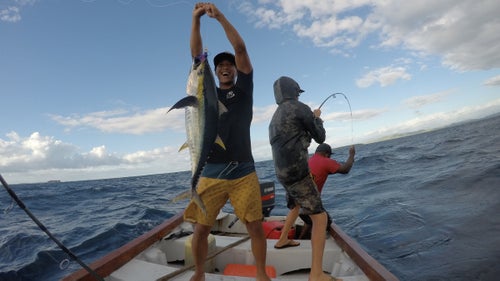 After a day of surfing at Tavarua, Fiji—home to Cloudbreak, a punishing wave that breaks over the reef around the island—Healey and pro surfers Seth Moniz and Matt Meola noticed "the water boiling and the birds diving." The group had brought their light tackle fishing poles with them, and "what ensued was half an hour of gut busting laughs, snapped lines, and Yellowfin Tuna hitting the boat," Healey says. Tavarua is "definitely one of the most magical places on earth," he says.