In the Water with the Elite Rescuers of the U.S. Coast Guard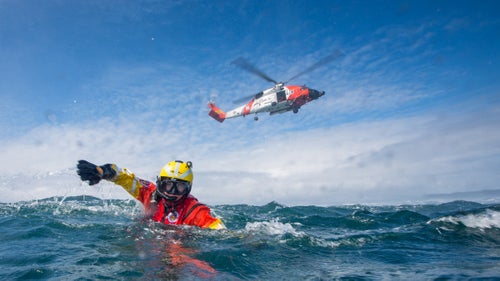 I'm an underwater photographer, but you won't find many macro images of coral or clownfish in my portfolio. I'm inspired by the people who connect most directly with the water: freedivers, researchers, filmmakers, and, above all, rescue swimmers of the U.S. Coast Guard (USCG).
It's fascinating to think that a multi-million dollar helicopter and rescue swimmer, wearing just a pair of fins, work together to accomplish the same mission. It is a highly specialized pairing of man and machine. But the most important part of the story is how rescue swimmers train to do their jobs in the worst conditions, all in an effort "so others may live," the USCG rescue swimmer motto.
Over the past few months, I've worked closely with these heli-jumping heroes. Wherever I went in connection with this project, I received incredible access and support from all levels of the Coast Guard. I qualified at Air Station Savannah in Georgia to exit a hovering helicopter by rescue hook. I swam alongside recruits in Elizabeth City, North Carolina, as they attempted to pass the rescue-swimmer course. I shot photos of these professionals in the midst of severe physical pain and mental challenges. I also deployed with Air Station Kodiak and Air Station Miami, where I swam under thundering helis and watched, from a water-level perspective, these rescuers in action.
Photo: Aviation Survival Technician 3rd Class (AST3) Robert Burke swims away from a MH-60T Jayhawk helicopter near Kodiak, Alaska.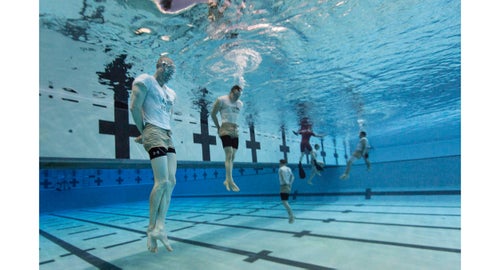 Airman (AN) Steven King (left) and AN Eli Haynie (middle) perform a water-confidence drill called "bobbing." Recruits take a breath at the surface, sink to the bottom of the 12-foot-deep pool, push off the bottom and rise to the surface where they take one breath, and immediately sink back to the bottom. This is repeated several times.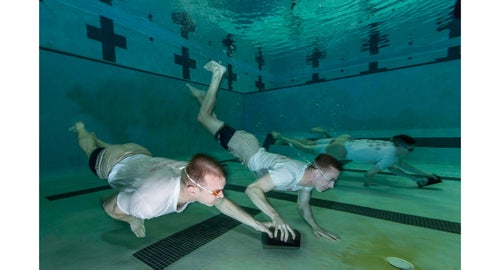 AN Fuller and AN Everette (foreground team) and AN Neaves and AN Rotz (background team) perform a water-confidence drill called "buddy brick." Both members sink to the bottom of the pool and place a hand on the brick. The brick is pushed one tile-section forward, then one team member rises to the surface for a breath while the other remains at the bottom. This is repeated until a set distance is covered.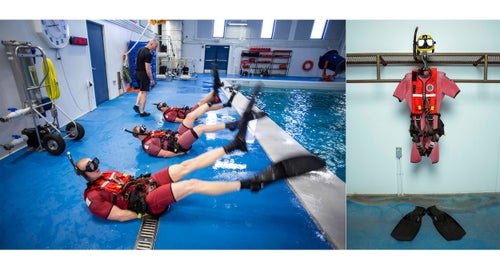 Wearing full gear, AN Steven King, AN Tyler Sojka, and AN Brett Ewins perform the "bread and butter" of rescue swimming. The bicycle kicks and pull-ups, separated by a 25-meter sprint in full gear, build the muscles necessary to tow survivors to safety.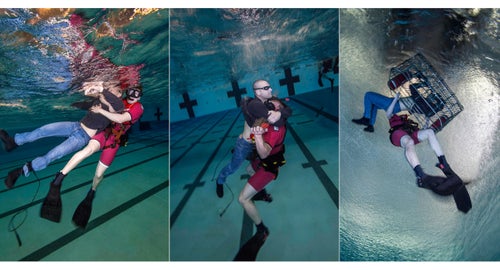 A practice rescue usually involves three parts: AN Eli Neaves "buddy tows" a 200-pound survivor; the survivor then panics and attacks his rescuer; Neaves puts the survivor into a rescue basket.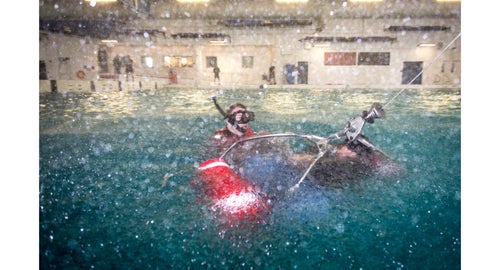 AN Tyler Sojka places a survivor into the rescue basket during a simulated rescue. The wind and the spray is provided by fans and hoses placed around the pool to mimic the intense environment under a hovering helicopter.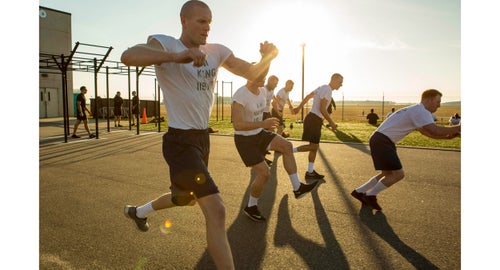 AN Steven King (left) and AN Tyler Sojka (middle front) doing the daily morning workout.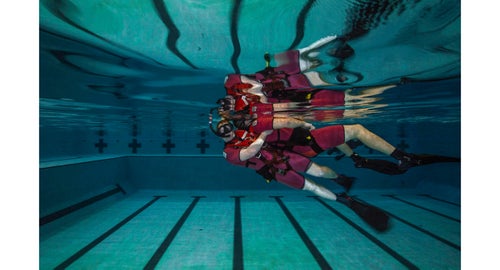 Class 119-16. AN Tyler Sojka "buddy towing" his partner, AN Anthony Troche. Sojka's hip is placed into the small of the survivor's back, and with a fast, forward kick, the survivor is raised to the water's surface.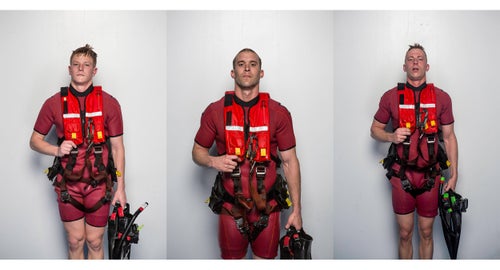 In preparation for the final test, members of Class of 118-16 attempt to complete a six-person rescue. This 30-minute drill includes multiple rescue scenarios and lots of time kicking. These portraits were taken in the minutes immediately following the drill. Left to right: AN Rotz, AN Fuller, and AN Everett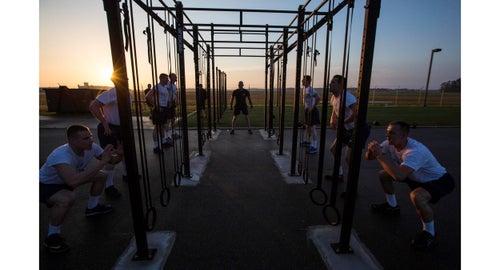 Instructor AST2 Jon Disalle and members of Class 118-16 perform squats in front of the pull-up rack.