The World's Coolest Tiny Home Belongs to a Pro Skier in Idaho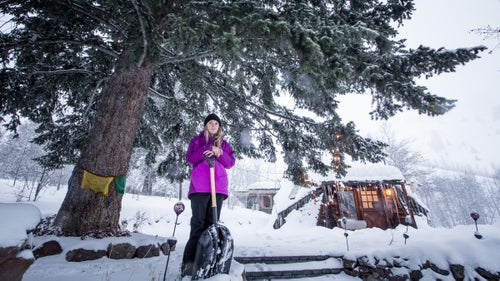 Professional big-mountain extreme skier Lexi DuPont has things figured out. The 26-year-old Sun Valley native spends most of the year traveling to competitions and shoots (up next this winter: Revelstoke, Japan, Alaska, Iceland, Greece, and Central America). When she returns to Idaho, DuPont has a 500-square-foot geodesic dome—complete with wooden shingles, a cow skull, and riverside hot springs—waiting for her. It's a funky, idyllic, meditative spot, and we got the complete tour during an Eddie Bauer ski trip last weekend.
Dome sweet home! Last year, I made a very adult decision and decided to buy a house. And not just any house: I'm now the proud owner of a 1970s dome, located on two acres of property nestled between the Idaho National Forest and the Warm Springs River in my hometown.
When I moved into the dome, I wrapped prayer flags around the big tree in my front yard. That giant pine tree—and the three others just like it—is one of my favorite things about the house. It's a key player in the vibes out here at the Board Ranch.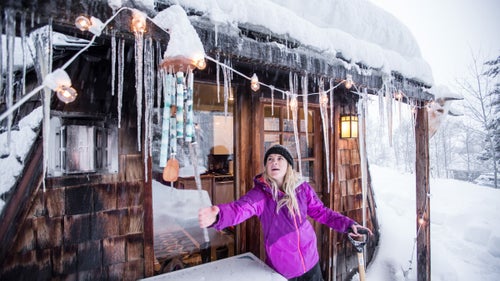 Some people have flower gardens. I have an ice garden. With all this snow—thank you, El Niño—the dome is slowly becoming an igloo. As cool as an igloo looks, it must be maintained, so I'm constantly pruning icicles.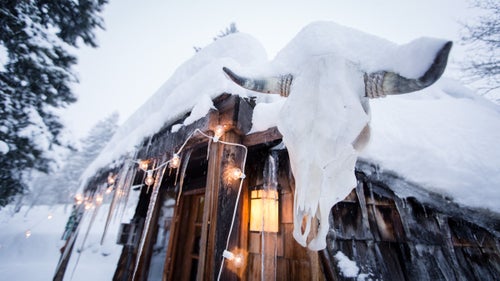 My best friend—a native of Santa Fe, New Mexico—gave me this cow skull. Some may think it's trendy to hang cow skulls outside their houses, but I think it scares off the crazy birds that like to poop on the roof. And I like his snow hat.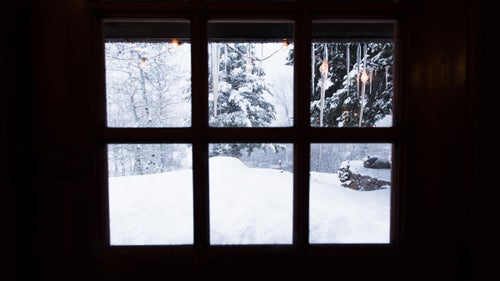 I love looking out my windows at the changing landscape. As a professional skier, I'm constantly traveling. I can't even begin to explain how great it is to come home, root down, and reconnect. This dome is one of the most peaceful places I've ever been, and every morning I wake up out here, I fall even more in love with it.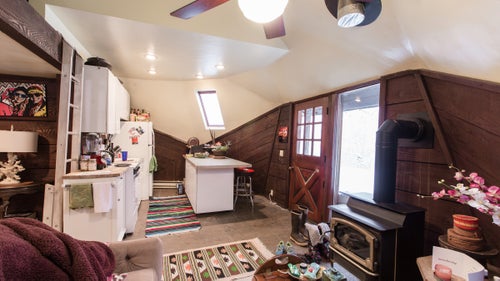 Most of my furniture and decorations were given to me or are the result of my travels. It's an odd collection of things, ranging from places like my grandma's house to Indonesia to middle school pottery class. I buy only the things I need, and if that means less cutlery and small trash cans to reduce waste, that's fine by me.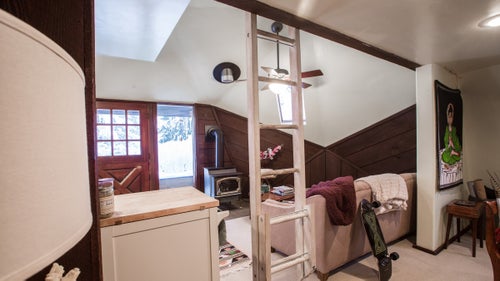 Inside the dome, I have a kitchen, living room, dining room, bathroom, and a loft for my wandering friends. That's it. My bedroom is in a small addition off the back, but all the fun goes down inside this circle.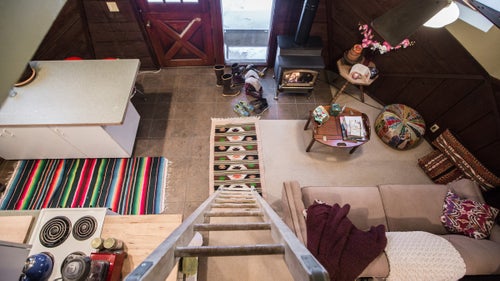 This ladder broke once, and the only way to get into the loft was to practice some sweet climbing moves.
When you live in a tiny home in the mountains, you need a gear shed. There was no way I could fit all my toys in the house, so skis, boots, poles, bikes, surfboards, ropes, climbing gear, sleeping bags, tents, chairs, stoves, kiteboard and kite, disco balls, Rollerblades, scuba masks, flippers, wetsuits, teepees, bean bags, gardening supplies, tractor equipment, and sled tools all live out here. In the summer, I turn it into a screen-printing shop.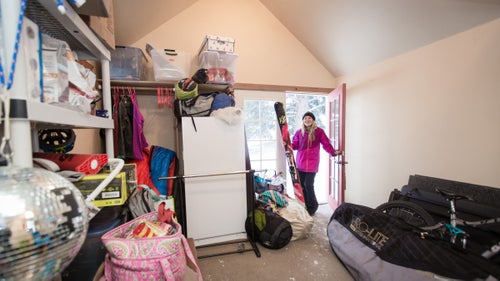 It's winter, and I'm disorganized. One of these days, I'll get some hooks, boxes, and shelves and whip this place into shape. Until then, I'll keep playing outside.