Dispatches from a Surf Camp in Southeast Alaska
After a year of isolation, the small community of Yakutat reconnects among the waves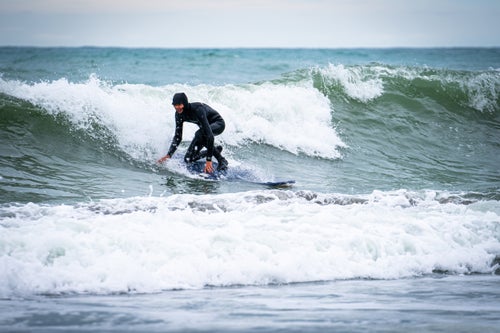 A frigid ocean, enormous tidewater glaciers, and toothy mountain ranges stand between the rural communities of Southeast Alaska. The farthest-flung towns—like Yakutat, in the northern reaches of the Inside Passage—can't be reached by road; they're only accessible by boat or plane. Isolation, however, didn't keep COVID-19 out.
The region, home to just over 70,000 people, has seen 3,000 cases and a dozen deaths to date. The pandemic's economic impacts have been even more startling. Instead of bringing in an expected 1.5 million visitors, the cruise industry collapsed overnight last spring. Nearly 20 percent of the region's jobs evaporated. Additionally, local fishermen had one of the worst commercial seasons on record due to dismal harvest levels and less demand for fish, making the southeast the hardest-hit region in the state.
Then came months of record-breaking rain. By early fall, spirits were low.
In Tlingit, the language spoken by the region's Indigenous peoples, Yaakwdaat (Yakutat) means "the place where the canoes rest." Residents are inextricably tied to the ocean here, culturally, economically, nutritionally, and spiritually. "When you live where the waves meet the land in the way that we do, you learn to respect and recognize the true strength of the ocean, its power," says Gloria Wolfe, a Native wellness specialist with the Yakutat Community Health Center.
Despite a deep reciprocal relationship between the people of Yakutat and the ocean, few youth surf these icy swells, whose breaks can be tricky to navigate. Wetsuits, safety training, boards, and general coaching are difficult to come by in isolated Alaska. But a close-knit group of locals have pioneered a small but established surf scene. Community leaders thought that breaking down some of the barriers to get kids in the water might be the perfect antidote to COVID-19 woes in this town of less than 700 people.
"Our kids were hurting," Wolfe says. While communities shuttered their doors and students packed up their bags for remote learning, a band of locals began organizing a surf camp as a possible cure for all the melancholy. The newly dubbed Yakutat Surf Camp, which began the final week of August 2020 and ran through September, included five days of group surfing and intense safety training, along with three days of one-on-one instruction.
Photo: High schooler Eddie Preciado slips into one of his first waves during the surf camp. By the end of September, the average ocean temperature in Yakutat is 50 degrees. Water that cold can be dangerous and life-threatening without proper equipment and safety precautions. Yet what Yakutat's waves lack in warmth, they make up for in beauty, clarity, and lack of crowds.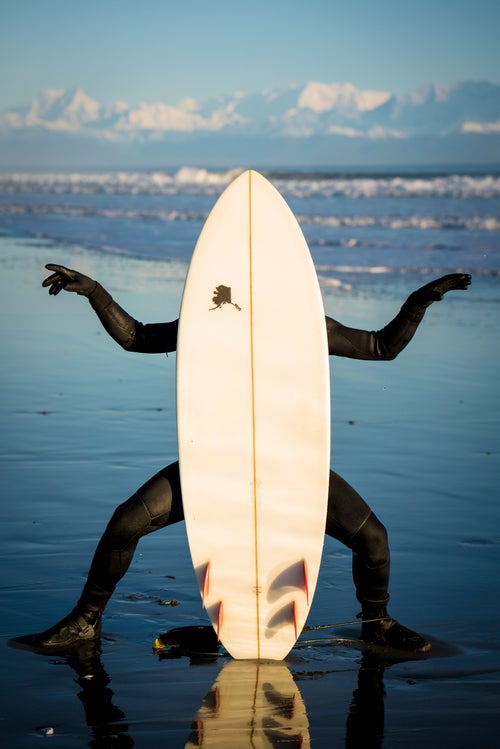 It was a true community effort: the tribal government, local surf shop Icy Waves, Alaska Native corporation Sealaska, Sustainable Southeast Partnership, and a collection of surfers, creatives, cultural leaders, water-safety instructors, mental health specialists, and other volunteers lent a hand. Over 25 participants between the ages of 7 and 18 donned wetsuits and ventured out into the chilly swells to try their hands at something new.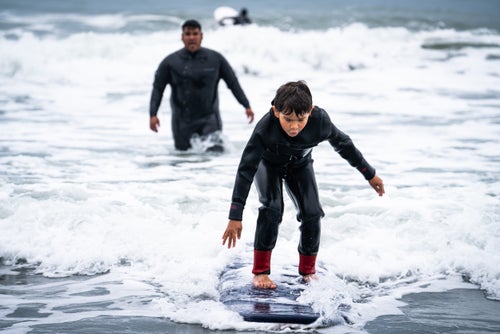 Finding boards for the many beginners was tough, but Jack Endicott, who started and runs Icy Waves, offered his rental fleet of soft tops for the kids. Above, local Ralph Wolfe cheers on his son Jackson.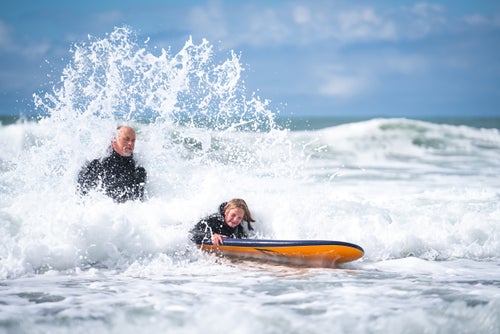 Yakutat's local surfers work for the city, with the Forest Service, own the hardware shop, fish commercially, and have spent years learning the contours and conditions that make their breaks sing. These were the men and women volunteering their time to push excited kids into waves.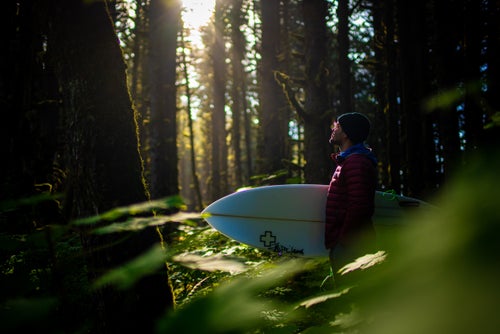 Ryan Cortes Perez, pictured above, is a videographer based in Juneau, Alaska, who helped coach the camp. His enthusiasm for cold-water surfing is contagious. In 2019, he and a group of surfers from Juneau, Yakutat, and the lower 48 organized a series of surf adventures in town with local kids. Those early efforts inspired the 2020 surf camp.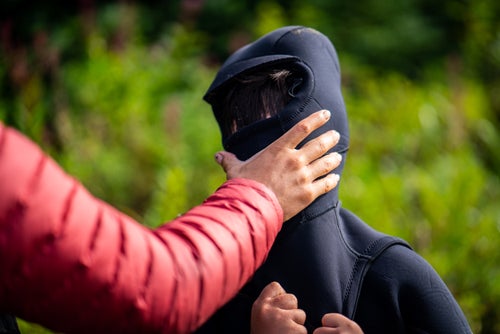 Above, Cortes Perez helps camper Greg Converse into his wetsuit. Throughout the week, parents arrived early on camp days to start beach fires, volunteers kept watch over kids in the cold water, the owner of the town grocery store donated food, and a local surfer cooked warm lunches.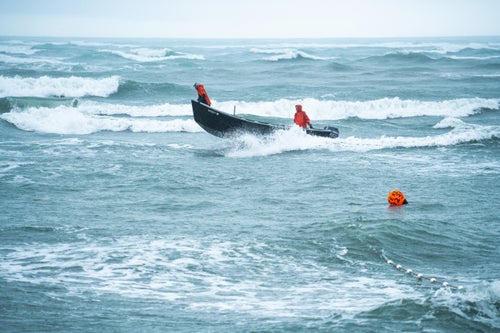 As a whole, the community of Yakutat is more familiar with riding waves on fishing boats than on surfboards. Commercial fishing for wild Alaskan salmon is a mainstay here. Pictured above, fishermen ply the breaking waves where the Situk River meets the ocean.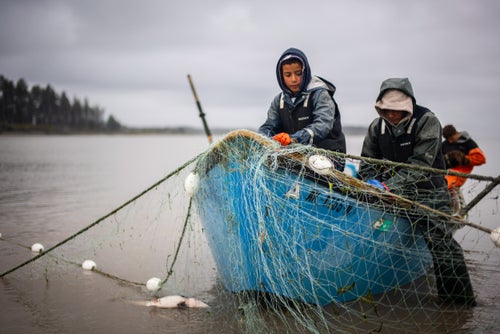 In Yakutat, tasks like fishing or processing hunted meat—including moose with tongues as thick as your thigh—are family affairs that even young children help out with. The Preciado family, above, went salmon-fishing the Sunday after the surf camp's first session, with Julian Preciado at the helm and his cousin Danny Ans behind.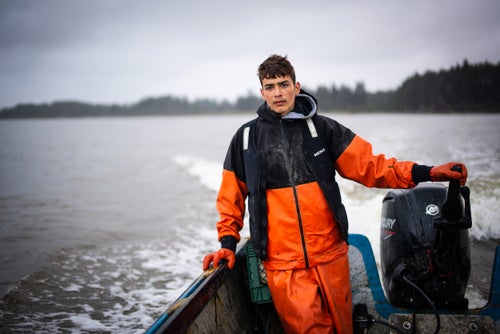 "A lot of our youth know how to hunt, and most know how to fish commercially and as a family. They can take care of themselves," says Gloria Wolfe. In this image, Eddie Preciado heads offshore.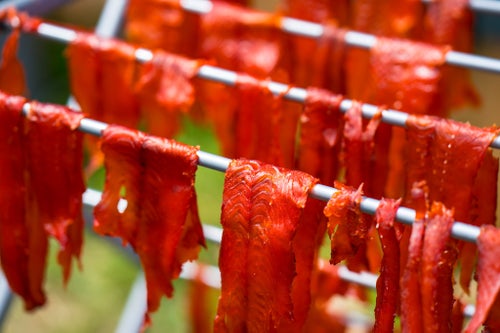 Locals are deeply tied to their Indigenous culture and history. Archaeological evidence indicates a 10,000-year-long relationship between the Tlingit, Haida, and Tsimshian people and the coastal rainforest. Harvested area foods offer nourishment, like wild sockeye (pictured), fish eggs, and seal oil, which have long been staples of their diet, and the community's health is intricately woven to that of their land and waters.