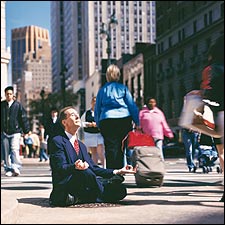 Greg Miller
Heading out the door? Read this article on the new Outside+ app available now on iOS devices for members! Download the app.
FOR CENTURIES, Eastern mystics have prescribed meditation as one-stop shopping for all that ails you. And Western researchers have been proving them right, showing that it can boost memory, concentration, and even athletic performance. Dr. Herbert Benson, president of the Mind/Body Medical Institute, in Boston, has shown that just two 20-minute sessions daily can bring about significant reductions in heart rate and blood pressure.
meditation

INSTANT KARMA: meditation for a fast-food nation

Great. But who has 40 minutes a day? Well, do you have eight? Self-help author Victor Davich—a man devoted to teaching meditation without the drippy guru trappings—has recently published 8 Minute Meditation: Quiet Your Mind, Change Your Life, an introductory guide with a particularly modern bent. "It was designed to fit in the space between two television commercial breaks," says Davich. "If you can watch eight minutes of CSI, you can have a meditation practice." Here's how:


1. Set a timer for eight minutes. Sit in a straight-backed chair with both feet on the ground. Put your hands on your lap and keep your gaze level.
2. Take a deep breath and exhale slowly, closing your eyes as you do. Take another breath, allowing the exhalation to clear away any tension.
3. Now focus on your breathing. Notice the place where you're most aware of it. It may be your chest, your nostrils, anywhere. This is your anchor point.
4. Try to focus on your anchor point for one full cycle of breathing. If you get distracted, no problem. Simply acknowledge this and try again. That's it. Keep on until the timer sounds—or until your boss catches you.