Cabin Pressure
For athletes, the flight home is the danger you've been ignoring.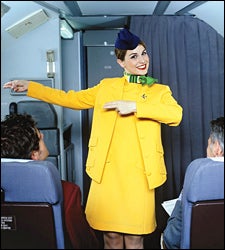 Heading out the door? Read this article on the new Outside+ app available now on iOS devices for members! Download the app.
LAST FALL, I returned from climbing Mount Kilimanjaro to troubling news. One of my teammates, a fit 43-year-old woman from Wales, had stepped off the eight-hour flight home with a swollen leg. A blood clot had formed in one of her leg veins, a condition known as deep-vein thrombosis (DVT). Two days after she got home, it dislodged and traveled to her lungs, where it became a life-threatening pulmonary embolism. She recovered, but not before three harrowing weeks in intensive care.
Smooth Landing
Long flight? Take these steps in the air to be at the top of your game when you arrive.
1. Pop a pill: Take 2 milligrams of melatonin when it's 10 P.M. in your destination city. The sleep-aid hormone will start adjusting your clock e
Safe travels: show DVT the exit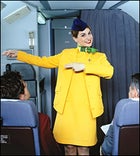 Safe travels: show DVT the exit
I'd heard of DVT afflicting airline passengers before but had always associated it with seniors or pregnant women. I was startled to discover that otherwise healthy adults, particularly athletes on long-haul flights, are equally vulnerable if not more so. According to a 2007 World Health Organization report, DVT is thought to affect about one in 6,000 passengers on flights longer than four hours and while some of the chief risk factors are being obese, very tall, very short, or the use of oral contraceptives, athletes' risk is boosted significantly by their slower blood flow (a result of having larger veins). "People tend to think that athletes are immune because they're often in good overall health," says Dr. Richard Chang, a radiologist and DVT researcher at the National Institutes of Health. "But athletes can actually have increased risk, since their slower blood flow may be more conducive to clotting."
DVT is caused by a triple whammy of factors that accompany air travel: curtailed circulation from cramped seats, dehydration from dry recycled air, and the cabin's relatively low barometric pressure. And according to the WHO, the risk doubles when you're seated and immobile for more than four hours. Athletes who've recently finished a big event (climbing a mountain, say, or running a marathon) add to the risk factors if they've sustained trauma sprains, bruises, or just above-average wear and tear and then jumped on a long flight home.
That's the bad news. The good news is that following a few commonsense precautions will greatly reduce your risk. Instead of wedging yourself into a window seat and knocking yourself out with sleeping pills and a few glasses of cabernet, reserve an aisle seat and make a point of walking around every two to three hours, even at night. (While you're at it, time the sleep intervals in a way that also helps you begin breaking down your jet lag.) If possible, do some body-weight squats in the back of the plane, too just enough to get blood flowing in your legs.
As for hydration, you can do better than plain old water. A 2002 study published in the Journal of the American Medical Association found that drinks that include electro­lytes like sodium and potassium did a better job preventing clotting than water. Lastly, invest in a pair of compression socks, like Zoot's CompressRX ($60; zootsports.com), which will improve lower-leg circulation on the plane and also boost your aerobic efficiency during training.
Researchers aren't quite sure what combination of factors ultimately trigger dangerous clots, but nobody wants to wind up being the unlucky one-in-6,000. Deploy the tips above and you'll not only stack the odds in your favor; you'll arrive at your destination better hydrated, less sore, less stiff, and more ready for the next challenge.