The Silencing of Tim Noakes
South African physician Tim Noakes, one of the world's greatest sports scientists, has been preaching an ultra-low-carb, high-fat diet as the key to fitness and health. His ideas have made him a bestselling guru, but now his critics are pushing back—and as Bill Gifford reports, they're putting his theories on trial.
Heading out the door? Read this article on the new Outside+ app available now on iOS devices for members! Download the app.
I'm feeling sorry for Tim Noakes's sweater.
A thin, gray merino V-neck, it's clearly been well loved over the years, leaving it stretched and pilling. Nothing wrong with that. We've all got favorite articles of clothing, right?
But I'm worried because this one is hanging from Noakes's shoulders like a pillowcase on a scarecrow. At least two sizes too big for his lean, six-foot-two frame, it was clearly purchased for someone else: a comfortably fed, late-middle-aged man, a lifelong academic headed into a cozy retirement. Not the intense character who's delivering an impassioned diatribe across a Cape Town breakfast table, which he not infrequently pounds to emphasize his points.
The disconnect is appropriate, because after three days in South Africa, I've become convinced that there are two Tim Noakeses. There's the maverick sports scientist who's on the tail end of an extraordinary four-decade career, during which he upended athletes' understanding of everything from their hydration needs to the real source of limits on performance. Noakes's publications have been cited more than 15,000 times, an astonishing degree of influence. "So often he's been the one behind new ideas, where we've had to shift our thinking and adjust to new insights," says Louise Burke, head of nutrition for the Australian Institute of Sport.
And then there's the Tim Noakes who spawned a controversial low-carb diet craze and became a bestselling author and nutrition guru, losing nearly 50 pounds and claiming to have tamed his own type 2 diabetes in the bargain. This Noakes is a hero to many devoted followers who thank him daily for helping change their lives.
"I think he's single-handedly shifting South Africans in their beliefs," says journalist Gary Taubes, author of Good Calories, Bad Calories and a leading proponent of the diet Noakes pushes. "He's playing a role that really no one else is playing, in the sense of a well-respected academician directly challenging the conventional thinking and the establishment."
Noakes's theory is that a fat-rich diet helps people lose weight, reduces insulin resistance, and staves off diabetes. His regimen is similar to paleo in that he rules out things like potatoes, rice, wheat, and other grains, but he also forbids most fruit and all juices. Beans are looked at askance, but dairy is OK—full-fat only. These carb-rich foods are replaced with various types of fats, including saturated fats from red meat and bacon. The whole plan runs directly counter to the low-fat, low-cholesterol advice that physicians and major health organizations like the American Heart Association have recommended for the past 30 years.
One Noakes critic, University of Cape Town philosophy lecturer Jacques Rousseau, accuses him and his vocal Twitter followers of inhabiting "an echo chamber made of lard."
At the same time, many of Noakes's friends and former colleagues are starting to wonder what's happened to him. The new Noakes spends more time on Twitter than in the lab, often engaged in flame wars with his many perceived foes. They say he's traded evidence for advocacy, reasoned debate for heated rhetoric and conspiracy mongering. 
"He's abandoned science," says Ross Tucker, a former graduate student under Noakes who publishes an influential website called the Science of Sport. "I feel like he's drifted away from his rigorous way of thinking and started adopting these increasingly indefensible methods. Hypocrisy, double standards, and cherry-picking—it's all a bit disappointing." Another critic, University of Cape Town philosophy lecturer Jacques Rousseau, accuses Noakes and his vocal Twitter followers of inhabiting "an echo chamber made of lard."
In reality there's only one Noakes, and for the past 18 months, he'd been facing a serious problem: a disciplinary proceeding that could end with him losing his license to practice medicine. Already the controversy had devolved into hair-trigger social-media fights and headline wars in South Africa's leading dailies, casting Noakes as martyr or villain. His legacy is on the line, and depending on the outcome, his singular career could end either in triumph or disgrace. 
All because of a single tweet.
---
The trouble started with a baby and his mother, who was worried about farts. In early 2014, Pippa Leenstra, a 38-year-old fashion stylist who lives outside Johannesburg, was nursing her 13-month-old boy. One day her husband told her he wanted to try a diet that was sweeping South Africa. Called Banting, it was named for a 19th-century British undertaker named William Banting, who had lost dozens of pounds by giving up bread, potatoes, sugar, and anything else that consisted primarily of carbs, including beer.
In the 1990s, Banting had enjoyed a brief vogue in the U.S., where it was known as the Atkins diet, which purportedly let people lose weight while eating bacon, steaks, and cheese. The American Medical Association attacked the idea vehemently, and after Dr. Robert Atkins died in a fall in 2003, the fat-eating fad started to fade away.
That is, until Noakes came along and revived it, crediting Atkins and Banting with reversing his diabetes and stripping 50 pounds from his physique. He wrote a manifesto titled The Real Meal Revolution, with a Che Guevara–esque black and red cover. The book became an instant number-one bestseller when it was released in South Africa in December 2013, and it has since sold well around the world.
"It was like a craze," says Leenstra. "Whenever you went to a dinner party or a braai, it was a topic of conversation."
The gist was this: consuming fat leaves you more satiated and less subject to cravings than a diet heavy on sugars and starchy foods. Eat fat to lose fat, in other words. One of many striking passages declares, "Whoever thought of using bacon fat to make mayonnaise should be knighted. As you embark on Banting you may find yourself shedding a tear or two for all the bacon fat you've drained onto paper towels over the years."
When Leenstra's 42-year-old husband, Jonathan, decided to try Banting, he provoked a domestic crisis. "We were not going to eat separate meals in our house," Leenstra says. So she would have to Bant, too. But she was breastfeeding, and she was concerned about what the diet might do to her son. She was especially worried about the cauliflower, which is used as a stand-in for potatoes, rice, and pizza dough but which has certain, um, downwind consequences.
On February 3, 2014, she asked Noakes about the low-carb, high-fat diet on Twitter. "Is LCHF eating ok for breastfeeding mums?" she wrote, using the initials for the diet. "Worried about all the dairy + cauliflower = wind for babies??"
Two days later, Noakes replied: "Baby doesn't eat the dairy and cauliflower. Just very healthy high fat breast milk. Key is to ween [sic] baby onto LCHF."
The tweet caught the eye of Claire Strydom, a Johannesburg dietitian who was then head of the Association for Dietetics in South Africa. Horrified that Noakes would recommend such a radical diet for an infant—­serious Banters consume as little as 25 grams of carbohydrates per day, about the equivalent of a single medium-size banana—she urged Leenstra to phone her for "evidence-based advice."
A flurry of tweets ensued; eventually, Strydom informed Noakes: "You have gone too far, be sure that I will be reporting this to the Health Professions Council SA." A few months later, the HPCSA, which governs the medical professions in South Africa, charged Noakes with violating medical ethics by giving allegedly unconventional professional advice on Twitter, an act it labeled "disgraceful conduct."
The fight has brought a simmering diet war to full boil, pitting low-carb against low-fat. In recent years, low-fat has come under attack by a growing number of paleo advocates, researchers, journalists, and doctors, who point out that decades of following the guidelines coincided with an explosion in obesity rates. These days, two-thirds of American adults are either overweight or obese, while heart disease remains our leading killer. Clearly, the whole low-fat thing hasn't really worked out. Yet it continues to be recommended by physicians.
Noakes sees an orchestrated conspiracy behind the low-fat diet and the charges against him. In his opinion, Big Pharma and the food industry have corrupted the medical profession so thoroughly—he blames their desires to sell carb-rich foods and diabetes medications—that only a few brave souls, like him, dare speak the truth. That's why his case sailed through a five-year backlog, he tells me at breakfast. "There's clearly something going on," he says. "I think the goal is to shut me up and humiliate me, like how they used to lock people in stocks in medieval England."
Noakes could have avoided the whole thing by resigning his medical commission; he hasn't practiced for years. And yet, as his November 2015 trial date drew near, he seemed to welcome it. He had prepared an eight-hour lecture on the science behind high-fat diets, with hundreds of slides. His defense was costing him an estimated $150,000, but it was worth it.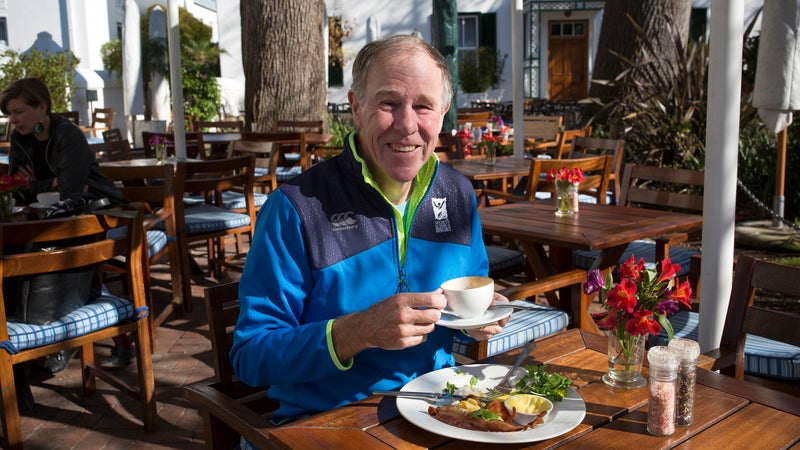 "If I'm vindicated, then the diet is vindicated in the eyes of the public," he tells me at breakfast, just days before the trial is set to begin. His foundation, into which he pours the profits from his books and lectures, has been touting it as nothing less than "the nutrition trial of the century."
Not everyone in Noakes's camp is feeling so sanguine, however. A couple of nights later, as we drive to a dinner party in Cape Town's trendy Tamboerskloof neighborhood, his elegant wife, Marilyn, turns to him and says, "I'm afraid you might lose."
"I could," he says. He keeps driving.
---
Tim Noakes has never cared much about what other people think of his ideas. "When I began my medical training in the early 1970s, I was reliably informed by my teachers that exercise was dangerous for human health," he wrote in Challenging Beliefs, his 2011 memoir. "Since I seemed to feel better after exercise, I concluded that my teachers could not be trusted. So I learnt to challenge accepted wisdom and understand that beliefs change as theories are tested." 
In 1976, as a freshly minted M.D., Noakes showed up at a scientific conference held in conjunction with the New York City Marathon and bulled his way onto the podium. At the time, many experts believed that long-distance runners were somehow immune to heart disease. Noakes destroyed that myth by presenting several case studies, including a veteran South African marathoner who had died of a massive coronary. 
Noakes learned such contrariness growing up. His grandfather was a successful tobacco merchant in Liverpool, England. After World War II, Noakes's father, who was nicknamed Penny for his ruthless business practices, moved the family to what was then Rhodesia, where Tim was born in 1949. They settled in Cape Town when he was five, and he's lived there since. The family fortune gave him the freedom to pursue his scientific interests without needing to practice medicine. 
But wealth had downsides. When Noakes was seven, he was packed off to boarding school. It was only ten miles from home, but it might as well have been ten thousand. "For me it was abandonment, and it was devastating because I loved my mother, and she doted on me, and our relationship never really recovered from that," he says. "I think that's why I'm so individualistic." 
At 18, Noakes spent a formative year as an exchange student at Huntington Park High School in Los Angeles. This was 1967–68, with racial tension seething in the U.S. Huntington Park, once all white, was now also populated by Mexican American and African American students. Nevertheless, amid the turmoil of those times, it was the white boy from apartheid-ruled South Africa who shocked classmates and teachers by dancing with a black girl at the prom. "I was known as the African brother," Noakes says. 
In late 1967, while Noakes was in the U.S., the South African surgeon Christiaan Barnard performed the first successful human heart transplant. The news inspired Noakes to become a doctor. He enrolled in medical school at the University of Cape Town to become a cardiac specialist like Barnard. But he also did something that would prove far more influential in his life: he signed up for the rowing team. At the time, UCT was not known for sports, especially not crew. "We were always useless," Noakes says. "We had no equipment, no training. Of all the universities, we were the worst." Then, in Noakes's third season, a new coach arrived. The team worked year-round, doing intervals and drills and cross-training—which included, for the first time in Noakes's life, running. "We'd run two miles, as hard as you can," he remembers. "It was brilliant." 
The effort paid off. In Noakes's last year, the UCT crew team won a national championship, and he became obsessed with the mysteries of athletic performance. "Each competitive sporting event provides an opportunity to set up an experiment that can never be repeated in a laboratory," he wrote in Challenging Beliefs. This, he decided, was what he would study. 
---
Two days after our breakfast, Noakes picks me up at 8 A.M. It's Saturday, and we're going for a run on a route called Jack's Track, on the slopes of Table Mountain, the spectacular 3,000-foot-high plateau that dominates the Cape Peninsula. The three-mile loop used to be Noakes's standard lunchtime run, where he would escape petty problems and think about his work. 
"It's going to be slow," he'd warned, with the sheepishness of an athlete who once turned six-minute miles. After Noakes hung up his oars, running became his lifelong athletic passion. But he's now 66, recovering from a stress fracture that he acquired, ironically, because his 2014 retirement had finally allowed him to run as much as he wanted. (Too much, it turned out.) Slow is fine with me.
Sports science was almost unknown in the isolated backwater that was South ­Africa in the late 1970s. When Noakes went to other doctors for help with his running injuries, he saw that they had zero understanding of what athletes needed. So he set out to correct that, finding little institutional support at first. "When I started my career, my lab had no money," he says. "All we could buy was a rectal thermometer and a weighing machine, a scale. All we did was go around measuring people's temperature and weight after races." Pause. "In fact, we borrowed the rectal thermometer."
Published in 1985, "The Lore of Running" was Noakes's masterwork, an encyclopedic book covering every aspect of the sport, from shoes to stride mechanics to diet.
One of the biggest races was the Comrades, a 56-mile ultra. Noakes trained intensely for it, doing 40-mile Sunday runs around Table Mountain. But he didn't train in order to compete; he competed to justify the training, his real love. "I would just be floating, in another world," he says. "Clearly, my addiction to running was for that feeling."
Noakes researched running with trademark thoroughness. The result, published in 1985, was the first edition of his masterwork, The Lore of Running, an encyclopedic book covering every aspect of the sport, from shoes to stride mechanics to nutrition. Revised and expanded three times, Lore made Noakes an oracle to many athletes. "It was a very defining book for me," says legendary ultrarunner Dean Karnazes.
"He was kind of out on the front lines," says Ross Tucker. "He was involved as an athlete, running in events like the Comrades, but also as a medical doctor and then as a sports scientist." 
A key chapter of Lore focused on diet. In the early days of distance running, athletes didn't eat anything before races, and they often bonked because of low blood sugar. This happened to Noakes in the 1980 Comrades, when he ran out of gas and had to walk the last six miles. 
Noakes laid out a massive, highly persuasive argument in favor of carbo-loading, then a fairly new concept. As he documented, citing dozens of studies, athletes perform better when they ingest carbohydrates before and during competition. One study found that runners who ate extra candy during the seven days before a long run did better than those who ate extra fat or protein. The evidence suggested that it was essential to reload the stores of glycogen in the muscles and liver in order to perform well. Noakes was so convinced that he worked with a sports-nutrition company to produce carb-rich foods for athletes. 
For our run today, Noakes is wearing an old race T-shirt, khaki shorts over seriously bony knees, and, to protect his head from the African sun, a cotton baseball cap that says PROF. That is his South African celebrity nickname, and it's how people greet him on the trail—"Hallo, Prof!" 
The Lore of Running was so successful that it persuaded one of South Africa's wealth­iest families, the Ruperts—who'd also made their money in tobacco—to fund a sports-science institute at the University of Cape Town, with Noakes at its head. In the South Africa of the 1980s, isolated by apartheid and geography, Noakes became the go-to expert on nearly all sporting matters. The Springboks had a bad rugby tournament? Shake-up in the cricket world? Journos could count on Prof for a useful and often provocative quote. 
As Noakes's reputation grew, he attracted job offers from abroad. But he turned them all down, preferring to remain in his troubled homeland. "I could never have done what I did in another country, because I just had free rein here, and I could do what I liked," he says. "And I knew early on that, as long as I had South Africa on my side, I'd be OK."
---
There was one question that always fascinated Noakes: Why wasn't he faster? 
Competition, he realized, had exposed something profound to him. This was why people ran in events they had no chance of winning. The mere act of pushing to the limits was a way of peeling back the layers and learning important truths. 
"Even in the most crowded races," he wrote in the intro to Lore, "the point is reached when fatigue drives us back into ourselves, into those secluded parts of our souls that we discover only under times of such duress and from which we emerge with a clearer perspective of the people we truly are." 
This quest had fascinated Noakes since his rowing days, when he first tasted serious pain. And it's where he made the major breakthrough of his career. One day during college, a visiting British Olympic team coach had given the rowers a presentation on why they got tired at the end of a race. He drew a graph showing time on one axis and levels of blood lactate—lactic acid that builds up during intense aerobic exercise—on the other. As lactate accumulates, he explained, it poisons the muscles, which is why we "feel the burn." 
There was only one problem: the coach's explanation didn't square with Noakes's own experience. He recalled one particularly nasty workout session, when the team had done their usual six hard 500-meter intervals and prepared to turn for home. The coach made them do another. And another. And two more after that, full bore. If the lactate model was correct, their last interval should have been the slowest, because they would have been exhausted, their muscles poisoned by lactic acid. But it wasn't. 
"We did ten that day," Noakes says. "And we realized that the seventh, eighth, ninth, and tenth were as fast as the first six. So we weren't tired! I realized it was a mental thing." 
Not in the sense that performance is psychological, but in the sense that something in the brain actually controls our pace. Its job is to make us go fast when we need to, but also to keep us from running so hard that we kill ourselves. "It's the subconscious," Noakes says. He'd noticed that runners who won races rarely seemed to feel tired, while those who lost believed they'd gone to their limit.
There was at least some evidence to support Noakes's theory. Analysis of electromyography tests, which measure nerve-cell activity in muscle, showed that even at VO2 max, athletes were using only about half their available muscle fibers. Noakes believed that this limiting action was a survival mechanism, evolved over millennia.
He called this mechanism the central governor. Two decades after he first proposed it, in 1996, the concept still roils the field of sports physiology. Its implications are huge: if the central-­governor theory is correct, then such cherished concepts as aerobic threshold and even VO2 max are reduced to mental chimeras. "Fatigue," Noakes has written, "is an emotion."
Many physiologists have a hard time accepting this. Of course performance is limited by our actual physical condition. How could it not be? Another problem is that the central governor is difficult to locate in the brain, in part because it's impossible to perform a brain scan—­using magnetic resonance imaging—on a runner in a race. One critic remarked that the central governor is like God: "You have to believe in it to see it." 
It was difficult to get the idea accepted at first. Ross Tucker recalls having a paper rejected from a major exercise journal. Noakes wrote a tart letter to the editor, asking him whether he was born on the 25th of December—that is, was he Jesus?
"It was amazing to have one of the top sports scientists in the world backing you," Tucker says, "but it took five or six years before we could get published in that journal again." 
Rather than tone down his views, some colleagues say, Noakes still sometimes prefers to lash out at unbelievers, which attracts followers but also makes consensus almost impossible. "Eventually," Tucker says, "I saw how it took people who should have been allies and turned them into enemies."
---
On the first morning of his trial over medical ethics, Noakes strides into a conference room in the Cape Town suburbs, dressed in a black suit and matching Nikes, flanked by lawyers. Red-clad Banting supporters see him and break into a cheer—"Prof! Prof! Prof!"—which he acknowledges with a delighted wave and his blazing smile. I notice something odd: someone has placed little glass bowls filled with candies in front of each seat. Noakes discreetly pushes his away, lest a photographer capture the incriminating shot of him so close to a naughty carb stash.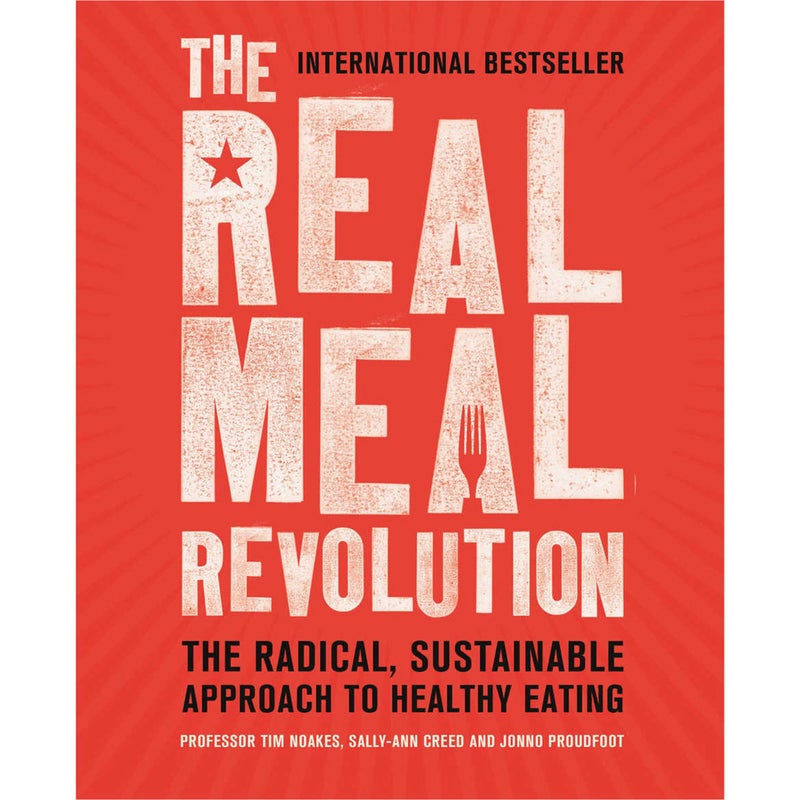 The trial is front-page news across South Africa, and the room is packed with spectators and media. Not everyone is a Noakes fan. "There's no long-term data on the safety of this diet!" hisses one of my neighbors, who turns out to be a retired physician. "It's mad!" Pippa Leenstra, the supposed victim of Noakes's tweet, is nowhere in sight. 
There's a legal mismatch here, which becomes clear before the opening statements are done. Noakes has three big-city lawyers by his side, plus a legal assistant whose job, apparently, is to arrange and rearrange no less than 25 thick binders full of documents. The HPCSA's lone advocate is a small, bespectacled, bald-headed man, Meshak Mapholisa, whose English is poor and whose grasp of basic procedure seems to be worse. He has to be told how to introduce his expert witnesses, and then proceeds to have one read an entire 20-page report into the record, verbatim. 
First up for the prosecution is Noakes's original social-media foe: Strydom, a tall brunette in her late thirties. As Noakes's numerous followers will point out on Twitter, she's not exactly skinny. "She could do with some advice on her own weight!" one snipes. "Low fat obv not working for her—shame." 
Shame indeed. Little do they know that Strydom recently gave birth—and to be blunt, not all of Noakes's supporters are exactly svelte, either.
On the stand, Strydom says Noakes's tweet irritated her because he was giving "potentially life-threatening advice" to a mother for her child. Most nutritional guidelines urge parents to wean children onto a broadly balanced diet, with portions of carbs, fat, and protein. When I described Noakes's low-carb advice to New York University professor of nutrition Marion Nestle, a leading authority in the field (and no fan of sugar herself), her e-mailed reply was succinct: "Oh dear."
"The brain needs glucose to operate," she explained later by phone, "and you want to maximize brain function, it seems to me. You don't want to mess around with babies—they don't have any choice."
Noakes's team comes out aggressively. His lead lawyer, a Johannesburg sharpie named Mike Van Der Nest, interrogates Strydom about her expertise and qualifications until she flees the room in tears. As the judge calls for a recess, I can't help but wonder: Is this really the face of the vast pro-carb conspiracy that Noakes seems to think is arrayed against him?
---
One thing Tim Noakes never expected to happen, ever, was him getting fat. From his early twenties into his late forties, his weight had always hovered around 176, lean for a man of his height. By the time he turned 60, in 2009, he had ballooned to 225—which gave him a BMI of 29, just shy of obesity.
Worse, he had somehow become diabetic. His blood-sugar level had edged up toward 150 milligrams per deciliter when it should have been well below 100. "He was a marathoner who became obese and diabetic," says Gary Taubes. "He was angry."
It was even scarier because his father had also been diagnosed with diabetes in his sixties, and it eventually killed him. Noakes worried that he'd contributed to that outcome by going along with the conventional wisdom about what his dad's diet should be: low-fat, high-carb. "I realized that I'd just sat passively by, because I'd been trained to think he was being treated properly," he says.
"That was my eureka moment," he adds. Carbs were out. No more bread, no more desserts. During our breakfast interview, Noakes had grabbed two five-gram sugar packets and waved them aloft. "Why did God only put this much glucose in your entire bloodstream?" he asked, practically shouting. "That's all that's in your entire blood! And if you've got three"—he snatched a third—"you've got diabetes!"
Carbs, he has said, are "the Devil."
More than that, he realized that some calories are worse than others. In the old view, you gained weight because you ate more calories than you burned. Today this "energy balance" model is being challenged by a more nuanced, hormonal concept that takes into account what kinds of calories you eat. According to this idea, carbohydrates stimulate the insulin response, which tends to turn those calories into stored fat unless they're burned right away. To lose weight, therefore, it's more important to avoid carbohydrates (and thus this fat-storing insulin cycle) than to reduce calories overall. 
Noakes says he lost weight quickly on this diet; within months he felt better, well enough to run again. He started talking enthusiastically about what his new diet had done for him, on South African media, in a revised edition of Challenging Beliefs, and on Twitter.
The craze took off with the 2013 publication of The Real Meal Revolution, coauthored with a Cape Town chef and runner named Jonno Proudfoot. Suddenly, Noakes's inbox overflowed with testimonials from grateful Banting converts who'd lost 20 or 30 pounds. He heard from one person who'd lost 180. 
At the trial, I meet a stocky man named Brian who's wearing red jeans and a red scarf to show his support for Prof. A former restaurant critic who once weighed more than 350 pounds, he had been considering bariatric surgery. On Banting, he says, he shed nearly 160 pounds, just by doing things like ditching his morning oatmeal in favor of bacon and eggs. (Perhaps more to the point, I later learned, he had also given up his restaurant-critic gig and its free meals.) 
So many Brians were besieging Noakes that he had to stop answering his own e-mail. He turned to Twitter, where he has more than 75,000 followers. He often tweets 25 or 30 times a day, and he takes no prisoners. Dissenters are quickly shouted down by Noakes's supporters—or blocked by Noakes himself. He has stiff-armed not only the usual trolls but also his scientific peers. "I don't know what I did to deserve this honor," tweeted one blockee, a Cornell Ph.D. candidate in nutrition named Kevin Klatt. "What I didn't do though was give absurd diet advice 4 a baby via Twitter." In his defense, Noakes says he blocks people when they abuse him. "It's only when they get personal."
In Noakes's world, you're either for LCHF or you're part of the problem. Carbs, he has said, are "the Devil." Even fruit is considered suspect, and vegetarians are disdained. Such throwdowns play well with followers but not with the unconverted. "In such instances, I find both the message and the delivery style disappointing," says Louise Burke. "Very few issues in science have a polarized, one-size-fits-all truth. Insisting on this doesn't do justice to the topic, and it often misrepresents where the scientific knowledge and current thinking has actually evolved to. This alienates many reasonable scientists."
Noakes justifies his tactics as serving a more important cause. "If I am wrong, all that suffers is my reputation," he tweeted at one point during his trial. "If [the] diet-heart [hypothesis] is wrong, billions suffer. Scary responsibility."
"I think he genuinely sees himself as a health messiah," says Jacques Rousseau. "That's why you need to squash dissent, because it's not tolerated. It's religious." 
Noakes would phrase it differently. "I was put on this earth, I think, to try and sort out the diabetes problem," he told me. 
But has he really? 
---
In fact, Noakes hasn't even succeeded in curing his own diabetes—as he will tell you. He diagnosed himself, based on his blood-sugar levels and family history. Even after a year on the high-fat, low-carb regimen, he told me at breakfast, his fasting glucose had barely budged; it was still hovering above 125. "Nothing happened," he says. So he prescribed himself metformin, a common first-line diabetes drug. "I was on two grams a day, which is a massive dose."
When that didn't work, he added supplements, including berberine, curcumin, and one called N-acetyl cysteine. That finally got his glucose and hemoglobin A1c (another marker of diabetes) under control. "So I'm cured," he says. "But I'm not cured, because I still have to take the medicine." 
Another way of putting it: Noakes controls his diabetes with a prescription drug, along with supplements and a low-carb diet. Plus running. Yet in public debates, on Twitter, and in most other interviews, he's asserted that his diet alone is powerful enough to prevent or reverse diabetes. And that exercise is unnecessary, an astonishing statement from a guy who has devoted his entire life to the study and practice of physical fitness. "The best thing about this diet," one giddy believer told me, "is that you don't have to exercise."
The disconnect highlights a trap into which Noakes seems to have fallen, according to both his critics and some former colleagues: a willingness to see only what he wants to see and believe only what he wants to believe. For example, he'll approvingly tweet a link to an animal study showing that sugar is addictive, but when another study shows that mice still get diabetes on a low-carb diet, he'll dismiss it, tweeting, "Mice are not men." 
Meanwhile, big questions about the high-fat diet remain unanswered by science. Is it really better than all other diets for weight loss? Are its effects permanent? And what are the long-term cardiovascular (and other) risks of eating so much more saturated fat? 
Clinical trials of diets are notoriously difficult to perform, mainly because people often lie about what they eat. Meta-analyses of completed trials tend to show that, overall, people lose weight more quickly on low-carb diets, particularly in the first six months. But after a year, and especially after two, the differences among diet plans are less pronounced. Their effect on heart-disease risk is unclear, although low-carb diets do seem to lower blood pressure, which is good. 
In our interview, Noakes agreed that Banting is not necessarily for everyone. "If you're insulin sensitive, you can eat your croissants," he said. "In South Africa and America, 60 percent of the population at least are insulin resistant, and they will do very well on that diet." 
The thing is, Noakes claims that nearly everyone needs to be on his diet. Some 60 percent of people are insulin resistant, he insists. Diabetes experts believe the real figure is more like 30 percent, though that number climbs as populations age.
More provocatively, Noakes has said, athletes are not skinny because they exercise; they exercise because they are skinny. And they are skinny because they are insulin sensitive. Yet, at the same time, he insists that athletes, too, need to be on high-fat diets—abandoning his own long-held belief in carbo-loading. "It's bizarre when I'm called dogmatic," he says. "I have changed my mind, from high-carb to low-fat."
In Noakes's world, you're either for LCHF or you're part of the problem.
In interviews, he has told readers to "rip out" the nutrition chapter of The Lore of Running because it advocates eating carbs. He and his followers now insist that runners and cyclists perform better when they become "fat adapted," even at the elite level.
Most mainstream sports scientists don't agree. Athletes need both carbs and fats, says Inigo San Millan, a sports physiologist at the University of Colorado who has worked with professional cyclists for two decades. Fats are for long, slow, distance efforts and carbs for higher intensities. Cyclists and runners who switch to low-carb diets often have trouble.
"When you start exercising hard, you start metabolizing protein as well," San Millan says. "And guess where the protein comes from? The muscles. It's horrible. And I've seen it very clearly. It's incredible the amount of athletes that we fix, all the time." 
A recent review by Louise Burke concluded that there is insufficient evidence to show that high-fat diets improve athletic performance by themselves. Burke says that this approach might be useful to a small number of individuals, particularly those doing moderate-intensity sports. But most competitions are dependent on high rates of carbohydrate use, either throughout the event or during key moments that determine outcomes, such as a breakaway in a bike race. Burke also notes that current sports-nutrition guidelines don't promote high carb intakes for all athletes at all times. "Why make everything so black-and-white?" she asks. "The way we approach sports nutrition now is periodized, with different kinds of carbohydrate availability for different kinds of training sessions."
At a basic level, the human body seems to crave carbohydrates during exercise. Even the sensation of putting something sweet or starchy in one's mouth is enough to improve performance, by activating reward centers in the brain and central nervous system. "It seems that the brain expects a benefit to occur and sends a message that we can feel good and work harder," Burke says.
---
There are some people who are indisputably helped by low-carb diets, however, and one day during the trial, I travel to a poor Cape Town neighborhood called Lavender Hill to meet some of them. 
A common critique of Banting is that it's expensive to buy all that meat. To counter it, in 2014 Noakes proposed a study of impoverished farm workers in a region called the Karoo. They would be fed offal, like kidneys, liver, brains, and marrow, all of which are cheap. But after the plan provoked a massive outcry, it was abandoned, much to Noakes's disappointment. He believes that modern humans eat so many useless carbohydrates that it has affected our intellectual development—particularly among poorer people, who eat cheaper food and thus more carbs. "Someone needs to do a study of brain sizes, not by race but by socioeconomic class," he told me. "Our brains have been shrinking for the past 15,000 years."
Whether that's true or not, one thing that surprised me is that the Banting debate seems to have permeated all levels of South African society, from the top to the lower rungs. Which is what brings me to Lavender Hill, to check out a Banting program for poor people, sponsored by Noakes's foundation. It's a rough area. After we turn off the highway, we pass a funeral for a victim of a recent gang shooting. Yet we can see Table Mountain and the fancy neighborhood where Noakes lives just a few miles away. 
My guide is a former soap-opera star named Euodia Samson, a jolly, fortyish woman who has just embraced Banting. We park outside a community center, where about 15 older women are waiting for us. They belong to a diabetes support group that has adopted Banting under the auspices of the Noakes Foundation. The women, all well over 50 and mostly chubby, line up to have their weight and waistline measured and their blood pressure checked. After learning that she'd lost six inches off her pants size, one woman in a zebra-print cap breaks into a dance. She'd been Banting for all of six weeks. "People ask where I get my energy," she says. "I tell them, go get your own!" 
A volunteer hands out a plan for the next week, meals based on low-cost foods like eggs and chicken livers. "When I do my tuna I cut out the bread, and I make my ­cauliflower rice with shallots and garlic," one woman reports, to murmurs of approval. Euodia leads the discussion, urging them to stay away from "cool drinks"—sodas—and doctors. "There's a whole lot of doctors that don't want you to be healthy, because they want to make money," she tells them.
The Lavender Hill ladies all say they feel better on their new diet. Which confirms one of the main conclusions of diet studies: any diet is better than no diet. And cutting carbs does seem to lead to more rapid weight loss than other plans. 
But Noakes has gone further, making claims for Banting that don't appear to have much supporting evidence. He took heat for a TV interview in which he claimed that people who cut out carbs "don't have to worry about developing cancer," an unproven assertion. On Twitter, he has ascribed Hitler's defeat to his vegetarianism, and he has even quoted antivaccination activists approvingly—the ultimate anathema to his medical colleagues. 
Meanwhile, real research is still relatively rare. In September, Noakes published a paper in the South African Medical Journal, a leading publication for doctors and scientists, which consisted of "case reports" from 124 people who had lost weight on Banting. But there were no controls and no context, and his critics dismissed the study as anecdotal and worthless. One tweeted: "Some people tell a guy they lost weight and it's published in a medical journal. #BadScience."
At our breakfast, I brought up the article and Noakes's seeming fondness for anecdote over clinical data. What are the long-term consequences of eating so much fat? And does it help to make everything so stark on Twitter? As he himself wrote in Challenging Beliefs, "The key to being a good scientist or a good doctor is never to believe that you are correct." Clearly, in this case, he very much does believe he's right. 
He gave me a half smile and asked, "But what's wrong with that? Why do we all have to do it the same old way?" 
---
The trial creaks along for more than a week, the prosecution lurching from one blunder to the next, while Noakes's lawyers are thorough and brutal. His team fights for the right to have a witness testify from Canada via Skype; apparently, no South African experts are available to speak on behalf of Noakes or his diet. Noakes says it's because the locals are afraid to challenge "the establishment." 
When the HPCSA tries to call a surprise witness, a professor of nutrition from a South African university, the defense objects and the trial is postponed for another two months, until February 2016. Noakes himself has yet to testify, and he's champing at the bit. After another week of sparring in February, and a bravura eight-hour presentation by Noakes himself, it was adjourned yet again, until October. A verdict is expected in early 2017.
I have to fly home, but I'm reminded of something that happened before the trial, after Noakes and I went for our run. As he dropped me off at my hotel, my pen somehow flew out of my hand and disappeared into the cleft between the passenger seat and the center console of his Audi. 
I couldn't see it. I reached into the gap but couldn't feel anything. 
"Did you lose it down there?" Noakes asked. 
"Don't worry about it. I've got another one."
"No, no, we'll get it." 
There followed a full five minutes of digging, probing, reaching. It wasn't even a nice pen. Nevertheless, South Africa's most famous sports scientist turned diet guru became obsessed, in that moment, with trying to find it. 
His face contorted into a grimace, he reached down into the narrow crack, first with another pen (too short) and then with the spine of a folded magazine, trying to dislodge the fugitive. Every time we thought we got it, the pen slid out of reach. 
"This car is terrible this way," he groaned. "This happens all the time." 
I protested, again, that he should be hurrying on to meet with his lawyers. But his mind was fixated on the idea of rescuing my pen, and he wouldn't let himself fail. 
"You can't give up," he said, still digging. "You must never give up!"
Bill Gifford (@billgifford) is an Outside contributing editor and the author of Spring Chicken.